At only 26, when most take their first meaningful steps in life, Rafi Ryker can already claim quite a few achievements of the kind that would normally take a lifetime.

He is personally responsible for building infrastructure that delivers drinking water to over 10,000 people, the renovation of schools in three villages and the regular supply of volunteers to assist people in need in Tanzania through Afrikan, a non-profit he co-founded. He not only dreams to make the world a better place but is actively making it happen.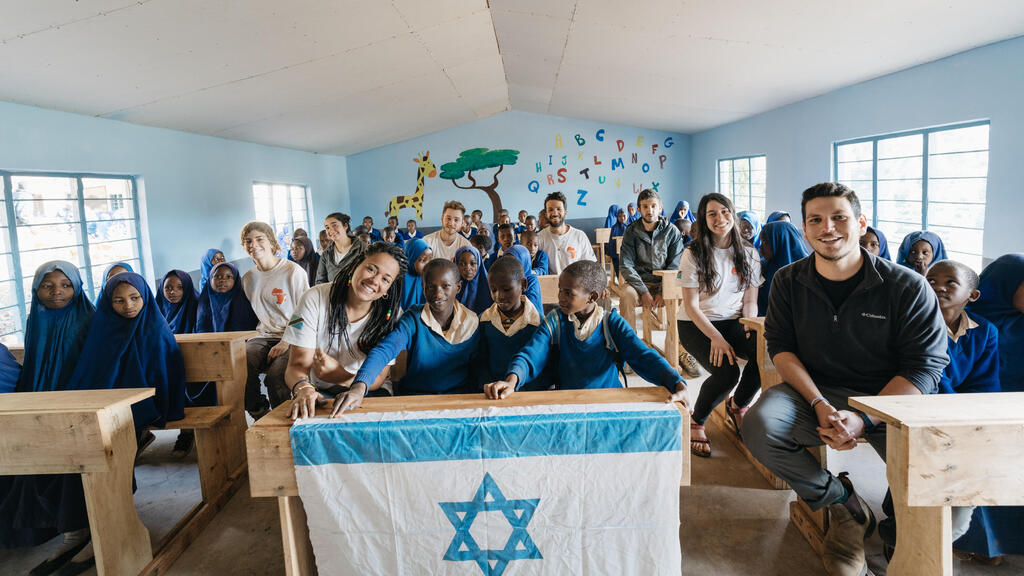 Ryker was born in the northern city of Zichron Yakov to parents who immigrated to Israel from the United States and Australia. He is the older brother to two sisters, studies law at Jerusalem's Hebrew University and is an officer in the IDF reserves.
He says he never intended to visit Africa. "When I finished my military service and wanted to see the world, most places were still closed because of the COVID pandemic. Africa was the only place open for travel and I wanted to hit the road at all costs. That is where it all began.
"I fell in love with the continent the minute I arrived," he says. "Nearly all things were surprising to me, mostly in a good way. On a daily basis, I would meet a fascinating person or encounter a mesmerizing phenomenon. People's joie de vivre there is hard to explain. They are absolutely impoverished, at least compared to us, but are happy as individuals and as a society, so much so, that it is inspiring."
While on a track with a friend in northern Tanzania, he encountered a local chief. "We were wandering between villages when we met Elia, the new chief of a village called Malindi. He was just 33 years old and had been in the job for only six months," Ryker says.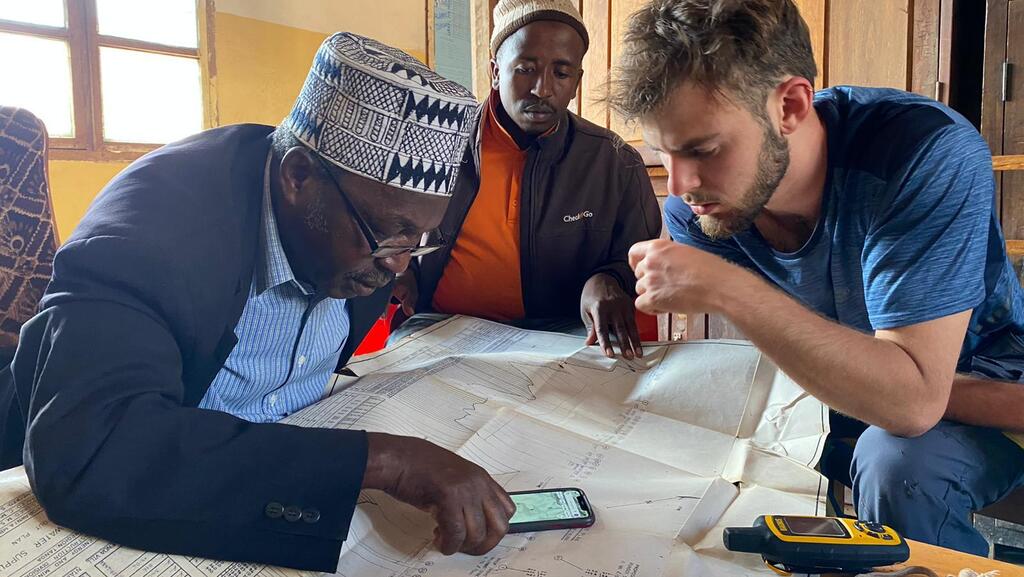 He was surprised by the vast knowledge of Israel that Elia exhibited and his desire to meet Israelis. "We did not expect to be asked such questions in the most remote area we've ever been to. They were profound, deep, honest and to the point. Questions of the kind asked by someone who understands the workings of the world and possesses a will to improve it. Someone with hope and faith that things can be changed from within," he says.
"In our conversation with Elia, who was a university graduate - a rarity in that part of the world - we understood that he opted to return home to his village after graduation. He told us of the living conditions there with no electricity or running water and with an education system that was in an absurd state in my view.
Each classroom had between 100 and 150 pupils and five would sit at a desk for two. Those who did not get a chair were left to stand. The children don't break for a meal during the day and some walk no less than 14 kilometers (8.6 miles) to school. It is hard to imagine what studying is like under such conditions," he says.
Ryker and his friend Raphael did not realize it then but that fateful encounter would change their lives and sow the seed that would eventually give birth to their organization.
"I understood they were living without the basic amenities for a basic existence and we suggested simple improvements such as painting the classroom walls and planting a garden to grow food for the children. They were not outlandish suggestions but small things that could have a great impact and then we parted ways," he says.
"We left Africa but were still thinking about our conversation with Elia and discussed it with our families and friends. We thought about what could be done and why life in Africa should be this way. Why do most locals accept that situation and don't try to improve it?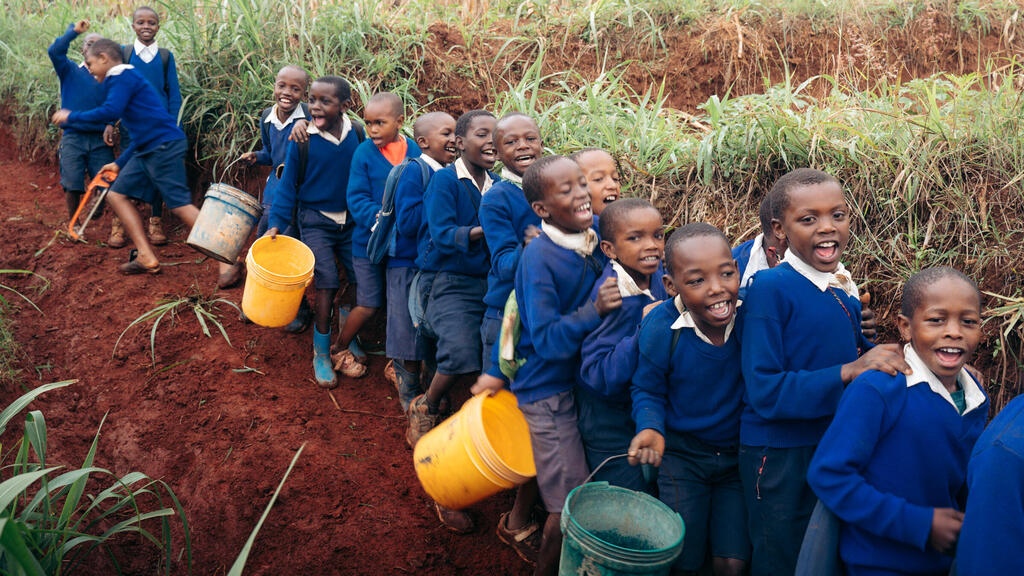 Suddenly our own problems seemed small. I understood that I was touched in a way that would not allow me to ignore it and decided to return to Malindi," he says.
Ryker enlisted eight friends, among them officers in the reserves and presented his vision. Then they all returned to the village as a group.
"We came to work together with the locals to improve the village's infrastructure. Our work was an enormous success. Each volunteer was given an assignment to carry out independently: renovation, connecting the village to water, and raising funds.
We knew nothing about renovation or water infrastructure but did know how to bring local people who had those skills and organize the help from parents of the school kids. We provided lots of energy and that, it turned out, was what was needed," he says.
The visit opened the way to establishing Afrikan, a non-profit that would provide funding and facilitate work. Since then, three additional groups of volunteers have traveled to Malindi.
"Our deep connection to Israel has not weakened, in fact, it has grown and our work in Africa does not change that. We grow more appreciative of what we have here when we work there"
"We've already renovated three schools and built infrastructure to deliver drinking water," Ryker says. "We mapped the route, and divided the labor between all of the residents in a way that would require each to dig a few meters and thus were able to install five kilometers (3 miles) of pipelines which supply water to the villages around," he says.
Your work changed life in the village
"Our project was impactful and spurred processes that delivered clean water to the residents of the area, some 50,000 people. The schools we renovated became the most in-demand in the county and the average achievements there went up.
In one of the schools, we installed an Israeli-made energy system that transforms garbage into power. The combination of all of those things enabled us to create a situation whereby schools provide pupils with food during the day and in addition we helped prepare fields for agricultural farming that produces food. The system we installed provides natural gas for cooking so we have a sustainable cycle and the kids are fed during the school day.
"People are dying there from infections and substandard living. We cannot ignore that fact. Our ability to bring meaningful change to the villages and save lives for small amounts of money - is one of the biggest motives to do our work there"
Some will ask why Africa? Why not help out here?
"This is a challenge we grapple with. Israel does not have a dearth of problems and there will always be people in need of help," Ryker says.
"All of our volunteers had given to Israel before during and after their military service and many are actively helping out in Israel today. Our deep connection to Israel has not weakened, in fact, it has grown and our work in Africa does not change that. We grow more appreciative of what we have here when we work there.
"And still, I believe wholeheartedly that the situation in Africa is different. People are dying there from infections and substandard living. We cannot ignore that fact. Our ability to bring meaningful change to the villages and save lives for small amounts of money - is one of the biggest motives to do our work there.
"We succeeded, for example, in delivering clean water to a village of 5,000 residents for the cost of NIS 5,000. With just a little bit of money, we can save the lives of hundreds if not thousands of children and adults.
"The volunteers who join us don't do so at the expense of their volunteer work here. They are always volunteering and the experience of volunteering in African villages is empowering and educational for them.
"They experience the immense power we have to make a difference and in turn, they initiate change themselves. The project to feed school kids was started by Shahar, a new volunteer who decided she could not stand by as kids go hungry.
"There is another outcome to our work," Ryker says. "The admiration for Israel in northern Tanzania is insane. People admire Israel because of what we are doing. They have Israeli flags and pray for our country."
Where there is water, big dreams are possible.
Ryker and his friends are unstoppable. "Today our non-profit is more experienced and we know we can go further and can dream bigger. When we first arrived in Tanzania, people were living in unacceptable conditions but today, there is an understanding that through joint efforts, they can improve their lives. When they are free from the need to find drinking water or food for their children when they are at school, they dare to dream," he says.
"This is one of our main goals. We want to provide them with tools to keep initiatives going and carry on the work when our volunteers leave."
Ryker's optimism is infectious. He is planning more great things but they require funding. "To kickstart a process that would be meaningful and lasting, and allow people in Tanzania to believe they can accomplish what they dream of, any contribution can help. Even the smallest sum can change lives."
If you wish to donate to this effort, please
click here
.
First published: 14:32, 04.26.23