In the realm of American entertainment, the roast show has become a familiar and acclaimed phenomenon. Its premise is simple yet ruthless: to humorously mock well-known individuals. From movie stars to Justin Bieber and even Donald Trump, many have endured this unconventional "group therapy."
Now, a group of Jewish comedians is taking it a step further, preparing for a unique show that aims to roast antisemitism and explore it as a cultural phenomenon.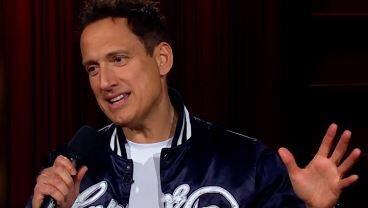 This groundbreaking event, featuring renowned Jewish American stand-up stars including Modi Rosenfeld, Jeff Ross, Elon Gold, and the talented Rachel Bloom from "The Crazy Ex" series, will take place Wednesday night in Los Angeles, marking the first of its kind.
In an interview with Ynet, Ari Pinchot, one of the show's producers, emphasized the significance of humor in the Jewish response to antisemitism. "There is a long and rich Jewish tradition of dealing with antisemitism with the help of humor," he said.
"In light of the alarming increase in explicit antisemitism today, humor must take a proactive stance. Our goal was to produce and film a unique comedy show that brings together Jewish and non-Jewish comedians to skillfully dismantle modern and ancient antisemitism.
"Through their sharp wit, this show will convey a powerful message, exposing the hypocrisy, irrationality, prejudice, and misinformation surrounding the current wave of antisemitism. It aims to provide a roadmap toward a brighter future."
Was it hard to get comedians to do this?
"Actually, they were quite eager. They wrote original material and funny songs. It was their way of taking part in the fight against antisemitism, speaking to Jews and non-Jews alike."
"I'm excited to find the humor in hate because then I can expose the ignorance and bigotry. Mel Brooks once said that laughing at the Nazis was his only weapon in the fight against them," comedian Elon Gold told the Jewish Journal. He added that unfortunately, there are many antisemites to choose from to grill, including Roger Waters, who made headlines recently with his show in Berlin.
Despite the show, Gold emphasizes that he takes the phenomenon of antisemitism very seriously: "Our nation has been through a lot, and in recent years, antisemitism is more noticeable. This special evening is for sitting back and laughing, but we do not underestimate the pain and importance of the issue."
First published: 10:58, 06.14.23