Eden Kozokaro, known mostly by his nickname Kozo, works at the most prestigious tattoo studio in New York, has a million followers on Instagram, and has tattooed many celebrities. At 25, it's safe to say Kozo is one of the most successful Israeli tattoo artists in the world.
Uma Thurman with snow white's head, Albert Einstein with SpongeBob's eyes, and sunflowers sprouting from Van Gogh's head – were all tattooed using Kozo's unique style, which he calls colorful micro-realism. In this style, he combines realistic painting with figures mostly associated with pop culture.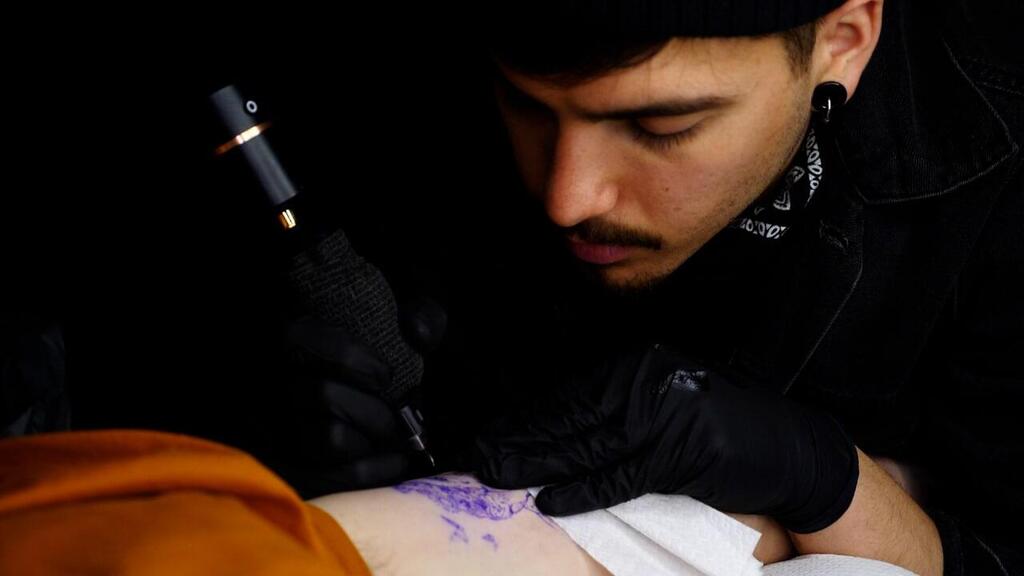 He tattoos many celebrities with his style, and he even received a personal request for a tattoo from actor Tom Holland (Spider-Man: Homecoming). "One day I was sitting in a restaurant with a friend, and I got a video call from an unknown number. I answered the phone, and saw it was Tom Holland," he recalls.
"I was shocked. He simply told me that he saw my work, loved the style and precision, and wanted me to tattoo him. It took me time to digest it; it was a crazy experience, and I never imagined it would reach this level."
Kozo experienced his rise in popularity only over the past year, but he began his journey in the tattooing industry as a teenager. "I started drawing at a very young age. I learned to paint with oil colors on canvases, and found tattoos when I turned 16," he says.
"A friend of mine decided to buy a tattoo machine from eBay, and we just started tattooing at home, in the room I had as a teenager. Because we were really bad at it, everything was trial and error, and we were looking for something to practice on, so looking into it, the internet said pigskins were recommended," he says.
"I went to a market in Tel Aviv and simply brought these giant pigskins. It was the weirdest thing I ever did," he laughs, "I hammered the skin onto a wooden board, and we spent days tattooing it. As we improved, we started bringing in volunteers: close friends of ours who wanted to get a tattoo. We tattooed their feet, as the skin there basically regenerates and the tattoos fade away."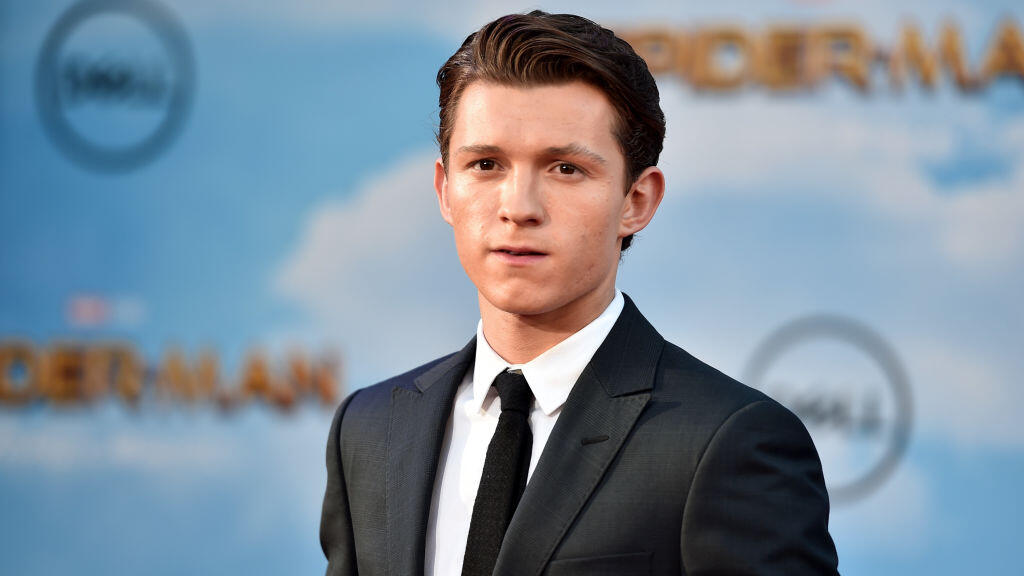 As time passed, Kozo became a household name in his high school, and all his friends came to get tattooed by him for free. But after a while, he realized he needed to do more to specialize in the field, and started looking for tattoo studios to work in.
He was rejected many times because no one trusted a 17-year-old with tattooing. But in the end, he managed to intern and work at several places that taught him everything he knows today. Eventually, Kozo's style expanded beyond Israel's borders, and within a short period, prestigious magazines from all over the world wrote about his tattooing prowess.
That was when he opened an Instagram account and started posting pictures of his tattoos, despite not having a high number of followers. Within a few months, the number rose to a thousand, then a hundred thousand. Today, his Instagram account has a million followers, most of them from outside of Israel.
This exposure outside of Israel was what led the renowned New York tattoo studio, Bang Bang, to approach Kozo. "It truly changed my life. Instead of being a kid who charges 20 shekels for a tattoo, I'd fly and tattoo people all over the world," he says.
"It was like I was touring the world. I'd travel from one country to another and tattoo different people in Italy, Germany, the United States, and more. At some point, I received a message from Bang Bang who told me, 'I see your potential, I want to get you, a U.S. work visa, and an artist visa.'"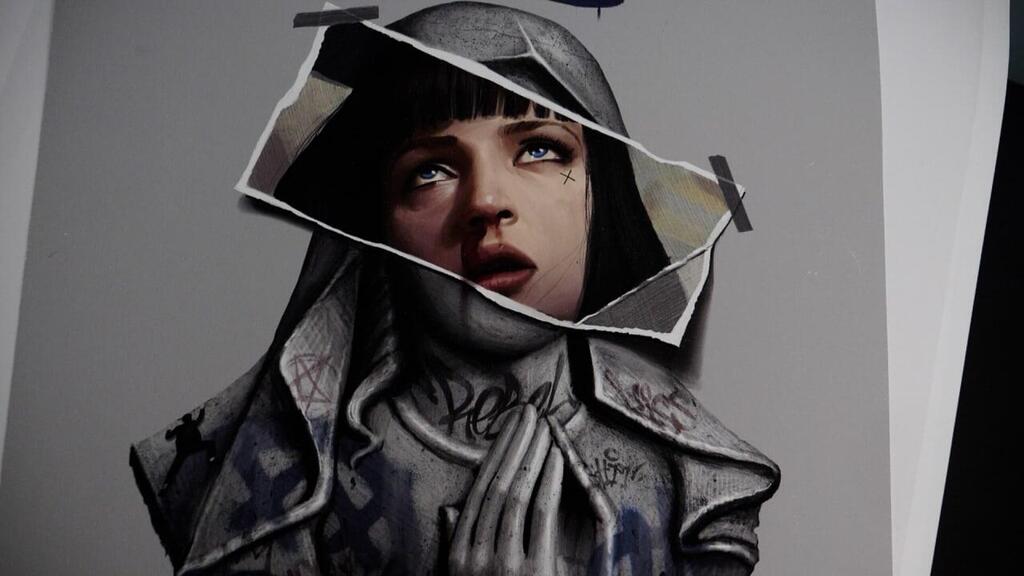 Bang Bang is a prestigious tattoo studio located in the heart of SoHo, New York, nestled among stores like Louis Vuitton and Tiffany's. Kozo's celebrity clients include names like Justin Bieber, Maroon 5, Selena Gomez, and Miley Cyrus.
"Israelis see tattoos as an underground thing, it's different in Bang Bang. When you enter, two people wearing suits welcome you inside. Everything is incredibly exclusive, and incredibly well-designed at the highest levels. It's basically a luxury tattooing experience," he explains.
These days, he lives in New York with his fiancée, works at Bang Bang, and lives the American dream. As part of his life in the Big Apple, he also rubs shoulders with some celebrities and occasionally tattoos them. "Since I started tattooing in New York, various clients started coming to me: Chris Rock, billionaire Adam Weitsman, and rapper A Boogie Wit Da Hoodie."
In the past year, Kozo decided to take tattoos a step further and turn them into works of art you can hang on the wall. "Basically, I'm trying to turn my tattoos into an amalgamation of a tattoo and a painting. Every few months, I hold an auction of my paintings, where each painting is painted using a tattoo machine," he explains.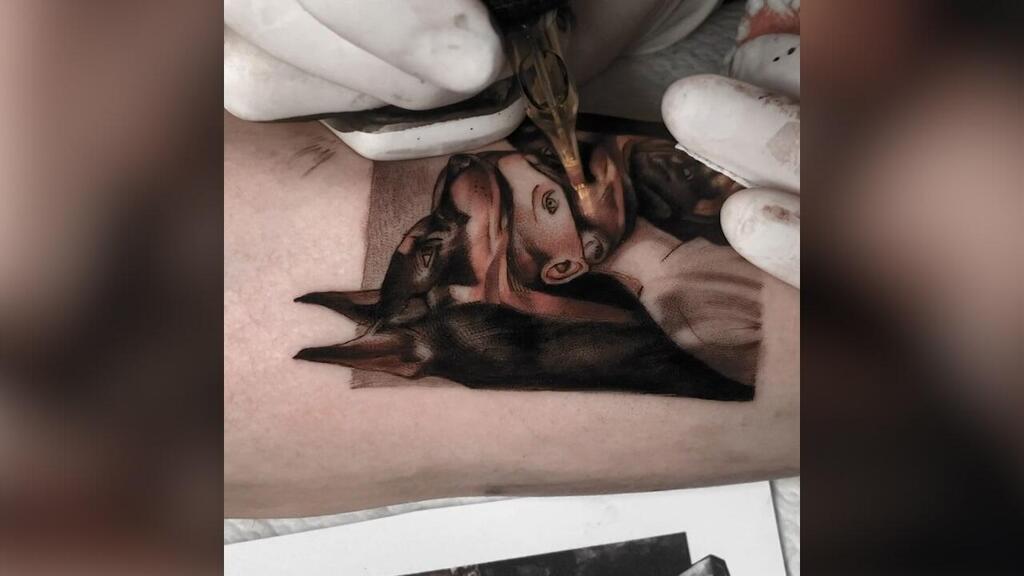 "After you buy a painting, you get it together with the needle I used to paint it, creating an experience that combines tattooing, art, and painting. Many people from all over the world buy these paintings and hang them at home. That way, if they don't have a tattoo on their body, at least they have something on their wall."
Do you think someone can have too many tattoos?
"Everything depends on how it's done. If I plaster myself with tattoos, there won't be much point in that. But I think one or two high-quality tattoos can be very meaningful. It's like entering the Louvre, staring at an enormous wall, and only the Mona Lisa hangs there. There's respect for that creation; if there were 15 more paintings on that same wall, it wouldn't be the same."
Are you thinking about having another tattoo?
"Actually, I decided to take a break after my last tattoo. I realized it hurt too much. I've had enough."