In a recent video on his YouTube channel, travel blogger Josh Cahill didn't hold back as he hilariously tore apart his economy class flight experience from Tel Aviv to London with Israeli flagship airline El Al. With a substantial following of 607,000 on YouTube and 106,000 on Instagram, Cahill had previously given a thumbs-up to El Al's business class flight to Dubai. However, this time, his experience took a complete "180-degree" turn, as he put it.
In his analysis, the blogger amusingly points out the stark contrast between his two El Al flights by suggesting that, during his previous journey, the airline must have prepared for his arrival with an extravagant "service showcase," unlikely to be experienced by the proletariat.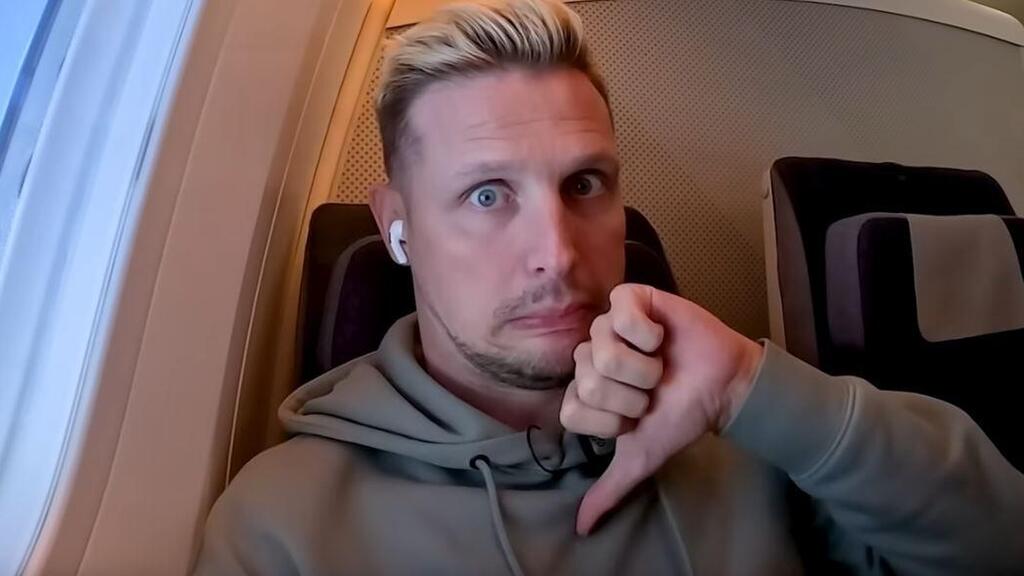 With his vast experience in aviation, including flying with airlines from diverse regions, Josh has become well-versed in the standards of various airline departments. In his entertaining video, he recounts his disappointing encounter on El Al, where from the moment he stepped on the plane, the staff appeared unfriendly and even scolded passengers.
Josh, mindful of the situation, decided to keep his camera low to avoid any physical entanglements. Expressing his sadness, he noted: "The crew showed little patience toward the passengers, which was disheartening to witness."
Reflecting on the stark difference from his previous experience, he remarked: "So far, my journey has been the complete opposite of what I had last year, which comes across with an unfriendly staff. They didn't even bother greeting me during boarding."
Josh, known for his expressive reviews, possesses a penchant for adding colorful flair to his assessments, albeit with a kernel of truth. Occasionally, he bestows airlines with titles like "the most daring contender" or "the most unsung hero," lending an element of drama to his narratives.
But let's veer our scrutinizing eyes back to El Al. Josh made positive remarks about the relatively comfortable and spacious seats on the Dreamliner. He commended the extensive range of captivating content available on the in-flight entertainment system. However, he noted that despite the fair internet price ($19.99 in Josh's case), a technical glitch prevented him from enjoying the service. "Don't count on a functioning internet connection with El Al," he cautioned.
As for the breakfast that was served to him, Josh expressed his dismay, declaring it "shocking." He claimed that in all his years of flying he has never encountered such a repulsive omelet. "I would have been better off snacking on the flight's magazine," he quipped, jesting that it might have offered a more appetizing option.
Furthermore, the aviation blogger pondered the absence of even the most basic of accommodations, such as tea or coffee service, musing whether it was El Al's policy or simply the result of a lackadaisical crew. Adding to the disappointment, when he requested headphones the flight attendant denied his request. "It's a rather peculiar flight," he concluded, remarking on its stark contrast to his previous experience with the airline. Ultimately, he awarded the flight a poor 3 out of 10.
El Al's somewhat defensive response was quick to arrive. "We are sorry for the negative experience described by the customer, and we examine his claims seriously. At the same time, it is important to note that the review on the aforementioned flight does not represent the experience of the service at El Al. We work on changes and innovations in the field of service, and strive for constant improvement for our customers," according to the company.