Breakfast is the most important meal of the day, and when it comes on a weekend with a drink on the side - it's a real celebration. Where will you find a Thai brunch, where will they serve you poached eggs with matbucha (Moroccan tomato salad) and where can you have breakfast in the evening as well? From north to south - these are the restaurants and cafés with the newest and most recommended brunch meals.
Breakfast and brunch in Tel Aviv
Chef Itay Kushmaro (formerly Beit Kandinof and Meir Adoni's Blue Sky) is the chef of A.K.A44, an entertainment and food complex in Nachalat Binyamin Street, the hottest spot in Tel Aviv, which turns into a lively pedestrian mall in the evenings and on weekends. Now, Kushmaro is launching a brunch menu with delicious dishes. There is also an alcohol menu which includes morning cocktails and a collection of light wines, some of them natural.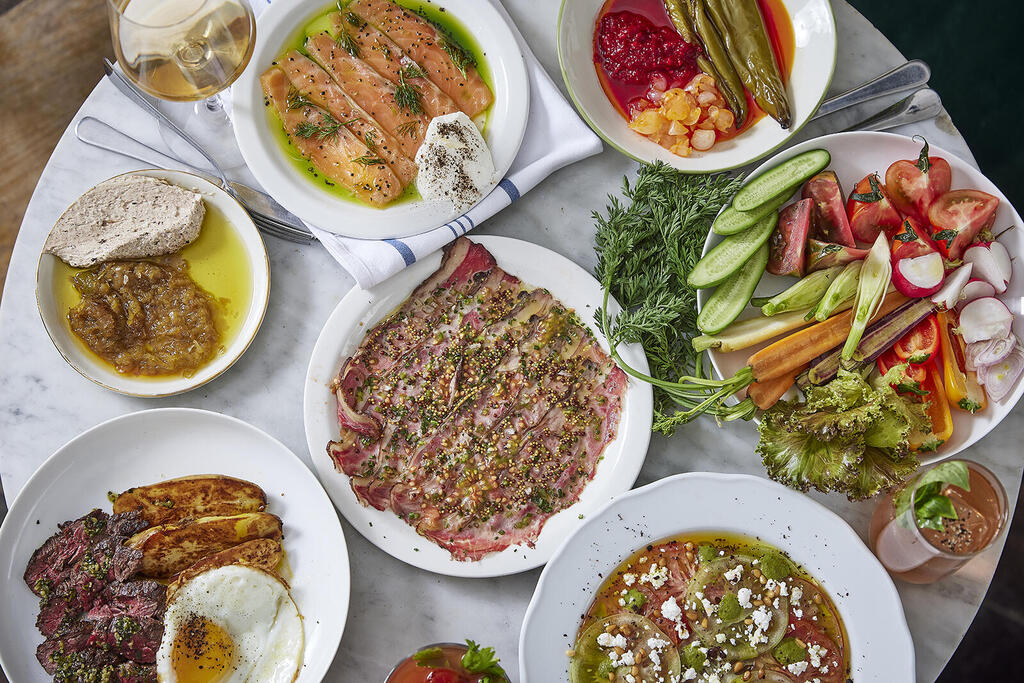 The kitchen makes wise use of the two open markets closest to the restaurant - the Levinsky Market and the HaCarmel Market, so you can find dishes that include liver brought from the "Butcher Shop" butchery, served with horseradish; roast beef from the butchery "Umtza BaShook" with mustard seeds brought from Levinsky market, and grilled asparagus with a soft-boiled egg and cheese fondue. There is also a pan-fried shrimp in tomato cream and other lavish dishes for the hungry (NIS 32-92). It is mostly enjoyable to sit in the upper balcony that overlooks the happenings on the pedestrian mall in the evenings and on weekends. Brunch is served on Fridays and Saturdays.
Friday-Saturday 12:00-16:00
44 Nachalat Binyamin, Tel Aviv, 054-5448544. Not Kosher
The Thai brunch returns to Kab Kam with a meal for two, where you can choose four starters and one main course for a couple along with rice or noodles for NIS 120 per diner. Among the dishes: Miang Pla - chunks of sea bass in 2 iceberg lettuce cups, lemon grass, fresh scent leaves, cashew & tamarind; Phad Kapaho Neua - thin cuts of hanger steak Wok-cooked with Thai basil, onion, spicy peppers & Thai roots alongside a fried egg & sticky rice; Moo Phad Toa - juicy roasted pork belly in red curry, Thai beans, perfumed with kaffir lime leaves, hot red pepper and more.
Along with the food menu, there will also be a special drink menu for the weekend with spritz cocktails, Sake and light wines. You can sit either inside in a pleasant, dimmed lighting, or outside.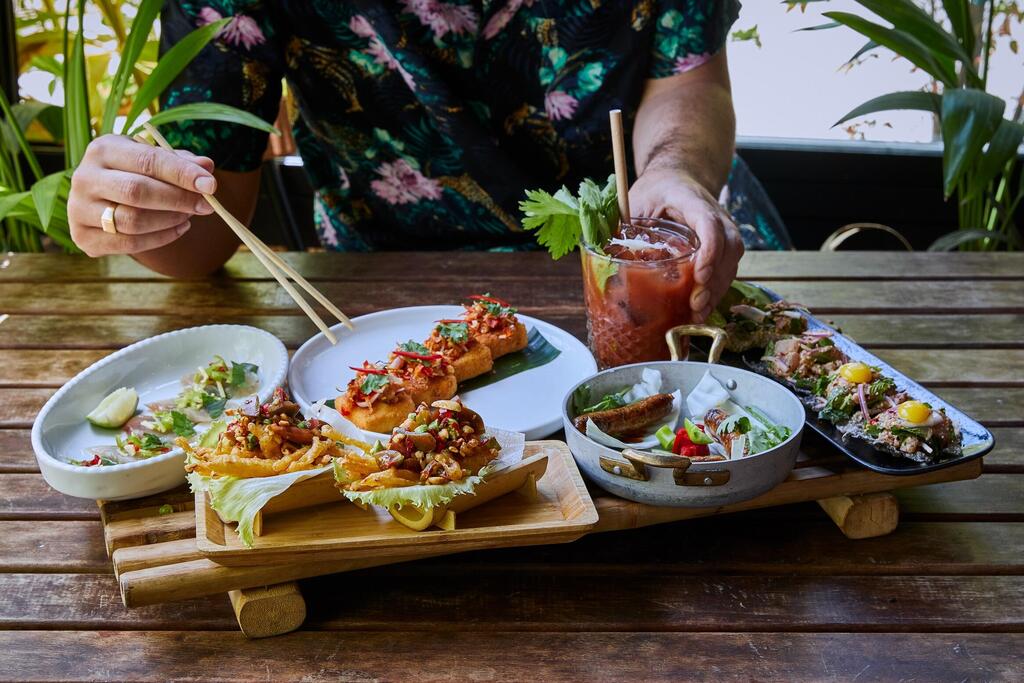 Lincoln 11 Tel Aviv, 03-6889960
The menu includes a selection of appetizers such as an egg salad topped with butter-fried bacon flakes, hot peppers with feta cheese and eggs; Belgian waffle Croque Madame; spinach Burek with Tulum cheese and poached egg; Shrimps pan, and salmon and herring bruschetta from the Deli of Haim Raphael at Levinsky market.
The menu also includes winning dishes from the Drunken brunch, such as Calamari & sunny side up and grilled Camembert with honey.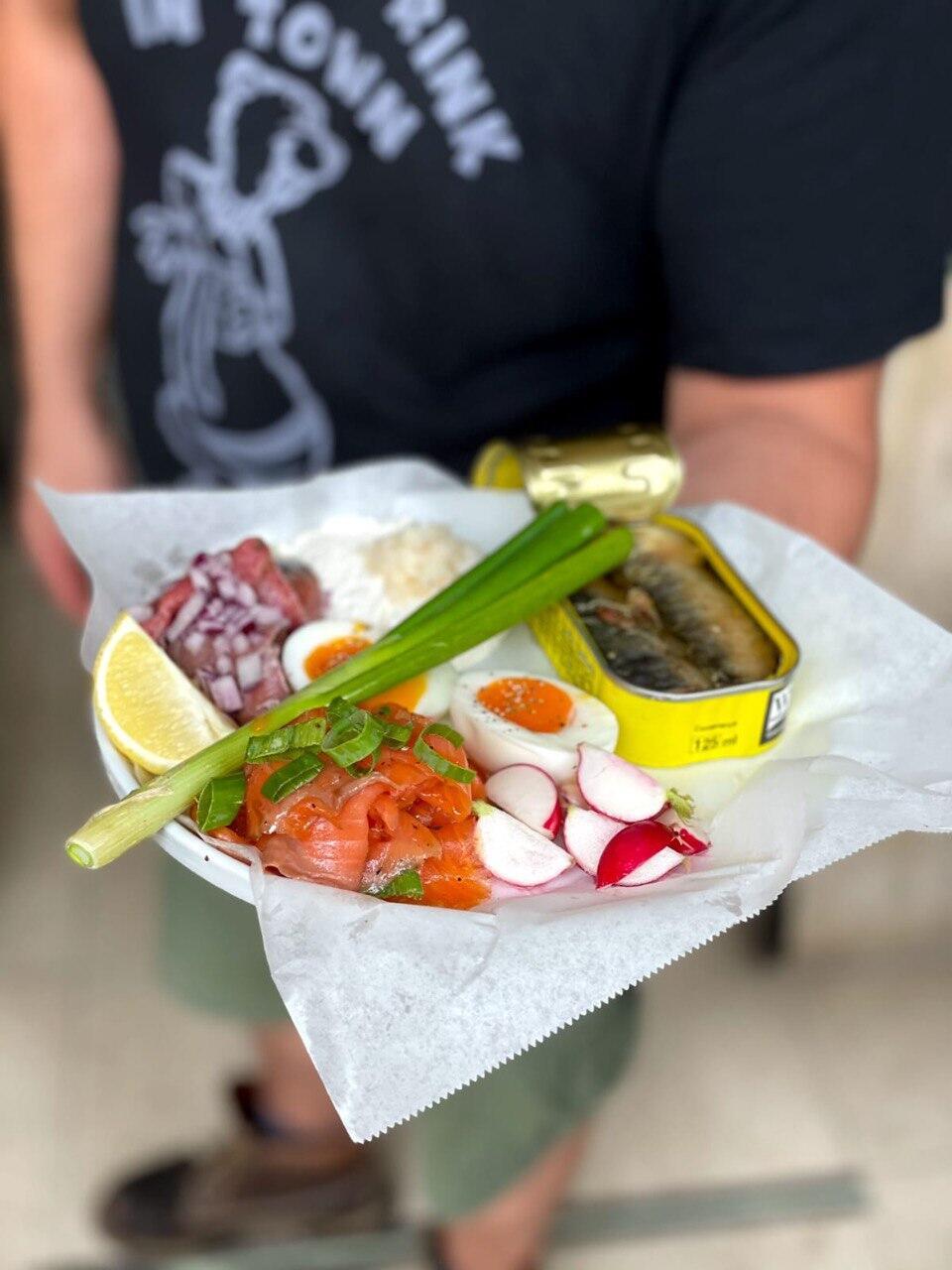 Har Sinai 2 (at the Great Synagogue complex) Tel Aviv, 054-3500059. Not Kosher
This cocktail bar is celebrating five years of activity with a line of events. One of them is the return of the well-known brunch in an updated version with the ultimate brunch cocktail - the Bloody Mary, that will be served unlimitedly and in a variety of versions for your choice such as bacon, shrimp skewers, gouda, vegetable skewers and more.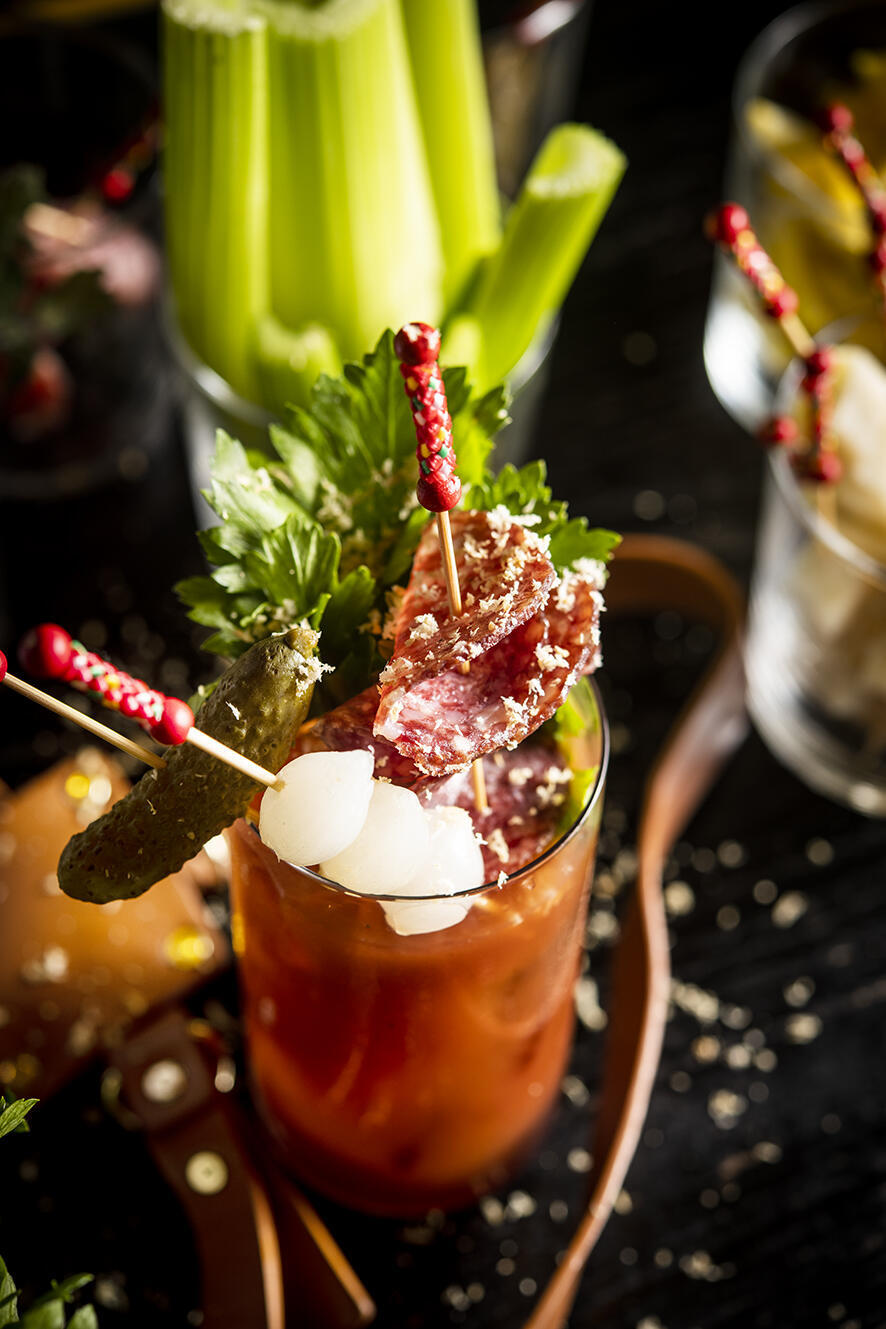 Nachalat Binyamin 28, Tel Aviv, 03-5678006. Not Kosher
After half a year of activity, the Norder bar is launching a brunch menu led by the young and talented chef, Lior Cohen, with his own interpretations to the classic brunch dishes.
Among the dishes are, spinach brioche with poached egg and corn hollandaise; pan bread with soft scrambled eggs, creamy avocado, and chives; Marinated fish, soft egg, crème fraîche radish and sourdough bread; egg and Bottarga salad; Cheese plate with cherry and artichoke jam and more. The atmosphere is pleasant, and the food is delicious. Don't miss tasting the pastries and the perfect bread of the pastry Chef Noam Hoffman.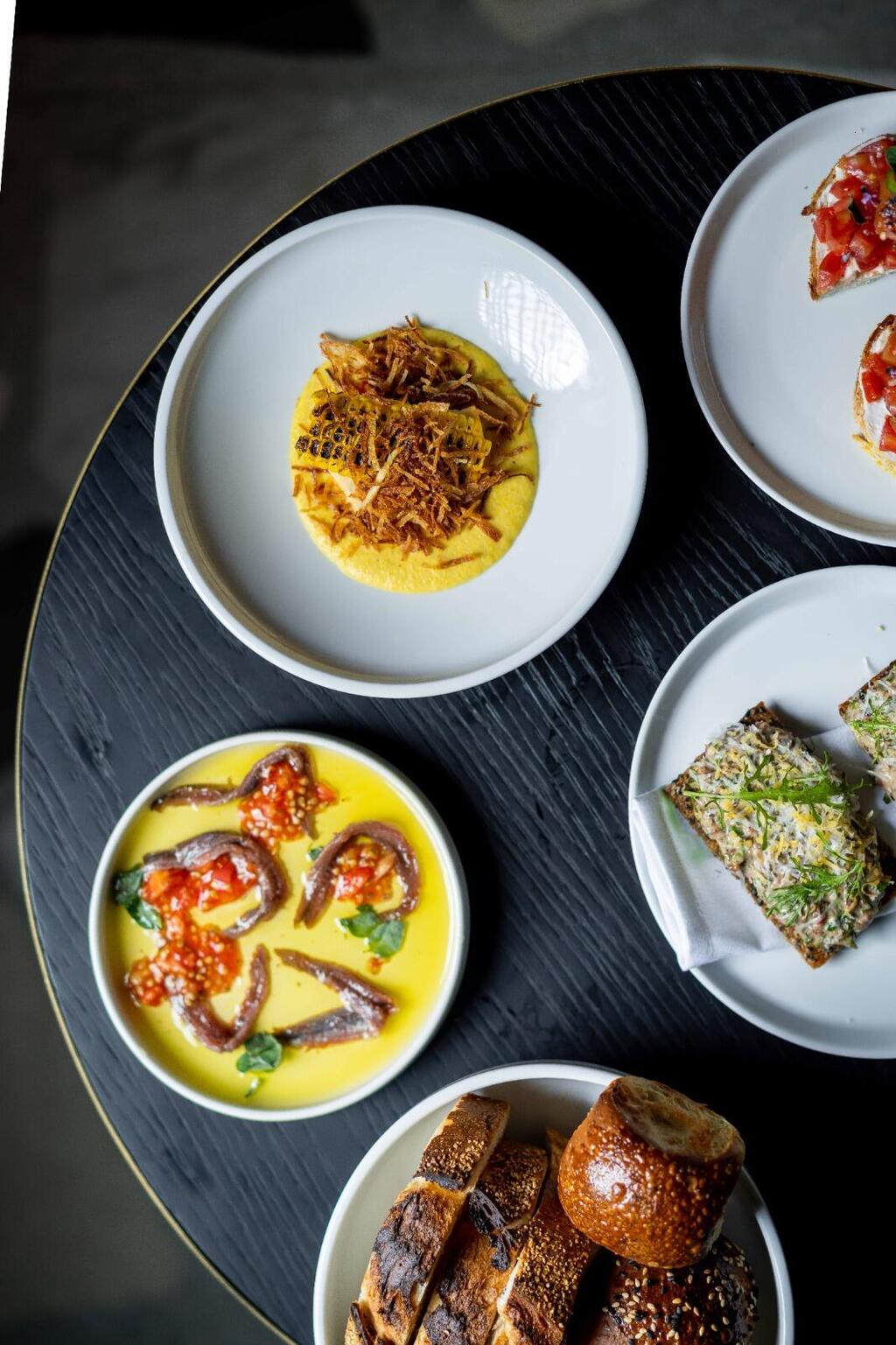 Friday-Saturday, 10:00-16:00
Dizengoff 245 Tel Aviv, 073-3319417. Not Kosher
At the Arabic restaurant of Ahmed Khatib, known as Zizo, there is an unusual brunch served on an unusual day - Sunday. It's a homemade Arab-Palestinian cuisine, which includes dishes originating in Syria, Lebanon and Jordan, served in different versions with a twist.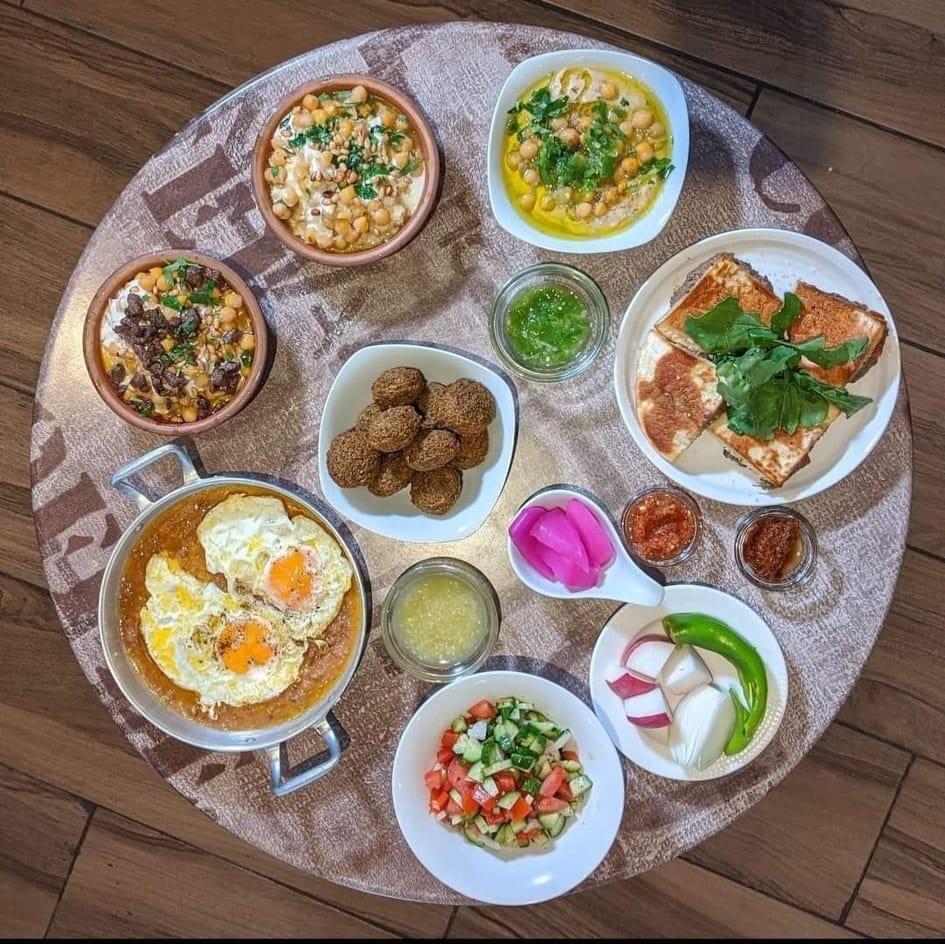 Among the dishes, one can find Romania - an eggplant, lentil and pomegranate stew; A homemade Labaneh (yogurt cheese); Ija - a traditional omelet with a special seasoning; Zalamiya - eggplants with onions and green peppers and soft-boiled eggs in a pan; Alyat Pandora - roasted tomatoes with garlic and hot pepper; Fattoosh salad with wet and not crispy bread, with mint, basil and arugula, and other types of flavors that vary according to the vegetables available in the market, such as fried cauliflower, fried pumpkin or fried eggplant (NIS 165 for two diners).
Derech Shlomo 3, Tel Aviv, 077-7010240. Not Kosher.
On the 14th floor in front of a particularly spectacular panoramic view of west Tel Aviv, a wonderful brunch by Chef Shahaf Shabtai is served on Saturday. The brunch, like the restaurant, is Asian in a Western style, and the kitchen uses authentic techniques and raw materials that are imported exclusively from the Far East - Indonesia, Malaysia, Singapore, China and Thailand, combined with the local flavors of the Middle East.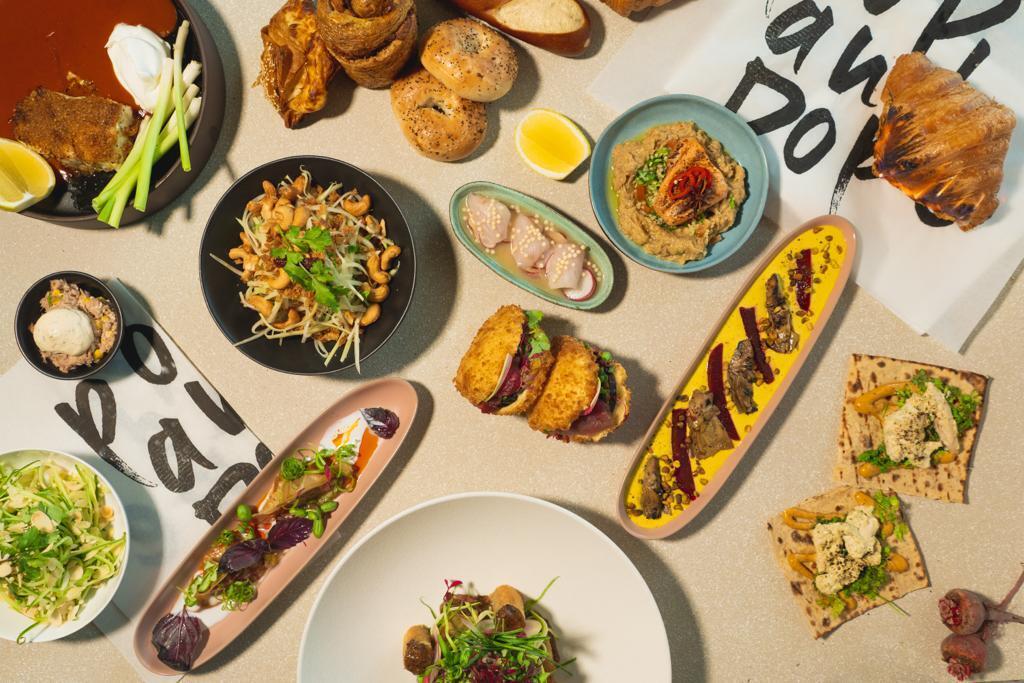 Shabtai's version of Shabbat brunch includes a variety of starters such as roasted kohlrabi with Hraime (fish stew) aioli; beets in date honey with goat cheese; Vagio steak alongside Miso and basil aioli; Dim sum sirloin with coconut and corn, and more. In addition, there is one main dish to choose from a variety that includes, among other things, Seafood Casserole with Sea bass, madras cream, kemiri nuts, tomato stock, green garlic and truffle or lamb chops in Hoisin, potato gratin and brie cheese (additional 40 NIS) and more; there are also desserts (180 NIS per diner). Everything is served with extreme care and style typical of the restaurant.
Ha'Arba'a 28, south building, 14th floor, Tel Aviv, 03-7595000. Not Kosher
The new brunch at Tasting Room combines an urban atmosphere and corrupt breakfast dishes. On Fridays, they serve a meal for two, consisting of known dishes from the regular menu and new breakfast dishes such as Eggs Royale - poached egg and salmon lox on brioche with hollandaise sauce; poached eggs with Matbuha, crème fraîche, cilantro and challah; Scrambled eggs with truffles on toasted challah and butter alongside radishes and cherry tomatoes, and more.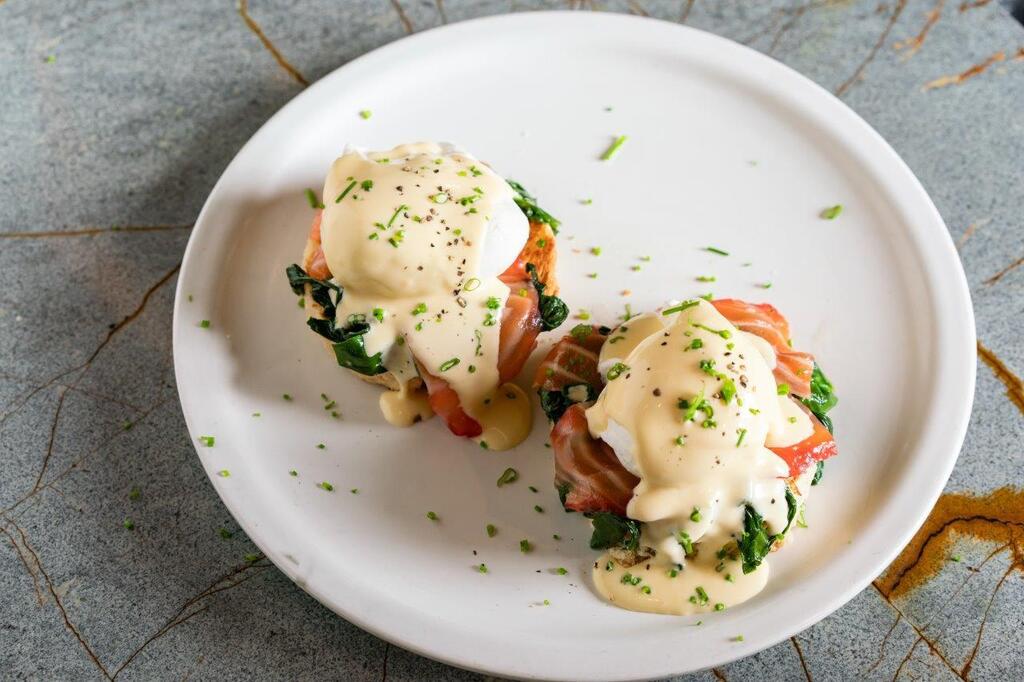 Each couple receives two starters such as focaccia with dips or grilled Saint-Maure cheese on brioche with honey, and three dishes to choose from, a hot drink and two glasses of wine to choose from (NIS 260 per couple).
Eliezer Kaplan 36, Sharona Complex Tel Aviv, 03-5333213. Not Kosher
Felix Wine Bar on Dizengoff Street is launching a new and intriguing brunch on Fridays and Saturdays alongside cocktails specially adapted to the new menu - summery, wine-based, slightly sour and refreshing.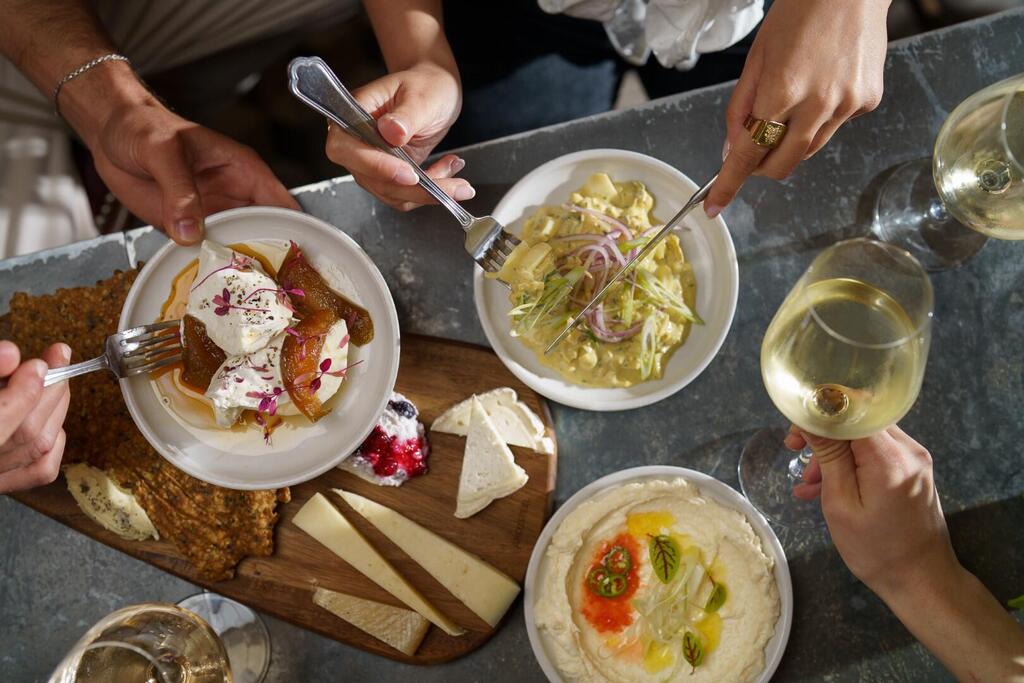 The menu opens with small delicacies such as Jerusalem artichoke salad and potatoes or fried Padrón peppers with feta and citrus aioli, and then we move on to appetizers such as fish carpaccio with spicy blueberry salsa, croissant with scrambled egg and salmon or polenta with poached egg and Turkish spinach. On Saturdays, other main dishes will be added, such as seared salmon in miso with roasted cabbage, and steak and eggs. In the sweets section, you will find crack pie, classic cheesecake and a vegan Rocher nutball.
Friday-Saturday 11:00-17:00
Dizengoff 230, Tel Aviv, 03-9746999. Not Kosher
The new deli on Rothschild Boulevard functions in the morning as a deli with wonderful cheeses by weight, pantry products from abroad, fish and sausages; in the evenings, it turns into a wine bar with cheese trays and wine at an affordable price. These days they also serve brunch during the week.
Among the dishes, one can find brioche bruschetta with truffle butter (NIS 58), roasted Padrón peppers and yogurt stone (NIS 32), poached egg on brioche with corn hollandaise sauce (NIS 62), or artichoke à-la Romana on Labneh (strained yogurt) and thyme (NIS 59), and more. There are also classic morning drinks such as Bloody Mary, Dakiri, Aperol Spritz or London Mule (NIS 46-56), coffee, sweet dishes, and wine.
Sunday-Friday 11:00-19:00
Rothschild 45 Tel Aviv, 050-3456789. Not Kosher
Dan Hotel Tel Aviv is launching a new breakfast menu by Chef Boris Paukman's CAFÉ 99 restaurant. Breakfast offers a selection of breads alongside first courses and salads served to the center of the table such as: green salad, eggplant with yogurt tahini, cherry tomatoes with mozzarella, Ortiz anchovies and roasted zucchini.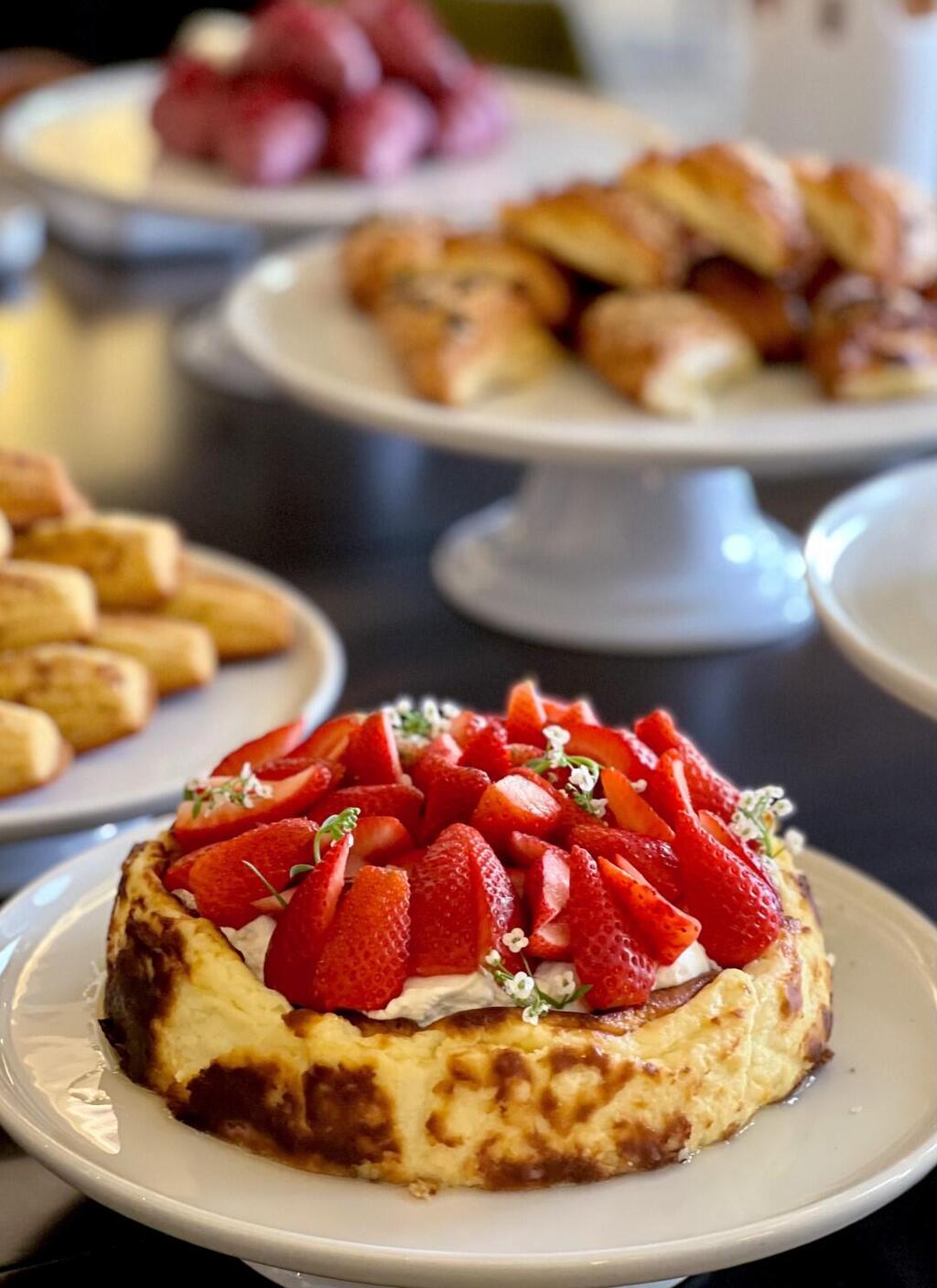 Among the mains dishes to choose from: soft scrambled eggs with crème fraîche, chives and sourdough bread, special cheese Burrekas made of croissant dough filled with Tulum cheese, smoked gouda and fresh herbs, eggs benedict, Croque Monsieur, and Little Gem lettuce (NIS 140 per diner).
Sunday-Friday 08:00-11:30
99 Ha'Yarakon St., Tel Aviv 03-5202492
Loullie at Gordon Beach offers a new brunch menu by chef Kfir Yanin which includes dishes such as Açaí with Banana, apple, watermelon, pecan, chia seeds, coconut flakes, granola and peanut butter (NIS 48); smoked salmon served on bagel (NIS 78); Turkish Börek with sheep cheese, Turkish spinach, Kalamata olives, grated tomatoes, hard-boiled egg and Zhoug (NIS 59); schnitzel challah with matbucha, tahini, fried aubergine, gherkins (NIS 72); farm cheese platter (NIS 92), and more.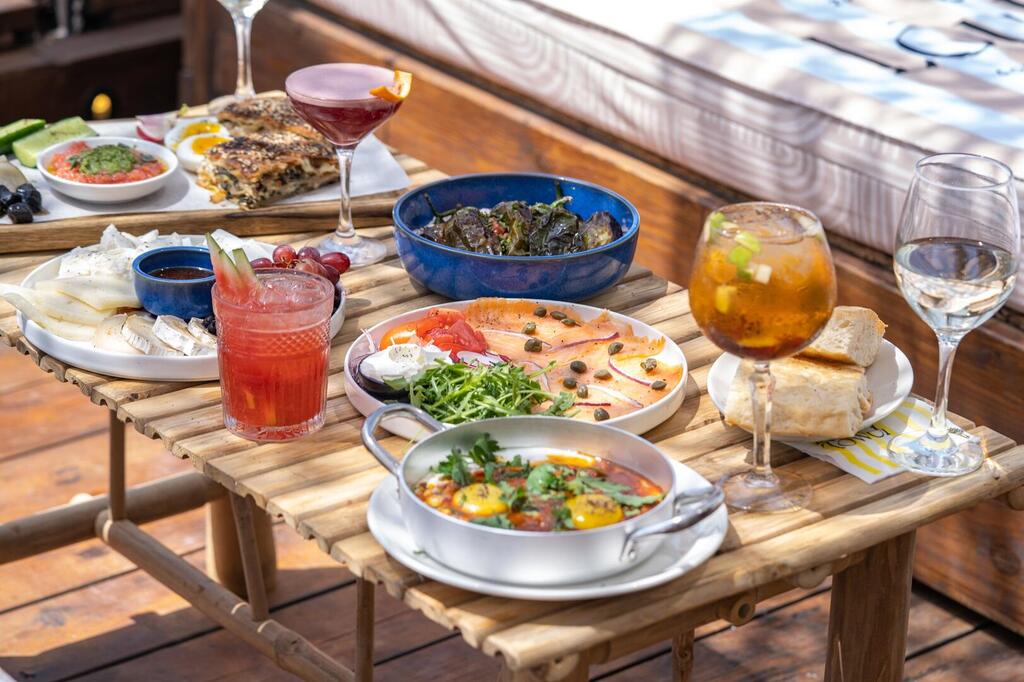 In addition, there are desserts such as classic crumbed cheesecake (NIS 47); chocolate mousse (NIS 48), and more.
Sunday-Saturday 11:00-14:00
Ha'Yarkon 121 St., Tel Aviv Promenade, 077-9386252
Breakfast and brunch in the Jerusalem area
A joint venture of Kalanit's catering with the Abu Gosh restaurant aims to bring Jews and Arabs together through food. Kalanit Tzur, a businesswoman and entrepreneur is behind the project, and she chose Abu Gosh as a symbol of coexistence. Brunch is served at Abu Ghosh on Friday and Saturday mornings in the Kosher kitchen; it is served in the form of a huge buffet full of plates and trays with fresh salads, salty pastries such as Burrekas and small sandwiches, spreads and dips, cheeses, pickles and gherkins - all served colorfully and abundantly alongside egg dishes in all styles. The food symbolizes coexistence, so you can have hummus alongside ceviche, and vine leaves next to Caprese salad (NIS 89 per diner).
There are also desserts such as yogurt with toppings, halvah and sweet pastries.
Friday-Saturday 09:00-12:00
65 Ha'Shalom Road, Abu Gosh, 02-5332019. Kosher
A bistro bar that combines food and cocktails, and recently serves brunch with elements of American cuisine throughout the day, so you can enjoy brunch until eight in the evening every day, alongside the regular menu.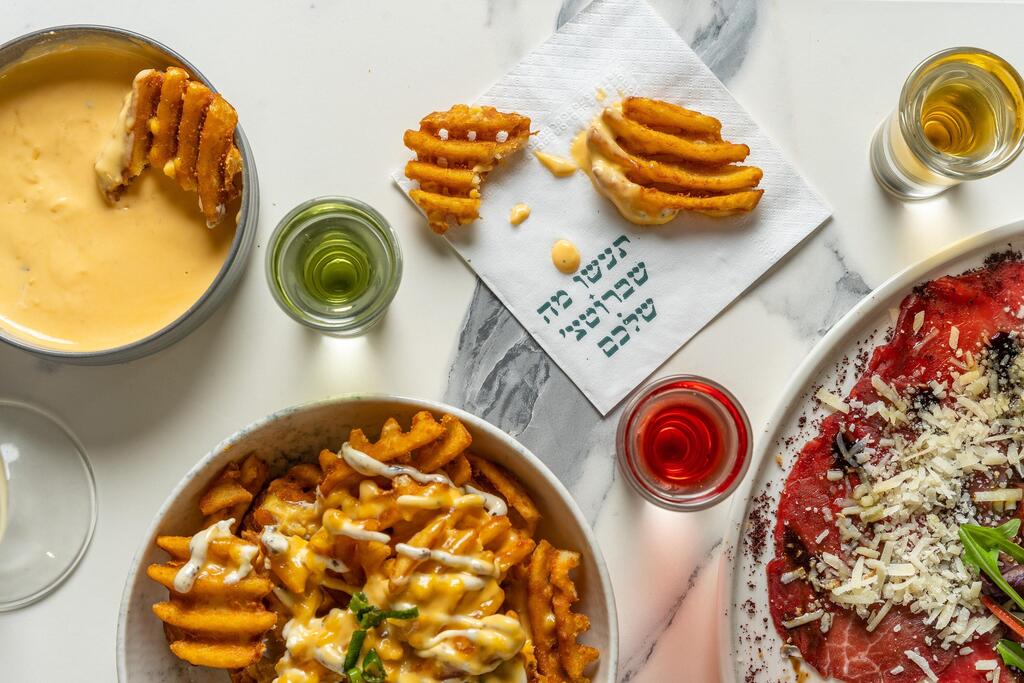 Among the dishes you can have grilled cheese toast with mozzarella, cheddar, parmesan, truffle aioli and cherry tomatoes (NIS 48); Sourdough bread with avocado, truffle aioli, roasted cherry tomatoes, purple onion, and egg (NIS 48); Eggs Benedict - poached eggs with smoked salmon or goose breast and hollandaise sauce (NIS 62); Smoked salmon served on American bagel with cream cheese, purple onion, capers and arugula (NIS 49). Don't miss the excellent fries.
Sunday-Thursday, Saturday 10:00-20:00, Friday 09:00-02:00
Rothschild 64, Rishon Le'Zion, 077-9386287. Not Kosher
Breakfast and brunch in the Sharon are and in the north
What's better than having brunch at a winery? YA Winery, located in an ancient stone building near the vineyards of Ben Zimra Winery, serves brunch while facing the beautiful view of the vines. The brunch is for two and includes cheese platter, quiche, Greek salad, ciabatta, dips, and seasonal fruits, and is accompanied with tasting of white, rosé and red wines.
Tirosh 52, Kerem Ben Zimra, Upper Galilee, 050-5641305. Kosher
In the modern and Kosher bistro restaurant run by the couple Ronit and Gil Amiri, the brunch includes light dishes such as scrambled eggs with goose breast on toasted challah with mayonnaise (NIS 52); Shakshuka Amiri - two eggs in a spicy tomato sauce with merguez sausage, challah and tahini (NIS 65); Steak & eggs - thin entrecote steaks alongside roasted challah, mustard aioli and pickled cucumbers (NIS 78), and other dishes such as Salade niçoise with home-made tuna confit, or Caesar salad with a soft-boiled egg, or a schnitzel sandwich with challah.
Zvi Ha'Nahal 2, Emek Hefer, 04-6551050. Kosher
Café Fainberg's brunch, unintentionally, became a big hit, and in view of the demand, they decided to continue serving it on Fridays.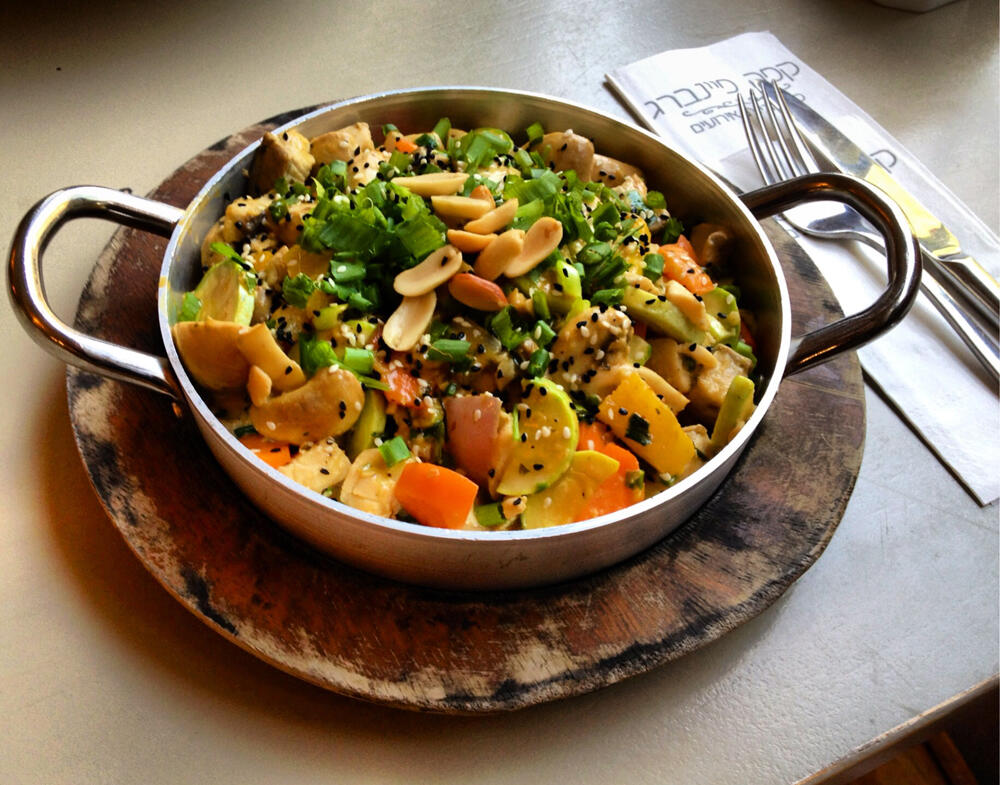 The meal is served buffet style on the beautiful veranda of Café Fainberg and the seating is on a wooden deck in the beautiful courtyard; everything is comfortable, tidy and highly aesthetic.
The brunch includes huge trays with a wide variety of fresh salads, homemade dips, cheeses and pastries, and accompanied by eggs of your choice, as well as hot and cold drinks. It is recommended to reserve a table in advance.
Jabotinsky 34, Hadera, 04-6344490. Kosher
The historic boutique hotel founded in 1905 in the German Colony in Haifa is opening its breakfast doors to the general public, after years of restraint.
Chef Andrei Bober joined the kitchen team and upgraded the rich buffet meal with several new dishes alongside the fresh pastries, colorful salads, cheeses and pickled fish served there.
The guests eat in the old dining room facing the German Colony Street where members of the Ottoman government and British army officers, among others, used to dine. On the menu you will find green shakshuka with leeks, green peas, broccoli, green onion, spinach and cauliflower in coconut milk sauce and green curry; red shakshuka with long-cooked tomatoes and eggs; homemade Sirenki pastry with eggs and Tuborg cheese, white raisins and sour cream; soused herring spread, pickled cucumber, potatoes, fried onion and mayonnaise; homemade hummus prepared on site, and more. The buffet meal is served from Sunday to Thursday and includes natural squeezed juices and unlimited coffee (NIS 75 per diner).
Sunday-Thursday 07:00-10:00
28 Ben Gurion St., Haifa, 04-8513344. Kosher
Recently, a new brunch menu was launched at Bar Yam restaurant in the lower city of Haifa, served on Fridays and Saturdays starting in the early afternoon. Among the dishes prepared by chef Yahel Avrahams one can find, challah dough rolled with homemade marmalade and butter (NIS 24); a plate of crème fraîche, tomato seeds and thyme (NIS 14); three soft-boiled eggs with black pepper and Atlantic salt (NIS 16); fried Buche cheese (NIS 24); salted fish with chopped greens and tomato seeds (NIS 67); Ortiz anchovies, olive oil and cucumber (NIS 37); A trio of cheeses alongside marmalade and almond cracker (NIS 59); for dessert - bread pudding with cream cheese and homemade jam, and more. One can also find an alcohol menu with cocktails and wines.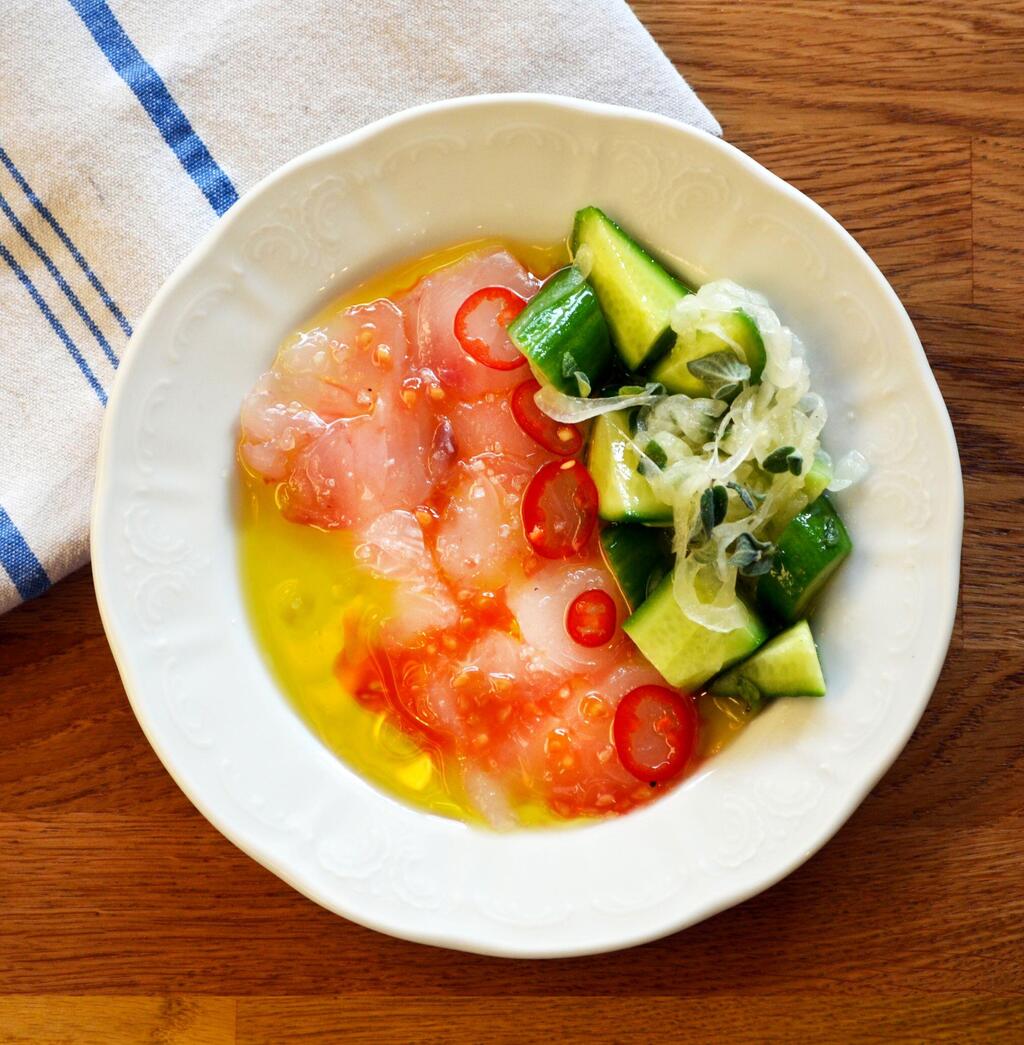 21 Ha'Namal St., Haifa, 074-7419386. Not Kosher
At the Italian restaurant Bella, led by chef Idan Lifshitz, brunch is served on Fridays once a month. This is a rich brunch served in a huge buffet. You can dine in the outdoor garden, especially opened for the occasion, and sometimes there are local market stalls on site.
The buffet includes dishes made from fresh raw materials, salads, pickled fish, cheeses, antipasti, breads and focaccia baked on site, sausages, Bella's roast, chopped liver, Shakshukas, and for dessert a selection of sweets such as yeast cakes, bread pudding, apple pie, fresh fruit and more, along with coffee or a glass of squeezed juice (NIS 98 per diner).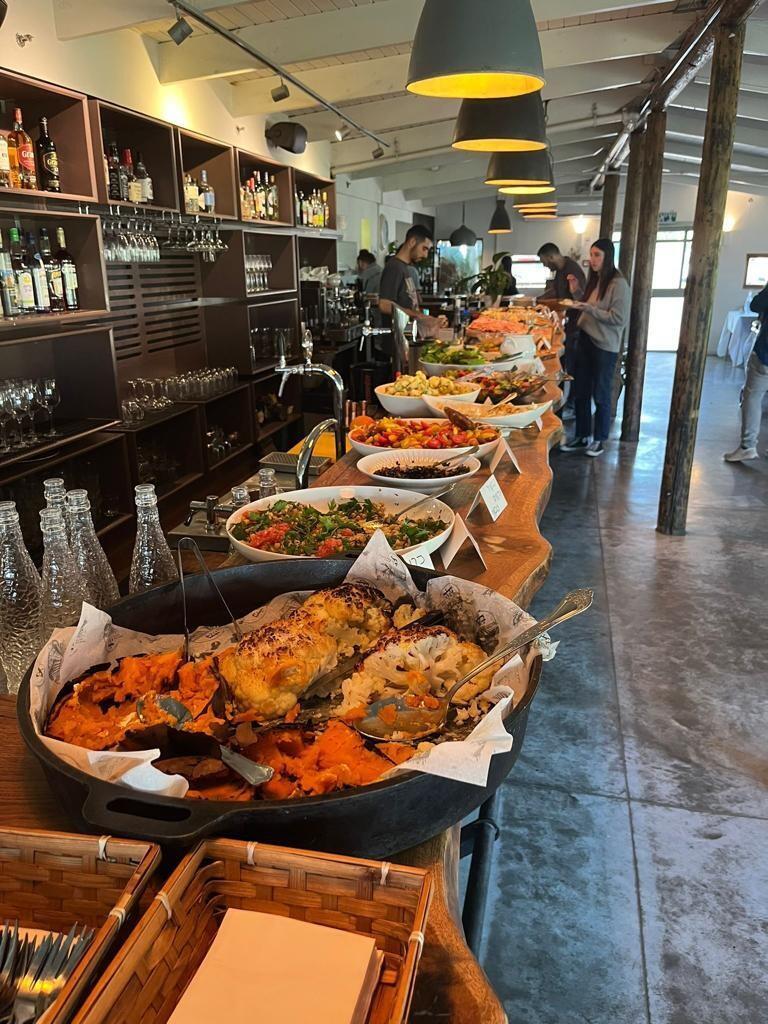 Fridays once a month 10:00-15:00
2142 Ha'Ets Ha'Gadol, Beit She'arim, 04-9830730. Not Kosher
Breakfast and brunch in the south
A gesture to grandfather: this joyful restaurant in Sderot has a vegetarian breakfast and brunch menu that is served every day. The place was founded by two members of Kibbutz Sha'ar Ha'Negev, Itai Mevorach and Tom Yehezkel, as a tribute to Grandfather Simcha, who is a mythological figure from the kibbutz. The concept of the restaurant is also a gesture to the kibbutz food with huge and colorful dishes at affordable prices, and the use of local raw materials, such as cheeses from Be'eri dairy, and olive oil from Bilanski farm.
You can find a dish named "Grandma cooked an egg", which is a toast topped with a spinach dish in béchamel with hollandaise sauce and a soft-boiled egg (NIS 46), or a Moussaka dish with eggplant and Matbuha, with goat cheese and parmesan cheese (NIS 42), and many other appetizers, salads, fresh focaccia.
Sunday-Thursday 11:00-16:00, Friday 10:00-15:00
Brunch routine has not yet fully penetrated Eilat, but if you are looking for a good breakfast, you can start the day at Stephanie's, who came to Eilat from Paris a few years ago and opened a small deli that serves also as a Kosher café in the heart of one of the oldest neighborhoods in Eilat.
Stephanie's menu is French-Tunisian, which means that next to the croissants you will find a classic Tunisian sandwich in a baguette (25 NIS), a plate of French cheeses (56 NIS), a salmon and cream cheese croissant, classic salads such as Niçoise salad or a Roquefort salad (39-43 NIS). There are also sandwiches and Panini (NIS 25-36). The breads and various pastries are baked on site, and on the shelves, there is a selection of delicacies straight from France.
28 HaTmarim, Eilat, 053-8037022. Kosher
Ronit and Moti Elazari's place is a vegetable garden where the couple grows fresh seasonal vegetables and many types of green leaves. There you can have breakfast and brunch made from the fresh products that were just picked, sitting at a table amid the tomato and pepper plants in a special atmosphere full of magic.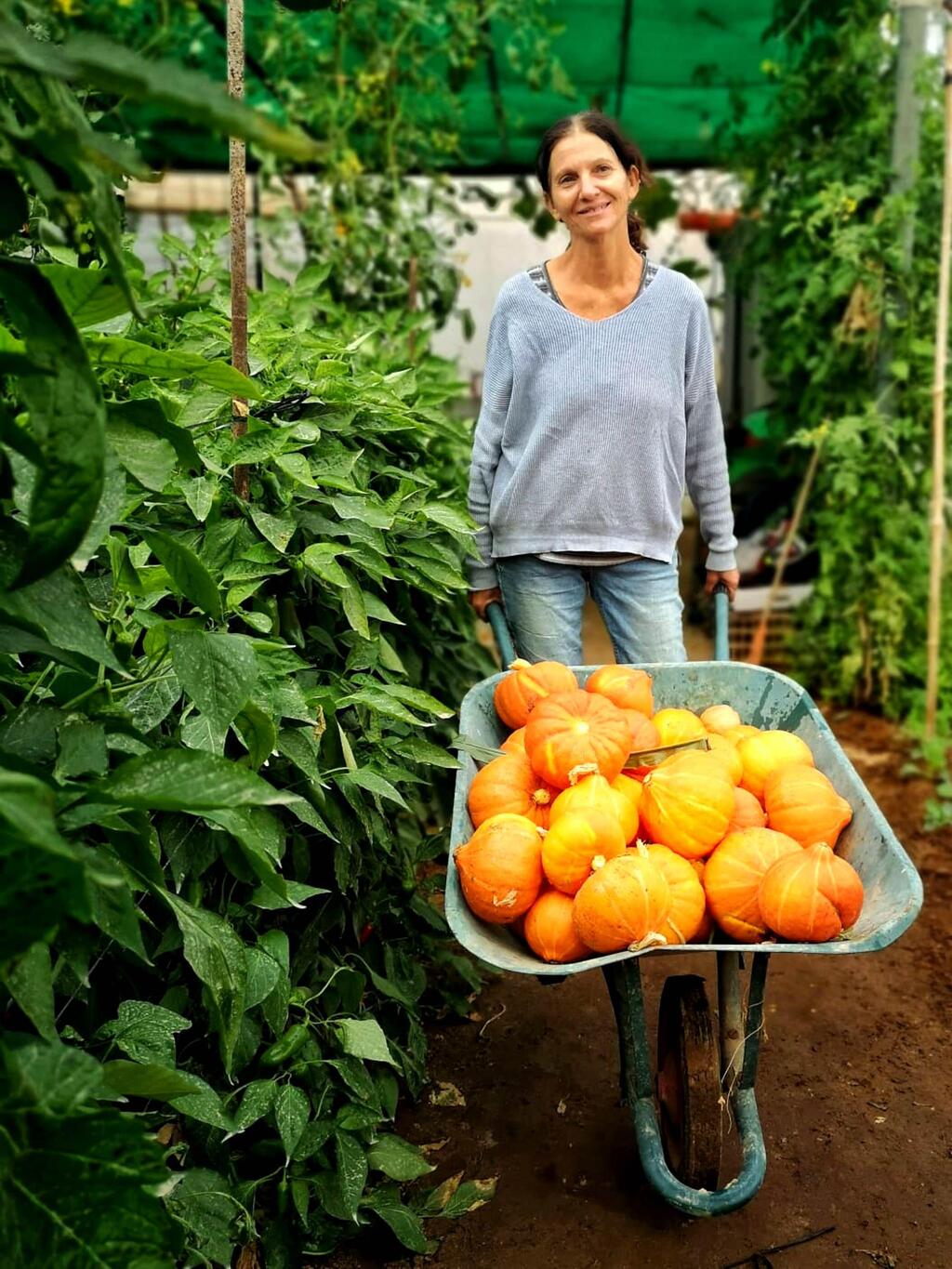 This meal is intended for groups of six diners or more by reservation only, and is all made by Ronit: homemade lemonade, local cheeses, fresh salads, breads, jams and pickled olives, vegetable omelets, hand-made spreads like sun-dried tomatoes or roasted peppers, and fresh leafy salads. This is a meal that pays tribute to the south, the desert, and the fruits of the earth. It is not intended for those who are in a hurry or short in time. There you should smell the leaves, pick what Ronit and Moti recommend, and enjoy the unusual desert experience.
Moshav Zofar, in the Arava, 052-3666819