Israeli Prime Minister Benjamin Netanyahu on Wednesday evening announced the formation of an emergency government at the beginning of a joint statement with opposition National Unity party head Benny Gantz. "Tonight we established a national emergency government. The people of Israel are united. We put aside every other consideration because the fate of the country is at stake," he said. Gantz added: "Our standing here shoulder to shoulder is a clear message to our enemy, and more importantly a message to all the citizens of Israel - we are all together, we are all mobilizing, we are all being mobilized."
The entire country earlier on Wednesday evening was ordered into protected spaces due to what turned out to be a glitch in the Home Front Command warning system. Earlier, nearly every community in the north of the country was ordered into shelters on Wednesday evening after a suspected drone infiltration from Lebanon. Later, an infiltration was ruled out.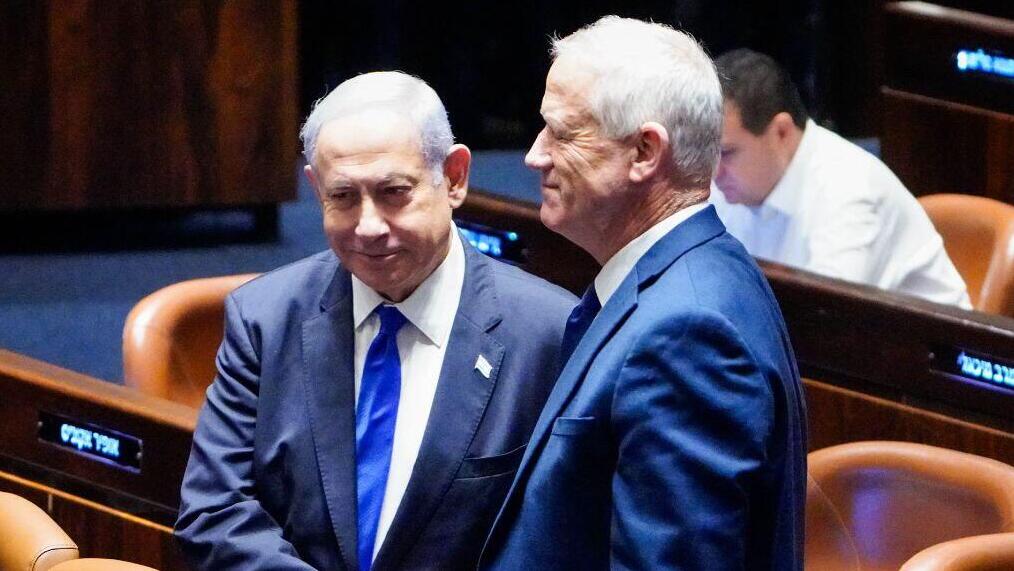 IDF spokesman Rear Adm. Daniel Hagari said later Wednesday evening that there was no security incident in northern Israel, and the military is investigating after the drone alerts sounded in northern Israel.
Tel Aviv and surrounding cities, cities in the central plane and the south came under rocket attacks on Wednesday afternoon as residents of the south were instructed to shelter in place amid concerns of a terrorist infiltration. Security forces and terrorists exchanged heavy fire near the border town of Zikim; several terrorists were reported killed.
Prime Minister Benjamin Netanyahu and National Unity Party leader Benny Gantz agreed on a unity government after days of negotiations. Gantz had insisted that there be a limited number of ministers involved in a security panel, for decision-making amid war.
Earlier, at least two people were hurt when a rocket fell inside Ashkelon also causing damage to property.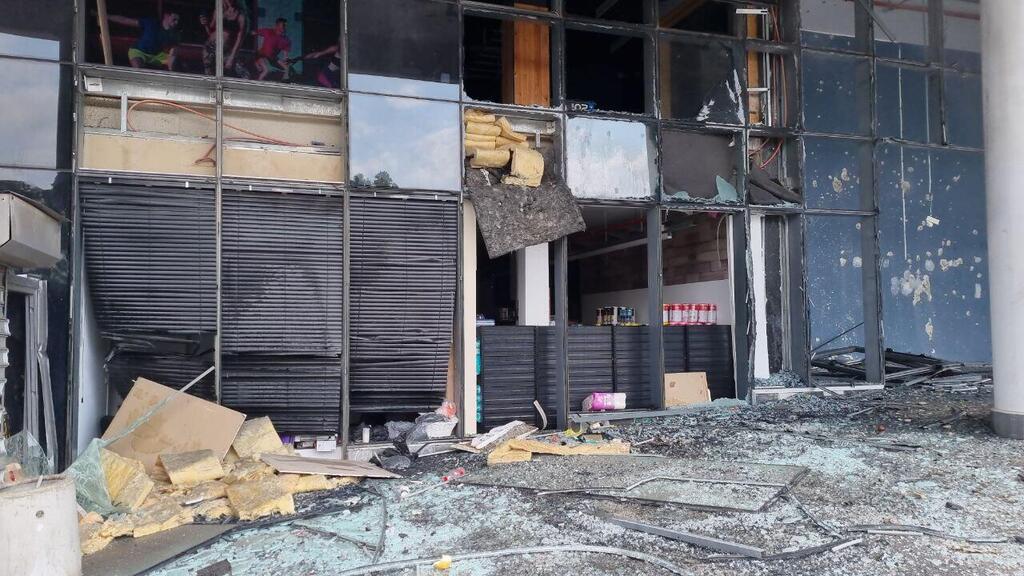 The Iran-backed Hezbollah terror group on Wednesday, fired mortar shells at Israel. The IDF attacked southern Lebanon in response as residents were sent to the shelters.
In Gaza, the Air Force bombed the Islamic University in Gaza. The military said Hamas engineers were trained there. The military also said. Strikes on the strip continued all morning.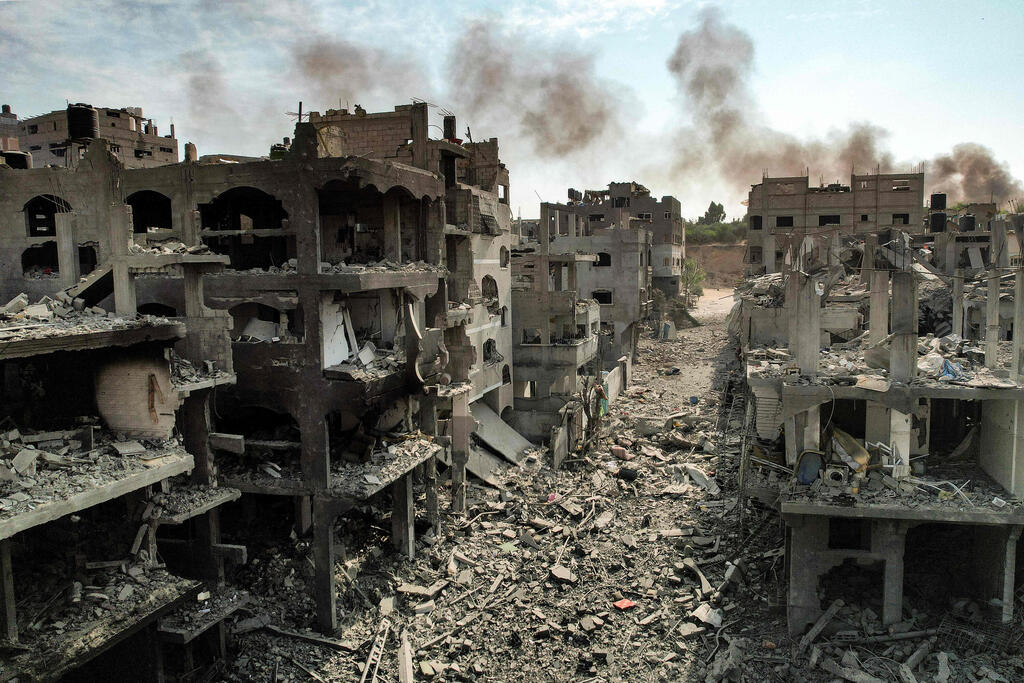 Israel fired its largest artillery shell against Hamas targets, able to cross from one side of the Gaza Strip to the next. The shell has a range of up to 40 kilometers (25 miles) and has not been used since the 2006 Second Lebanon War.
The IDF spokesperson said in a briefing that Hamas had intended to conquer border area communities; he confirmed that over 1,200 Israelis have died since the murderous Hamas attack on Saturday and that 5,000 rockets were fired by the Gaza terrorists, at Israeli cities and communities. Israel struck more than 2,300 targets in the Gaza Strip. Overnight, it launched
200 attacks on the Al-Furqan neighborhood
in Gaza City which is a known Hamas hub. "This is the third strike in the last 24 hours, and more than 450 targets were hit in the quarter which is a next of terror from which Hamas launched much of its attacks on Israel," the IDF spokesman said.
Palestinians said that Israeli strikes killed the brother of Mohammed Deif, head of Hamas's military wing, and members of his family overnight, including his son and granddaughter. There are others trapped amid the ruins of the home, in the south of the Gaza Strip.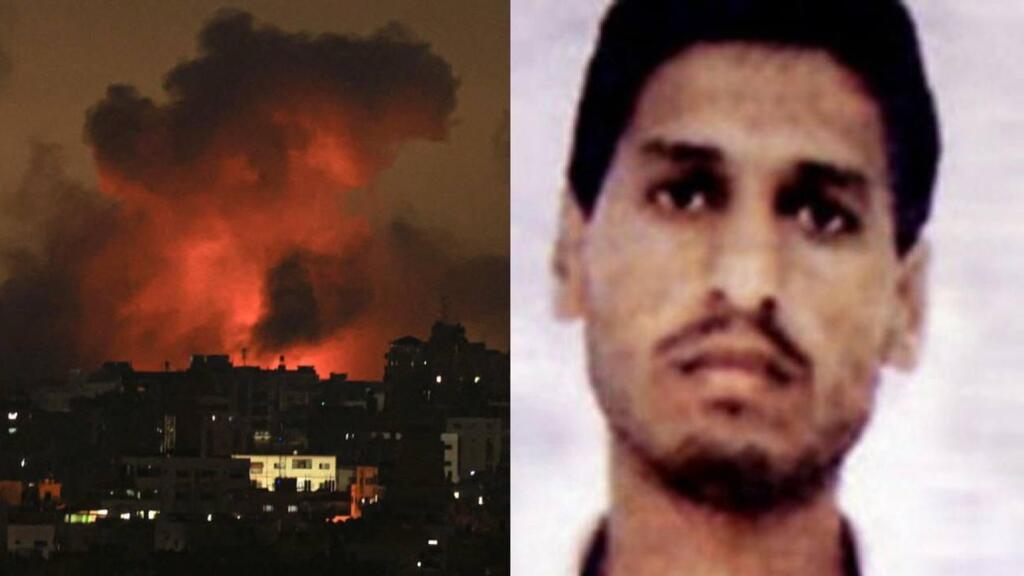 The U.S. was trying to secure the evacuation of Palestinian Americans from Gaza through a humanitarian corridor to Egypt, NBC reported early on Wednesday. According to the report, U.S. President Joe Biden urged Prime Minister Benjamin Netanyahu to avoid civilian casualties in raids on the Strip
Meanwhile,
Defense Minister Yoav Gallant toured the Gaza border region Tuesday evening
and spoke with soldiers in the field. Gallant to the soldiers: "
I have lifted all restrictions;
we have taken control of the sector and are moving to a full-scale attack. Hamas wanted a change in Gaza, you will have the honor to turn the tables on its head."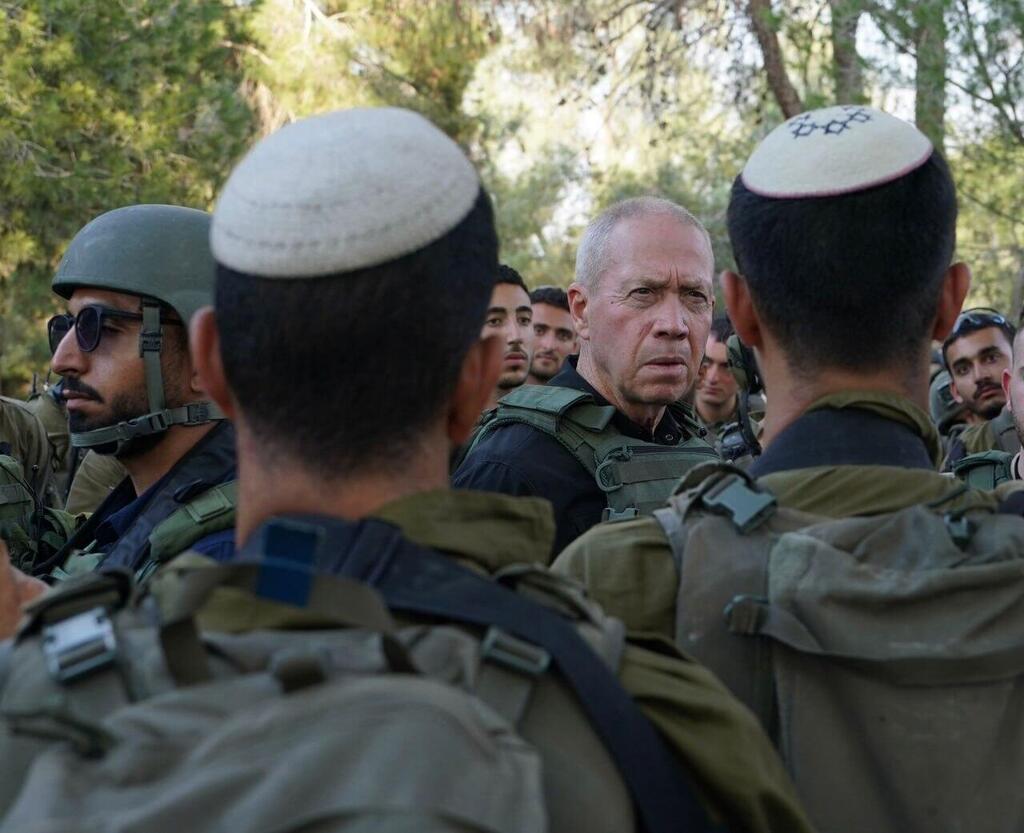 "You stood bravely on the front line, struck many terrorists, and saved lives. You saw firsthand what we are fighting against - human beasts – the Islamic State of Gaza. Thanks to your heroic action in this defense mission, you will have the honor of changing the reality here. You saw the costs, and you will witness the turnaround," he told troops in the field.
"Hamas wanted a change in Gaza, it will change 180 degrees from what they thought. They will regret this moment - Gaza will not return to what it was." The defense minister added, "There will be no situation where Israeli children are murdered in the fields, and Hamas continues to exist. I have lifted all restrictions - we will kill everyone who fights us, using all means. Whoever comes to behead, to murder women, Holocaust survivors – we will annihilate them."
Meanwhile, the Health Ministry reported that as of Tuesday 7pm,
535 people were hospitalized across Israel with injuries sustained in Hamas's attack
.
One of them was reportedly in critical condition, 105 in serious condition, 262 in moderate condition and 167 in light condition. So far, 2,901 have been admitted to hospitals across the country with injuries sustained in the attack.
Earlier,
fourteen rockets were fired from Lebanon into northern Israel
- triggering air raid sirens in the Western Galilee region, four of which were intercepted by Israeli air defense systems and ten others crashed in unpopulated areas, the IDF reported Tuesday evening.
The
military said it responded with artillery fire, hitting two Hezbollah observation posts
.
Hezbollah-affiliated Lebanese TV channel Al-Mayadin reported that three rocket volleys were fired into northern Israel.
The Municipality of Ma'alot-Tarshiha in the Upper Galilee has instructed its residents to stay near protected spaces following "impacts in the Goren, Shlomi, Liman and Hanita areas."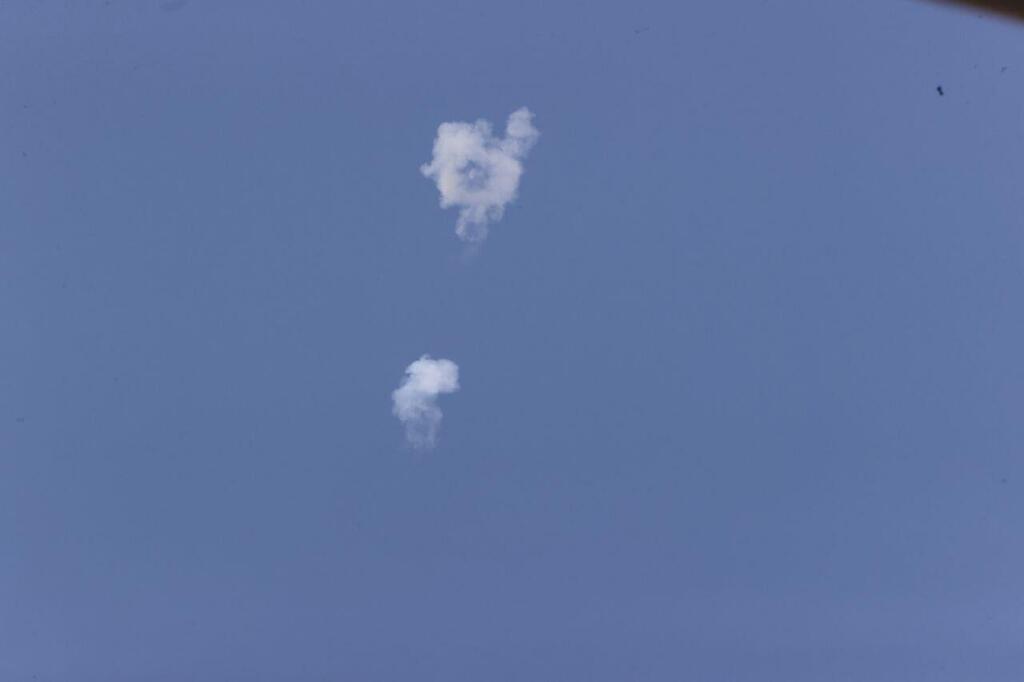 An
anti-tank missile was then fired from Lebanese territory toward an Israeli armored army vehicle
near the Avivim military base. An
Israeli attack helicopter struck another Hezbollah post
in retaliation.
The attack came a day after a series of Israeli strikes on Hezbollah outposts along the border killed at least three members of the Iranian-backed terrorist group. The Israeli offensive came in response to a border incursion by armed terrorists in which 300th Brigade Deputy Commander Lt. Col. Alim Abdullah was killed. Palestinian Islamic Jihad claimed responsibility for the assault.
The
IDF released Tuesday evening the names of two additional Israeli soldiers who were killed in the clash
. The fallen soldiers are Sergeant First Class Joad Aamar, 23, from Hurfeish and Sergeant First Class (res.) Gilad Molkho, 33, from Tel Aviv, an Egoz soldier.
Meanwhile,
Two foreign workers were killed in the Eshkol region near the Gaza border Tuesday afternoon by a rocket fired from the Palestinian enclave
. First responders provided first aid to another foreign worker in his 30s who was seriously injured and airlifted him to a hospital.
The police said that several impact sites have been detected throughout the southern city of Ashkelon, as well as unexploded ordnance and shrapnel, some of which are intact and fell without interception, and there is concern that they might still detonate or explode.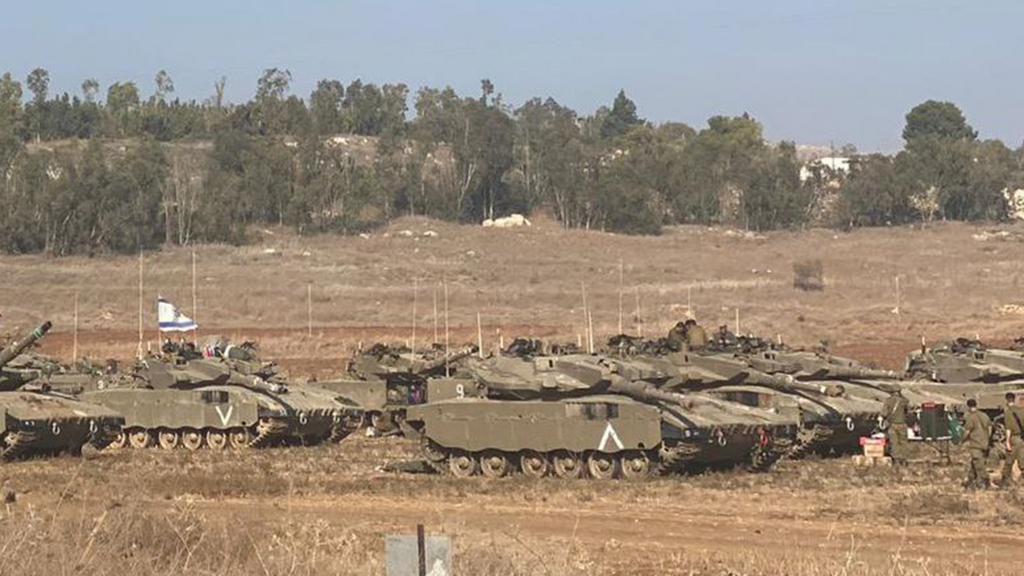 A
woman in her 50s was moderately injured by shattered glass and debris that fell on her after one of the rockets directly hit her Ashkelon home
. The Magen David Adom ambulance service transported her to the southern city's Barzilai Medical Center.
Civilians were instructed to stay away from suspicious items and report them. Firefighting and rescue teams are operating in the city. Some of the hits were in open areas, and a vehicle was damaged in the city.
Gaza terrorists also fired several heavy rocket salvos at central Israeli cities
, with rockets reaching as far as Wadi Ara, the northernmost point targeted since the beginning of hostilities on Saturday. It was later reported that
a Palestinian man was killed in the West Bank city of Baqa al-Sharqiya in the Wadi Ara region by a rocket fired from the Gaza Strip
.
Hamas claimed to have targeted Ben Gurion Airport, however, Israeli authorities have denied the claims and said that operations were running as usual. One rocket also crashed in the central city of Rishon LeZion. There were no reports of injuries.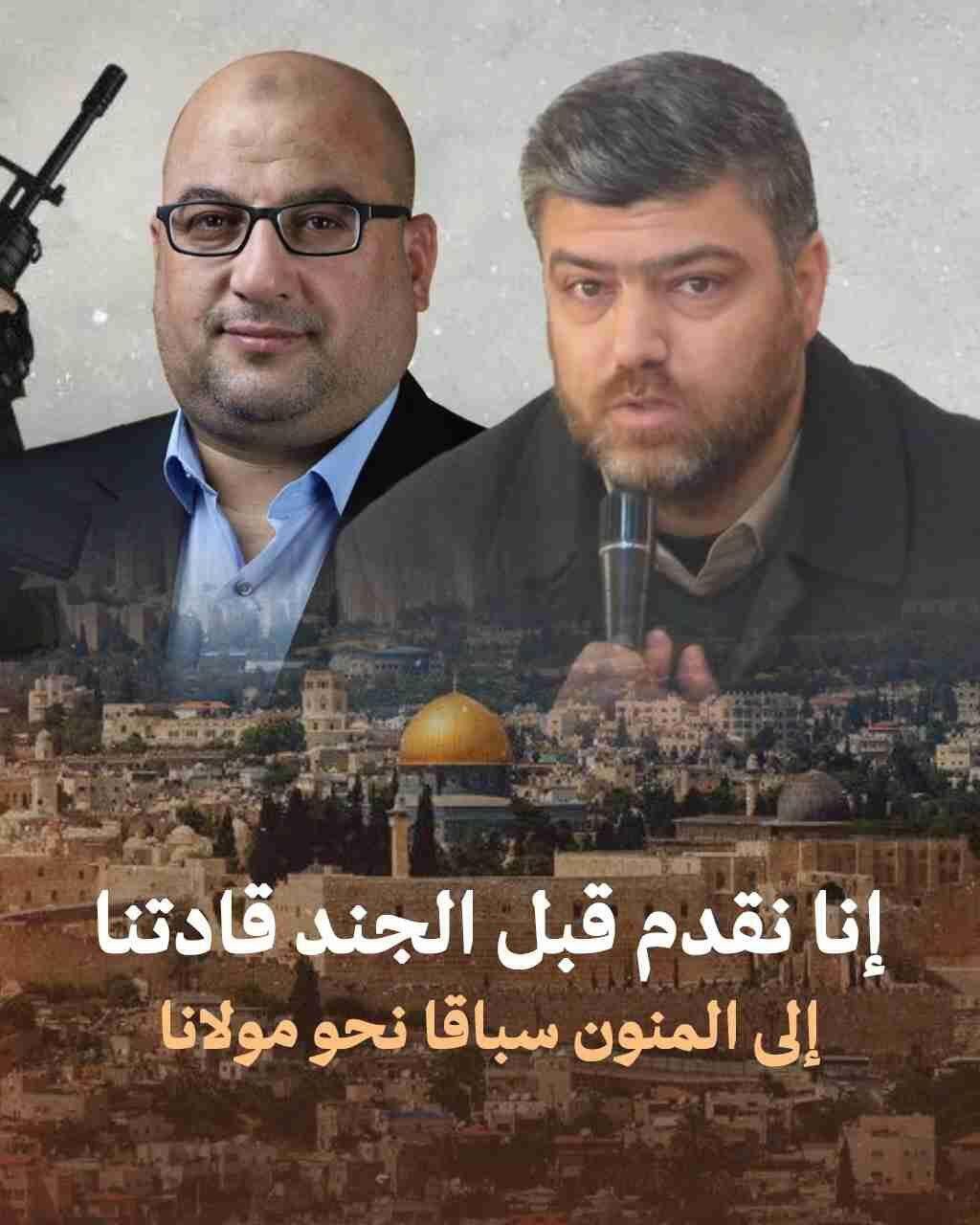 Earlier, the IDF Spokesperson's Unit reported that
Israeli aircraft eliminated Hamas' Economy Minister Jouad Abu Shamala overnight
. As part of his role, Abu Shamala managed the organization's finances and allocated funds to finance and direct terror within and outside the Gaza Strip. In the past, he held security roles in the terror organization and, as part of his responsibilities, led several operations aimed at harming Israeli civilians. Earlier, Hamas announced that he and
another senior official in the organization's politburo, Zakaria Muamar, were killed in an Israeli bombing
.
Earlier on Tuesday, the scope of the atrocities carried out by Hamas terrorists on Saturday continued to come to light in security footage from border communities and by media invited by the IDF to observe the scene on the ground after residents were evacuated and terrorists removed.
The Washington Post showed footage of hostages who were taken by Hamas and who were seen in subsequent clips, killed after a Hamas official told Sky News that the terrorists did not kill civilians.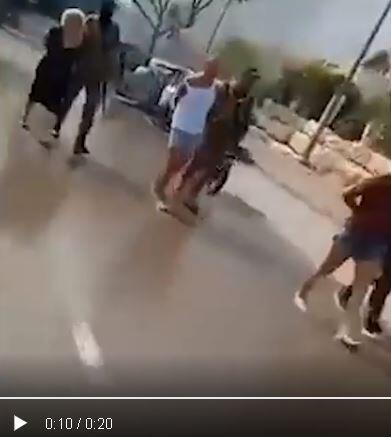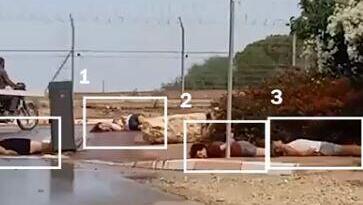 Josh Wander, the international spokesman with the Israeli search and rescue service ZAKA, told the Post that "large teams cleared bodies all day from Kibbutz Be'eri," and that his group had found at least 108 bodies thus far. "We've recovered bodies [of] dozens of men, women and children," Wander said. "It's clear to us that when [Hamas] went in [to the area], they just basically mowed down and murdered anyone that they found however they found them — in their cars and their houses."
While rocket fire to the south continued through the morning hours and into the early afternoon, journalists were allowed to enter the communities overrun by the Hamas terrorists to see the carnage left there.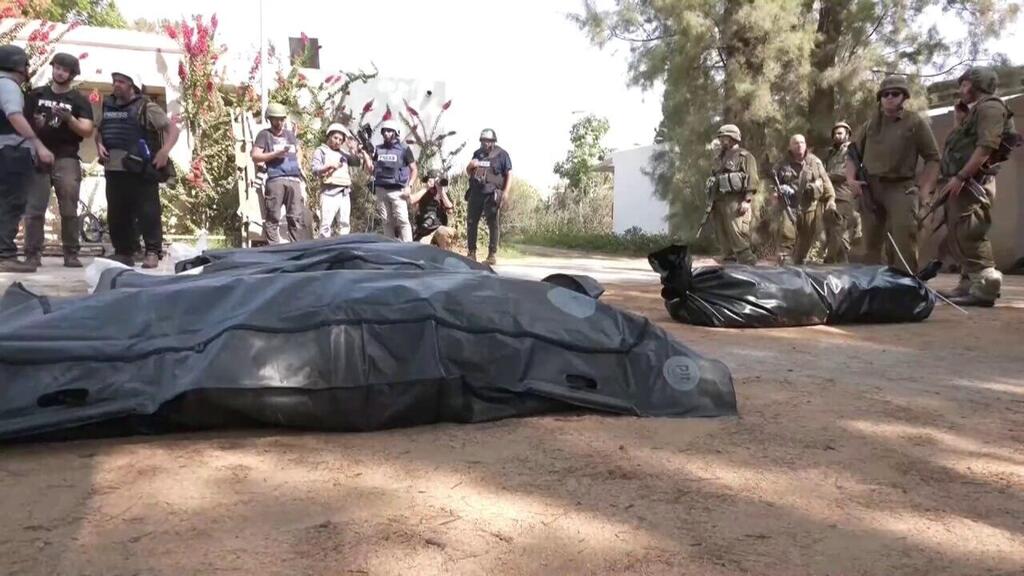 Germany announced an investigation into Hamas for suspected murder, manslaughter and hostage-taking, a spokesperson for the federal public prosecutor said The Foreign Ministry in Berlin confirmed that its citizens were among the hostages held in Gaza.
President Issac Herzog visited residents of the south in a hotel outside Jerusalem, where they were taken after their communities were evacuated. He was confronted by angry calls from residents who demanded the establishment of a unity government.
Talks to form such a government continued on Tuesday supported by all members of the Likud and other coalition partners. Itamar Ben-Gvir, leader of Otzma Yehudit, added his voice to the move after opposing any formation of a limited security panel of ministers, without him, to decide matters of security.
Civilians took it upon themselves to respond to the needs of residents of the Gaza border for emotional support as well as items of clothing, toys and other essential supplies, which the government had not stepped in to address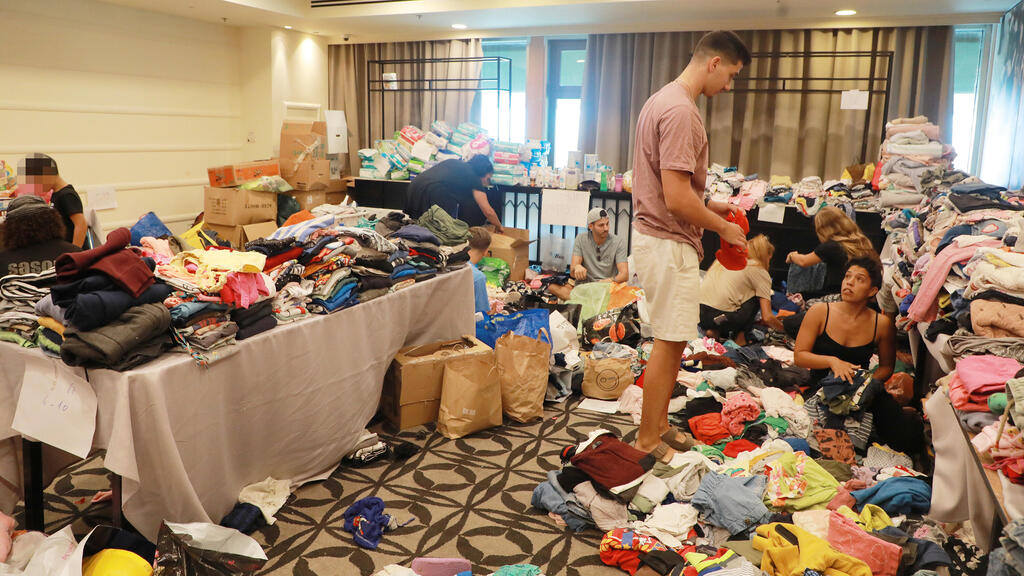 Earlier, the government approved the call-up of a further 360,000 reservists on Tuesday, doubling the number currently deployed. The Air Force will be dispatching planes to locations in Europe to provide transport for Israelis serving in the military reserves who are attempting to return and join the fighting.
The military spokesperson said 123 members of the IDF have been confirmed dead since Saturday's murderous Hamas assault and that the families of 50 confirmed captives in Gaza have been informed thus far.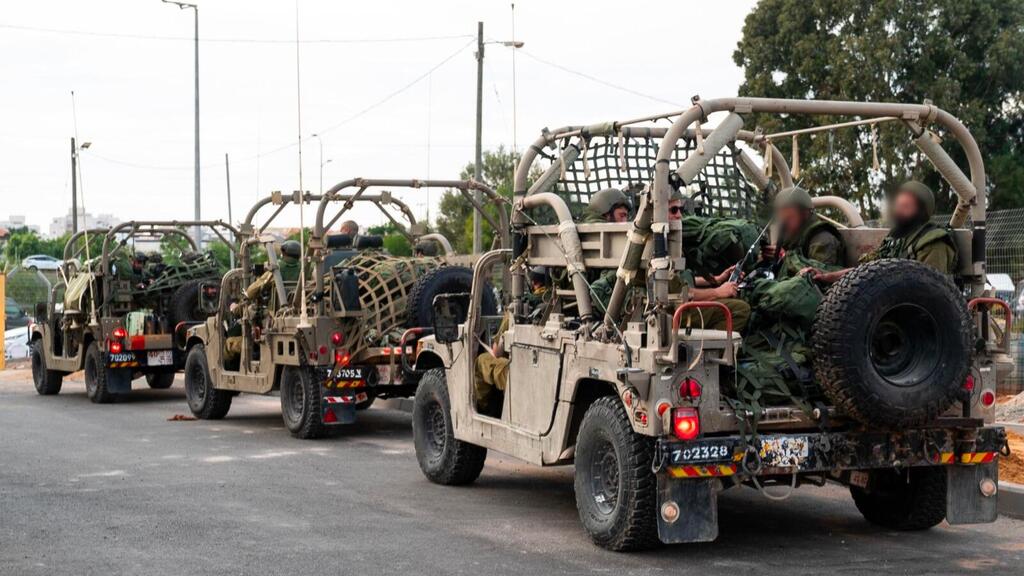 He said Israel had full control of the Gaza border area although encounters with infiltrating terrorists may still occur. "This is a war zone," he said. "We are building a wall made of tanks, planes and choppers to prevent incursions and our policy of engagement there is to shoot and kill anyone approaching the border," RAdm. Daniel Hagari said adding that all civilians in the communities on the border have been evacuated.
In an earlier briefing, Hagari said that the military is receiving assistance from the U.S. CENTCOM including coordination of intelligence and operations. "The Americans stations assets with naval vessels that can help protect Israel," he said. IDF Chief of Staff Herzi Halevi spoke with his U.S. counterpart for the first time overnight and was assured of total support.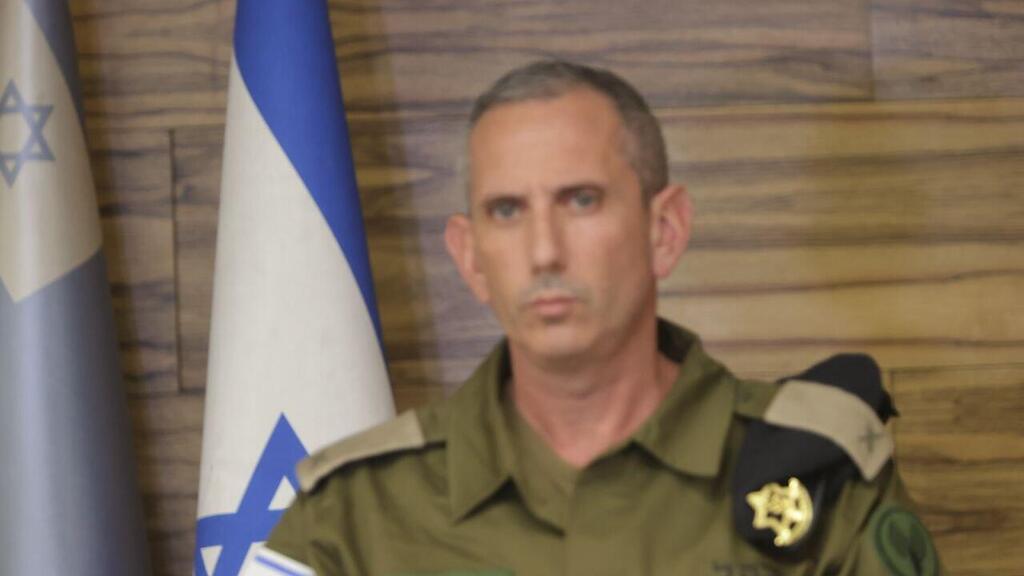 Forces killed a terrorist in the Gaza border area overnight while more than 100 airstrikes were carried out in Gaza overnight as bombing sorties continued
.
U.S. Secretary of State Antony Blinken discussed U.S. support for Israel in a call with Israeli Foreign Minister Eli Cohen
, the State Department said in a statement early Tuesday. Blinken "reaffirmed our efforts to secure the immediate release of all hostages," the statement said. Blinken also spoke with French Foreign Minister Catherine Colonna, reiterating their condemnation of Hamas' attacks on Israel, the department said in a separate statement.
Israel named 300th Brigade Deputy Commander Lt. Col. Alim Abdullah as the IDF officer who died in a clash with Palestinian Islamic Jihad (PIJ) terrorists at the Lebanon border Monday afternoon
. Abdullah, 40, was a resident of the Druze town of Yanuh-Jat and was scheduled to conclude his military service this coming Sunday. Six of his nephews received emergency military call-up orders, but returned home following his fall in battle. Abdullah's funeral was held on Tuesday evening.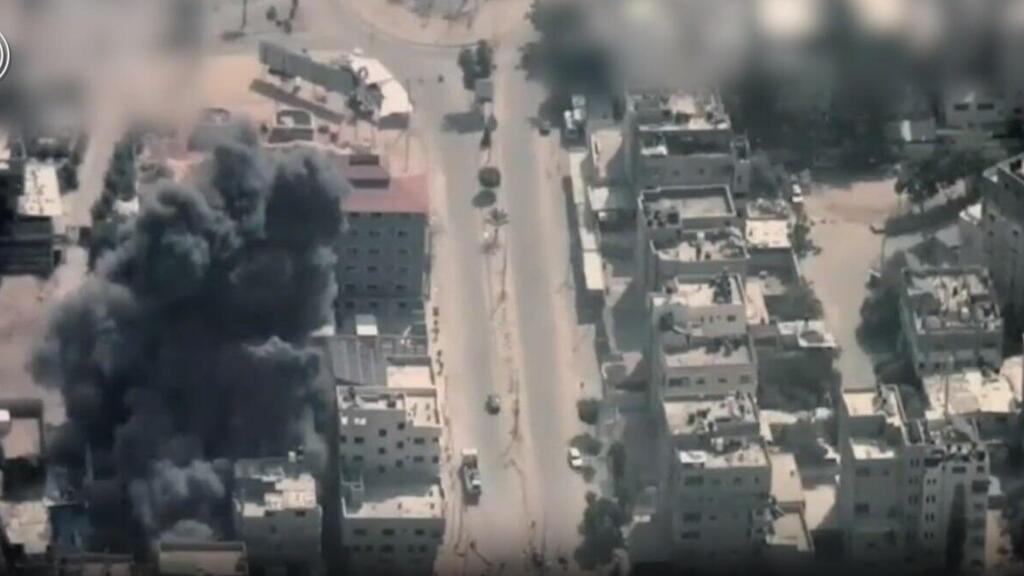 His family has been notified of his death and a mourning tent was established in his community Monday night. The IDF said, "We share in the family's grief and will continue to support them."
Abdullah and his soldiers responded to an alert about a border breach. They encountered four suspects, engaged in a confrontation and neutralized two, while the third suspect fled back to Lebanon.
Six Israeli soldiers were injured in the ensuing shootout to varying degrees, including Abdullah, who was critically wounded and subsequently succumbed to his injuries. Lebanese terrorist group Hezbollah denied involvement in the attack, while Palestinian Islamic Jihad claimed responsibility for it.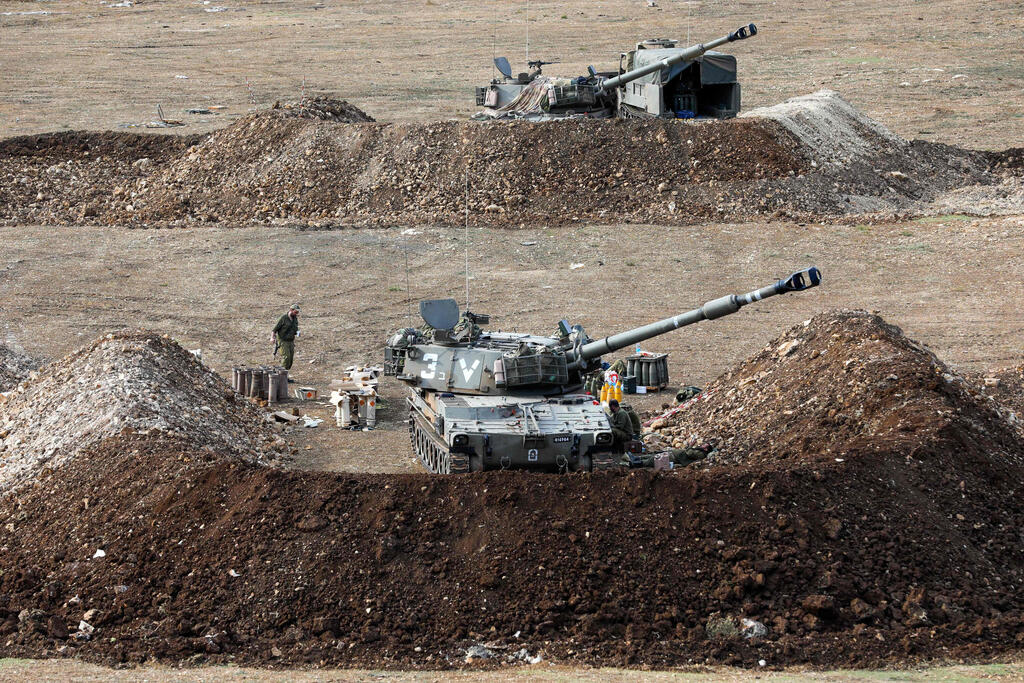 In response to the border clash,
Israel launched a series of retaliatory strikes on Hezbollah military posts in Southern Lebanon
, including airstrikes and artillery shelling, killing three of the organization's operatives there.
Israel has reportedly mobilized some 300,000 troops in recent days
following Hamas's devastating incursion into southern Israel, amassing significant forces on the Lebanese border as well for fear that Iranian-backed Hezbollah might exploit the disarray to open an additional front in the north.
Meanwhile, rocket sirens sounded again in Gaza border towns overnight Tuesday after several hours of relative calm.
The Eran hotline, sponsored by the Ministry of Aliyah and Integration to provide emotional support, is open for immigrants to Israel in English, Russian, Amharic, French and Spanish between the hours of 4 p.m. and 9 p.m. at *3201.
First published: 03:11, 10.10.23