Hundreds of people attending a desert rave in Kibbutz Re'im found themselves fleeing for their lives following a surprise attack by Hamas on Israel Saturday morning.
Some of the revelers who fled have not yet been located and worried friends and families are trying to gather information about the fate of their loved ones through social media.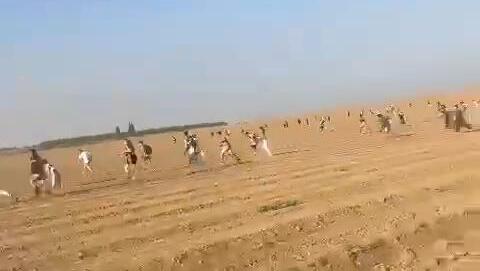 Chen Mizrachi, a resident of Tel Aviv who was at the party in Re'im, recounted, "It started at seven in the morning. When the rocket fire from the sky began, we started shouting 'Code Red' to everyone. There were several firing points; we ran from one direction to another. There were no IDF forces, only police. We needed more officers.
"Many fell and were injured from terrorist fire. The terrorists surrounded us. Somehow, we managed to escape the line of fire. They shot at us three times during the escape. There was a cell of four terrorists, then a cell of six.
"At the last place, a terrorist cell caught us and we took fire. They shot an RPG into our car. We stuck to a tank that was there. We all got out and realized that there were no soldiers in the tank. It was very confusing. I have more friends missing there. Gradually, I see friends I know arriving at the hospital. These are very, very difficult sights. I took off my shirt to create a tourniquet for three injured people in the field. We feel helpless. You are surrounded and you know you will be killed in a moment."