Knesset Speaker Amir Ohana treated his U.S. counterpart Kevin McCarthy to a memorable night on Sunday with an electrifying performance of The Eagles' timeless classic Hotel California.
Ohana wowed the audience with his guitar skills during his performance on stage alongside Kfir Ohayon, one of Israel's most renowned guitarists.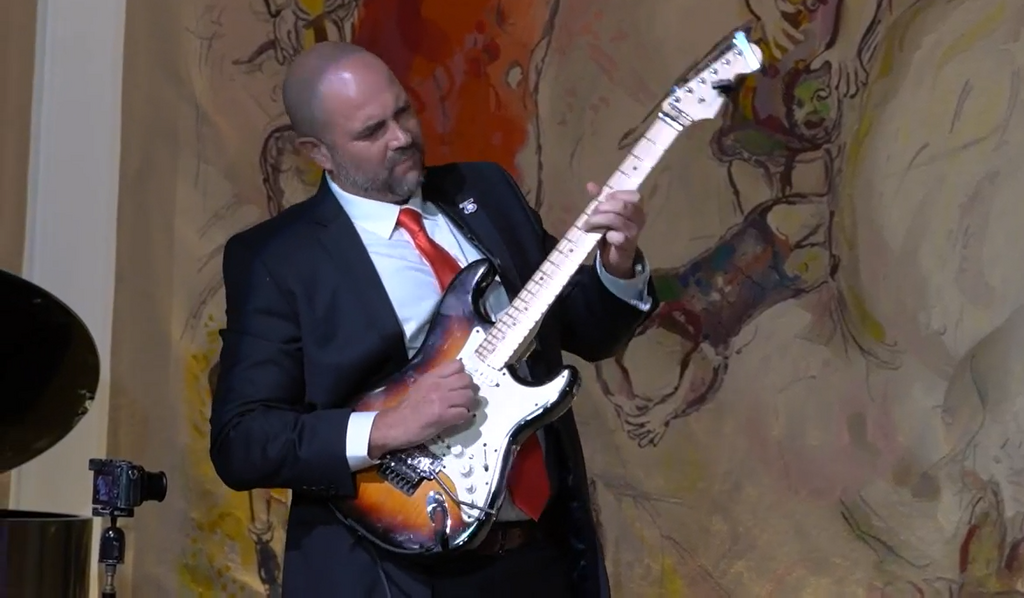 The California congressman, slated on Monday to become the first Speaker of the U.S. House of Representatives to address the Knesset plenum in 25 years, appeared to be fairly amused by the gesture.
McCarthy landed in Israel earlier on Sunday at the head of a bipartisan delegation of House members at the invitation of Ohana. This is his first overseas trip since taking office.
McCarthy and fellow House members opened their Israel trip with a visit to the Western Wall in Jerusalem where they were received by the rabbi of the Western Wall and holy sites, Rabbi Shmuel Rabinowitz, and by the director of the Western Wall Heritage Foundation, Mr. Mordechai (Suli) Eliav, who explained the importance of the holy site for the Jewish people and presented them with a model of the Temple and the history of Jerusalem.
"Israel is a blessed nation, and due to our shared values, there is an unbreakable bond between Israel and the United States," the speaker said.
Meanwhile, Ohana has never been unapologetic about his love for rock 'n' roll as videos of him shredding on his axe have become a constant fixture of his social media presence, featuring in collaborations with Israeli household names such as legendery guitarist Yehuda Keisar and veteran rockers Stella Maris