Syrian media reported its military air defenses were activated late on Sunday in an Israeli missile strike on the outskirts of the capital Damascus and explosions were heard in the area.
Citing a Syrian military source, the reports said the missiles came from the direction of the Golan Heights and had targeted several sites, it did not identify.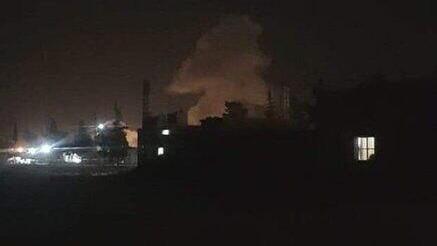 "Our air defenses confronted the aggressors' missiles and downed some of them with only material losses," the Syrian military source said.
The UK-based Syria Observatory for Human Rights, an opposition group said the attack came in two waves. One of the targets was a Syria air defense base that also housed Hezbollah operatives and the second was the area near the Damascus International Airport.
The rights group also said one of the air defense missiles might have fallen in a neighborhood of the capital and ambulances had been rushed to the scene.
This was the first reported Israeli strike on Syria in three weeks. The last time an attack was attributed to Israel was early in May when the airport in Aleppo was targeted. Then opposition sources said the strike was directed at pro-Iranian forces in the area, including a weapons storage facility belonging to Hezbollah, which was destroyed.
Reuters contributed to this report.