Thousands of demonstrators marked the so-called "
day of disruption
" by staging a protest march that culminated in the ultra-Orthodox city of Bnei Brak near Tel Aviv. The city's residents overwhelmingly voted for ultra-Orthodox parties supporting the judicial reform, and concerns over religious extremism had drawn many protesters to the city for the second consecutive week.
In contrast to the previous week, local residents decided not to confront protesters. Several hours before the protesters arrived in the city Thursday, residents set up food and drink stands for them. As the protesters arrived - some wearing helmets as a precaution against the eggs that had been thrown at them during last week's protest - the locals welcomed them with cooked food, sweets, bottles of water, and flowers.
Some demonstrators were moved when "Sholem Aleichem" was played on loudspeakers, and one of them was seen overwhelmed with emotion by the traditional piyyut, a religious poem that is recited every Friday evening. Another protester excitedly took a Torah scroll, which had been brought by a Bnei Brak resident, and danced with it.
Capturing these moving moments was a nearby resident, Nehama Kalfa who had come with her sister, hoping "to feel that we are together. We spoke to people, shook hands, and hugged."
When the piyyut "Sholem Aleichem" began to play, she saw a protester nearby "who started to hum and wave his hands in the air. That's when I started filming. And then he took off his helmet, started crying, getting emotional and singing."
According to Kalfa, the protester then looked at her and said, "my father had love for every Jew, and wanted everyone to be united. My father would roll over in his grave if he could see the hatred and conflicts among us." She recalls, "I was moved to tears. It was a person with a pure heart."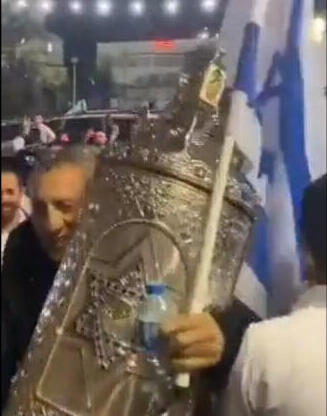 However, several clashes between protesters and non-Haredi right-wing activists were recorded when fireworks were fired toward demonstrators. The police arrested five individuals for assault, possession of pyrotechnic materials, and allegedly throwing eggs and objects at the protesters.
Kobi Nachshoni, Roi Rubinstein and Adam Kutub contributed to this story.