Protesters launched on Thursday a day-long disruptive campaign designed to paralyze the country over the proposed revamp of the judiciary by the Israeli government, starting off with demonstrations outside the Jerusalem residence of ousted minister and Shas leader Arye Deri.
Thus far, the Israel Police reported that at least 87 protesters were arrested or detained for alleged violations of order across the country, as 60 of the protesters were arrested in the Tel Aviv area.
The coalition is pushing forward with a bill that would bar the Supreme Court from interfering in the appointment of the thrice-convicted politician who had lied to a judge in a tax evasion trial, and who had accepted a plea deal on the condition of no longer seeking elected office.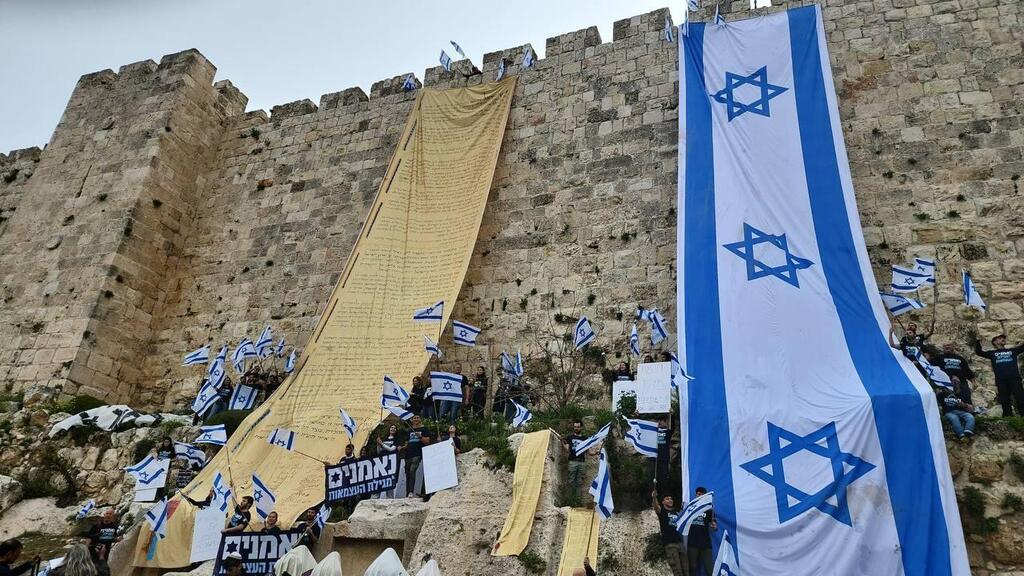 A group of anti-government protesters gathered outside Deri's home, flying Israeli flags and chanting slogans against both him and the legal shakeup.
Not too far away, Dozens of ultra-Orthodox youths congregated to express their support for the Shas leader by singing and dancing, with several police officers acting as a buffer between the two groups.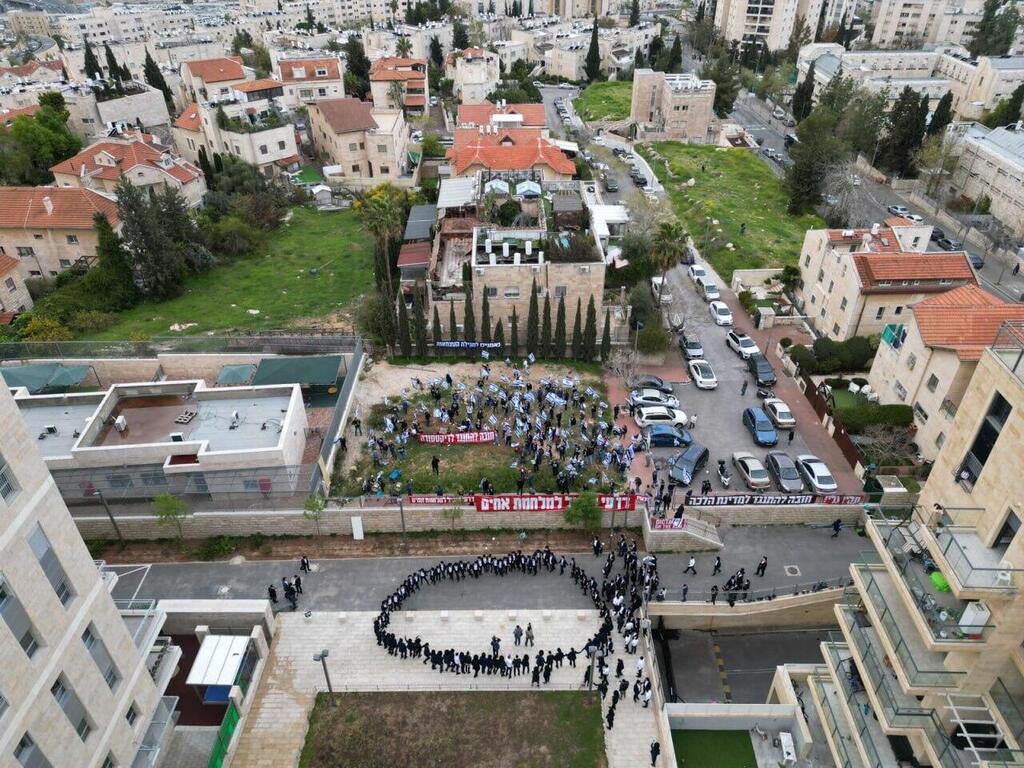 Amit Farber, one of the organizers of the protest in front of Deri's home, was seen joining the circle-dancing youths and rocking with them.
"We may think that the ultra-orthodox are not taking a stand, sitting on the fence. They let the secularists fight and they pretend like they're not part of the game. They don't make their voices heard even though we know they have interests in this coup," the 59-year-old from Rosh Ha'Ain said.
"We chose to come to one of the leaders who influence the prime minister who has an interest. We tell him 'this is as far as you go'. You are tearing the people apart. You, Deri, are disintegrating the army and destroying the country. Our other message this morning was that Deri, the corrupt leader, is dragging his public behind him blindly into a civil war.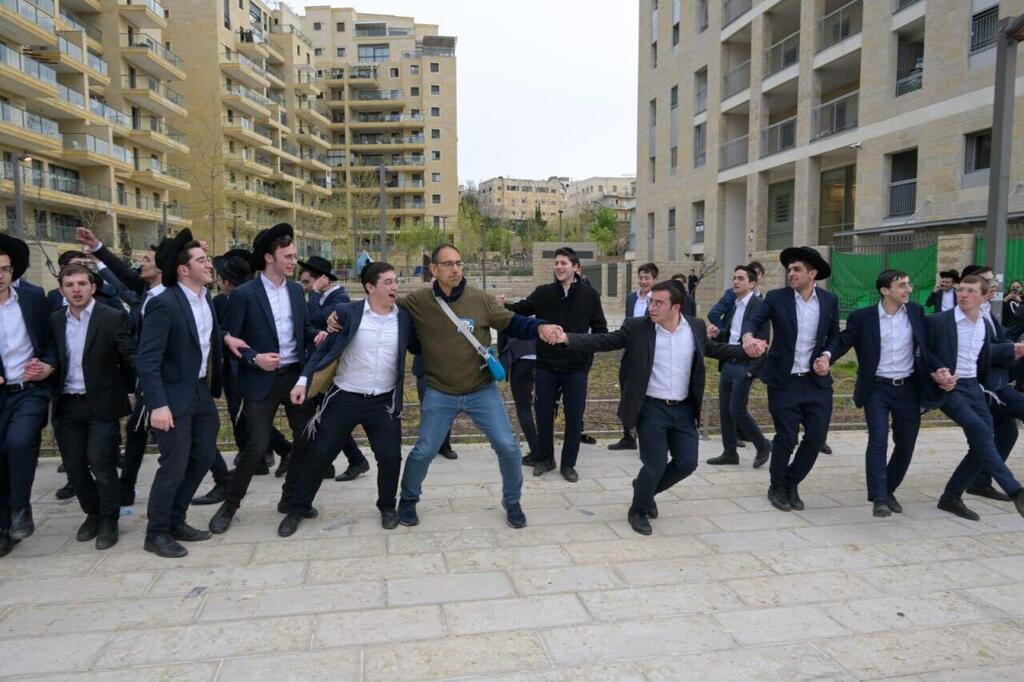 "I danced with the Haredi youths because the message is against the leaders, not against the people. We don't have a problem with the ultra-orthodox public, but with their leaders who are invested in this coup.
"When I went downstairs to dance with them, an order came from the yeshiva dean not to talk to us, to stay away from us. What is that supposed to mean? The yeshiva dean instructed them not to cooperate with us, not to talk or touch us. They treated us like lepers."
Overnight, protesters in Israel blocked the helicopter pad near Prime Minister Benjamin Netanyahu's Caesarea residence and displayed posters outside the homes of senior members of his ruling Likud party, for their role in an alleged constitutional revolution that they say undermines Israeli democracy.
Pre-school and primary school students, along with their guardians, are expected to block major roads and intersections across the country throughout the day.
The events are scheduled to culminate in a mass rally led by IDF reservists in Bnei Brak, an ultra-Orthodox town, at 7 pm. Many of these soldiers have declared their refusal to serve in a non-democratic regime.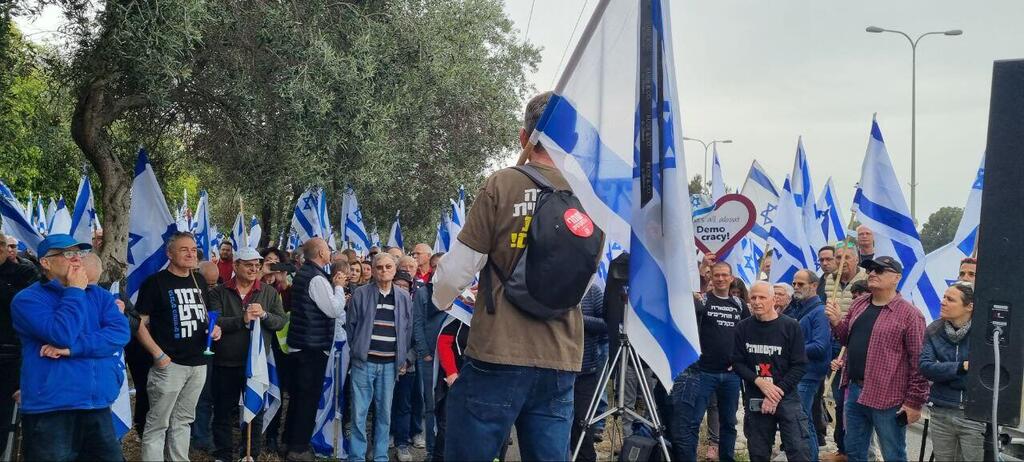 Demonstrators will be protesting the Israeli government's intention to pass a bill that would exempt Haredi men from compulsory military service, which the ultra-Orthodox political leadership has been attempting to legislate for years. The Supreme Court has repeatedly blocked such attempts on the grounds that they would violate the principle of equality before the law.
Reservists have been protesting in Haredi areas, accusing them of funding their religious educational institutions instead of shouldering the burden of service, that others are made to undertake.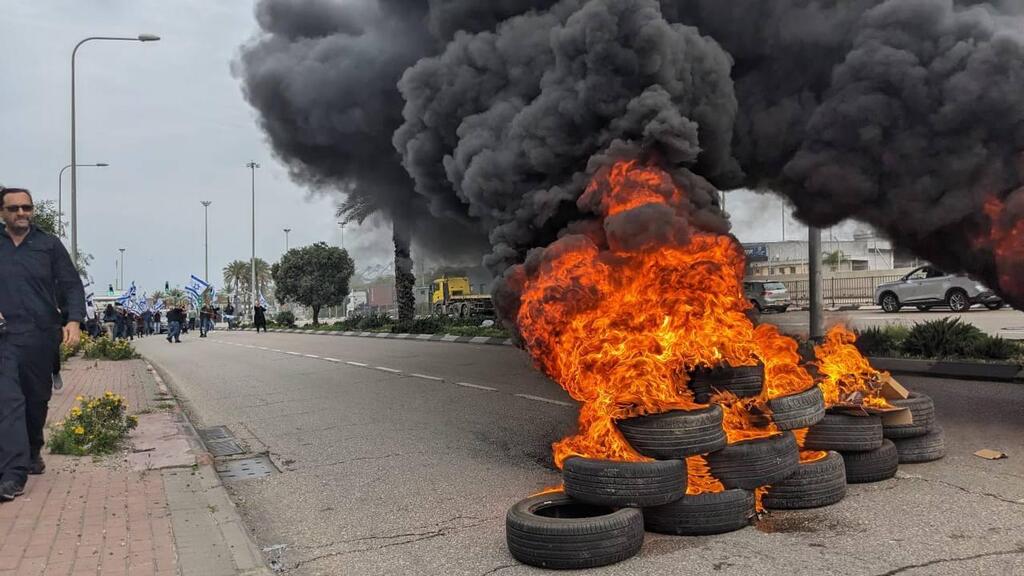 In an interview with Ynet and its sister publication Yedioth Ahronoth on Thursday, Likud minister Miri Regev stated that Air Force reserve pilots who refuse to participate in their weekly training flights should be incarcerated.
Regev said she sees their actions as an assault on the very ethos of the Zionist state. "I think they should be put in their place and prosecuted," she said.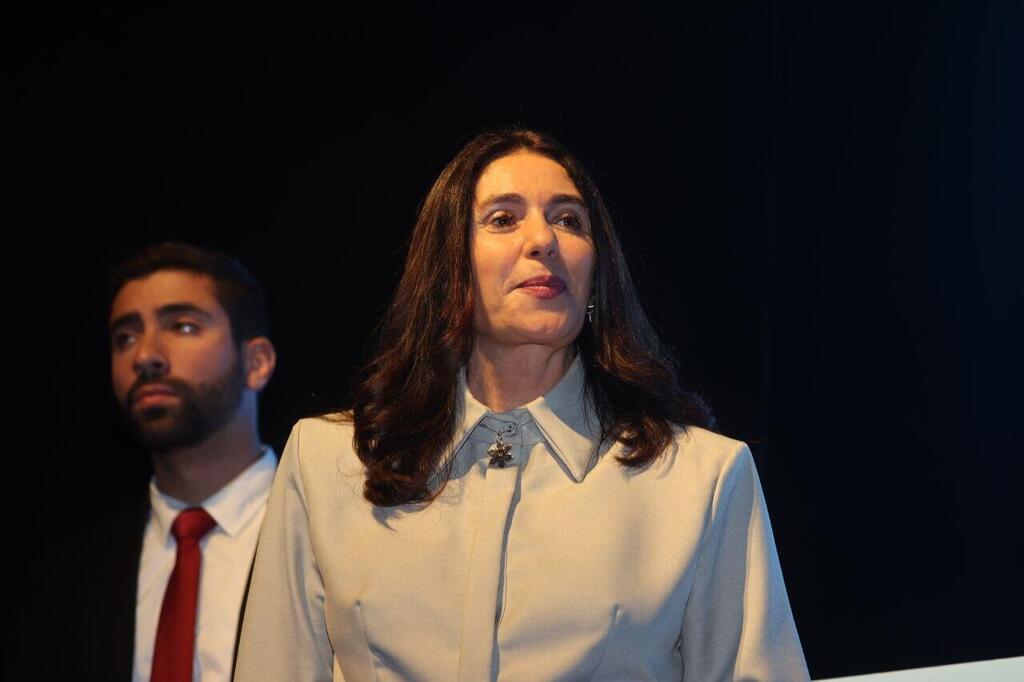 After an all-night session, the Knesset passed a law that prohibits the removal of an elected prime minister on any grounds other than physical or mental incapacity.
This move was prompted by concerns from Benjamin Netanyahu, who is currently facing charges of bribery, fraud, and breach of trust in the Jerusalem District Court, that he may be forced to step down due to his ongoing criminal trial.
Should his case come before the Supreme Court, this law would prevent the court from removing him from office. Critics argue that Netanyahu's legislative agenda, which includes proposals to have judges elected by politicians, including Supreme Court Justices, is driven by his own legal troubles.
Until his indictment, he had previously blocked attempts by allies and political partners to weaken the courts.
First published: 08:55, 03.23.23