The IDF on Wednesday revealed a note, recovered from the body of a Hamas terrorist who took part in the October 7 massacre, with instructions from the terrorist group's commanders to behead Israelis.
"You must sharpen the blades of your swords and be pure in your intentions before Allah. Know that the enemy is a disease that has no cure, except beheading and removing the hearts and livers. Attack them!" read a note presented by IDF Spokesperson Rear Admiral Daniel Hagari in an interview with CBS.
The military's revelation came amid growing doubts expressed by pro-Palestinian voices on whether the atrocities described by Israel had in fact occurred.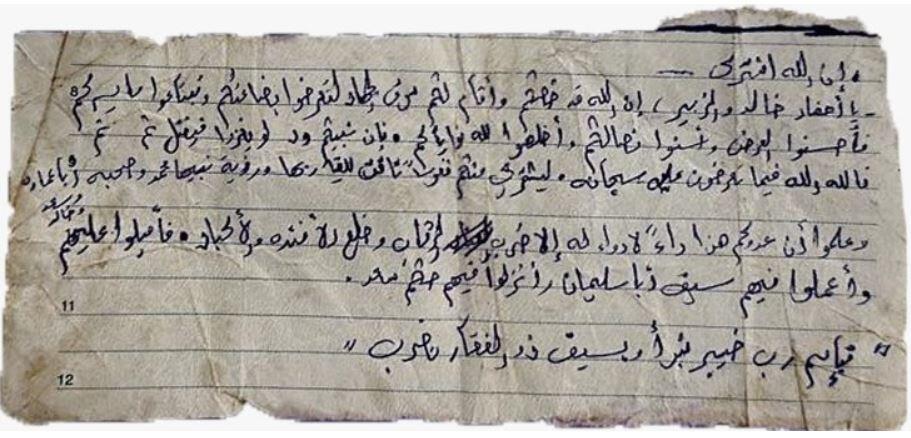 In an interview with CNN's Christian Amanpour,
Jordan's Queen Rania said reports of babies being beheaded were never confirmed
. She said there was a double standard in the world media when it came to the killings of Palestinian families and babies.
National Security Council chief Tsachi Hanegbi said in a social media post on Wednesday that Qatar's efforts to find humanitarian solutions are critical. "I'm pleased to say that Qatar is becoming an essential party and stakeholder in the facilitation of humanitarian solutions." Qatar had been negotiating with the Hamas terrorists for the release of hostages held in Gaza.
Qatar's Prime Minister Sheikh Mohammed bin Abdulrahman Al Thani said there was some progress on hostage negotiations and that he hoped there would be breakthroughs on hostage releases "soon." At a joint press conference in Doha, the visiting Turkish Foreign Minister Hakan Fidan said the countries backing Israel's actions in Gaza are complicit in crimes. The Foreign Ministry in Qatar said that an Israeli land incursion into Gaza will complicate efforts to get hostages home.
Turkish President Turkish President Recep Tayyip Erdoğan said on Wednesday that Hamas was not a terror organization but a liberation movement fighting a war to protect its land
. Erdogan said he is scrapping plans to visit Israel which he said abused Turkey's good intentions.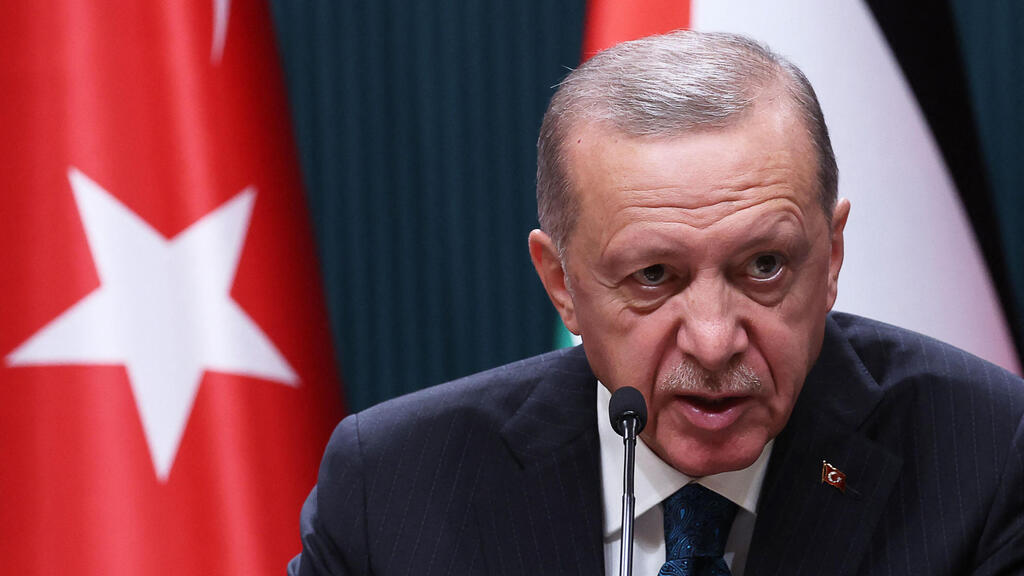 The UK-based Arabic language news outlet Asharq Al-Awsat reported on Wednesday, that despite Turkish denial that it ousted Hamas officials after the October 7 murderous attack on Israeli civilians, the relations between Ankara and the Gaza ruling terror group, have soured. The paper quotes Turkish officials saying this is based on long on the country's committed position opposing the killing of civilians under any circumstances.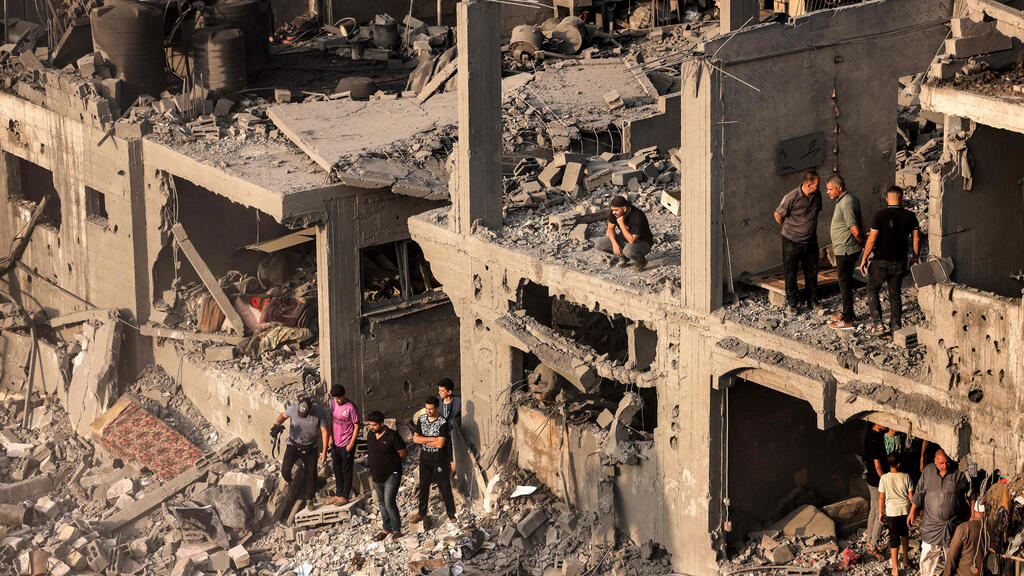 IDF spokesperson Rear Adm. Daniel Hagari said on Wednesday that Iran was instructing the terrorists in Gaza. "Instructions for terror come from one place - Iran," he said in a briefing to reporters. The military said earlier that Hamas had positioned roadblocks to stop Gazans from moving to the south of the Strip to escape Israeli bombings. A spokesperson said Israel struck hundreds of Hamas targets in the past day, including entrances to underground tunnels, rocket launcher positions command posts and Hamas emergency infrastructure.
Iran's Supreme Leader Ali Khamenei said the United States was complicit in the crimes perpetrated by Israel in Gaza. "Israel is taking revenge against civilians because it has failed and will fail against the resistance." He said the visits of leaders from the U.S., Germany, Britain and France show their concern over Israel's collapse.
Hezbollah chief Hassan Nasrallah said the group's fatalities since October 7, must be seen as martyrs, in a letter which was his first public statement since the fighting began. Lebanon's Al Manar network, affiliated with the Islamist group, reported that Nasrallah met with Salah al Arouri, head of the Hamas politburo to discuss the different fronts in the war against Israel.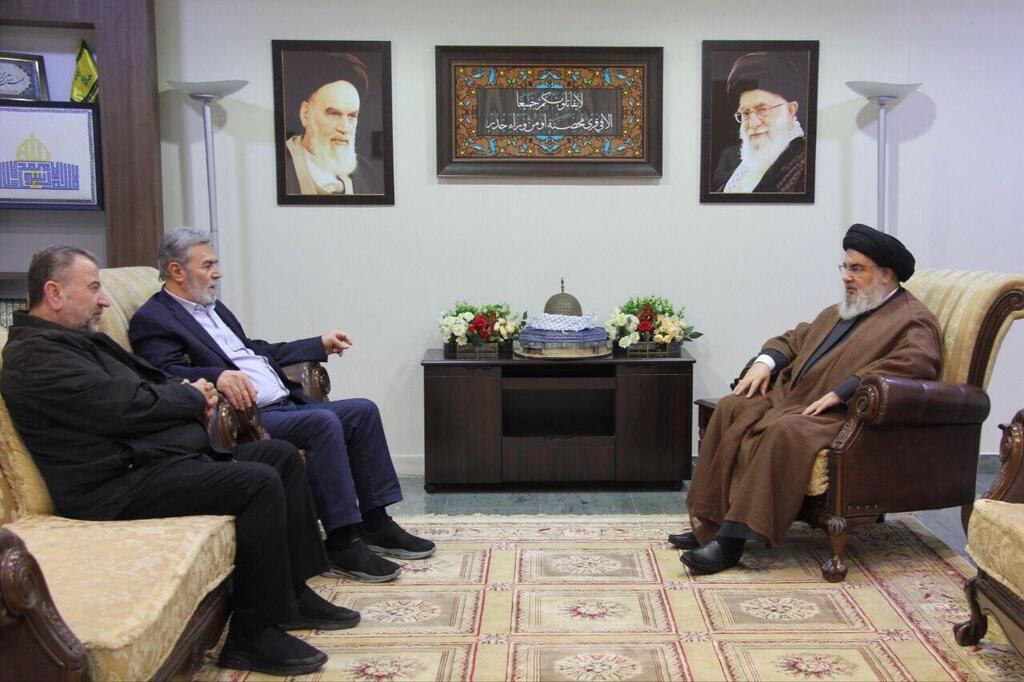 Syrian media reported on Wednesday that the IDF dropped leaflets in the area of Quneitra and Daraa in the south of the country, against continued rocket fire at Israel and blaming local Syrian military commanders and Palestinian terror factions for what would be an "iron fist," in response. Earlier the IDF said it had struck military infrastructure in Syria in response to rocket fire from Syrian territory to the Golan Heights. at least two rockets fell in open areas causing no damage or injuries. After an IDF artillery barrage, Air Force jets attacked more targets. According to Syrian media, at least eight people were killed in the Israeli attack.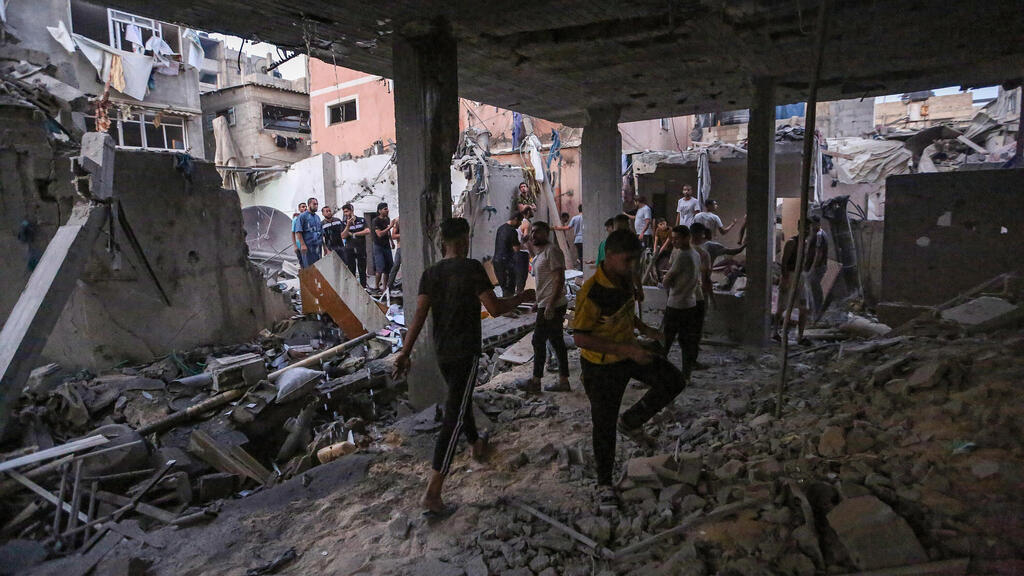 Palestinians identified at least three young men who were killed in a drone strike in the area of Jenin, they said others were injured, some of them seriously. The military said its forces engaged with armed terrorists near the Jenin camp who exchanged fire with troops and hurled explosive devices at them.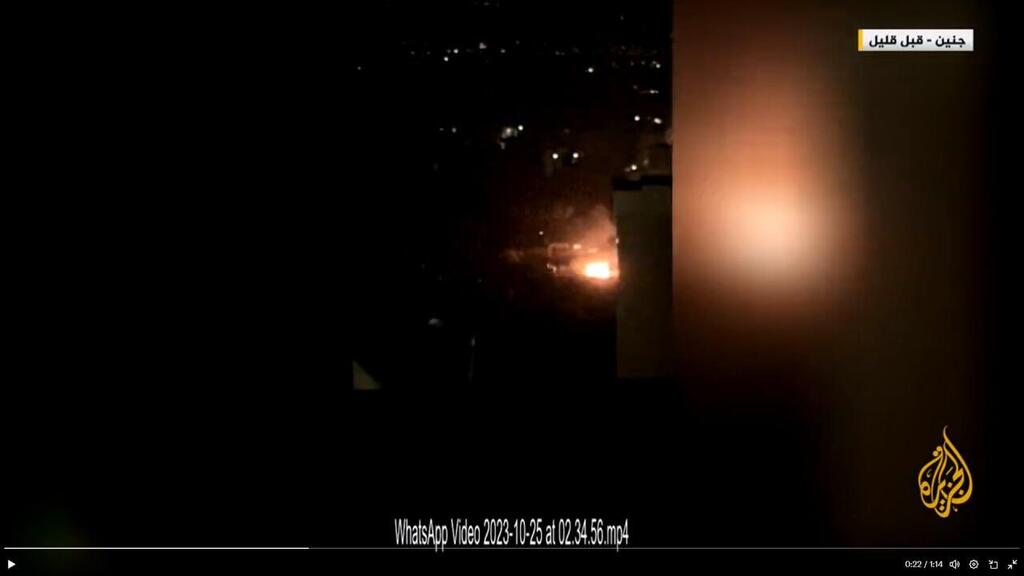 Pope Francis on Wednesday renewed calls for the release of hostages held in Gaza and for humanitarian aid to be allowed into the Strip. "I am always thinking about the grave situation in Palestine and Israel. I encourage the release of hostages and the entry of humanitarian aid into Gaza," he said
Florida Governor Ron DeSantis was working to ban student groups who organized pro-Palestinian demonstrations, suspend students and sack staff that enabled them. In a letter to 40 academic institutions, the Republican presidential hopeful said the groups support the Hamas terror organization that launched an unprovoked attack on Israel killing babies, women and elderly people.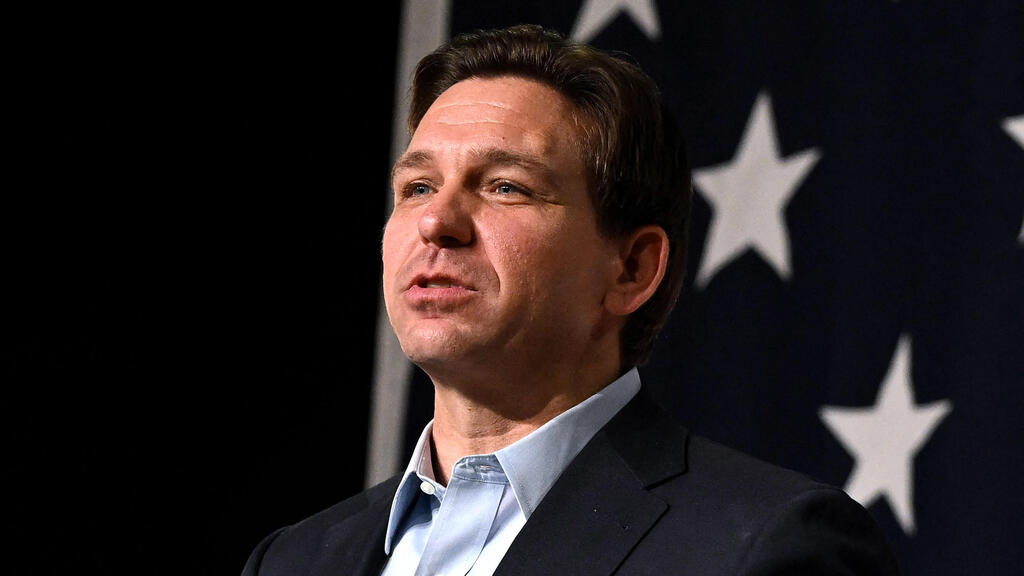 Florida airlifted 700 Americans out of Israel on four dedicated charter flights, since the war began. DeSantis said two planes with emergency aid for hospitals were sent to Israel
At least 4 Hamas terrorists were killed in an attempted maritime incursion attempt from Gaza,
the IDF said late Tuesday. "Earlier today, IDF naval forces located a Hamas terrorist cell exiting a tunnel on the Gaza Strip coast and attempting to infiltrate Israeli territory via the sea, near Zikim," the army said in a statement.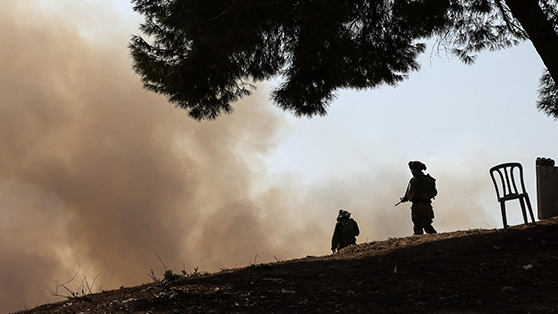 "Israeli Navy, IAF and ground soldiers struck the terrorists and thwarted their infiltration attempt. IDF fighter jets and naval soldiers struck the tunnel and weapons warehouse used by the terrorists in the Gaza Strip. There is no immediate risk of an additional infiltration at the moment."
During the incident, the Home Front Command issued a shelter-in-place directive for the border towns of Netiv HaAsara, Zikim and Karmia. The directive was later lifted.
The Palestinian Red Crescent said that
eight trucks had arrived in Gaza late on Tuesday carrying water, food and medicine.
"We can confirm that some trucks are currently heading to Rafah to deliver supplies to Gaza," said UN aid spokesperson Eri Kaneko, without saying how many.
The United Nations had earlier said about 20 trucks had been unable to cross into Gaza from Egypt via the Rafah crossing on Tuesday.
Rocket sirens blared in the towns of Bnei Yehuda, Givat Yoav and Neot Golan in the southern Golan Heights
. According to the IDF, two rockets originating from Syria landed in unpopulated areas and Israeli forces responded with artillery fire toward the source of the shooting.
According to the Syrian Observatory for Human Rights, a London-based opposition war monitor, Iranian militias in the Daraa region fired the projectiles toward the Golan.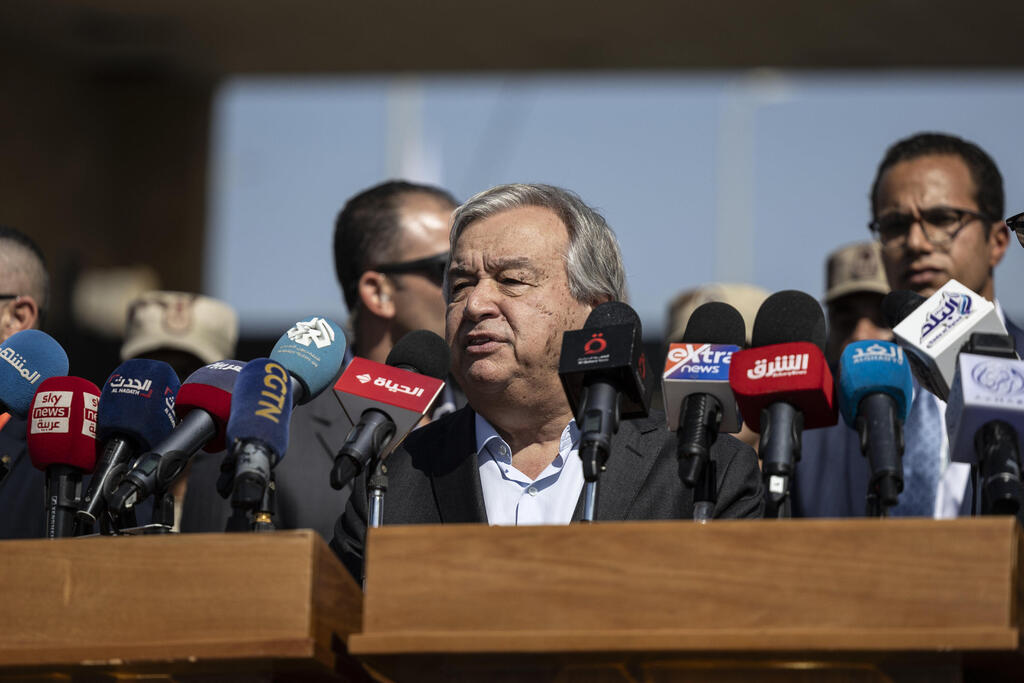 United Nations Secretary-General Antonio Guterres, speaking to the UN Security Council during a hearing on the Israel-Hamas war, told the international body that the
Hamas attack on October 7 "did not happen in a vacuum
,"
because Palestinians have been subjected to 56 years of "suffocating occupation." He also said that he is "deeply concerned about clear violations of international humanitarian law that we are witnessing in Gaza."
At the end of his address to a UN Security Council meeting on "The Situation in the Middle East, including the question of Palestine," Guterres called for a two-state solution to the Israel-Palestinian conflict.
First published: 10:22, 10.24.23