At least six people were injured Thursday morning in a shooting attack near the tunnel road checkpoint in Jerusalem. One of the injured is in critical condition, according to Magen David Adom CEO Eli Bin. Three terrorists who were in the scene were shot and killed.
A large amount of ammunition, as well as axes, were found in vehicle of the terrorists' vehicle, which had been stopped for inspection at the checkpoint. The Shin Bet and the police are investigating whether the of the terrorists, identified as residents of Hebron, was to reach Jerusalem and carry out a large attack there.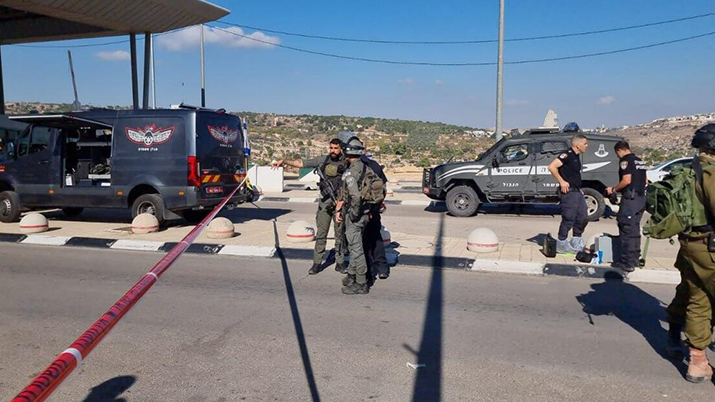 The commander of the Jerusalem District of the police, Chief Doron Turgeman, arrived at the scene. "I assume they intended to enter Jerusalem," Turgeman said. He referred to tensions in the Arab sector in the shadow of the Gaza war and said that "it is clear that the motivation exists."
Shaare Zedek Hospital in Jerusalem announced that three of those injured in the attack were evacuated to the medical center, one of them in critical condition and two more in moderate condition. At the same time, Hadassah Hospital announced that the medical center took in three injured, one in mild to moderate condition and two others in mild condition, all fully conscious.
Israel Police spokesman Eli Levy, told Ynet Live that "there are a large number of police forces at the scene. Naturally when there is an incident of this type, an attack like this, we are working together with the IDF and the Border Guard," he said, adding: "The area is being scanned to rule out the possibility of more terrorists."
Following the attack and due to the suspicion that a bomb was placed at the scene, all the roads leading to the tunnel road between Israel and the Etzion Bloc were closed to traffic. In addition, due to the suspicion of the escape of another terrorist, the IDF began searches in the surrounding Palestinian villages.
Magen David Adom emergency medic, Binyamin Rosens, and paramedics Ronen Yamini and Ahab Aliyan, who were first reponders to the scene, told Ynet: "We quickly arrived at the scene and saw four gunshot wounds lying there, one of them a young man with gunshot wounds to his upper body, we gave him medical treatment and urgently evacuated him to Shaarei Hospital Justice when on the road we are fighting for his life. In addition, we also treated a number of anxiety victims."
Oded Ravivi, the head of the Efrat local council, said following the attack that "we come back and warn that the barrier and the bottleneck it creates has become a death trap that endangers the residents who stand along the axis for too long and at a density that does not allow for a response to a disaster."
First published: 09:57, 11.16.23