Saudi officials and former Palestinian officials say that the kingdom is proposing to renew financial support for the Palestinian Authority, which they say is "a sign of the Saudi effort to overcome obstacles and
establish diplomatic relations with Israel
," according to a report in the Wall Street Journal on Tuesday evening.
The Saudi officials said that they are trying to secure the support of Palestinian Authority President Mahmoud Abbas for establishing diplomatic relations with Israel, which will give wider legitimacy to any agreement – and avoid accusations against Riyadh that it is sacrificing the idea of a Palestinian state in order to advance its goals. Recognition of Israel is particularly sensitive for Saudi Arabia because the holiest sites in Islam are within its borders, which gives it a special status in the Muslim world.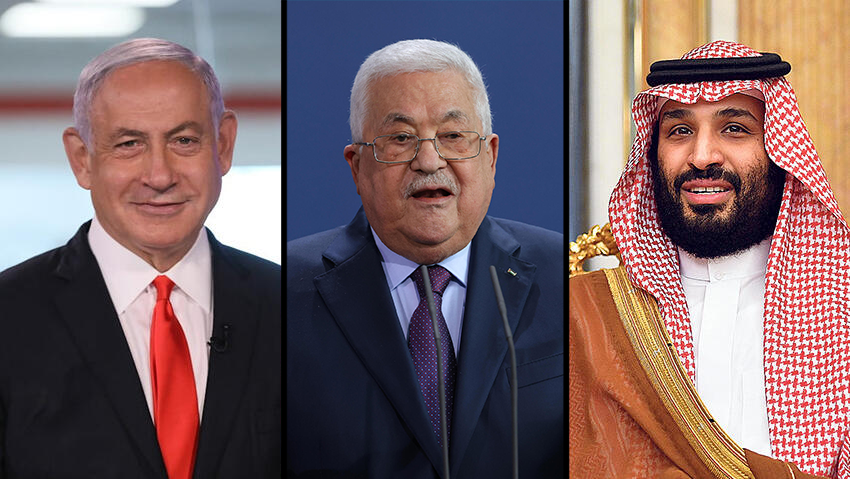 To advance its interests, the sources say, the Palestinian Authority will send a senior delegation to Saudi Arabia next week to discuss what the kingdom can do in talks with Israel to promote and facilitate the establishment of a future Palestinian state.
Saudi Crown Prince Mohammed bin Salman first brought up the idea of renewing financial support in a meeting with Abbas in Saudi Arabia in April, according to Saudi and Palestinian sources. According to the report, the crown prince made a pledge to the PA president that if he succeeds in reasserting his authority over security in the Palestinian areas of the West Bank, the kingdom will eventually renew its funding to the authority and Saudi Arabia will not accept any agreement with Israel that would undermine the efforts to establish an independent Palestinian state.