The
historic discussion in the Supreme Court
regarding the cancellation of the reasonableness clause made headlines on Tuesday, prompting lengthy discussions on the topic in news outlets around the world. "Israel's democracy is at a crossroads," CNN's headline read, while the BBC reported the discussion as a "showdown over controversial judicial reform."
International media has been following the judicial overhaul in Israel and its implications for several months now. During this period, massive protests against government actions garnered widespread coverage in the world's newspapers and television channels.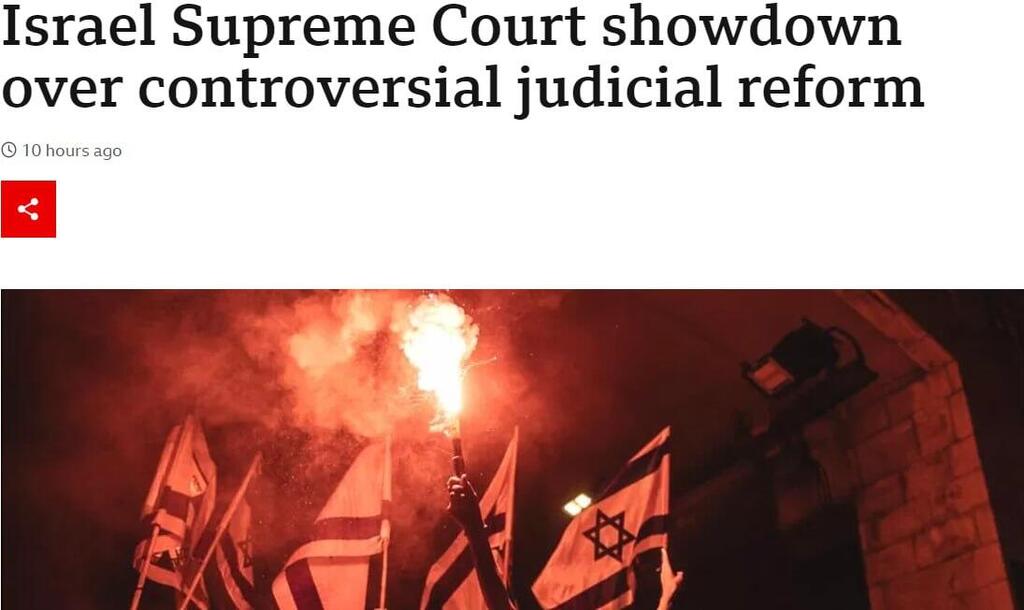 Tuesday's Supreme Court discussion came as the world's attention was captured by the destructive earthquake in Morocco, devastating floods in Libya, and the ongoing efforts by the Republican Party to impeach U.S. President Joe Biden, but still received significant attention in many news outlets.
"Israel's Supreme Court opened hearings Tuesday on a law to curb its powers," CNN explained to readers, describing it as "a case that could set the judiciary on a collision course with Prime Minister Benjamin Netanyahu's hardline government after months of mass protests over the controversial legislation."

"The question of whether Netanyahu's government would even abide by a court ruling – possibly months away if it comes – striking down the law. That would set Israel up for an unprecedented judicial and political crisis," CNN also reported.
In the UK, The Guardian told its readers that Tuesday's discussion was the first time all 15 Supreme Court justices convened for a hearing, and that they deliberated on the reasonableness clause, which opens the possibility of canceling a Basic Law, calling it a "semi-constitutional" law.
"Such a move would plunge Israel into uncharted political and legal waters; the figurehead president, Isaac Herzog, has repeatedly warned of civil war," according to the newspaper.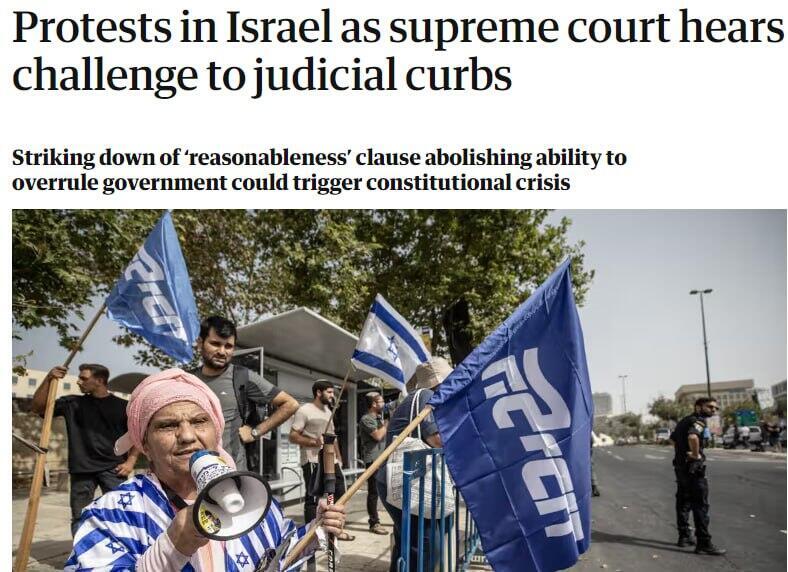 The Supreme Court discussion also made headlines in Southern European countries. Italy's widely-read newspaper, La Repubblica, reported on a "historic debate in Israel," emphasizing that it's a "Discussion that will touch Israel's soul – the true meaning of its democratic character as a Jewish state."
The French newspaper Le Monde informed its readers, "This is the first time that judges have expressed their position on the judicial overhaul since the issue began in January." Qatar's Al Jazeera news website reported to Arab readers that the Israeli Supreme Court has never canceled a Basic Law before, and if it does so, "Israel will find itself in an existential crisis."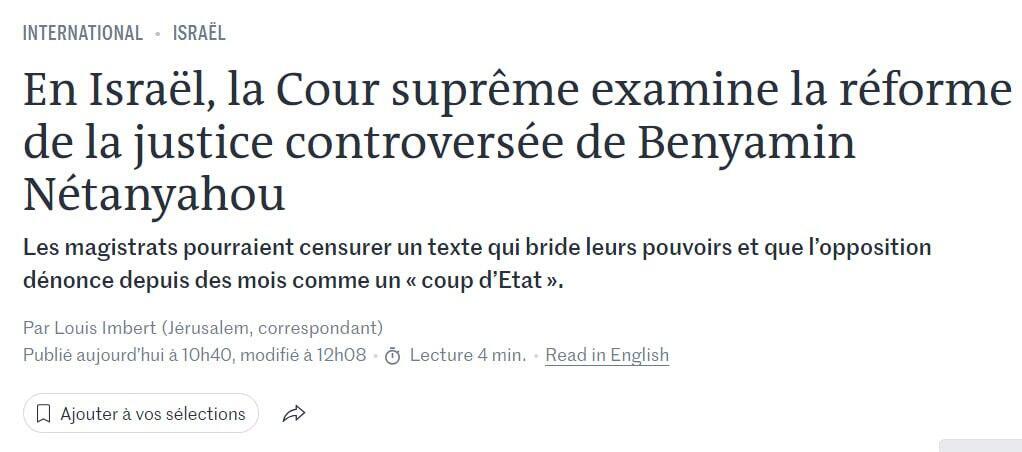 The long discussion in the Supreme Court, which lasted over 12 hours, was covered with ongoing updates throughout the day from news agencies including Reuters and Associated Press (AP), whose articles are published in thousands of media outlets worldwide.
Reuters explained to its readers that "Although other tools for voiding executive decisions remain in place, opponents say the amendment removes a vital democratic oversight mechanism in Israel's political system." Reuters added that: "The United States and other Western allies have also voiced concern about the impact of the judicial changes on Israel's democracy."
AP reported that the Supreme Court finds itself in an unprecedented position, having to decide whether to limit its own powers, and noted that the proceedings were broadcast live on major television channels.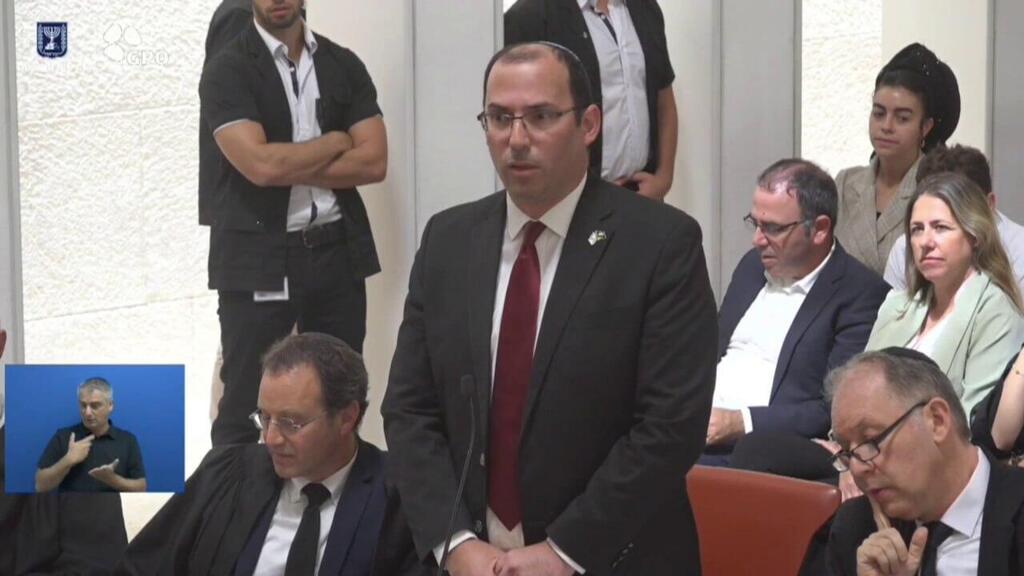 "The marathon hearing was largely businesslike, though at times the arguments became tense and heated," AP wrote, describing the exchanges between the head of the Knesset Law, Constitution and Justice Committee Simcha Rothman, and the judges.
AP also tried to explain to its readers the societal divide in Israel surrounding the changes in the judiciary, as well as its historical background. "Opponents of the plan come largely from the country's secular middle class. Leading high-tech business figures have threatened to relocate. Perhaps most dramatic, thousands of military reservists have broken with the government and declared their refusal to report for duty over the plan," the report read.
"Netanyahu's supporters tend to be poorer, more religious and live in West Bank settlements or outlying rural areas. Many are working-class Mizrahi Jews, with roots in Middle Eastern countries, and have expressed hostility toward what they say is an elitist, secular class of Ashkenazi, or European, Jews," AP added.