Following the leak of
top secret U.S. document
s that also include information on Israel and Iran, a recently- released file details the challenges faced by the West in light of the tightening relationship between Russia and Iran.
Stories that may interest you:
Israel has previously highlighted the danger of the ties between the two countries, but according to the leaked documents, the U.S. government was not as convinced. Despite displeasure in Washington over cooperation in the war in Ukraine officials said the two were not and would not be allies.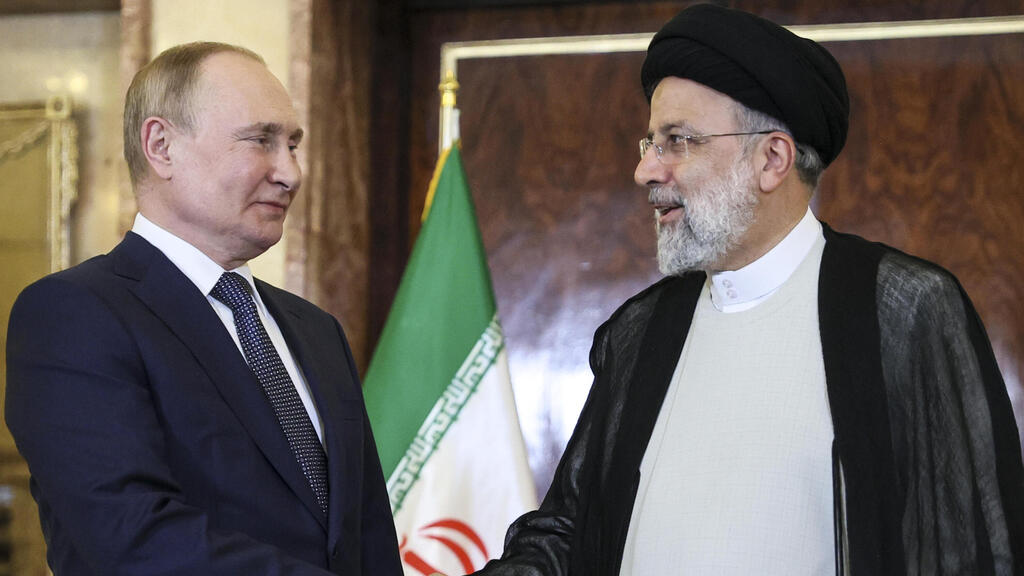 As in the document detailing
an alleged Israeli drill
simulating an attack in Iran, according to this document's heading, it wasn't meant to be shared with foreign countries.
The report, composed by the U.S. Defense Intelligence Agency (DIA), says that "Iran and Russia have made progress on addressing some longstanding challenges in their relationship – largely due to Moscow's understanding that it requires continued Iranian support for its military operation in Ukraine."
"Both countries continue to place individual interests ahead of mutual goals, which has mostly resulted in nonbinding agreements," the report adds. Enduring points of friction likely will limit Tehran and Moscow to a mostly transactional relationship during the remainder of the conflict."
So far, there have been few areas in which Iran and Russia cooperated fully. One of them was the transfer of Javelin-type anti-tank missiles to Tehran that the Russians confiscated from the Ukrainians, which will help the Iranians to reverse-engineer and improve their own missile production.
Further, a joint factory for Iranian missile production is active in Russia in Russia. Thirdly, which is yet to be made official, is the purchase of Russian Su-34 fighter jets, which Iran seeks.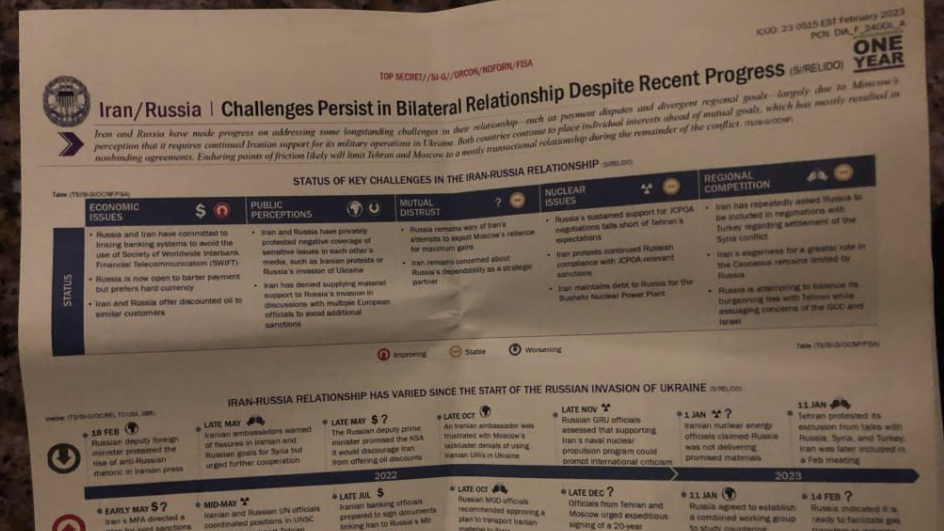 In the economic field, the two countries seek a workaround for the global financial transaction system SWIFT, which is likely to be implemented between the countries.
The leaked document outlines key challenges in the relationship between Iran and Russia, as well as the and updated account, according to the U.S.'s perspective. The Iranian-Russian challenges, as per the leak, include:
Economic issues
: Russia and Iran have joined linked banking systems in an attempt to avoid using SWIFT. Iran and Russia also offer discounts for oil, to customers using these systems.
Public perception
: Iran and Russia criticize each other in private for negative coverage of sensitive events in each of their respective media, such as the coverage in Russia of the protests in Iran and Iranian coverage of Russia's invasion of Ukraine. In talks with European leaders, and to avoid further sanctions, Iran denied supporting Russia's military industry.
Mutual suspicion
: Russia remains suspicious about Iran's attempts to exploit its dependence on Tehran to rake in more profits. Iran is still concerned about whether or not Russia can become a reliable strategic partner.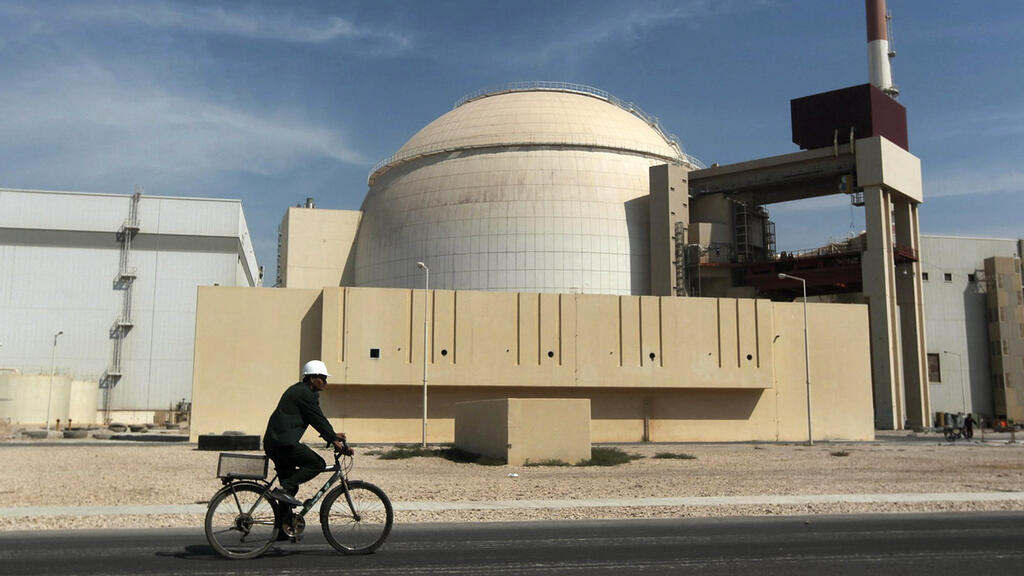 Nuclear issues
: Russian support for nuclear talks with Iran is not as strong as Tehran expects. Iran also criticized Russia for relenting to the new sanctions imposed on it by the resulting agreement. Iran is still in debt to Russia for constructing the Bushehr nuclear power plant.
Regional rivalry
: Iran has repeatedly asked Russia to be included in talks with Turkey regarding Syria. In addition, Tehran wishes for more influence in the Caucasus, against Russian interests. Russia is trying to balance its developing ties with Tehran with the alarm sounded by Israel and other Gulf states.
The leaked document also details points of contention between the two countries over the last year.
February 18, 2022:
Russian Deputy Foreign Minister criticized an increase in anti-Russian rhetoric in Iranian media.
May 2022
: Iranian ambassadors warn of cracks in relations between Russian and Iran regarding interests in Syria, but add that cooperation should continue. Russian Deputy Chairman promises Saudi Arabia it will bar Iran from offering oil at lower prices.
October 2022
: The Iranian ambassador criticized Russia's weak denial of
Iranian suicide drones
being used against Ukraine.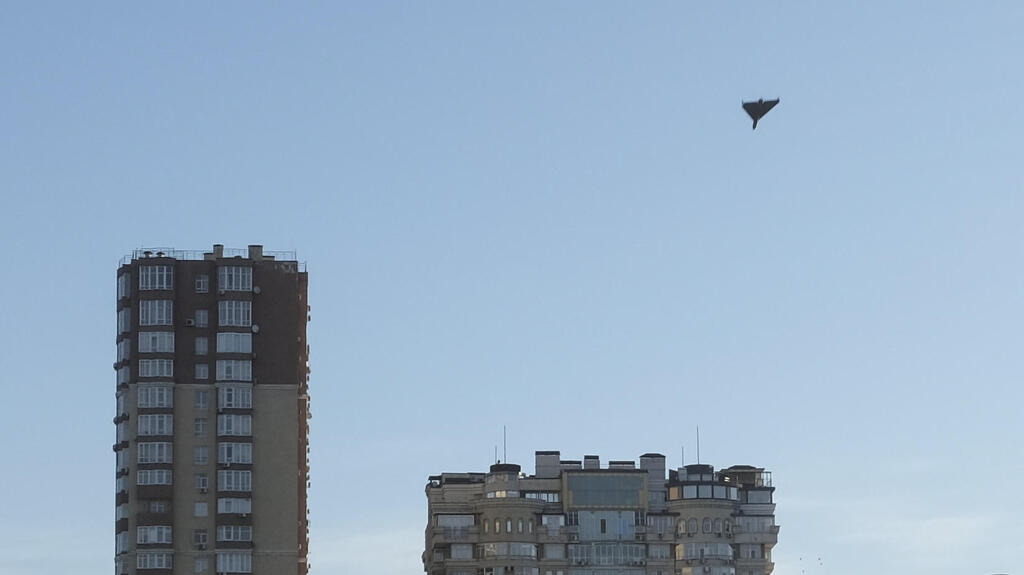 November 2022
: Senior Russian intelligence officials estimated that supporting an Iranian nuclear program will lead to an international backlash.
January 1, 2023
: Iranian nuclear experts said that Russia has yet to provide them with the resources it has promised.
January 11, 2023
: Iran protested being barred from talks between Russia, Syria, and Turkey, it had since rejoined.
On Thursday evening, the United States concluded an extensive manhunt for the suspected leaker of the Pentagon documents with the arrest of Jack Teixeira, a 21-year-old member of the Massachusetts Air National Guard. The FBI apprehended Teixeira at his home after an armed raid and later released aerial footage of the arrest.
The New York Times reported that Teixeira was the leader of an online group called Thug Shaker Central, where about 20 to 30 people shared their love of guns, racist memes, and video games, citing interviews and documents reviewed.