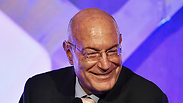 Police yet to decide whether to recommend charges against Milchan
Investigators debate whether to charge Arnon Milchan for bribing Netanyahu, as according to testimony from him and his assistant, the prime minister interfered on the billionaire's behalf in matters regarding his US visa request and the fate of Channel 10, in which Milchan has stakes.
The police have yet to decide whether to recommend the indictment of billionaire Arnon Milchan for allegedly bribing Prime Minister Benjamin Netanyahu.

Early on in the investigation, police investigators believed they should avoid recommending an indictment against him as his testimony helped establish the suspicions against the prime minister.

But now, some in the police's senior command believe they cannot recommend an indictment against Netanyahu without recommending one against Milchan as well.

During a meeting of the police's top brass on Wednesday to discuss whether to recommend charges against the prime minister, the question of Milchan's fate was also raised.

"It will be a decision made at the last minute," one law enforcement official said.

Police suspect Netanyahu interfered in matters relating to Milchan's business interests, particularly his partial ownership of Channel 10, and tried to help him get a long-term visa to the US in return for the alleged gifts he received over the years.

Hadas Klein, Milchan's personal assistant, recently gave another testimony to the police, telling investigators about the systematic delivery of cigars and champagne to the Netanyahu family.

According to Channel 2 News, Klein and other aides of Milchan were asked by Sara Netanyahu to place the gifts in dark, sealed bags so they cannot be seen.

Owing to her connections with businessmen Arnon Milchan and James Packer, Klein developed a relationship with the Netanyahus and her testimony is central to the case. Her testimony is considered reliable and is not suspected of any wrongdoing, as she only handled the practical matters related to the gifts.

At an earlier testimony session last November, Klein described to investigators the strange requests received from the Netanyahu residence. When there was a leak in the house, "Sara shouted at me… Netanyahu wanted a building inspector who worked with Packer and Milchan to advise the relevant members of the Prime Minister's Office on how best to handle the matter."

When she did not authorize the request, Sara shouted at Klein saying that she is "embarrassing her and Bibi by not authorizing matters that are purportedly permitted."

"After a few hours, Netanyahu himself called and said that what Packer and Milchan are doing to his wife is not ok; they must understand what she goes through in the media and that the matter was cleared by the Attorney General," said Klein.