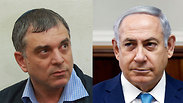 Filber (L) and PM Netanyahu
Photo: Reuters, Orel Cohen
Filber: Netanyahu instructed me to commit crime
Suspect-turned-state's witness Shlomo Filber, at center of Bezeq telecommunications conglomerate corruption probe involving Netanyahu, says he was specifically instructed by him to hand classified documents to Bezeq, claims he was 'manipulated' into breaking law to obtain more favorable coverage for Netanyahu family in Walla! News.
Suspended Communications Ministry Director-General Shlomo Filber told investigators Wednesday that Prime Minister Benjamin Netanyahu explicitly ordered him to hand classified documents to the Bezeq telecommunications conglomerate, claiming he was unknowingly "manipulated" into breaking the law.

Filber testified he had no idea he was being asked to carry out a task to secure from Bezeq more favorable coverage to Netanyahu and his family in their subsidiary Walla! News site, claiming he received "explicit instructions from Netanyahu," Hadashot News reported Wednesday evening.

"It was not at all to my discretion. I received detailed instructions from him. He made it clear who I had to take care of and how," he added. "I sent drafts of documents to Bezeq. They went through the drafts and wrote amendments and corrections."

Filber gave this testimony as part of the state's witness deal he signed earlier that day. The details of his testimony were revealed in the Hadashot News report.

Filber noted he never fraudulently received benefits for his role in the Bezeq affair (formally known as Case 4000), explaining he was "manipulated" into conspiring with officials from communications giant.

He also added he never thought he would find himself in this position, thinking he did what was instructed of him for the betterment of the public and fully trusting Netanyahu, which he previously said he "admired."

"I think he is a great and irreplaceable leader, I am sure that Netanyahu is defending the people of Israel," he previously told his associated. "I admire him. I think he is a genius, who is unparalleled."

It was only when he was arrested Sunday morning by Lahav 433 detectives and charged with new allegations, when he said he finally became aware that he had been mislead.

"I thought I was in one scenario, but it turned out to be another, and that someone was playing over my head," he explained, referring to the illegal sharing of information with Bezeq.

"I did not know that this was what was happening behind my back," he elaborated, claiming he had no idea that what he was doing was for Netanyahu to gain more favorable media coverage.

"At first I believed that (Netanyahu) appreciated me and therefore gave me the job; today I understand that I was brought in to be a pawn. I was held captive."

People in Filber's close circle stated he felt good and "at peace" with his decision to turn state's witness and reveal everything to the police.

"He was under very heavy pressure. He had no more strength in him to continue with this game," they said. "He is close to (Netanyahu) ideologically and confident that he is God's gift to the people of Israel, but he's willing to tell the truth because he understands that he does not have to bear the consequences of a system he did not build and did not want to be a part of, and in retrospect he admits caused him a lot of suffering."

A spokesperson on behalf of the prime minister said Netanyahu categorically denies Filber's allegations, stating the things he testified on "never happened."

The Bezeq affair began as an investigation by the Israel Securities Authority (ISA), and ended with a recommendation to prosecute senior company officials, including Bezeq controlling shareholder Shaul Elovitch, CEO Stella Handler and senior executives of subsidiary "yes" TV satellite channel.

According to the ISA, Filber is suspected of "working systematically to transfer classified documents, internal position papers and documents from inter-office discussions to Bezeq, while hiding this from the ministry's professional and legal officials."

The suspects, including Elovitch, "used to convey to Filber their position on the documents, including amendments that correspond to their strategic and business needs, which were then accepted and served as the basis for future discussions" in the Communications Ministry. These changes "benefit Bezeq and its economic interests and those of the suspects," all while hiding the ties between Filber and Bezeq.

According to the state's witness agreement he signed Wednesday, Filber will not have to serve a prison term and will not be fined, but will undergo disciplinary trial and will be removed and permanently barred from civil service.

The police said they suspect that Filber did not knowingly commit any crime, and believed him to be a fundamentally good person that found himself a problematic situation and was forced to commit criminal offenses.

This is part of the reason the police agreed to offer him such a lenient state's witness deal, even though the trend has been lately to seek criminal prosecution for any person inking such a deal.