Tesla's tremendous success has brought about dramatic changes in the Western and Chinese automotive industry, with new players trying to emulate the American manufacturer. One of these companies is XPeng, which began as a modest startup nine years ago and has since expanded to Europe.
Just before its first planned arrival in Israel, we had the opportunity to test drive both models that would be on offer to Israelis.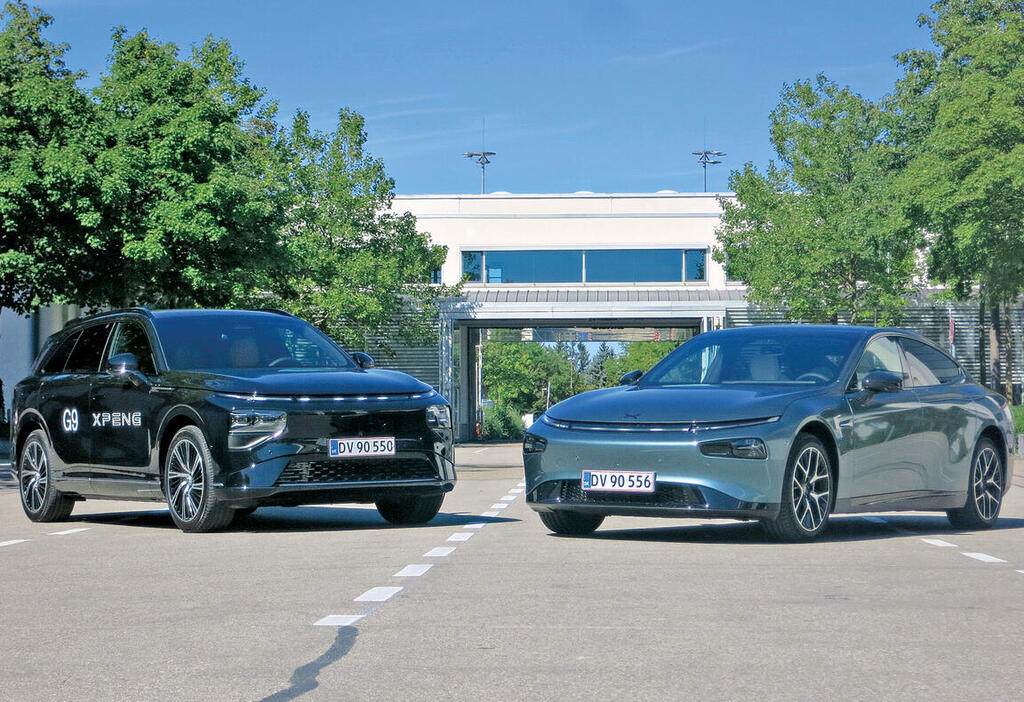 The P7: More than a family car
The P7 is XPeng's sedan model that competes with the Tesla Model 3 and the Hyundai Ioniq 6, as well as the NIO ET5 and the BYD Silla Auto. Its exterior design is unique and impressive, and stands out in the model's front and rear, with connected lighting units, retractable door handles, and a sleek sloping roofline.
The P7's deluxe version, also features butterfly doors that open upwards, adding to its flair, even though they aren't comfortable to use.
The driver's environment is of high quality, as is common with Chinese brands, featuring leather surfaces and impressive build quality. The model has a digital dashboard (10.25 inches) and a large touchscreen (15 inches) responsible for operating the car's systems and eliminating most physical buttons, but without Android Auto and Apple CarPlay.
In Israel, the model will feature a built-in version of the Waze application. The voice operating system, while efficient, covers the P7's less-than-intuitive interface operation. The driving position is relatively low but quite comfortable, with a generous range of adjustments.
The driving mode selector (front-rear-parking) is located to the right of the steering wheel and also provides storage space compartments. The large sunroof lacks a blackout curtain, and the model will also offer an optional advanced audio system (DynAudio).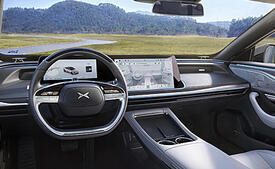 The model's safety system is comprehensive and includes 29 sensors, cameras, and radar, with over-the-air updates. Compared to its American competitor, it's longer by about 17 cm (489 cm), and wider by about 4.5 cm (189.5 cm) with a longer wheelbase of 12.5 cm (300 cm).
The model's rear passenger space is generous compared to that of Tesla's, although the low seats and low ceiling further limit headroom for passengers. Despite being larger than Tesla, the cargo space holds 154 liters less than the Tesla (440 liters), and features no front cargo space.
The P7 will be marketed with two propulsion system options: a rear-wheel drive with 276 hp and 0-100 km/h acceleration in 6.7 seconds, or a dual motor setup producing 473 hp and completing the sprint in 4.1 seconds, which is 0.3 seconds faster than the dual-motor Model 3 LR.
The system is completely quiet, but regenerative braking is less brilliant and doesn't allow for one-pedal driving even in its most powerful mode. Switching between different driving modes is done through a menu on the touchscreen, making it inconvenient to do while driving.
Both versions have an 86 kWh battery with a promised range of 576 km for the rear-wheel-drive version or 505 km for the dual-motor version. Fast charging (175 kW) allows for a charge from 10% to 80% in less than half an hour.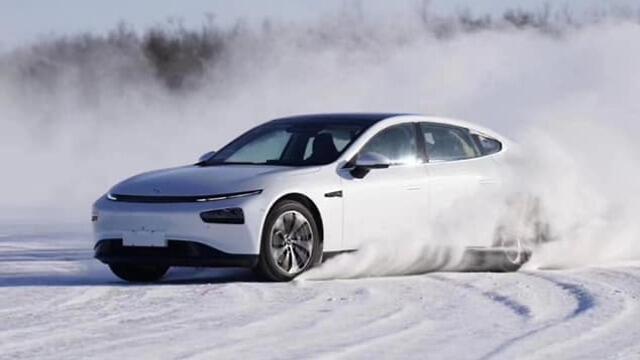 As a base, the model uses a dedicated platform developed in collaboration with Porche, with double-wishbone front suspension and multi-link rear suspension supported by adaptive shock absorbers.
It's evident the engineers invested in tuning the models, providing a good compromise between ride comfort at low speeds, maintaining vehicle composure with modest roll angles, and high dynamic capabilities.
Brembo's braking system provides a good braking feel compared to the default used in energy recovery systems, and at high speeds, wind and road noises can be clearly heard from inside the vehicle.
The G9: China's answer to BMW
The G9 will attempt to offer an alternative to competitors like the BMW iX3 and Audi Q8 e-tron. It also boasts a unique appearance, especially at the front. The passenger compartment is equally impressive with three screens, including a 10.25-inch dashboard and a pair of 15-inch touchscreens.
One screen is used for operating the car's systems, while the other is oriented towards the front passenger, allowing them to watch videos via Bluetooth headphones. The materials used are of high quality, featuring Nappa leather and metal finishes.
However, like in the P7, the operating system is cumbersome, and the sunroof lacks a blackout curtain. The long wheelbase, at 300 cm, provides ample rear passenger space with a flat floor and an electrically adjustable option for thigh support and recline angle and even features a massage function. The cargo space is also generous at 660 liters with an additional front trunk (71 liters).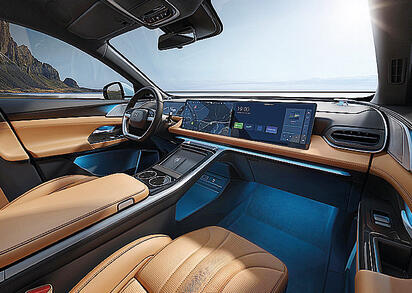 The G9 is offered in a rear-wheel-drive version with 313 hp or a dual-motor version with 552 hp, which is the version we tested. The performance is exceptional for a car of its type, with a 0-100 km/h acceleration time of 3.9 seconds, 0.6 seconds faster than the BMW SQ8 e-tron.
The model has four regenerative braking modes, but even the most aggressive mode doesn't allow for one-pedal driving. The 98-kWh battery allows for a 520 km range between charges (570 km for the rear-wheel-drive version) with a high-voltage electrical system (800 volts), making it the first Chinese model to offer it.
This enables ultra-fast charging (300 kW) and an 80% charge in 20 minutes, 10 minutes less than its German competitors. The rear-wheel-drive version is also available with a 78.2 kWh battery and a range of 460 km.
The G9 is equipped with adaptive air suspension that allows for variable ground clearance and provides excellent comfort on urban roads, except for minor disruptions felt due to its low-profile tires. Its dynamic capabilities are also impressive, considering its dimensions and 2.4-ton weight. Road and wind noises are present at high speeds, partly due to frameless doors.