Good intentions aside, most electronic manufacturers have been busy trying to sell us two appliances in one for many years, and their efforts have largely fallen short of their intended objective. Most of us still use separate laundry machines and dryers. Ovens that combine microwave capabilities have failed to become the mainstream, and every refined coffee aficionado will tell you that the path to the finest of espresso, does not go through an espresso machine that has abean grinder integrated into it.
With their new smart monitor, LG is trying to break that vicious cycle. It is a 32" computer screen that, with the touch of a button, can become a fully functional TV and vice versa. Can this unusual combination birth a device that most of us would want to see featured as a prominent part of our entertainment system? Let's find out.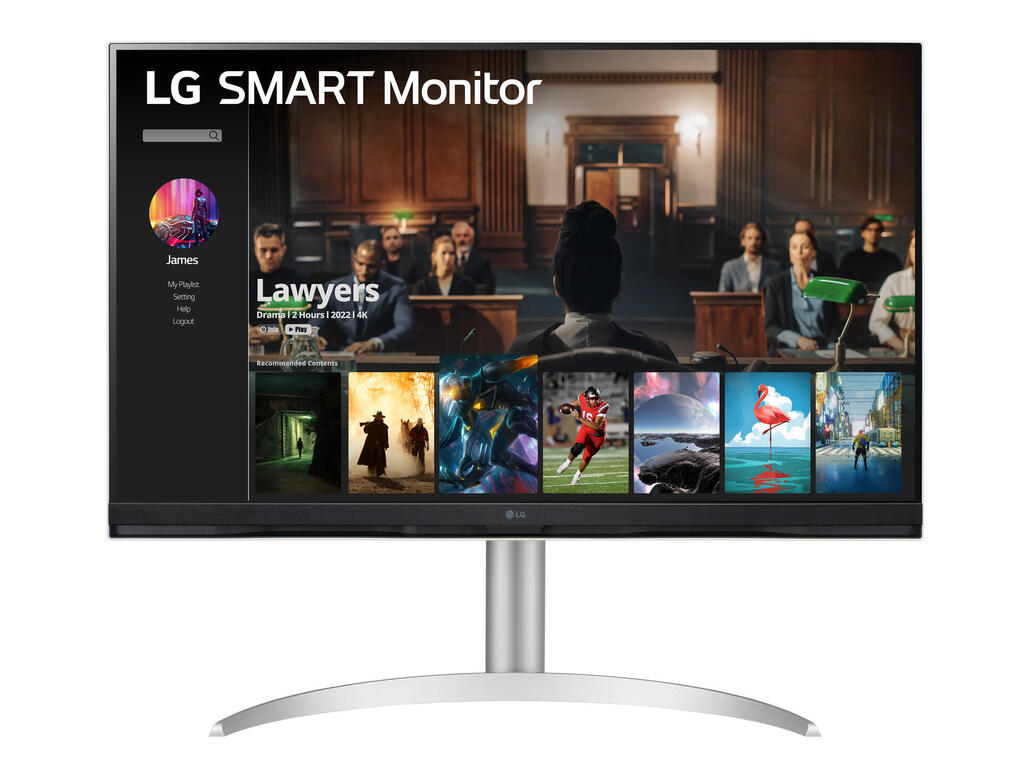 LG is not a pioneer in attempts to turn a panel into a dual-functional display, but that configuration thus far has not been mainstreamed. Perhaps it stems from the fact that our expectations of computer screens and TVs are radically different.
When it comes to the Smart Monitor, this is felt as soon as the installation process is underway. Unlike computer screens, which you can simply plug and play, this requires a more prolonged process of finetuning the various settings, authorizing terms of usage and registering your personal details.
Not the TV you are likely to hang on your living room wall
Our expectations also diverge for one simple reason, 32" is way too much for a computer screen, but not enough for a TV. While graphic designers, video editors and gamers would likely be thankful for any additional inch to their screen, the vast majority of users do not really require a panel of that size. On the other hand, this is not the kind of TV you are likely to hang on your living room wall or even use in your bedroom. For reference, LG's smallest dedicated tv stands at a towering 55".
This begs the question: Who is the target audience for this display? According to LG's official website, "The 32-inch UHD 4K (3840 x 2160) display reproduces clear images and vibrant colors with DCI-P3 90% (Typ.).1 Experience dramatic visual immersion with all your favorite shows, movies, sports and games."
If you found that explanation unsatisfactory or somewhat obscure, allow me to simplify it for you: This screen is ideally situated in the rooms used by children or adolescents, with a focus on gamers. They will appreciate a large display when sitting in front of their computer, which will transition into a very comfortable TV when they move on to their bed, assuming it is not placed too far away. Afterall, it is only 32".
Now if you are saying to yourselves "I don't need a TV in order to accomplish all of that", you have a point. You can use your computer to watch Youtube, Netflix, Disney Plus and all other streaming services. That being said, flipping between various applications with a remote through the TV's user interface is substantially more comfortable than having to deal with a mouse and a keyboard. There is one more advantage and that comes in the realm of audio. Unlike most computer-dedicated panels, the smart monitor has two loudspeakers built in.
LG has equipped a smart monitor with every port you can possibly think of, including HDMI, USB-C, LAN, ARC and USB-A. The one holdout, unfortunately, is a built-in webcam. Maybe next time.
In terms of how well it functions as a computer screen, which was the primary method upon which I have used it, this panel is fairly standard. While its size initially seemed to be overly inflated for my needs, which are mostly comprised of writing and editing texts, it took me all of two days to get used to his 32". With a 4K resolution, it presents a sharp and vivid image and its peak brightness was quite sufficient for the lit up room where I usually work.
But true to the company's statement, there are some features about this panel that differentiate it from your standard computer screen. Design language is one of them. The stock screen stand is shaped like a half circle, which is more reminiscent of TV screens than computer displays.
Further, in order to access the settings, you will not be required to fumble around for hidden buttons at the back of the screen and navigate the menus with outdated arrows. All you have to do is simply press the settings button on your remote. This makes it much more comfortable to navigate, but on the flip side, it also means you'd be wise to keep the remote within reach at all times.
Luckily, the base of the screen is adjustable, which means you can manipulate its vertical angle. While I myself have not run into a lot of folks who might move their computer screen in that way, I suppose there are some situations in which that would be a desired feature. Conversely, however, tilting the screen horizontally is not an option and that is a feature that is frequently used in TV displays, as we don't always watch it from the same angle.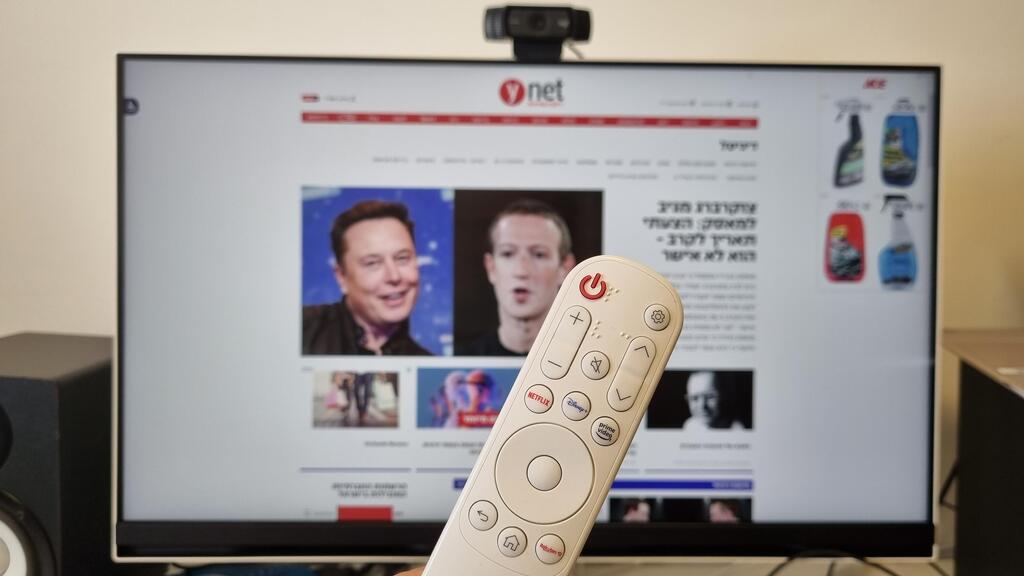 Pressing the home button on your remote will enable TV mode, which functions as a TV, with all that entails. While WebOS can be somewhat cumbersome to operate, it does come pre-installed with various applications like Netflix, Youtube, Apple tv and others.
Obviously, you can access the dedicated app store to download any 3rd party application you desire. The remote has a minimalist design and it is quite functional and comfy to operate, with dedicated buttons for Netflix, Disney plus and Amazon Prime.
The settings menu is feature-rich and enables choosing between a long line of image and sounds configurations, one of which is called Filmmaker Mode, which claims to present content in the original way the creator wanted it to be seen, by canceling all conventional TV filters.
Another mode is called "AI sound", which uses a deep learning process to present the sound in a way that is genre-appropriate to whatever it is you're watching. While I stop shy of characterizing it as an adequate replacement to a true surround sound system, it does get the job done in a way that is fairly admirable.
Remember what we said about the built-in speakers? They are situated at the bottom of the screen and the output is definitely reasonable, but not necessarily superior to the kind of speakers you are likely to find in high-end laptops. Should you be interested in upgrading sound quality, you can obviously attach the panel to an external audio system or if you wish to go about it in a way that keeps the entertainment more private, you can simply use headphones.
Unsurprisingly, issues begin to arise when you venture into the transition point between the screen's dual purposes. For example, should you press the settings button when you're in the tv home screen, you will be automatically transferred into the computer screen mode.
If this comes across as bizarre to you, believe us when we say we felt the same way. If, while watching content, you paused and transitioned into computer mode, you will lose the exact point in which you paused and will have to search for it again when you go back into TV mode.
Sure. Those are merely kinks that could be easily rectified with a software update, but it won't solve the smart monitor's identity crisis. On the one hand, you have an excellent computer screen that is quite comfortable to work on, and on the other, you have a tv that while might be fun to watch, its size renders it irrelevant for the lion's share of avenues with which you would want to use a tv in the first place.
If those shortcomings are not enough to deter you, and you're willing to pay a premium for your computer screen, it's quite a nifty gadget to have. As far as I'm concerned, I think I'm going to stick to the tv that is currently hanging in my living room.