Real Madrid goalkeeper Thibaut Courtois and his Israeli fiancée Mishel Gerzig may not be holding their upcoming wedding in the Holy Land, but the bride-to-be insists on incorporating some Jewish customs into the grandiose event.
Although the towering Belgian soccer star and the international model have divulged scant details about their special day so far, Israeli news site Israel Hayom reported this week that the couple are planning to exchange their wedding vows under a ceremonial canopy and Courtois will even break a glass.
However, it remains unclear whether the ceremony will be ordained by an Orthodox rabbi as Courtois is not Jewish. The location of the wedding has been vaguely described as a vacation spot.
Though little is known about the wedding itself at the moment, Israel Hayom further reported that Mishel Gerzig was visiting Israel to shoot a campaign for a soap brand.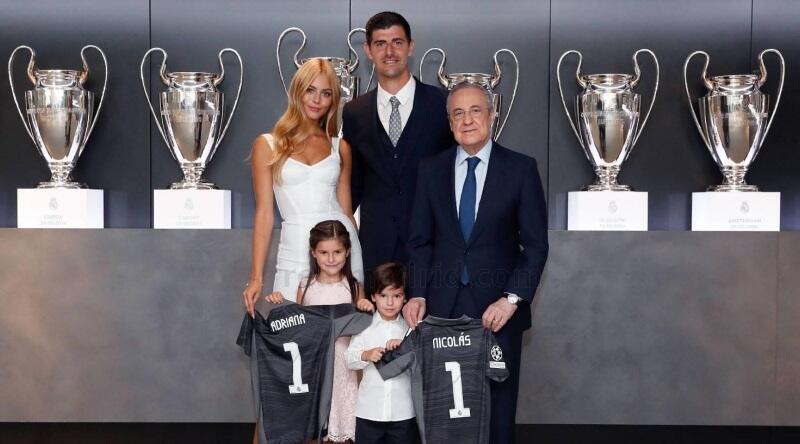 Like many other Israelis pursuing a career abroad, Gerzig says she has been
subject to antisemitic and anti-Israel abuse
, which also projects on her betrothed. Since the start of the relationship, the model has been accused of being a "children killer" and "free Palestine" comments have been constantly littering her Instagram page
.
When asked how Courtois is handling the criticism, Gerzig said that "he handles this even better than me, it just passes by him, and he doesn't give this too much thought".
Gerzig also said that she also receives criticism at home for dating a foreign soccer star, who is not Jewish. "Here in Israel, there is an issue on the matter that I'm dating a foreign man and abroad there is the issue that I'm an Israeli, so what can I do? No one is happy."
"But I can't complain, the most important thing for me is my relationship and that I'm happy, everything else is a bonus."