Located at the Sofia Hotel Sea of Galilee, the Altamira Rooftop restaurant opened a few weeks ago, offering not just a menu of dairy and fish dishes but also panoramic views of the Sea of Galilee, the Jordan Valley, the Golan Heights and the Upper Galilee.
The restaurant is open to both hotel guests and the general public by reservation, featuring a menu with a variety of appetizers and main courses that include fish, salads, and pasta dishes—such as Denise fillet served over risotto, Altamira pasta with delicate spiciness, ravioli, salmon tartare and various fresh salads.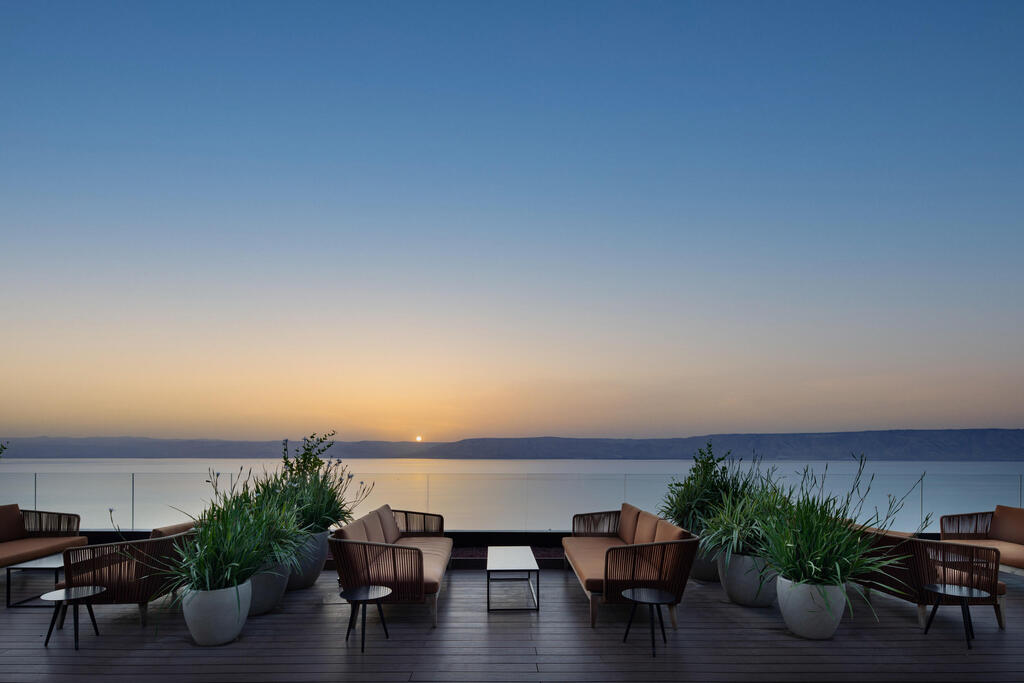 Guests can sit in one of the alternative seating areas overlooking the Sea of Galilee and also enjoy an alcoholic beverage bar, cocktails, and wines.
Address and phone: 12 Palmach Street, Tiberias, 053-3209182
Opening hours: Sun-Thu 5pm-11pm, Fri - Bar only, 7pm-11pm
The rooftop of De Bland Hotel
Located in the heart of Nazareth's Old City, De Bland Hotel offers a rooftop restaurant that boasts an expansive panoramic view of the entire city of Nazareth. Open to the public, the restaurant is led by Chef Rami Salam, a young Nazareth-based chef who represents the new wave of Nazarene cuisine—Galilean-Nazarene culinary traditions with a modern twist.
Among the dishes served on the rooftop are sea bream skewers on lemon cream, shrimp in garlic-lemon cream on classic risotto, raw kubba with yogurt stone, seared sirloin with skhug aioli, tabbouleh salad with pine nuts and almonds, and more.
Address and phone: 62 Paulus VI, Nazareth, 04-6107000
One can't talk about rooftops without mentioning Roof 21, a relatively new venue located in the Talpiot Market in Haifa. Though not primarily a culinary destination, it hosts weekend parties featuring alcohol and delicious bites.
During weekdays, Roof 21 generally functions as an event space, but on Fridays or Saturdays, it transforms into a distinctly Haifa-style gathering. Parties at the venue include live music, art, alcohol, and unique yet delightful mini-snacks—usually provided by local small businesses or neighborhood residents with culinary talents. The events are weather-dependent, so it's a good idea to check social media for more accurate details.
Address and phone: 21 Sirkin Street, Haifa, 051-2518867
Tel Aviv and central Israel
The rooftop terrace of the Norman Hotel is one of the most beautiful spots in Tel Aviv, offering a sweeping view of Montefiore neighborhood buildings and Rothschild Boulevard.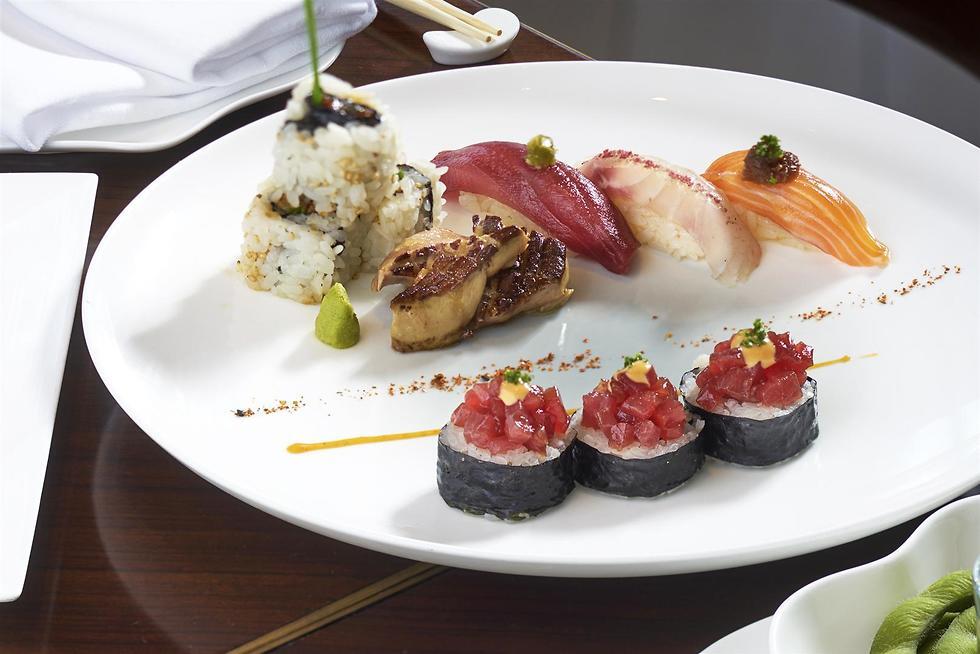 The venue is an open, elegant, and stunning space that hosts the recently re-opened Dinings, which had been closed for three years starting from the COVID-19 outbreak. The space has been redesigned and the menu revamped, but it remains one of the city's pricier dining options.
Those who can afford it will enjoy a menu featuring sophisticated Japanese dishes alongside more European fare, an intriguing sake selection for aficionados and carefully crafted cocktails.
Address and phone: 25 Nahmani Street, Tel Aviv, 03-5435444
Opening hours: Tuesday-Saturday, 6pm-10:30pm
Located in a restored historical building in the Neve Tzedek neighborhood, the Elkonin Hotel, which opened six months ago, boasts one of the most beautiful terraces in Tel Aviv. The hotel's rooftop features a special menu curated by Robuchon, the group responsible for the hotel's L'Époque restaurant.
Even those who are not guests of the hotel can book a table on the rooftop and enjoy a menu focused on small plates and shareable dishes in a French style, alongside seasonal cocktails and drinks. Options include oysters and blini with caviar, mini baguette sandwiches with smoked salmon or duck breast and croquettes made with avocado and mozzarella or Ortiz tuna.
Address and phone: 9 Lilienblum Street, Tel Aviv, 03-5484000. Kosher.
A culinary dance bar is a concept that attracts a younger crowd looking for more than just a meal; they want to have a good time, and that's exactly what happens every evening on the rooftop of Bobo Hotel.
In the evening, the pool area is illuminated with vibrant dance bar lighting. Two elongated bars transform the rooftop into an urban Bohemian bar, where alcohol flows in a variety of interesting cocktail glasses.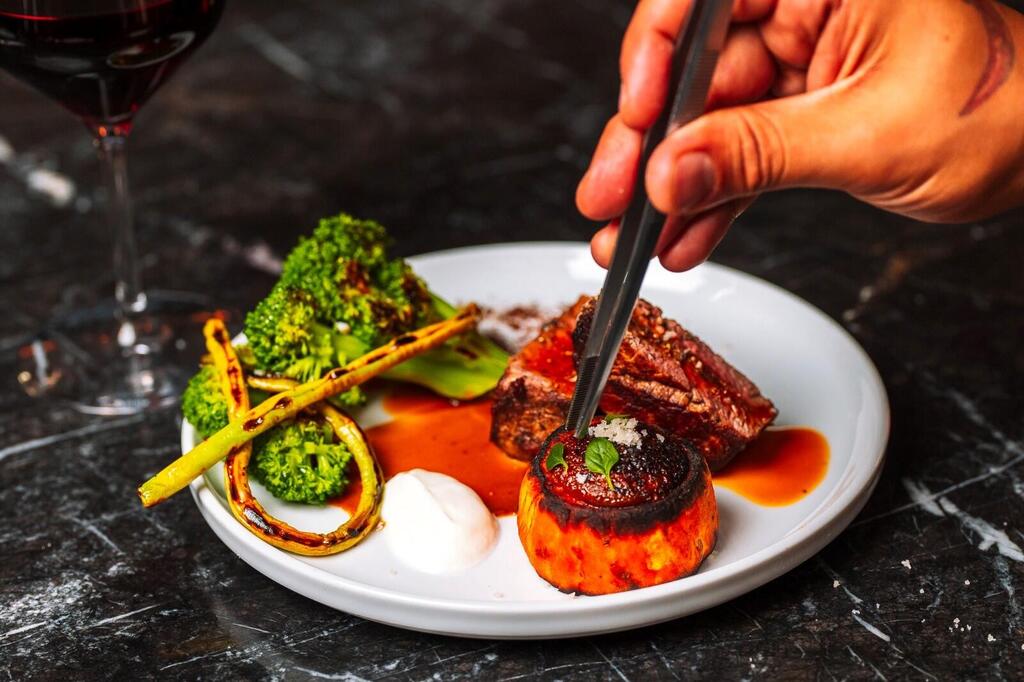 The food menu is crafted by Chef Meir Adoni and offers a diverse range of light, enjoyable bar dishes. You'll find dishes like torn burrata, meat kataifi, stylishly presented skewers, stylish salads, appealing fish dishes, and a variety of international cuisines with a local twist, such as pani puri with avocado or tortellini with ricotta and Persian lemon. Later in the night, the temperature rises and the dancing begins.
Address and phone: 42 Yavne Street, Tel Aviv, 077-2302563.
Opening hours: Monday, Thursday, and Friday 7pm-2am; Tuesday, Wednesday, and Saturday 8pm-2am.
Situated atop the Mamilla Hotel with a panoramic view of the walls of the Old City, the rooftop restaurant is a culinary gem. Hotel Chef Oshri Zafrani and Restaurant Chef Simon Shapiro have collaborated to create a menu inspired by local Jerusalem ingredients incorporated into contemporary global cuisine.
The rooftop serves as a sanctuary from the city's intensity, while also offering an authentic Jerusalem experience through dishes like market salad with sumac labneh, sinta tataki with preserved lemon, charred sea bass on eggplant cream, roasted chicken with freekeh on watermelon cream, lamb ribs on eggplant carpaccio, and more. The air is refreshingly cool, as one would expect in Jerusalem, adding to the overall culinary experience.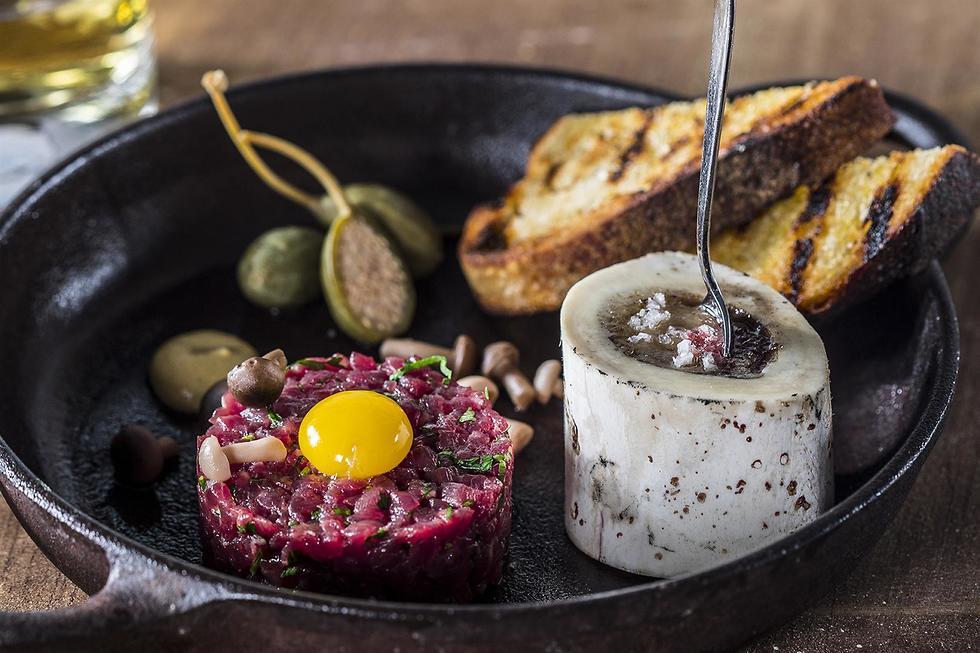 Address and phone: 11 King Solomon Street, Jerusalem, 02-5482230. Kosher. Opening hours: Monday to Friday 6pm-11pm, Saturday 12pm-11pm.
Located on the rooftop of the Orient Hotel, the Orientop restaurant offers views of the Old City and serves an intriguing food menu, along with a cocktail and wine list, during the evening hours. The rooftop features a variety of comfortable seating areas scattered around the pool.
The menu includes an array of meat cuts like entrecôte steak, chicken, and asado, as well as small sliders, grilled or fried fish, and, of course, desserts that align with the venue's kosher certification.
Address and phone: 3 Emek Refaim Street, Jerusalem, 02-5699090. Kosher.
Opening hours: Sunday to Thursday 7pm-11pm.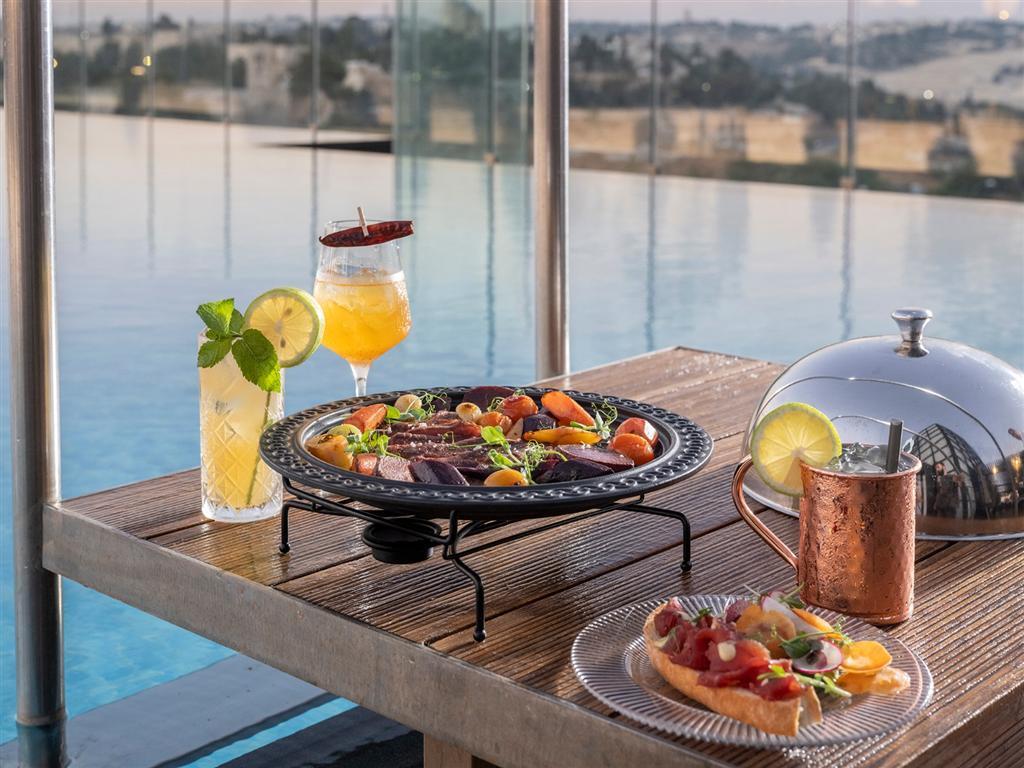 Notre Dame rooftop wine and cheese
The restaurant is situated in one of the most unique locations in Jerusalem—on the fourth-floor rooftop of the Notre Dame Hotel, surrounded by the walls and spires of some of the city's most beautiful and important buildings.
As the restaurant's name suggests, the main focus of the menu is platters of various cheeses and sausages. Alongside these, pasta and risotto dishes, appetizers, and salads are also served, drawing inspiration from Italy and other culinary destinations around the world.
Address and phone: 3 Hahaluzim Street, Jerusalem, 050-3792000.
Opening hours: Sunday to Saturday 12pm-11pm.
Waldorf Astoria Hotel rooftop
At the summer bar of the
Waldorf Astoria Hotel
, Chef Itzik Mizrachi Barak offers a diverse menu that includes dishes like Jerusalem Mix with crispy laffa bread, chicken meschan with tandoori masala, seabass kubaniya with preserved lemon, sabich in pita, classic basbousa cake and more.
The venue serves unique cocktails crafted in collaboration with the local Tinkers Distillery, with a strong focus on local ingredients. Surrounding the bar is well-maintained greenery and a variety of comfortable seating areas.
Address and phone: 26 Gershon Agron Street, Jerusalem, 054-9509092. Kosher.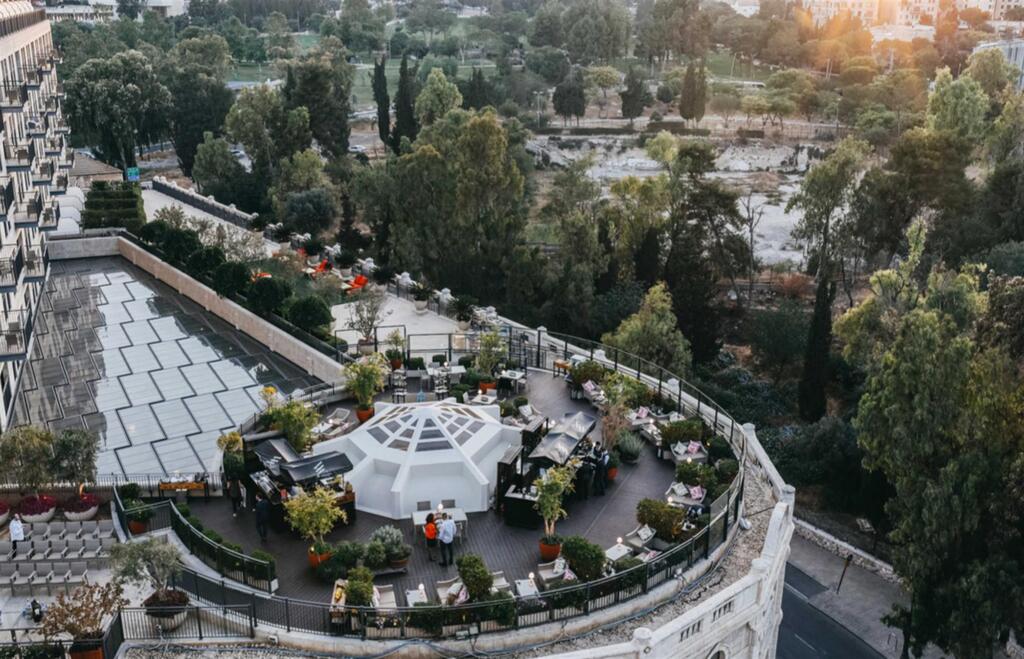 The design is clean, featuring white tablecloths, wine glasses on the tables, and large windows that offer views of the marina.
On the culinary side, the menu includes bruschettas with anchovies or tuna, sea fish ceviche with cucumber and yogurt, refreshing versions of sashimi, focaccia and tandoor-cooked fish, as well as vegetable dishes for those less keen on seafood. Don't miss the wine, champagne and dessert menus.
Address and phone: 5 Union Street, Ashdod, 08-9107661
Eilat also has a rooftop—the rooftop of the NOW Hotel. The venue features a large tandoor oven that sets the tone for the menu. Fresh breads and focaccias with dips, pizzas, and even whole fish cooked to perfection emerge from it, accompanied by fresh pasta dishes.
The restaurant is kosher and offers a menu of dairy desserts. The bar features a selection of sparkling wines from Italy. The design is meticulous and tastefully done.
Address and phone: 5 Hayam Street, Eilat, 050-6007368
Opening hours: Sunday to Thursday 8am-12pm, 2pm-12am; Friday 8am-12pm, 1pm-5:30pm, 7:30pm-12am; Saturday 8am-12pm, 1pm-5:30pm, 9pm-12am.