Former Pink Floyd star Roger Waters, who has lately featured repeatedly in the news for all the wrong reasons, has stated that wearing a mock Nazi uniform in his concerts was actually a "statement against fascism", but that does not explain why a fan who was waving an Israeli flag was manhandled by security and escorted off site.
"There was no intent on my part to provoke anyone," said Gilad Emilio Schenkar, who arrived at the concert with his partner. "And I certainly did not plan on being thrown out."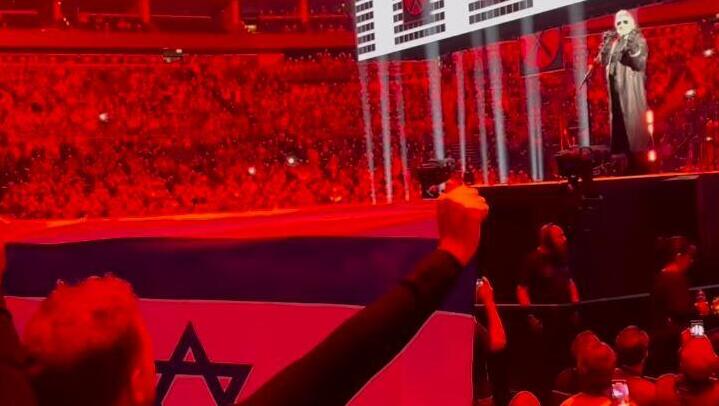 "Both I and my partner are huge Pink Floyd fans, and this was dubbed a farewell tour, so we just had to buy tickets. Since we've been noticing the antisemitic displays in his concerts lately, we decided to take an Israeli flag with us."
Shortly after displaying the Israeli flag, he was summarily ejected from the venue. "It was brutal. They grabbed and dragged me out. It was quite painful. They took me to a side room and interrogated me. Who I am, what I was doing there and all that. They firmly held my hands while they searched me. They then took the flag, threw it in the garbage and kicked me out. I told them that I thought this was a democracy, so why is a Palestinian flag allowed but an Israeli one isn't?"
Were there a lot of Palestinian flags on display?
"Not only that but there were more than a few 'Free Palestine' stands around. Waters' political standing is very clear and that's fine. If he wants to be anti-Israel that's his right, but this was taking it one step further. That was just clearly antisemitic, which is why we felt the need to do it."
The antisemitic nature showings in his concert, including a balloon of a pig with a star of David emblazoned on it, prompted the Berlin police to open an investigation into potential incitement. "Since the clothes worn on stage resemble an SS officer, this could embolden antisemitic sentiments, thus disturbing public order," they said.
Waters rejected antisemitic accusations
on his Twitter account, saying "The elements of my performance are clearly a statement in opposition to fascism, injustice and bigotry in all of its forms."