"In Tishrei the palm tree gives a nice brown fruit," songwriter Naomi Shemer wrote, but it seems that in the Hebrew month of Sivan, too, the tree gives a particularly nice fruit – this time, red.
The cherry season has recently opened across Israel, but there is one place in the country where people are especially excited for it: Ramat HaNegev, a municipality in the Negev desert.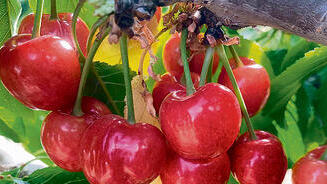 "We see excellent potential to expand the industry and cherry plantings in the region," Yankel'e Moskowitz, director of research and development for Ramat HaNegev R&D – Experimental Center for Desert Agriculture, where cherries are grown in the southern Negev desert near Mitzpe Ramon.
The cherries in the Negev currently are not being marketed. The harvest has been smaller than last year due to the bad weather, but in Ramat HaNegev they hope that next year things will work out and the harvest will be better.
Eran Doron, mayor of the Ramat HaNegev municipality, said in March: "We manage to grow in the desert soil, from forest fruits to exotic fruits. The cherry blossoms in the Negev are literally the fulfillment of Ben-Gurion's vision of the desert blooming."
Meanwhile, fruit farms in the Golan Heights and Gush Etzion area are expected to reach yields of up to about 5,000 tons. Yaron Belhasan, CEO of the Fruit Growers Association in Israel, said that the global climate crisis and the extreme weather changes are also affecting the agricultural sector this year.
"The last winter season was characterized by a lack of the necessary cold periods for a high yield in certain fruit trees, including nectarines, apples, cherries and peaches." He further added: "I call on the government to arrange an orderly national plan and an adequate budget to deal with the climate crisis - with the aim of preserving the fruit of the State of Israel."