The Health Ministry issued a warning Wednesday regarding the consumption of Fruit Roll-ups, which has become a global sensation on TikTok.
"Who hasn't heard of this candy and seen viral videos of it wrapping around ice cream, popping, and fizzing on social media?" the statement read.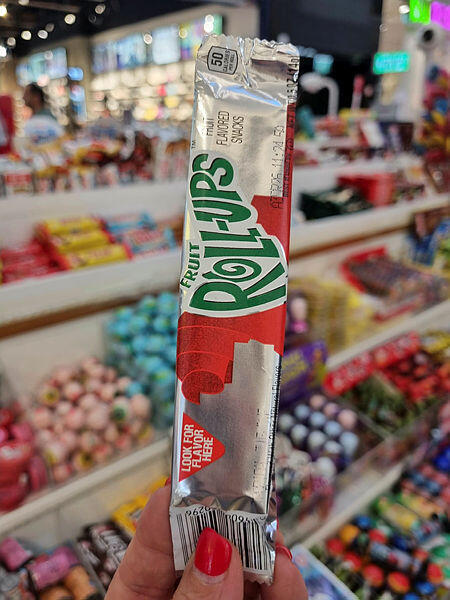 "We even heard yesterday that there was an attempt to smuggle a large amount of it into Israel.
Just because the candy photographs well, creates excitement, and generates discussion on social media doesn't mean that it's healthy for you or your children."
Last week, two U.S. nationals were caught by customs in Israel carrying several suitcases containing a whopping 170 kg (375 lbs) of candy between them. Another couple, a husband and wife, were caught in possession of 33 kg (72 lbs) of the sweet. In total, customs have seized about 300 kg (660 lbs) of the product.
In the U.S., a pack of 10 units weighing 141 grams goes for only three dollars, despite the high demand. In contrast, Fruit Roll-ups were quickly sold out off the shelves around Israel and are now being sold at prices sometimes 20, 30, and even 50 times higher than in the States.
"Before joining the trend and paying exorbitant prices for ice cream wrapped in candy, you might want to familiarize yourself with some of the ingredients it contains. Glucose, corn syrup, and dried corn syrup are all sugar - a lot of sugar and various types," health officials warned.
The message highlights the negative health effects associated with excessive sugar consumption, including weight gain, cardiovascular disease, high blood pressure, type 2 diabetes, fatty liver, cancer, tooth decay, and worsening of ADHD symptoms. The ministry notes that many government bodies and health organizations recommend significantly reducing sugar consumption to improve overall health.
The ministry added that "palm oil and hydrogenated fat contain high levels of saturated fats, which increase bad cholesterol levels and the risk of cardiovascular diseases. This is in addition to deforestation for the purpose of oil production, which has a significant negative impact on the environment. Natural and artificial flavorings create an unnatural flavor profile that may affect eating patterns, food choices, and feelings of hunger and satiety."