'Help me. I am hiding in my home'
On October 7, First Sergeant Y. had initially been scheduled to stay on the base at the Reconnaissance Unit of the military border guard in Nahal Oz. However, his friend Yanki Krasninski, who co-commanded a team with him, requested to swap shifts. "It was my duty to stay on base that Saturday", he reminisces. "However, Yanki was studying for his high school diploma and had an exam in the middle of the week, so he opted to stay at the base in my place". When the unit's WhatsApp group alerted them about the extensive infiltration of terrorists from the south a little after 6:30 in the morning, the 21-year-old First Sergeant Y. didn't hesitate. He put on his uniform and made his way from his home in the center of the country toward the kibbutz.
"On my way there, I checked my phone trying to understand the magnitude of the situation, and received urgent distress messages on WhatsApp: 'rescue, rescue'. It became evident that their people were injured, and Yanki was unconscious. My first thought was that I should have been there, in his position", he said, his voice choked with emotion.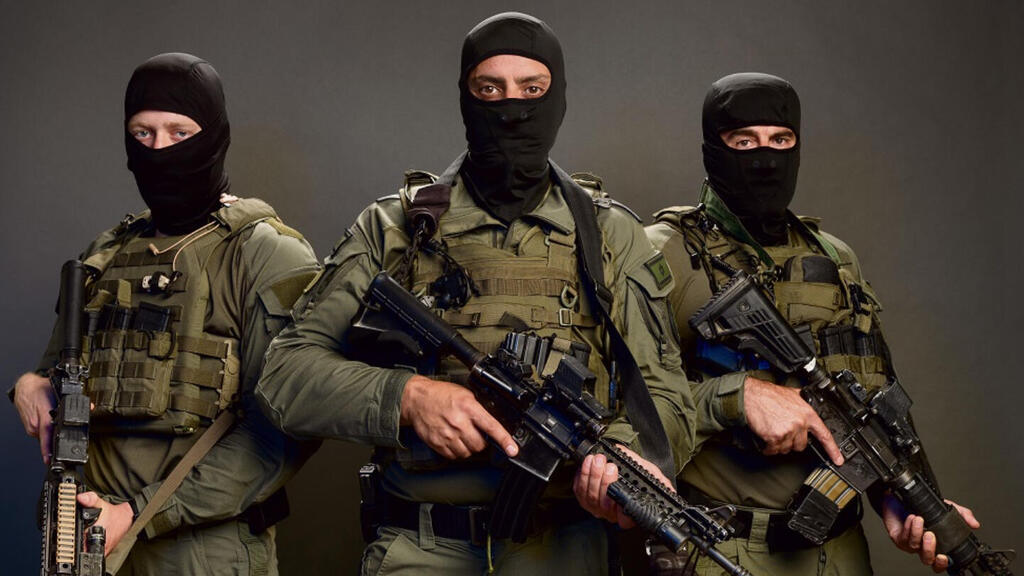 Meanwhile, in kibbutz Ofakim, Police Superintendent A., the deputy commander of a Reconnaissance Unit, aged 45, sought refuge in a secure room with his wife and children while rocket alerts blared outside. " I received a call from a friend from my Saturday running group, informing me that rockets were being fired. He, along with two other runners, a man, and a woman, found themselves at a junction, just 300 meters from the Erez crossing. I was supposed to join them on the run that morning, but I wasn't feeling well, so I decided to stay at home. I immediately contacted the military company commander of the soldiers from Kibbutz Nahal Oz to request a rescue. He informed me about the infiltration of terrorists and mentioned that he was on his way to the unit".
"My next call was to Yad Mordechai, a base I had previously commanded, but there was no response. Shortly after, the friend from the running group called again, providing an update: 'There are vans and motorcycles with terrorists, and we hear shouts of 'Allah Akbar'. I instructed him: 'Find a hiding place and stay concealed'. Tragically, the man and the woman were later killed there. At that moment, my wife called out to me: 'I hear gunshots outside'. I grabbed my weapon and left the house".
Simultaneously, Warrant Officer B., a 48-year-old Reconnaissance team commander residing in the north, concluded his morning run with Lt. Col. Alim Abdullah, Deputy Brigade Commander 300. "Suddenly, his communications officer rushed over with a phone. Alim glanced at me and said, 'There's a security incident in your sector—terrorist infiltration'. As I said goodbye, he added, 'My brother, take care of yourself'. It's a sentence that remains etched in my memory", Warrant Officer B. recounted, his voice catching. "Two days later, on Monday, Alim was tragically killed in action by terrorists who had infiltrated from Lebanon into Israeli territory".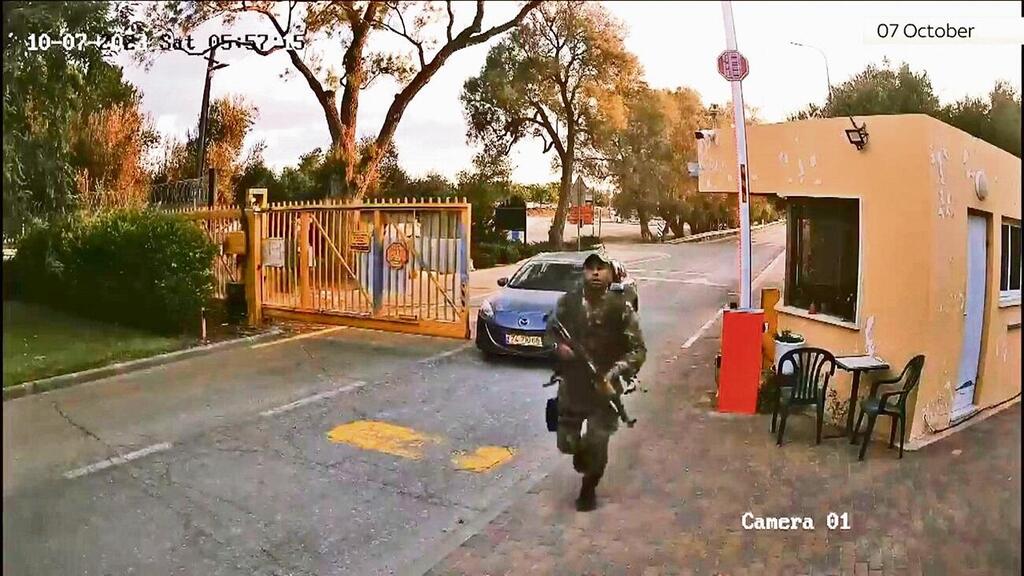 Returning home on Saturday morning, Warrant Officer B. quickly switched into civilian clothing and hopped into the unit's car, an old car, which was now being used undercover and lacked protection. He had minimal equipment with him, as everything was stored in the unit. "Now, it's an undercover car. It's not armored, and I have no equipment or weapons because everything is at the unit. I picked up five of my servicemen from the area, and we headed south. En route, I contacted one of our soldiers from Be'er Sheva who could go to the unit and load weapons, combat uniforms, and vests".
"I arrived at the Tzalim junction to reach kibbutz Kfar Gaza, prompted by a rescue request from one of my soldiers residing there. His message read: 'Someone helps me. I've barricaded myself in the house. There's a terrorist unit outside, wounded civilians in the area, and I can't leave. There are eight terrorists with RPGs outside'. Simultaneously, his brother, a former fellow officer, living on the other side of kibbutz Kfar Gaza, sent me an urgent message for help. Both are the sons of the late Yizhar Peled, the commander of the military border guard of Judea and Samaria, who tragically lost his life, along with his wife and child, in an attack.
"I reached the junction, the intersection of road 232 from the direction of Tzalim, to rescue my soldier, who is like a son to me. However, an operations wing officer redirected me to another incident".
Battle on the roads: 'Be alert, terrorists have set traps'
The Reconnaissance unit within the military border guard, true to its name, consists of soldiers who disguise themselves as Arabs, don civilian clothing, carry personal firearms, travel in unprotected vehicles, and undergo extensive training to combat terrorism. Despite their expertise and preparation, which included training in urban warfare, none of them could have anticipated the ferocity of the situation they faced when they bravely ventured out that Saturday to rescue their comrades. Armed only with basic weaponry, they confronted an armed force equipped with advanced anti-tank weapons.
As mentioned, First Sergeant Y. responded to the rescue calls for the unit's soldiers besieged in the Kfar Gaza kibbutz. He made his way there with three soldiers he gathered along the way and very limited ammunition. "We had three firearms, one of which was a long-range weapon, and I managed to scrounge up an extra cartridge I found on the road", he recalled.
When First Sergeant Y. mentions "on the way", he is describing continuous combat while in motion. "Near the Black Arrow monument, the Yamam unit was actively in combat with terrorists. Seizing an opportunity, I maneuvered ahead of them and fired a shot. We swiftly disembarked from the vehicle and took cover by the steps. As we regrouped, two terrorists riding a motorcycle approached us. I managed to hit one of them, prompting the other to flee to the nearby bushes."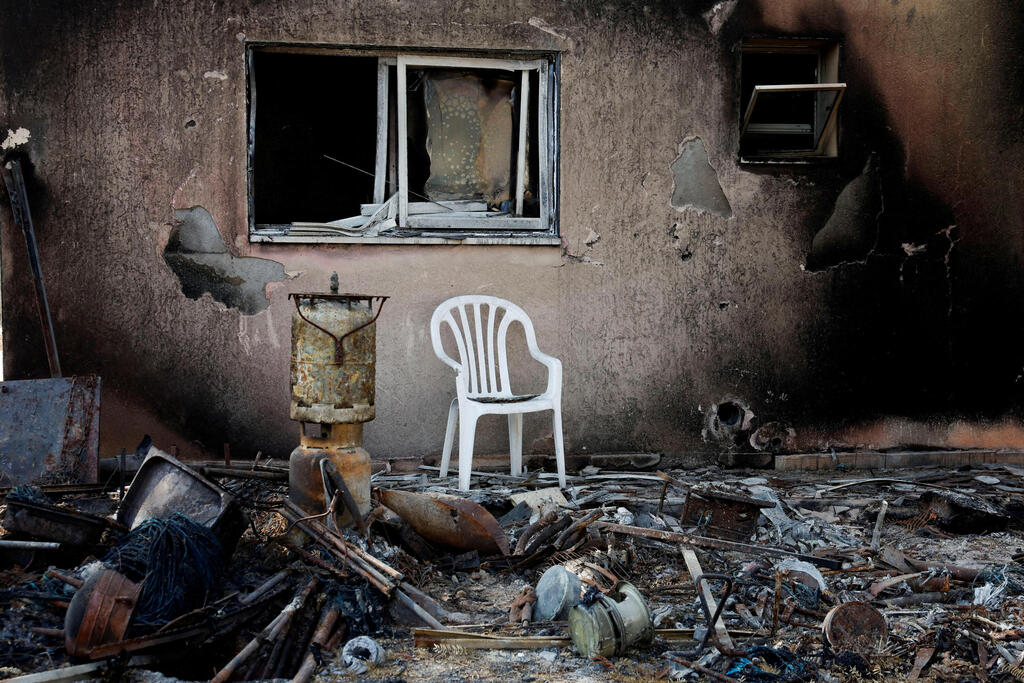 "Meanwhile, the Maglan unit, which had been trailing us, closed in just as a van appeared on the scene, carrying six terrorists, one of whom was armed with a submachine gun mounted on the roof. We opened fire, successfully neutralizing the threat. Tragically, during the exchange, one of the Maglan soldiers was killed, and two others were injured. We seized their vests, weapons, and ammunition for our use. As I approached the van to secure Kalashnikov rifles from the terrorists for my team, I realized they were rigged. After withdrawing myself from that situation and providing aid to the wounded Maglan soldiers, military reinforcements arrived to evacuate them."
"Suddenly, another van emerged in front of us, carrying six terrorists armed with a submachine gun. They opened fire, forcing our vehicle to a halt. Simultaneously, the same terrorist who previously fled into the bushes started shooting at us. One of my soldiers spotted him and managed to shoot him in the head. However, from behind us, we heard a shout. It turned out to be someone who had previously been in our unit and had transferred to the tactical brigade. He had been shot, though I couldn't determine by whom. We took his vest, helmet, and three extra cartridges moved him to a military vehicle, and then continued our mission to rescue our soldier from Kfar Gaza."
"En route, near the Black Arrow monument, we encountered two Yamas armored SUVs from Jerusalem's Israel Border Police. They had also come to rescue one of their soldiers from kibbutz Kfar Gaza. I approached one of them and said, 'I know the locations of the houses, come with us'. In total, there were seven fighters in one jeep—myself and the three soldiers I had picked up, along with three border policemen from Jerusalem".
The fight for Kibbutz Kfar Aza: Until the last drop of blood
The daunting journey does little to prepare First Sergeant Y. for the harrowing scene that unfolds on his arrival in the kibbutz Kfar Gaza. "The entrance is wide open, eerily quiet with no sign of any forces present. Yet, as we enter, shots are fired at us. We quickly stopped the jeep behind a concrete wall. One of the fighters who joined us along the way, a kibbutz resident, offers to take the lead. In the distance, I spot a scooter carrying two terrorists and manage to neutralize one of them. Moving cautiously westward, we realize there are numerous terrorists within the kibbutz itself. Rockets rain down incessantly, landing just meters away from us. I struggle to comprehend their source and the magnitude of the threat we face".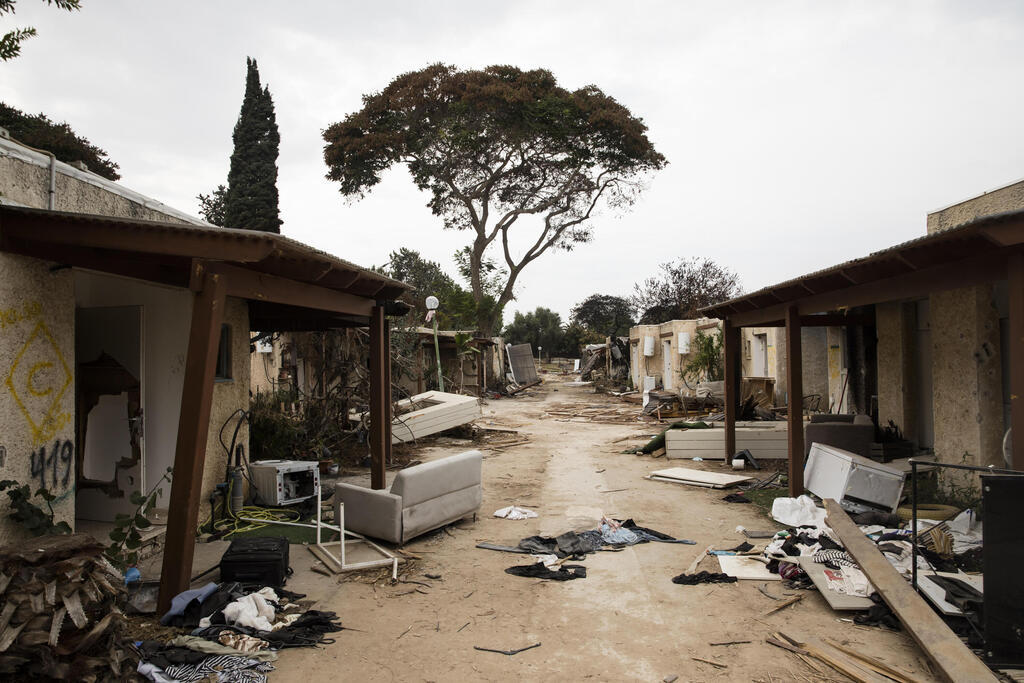 "On the grassy field, we discovered the lifeless bodies of five terrorists; their killers remained unknown to us. As we surveyed the area, a terrified civilian emerged, fleeing in shock, dressed in nothing but his underwear. He had mistaken us for terrorists and fled in fear. We reassured him, repeating, 'army, army', until he calmed down. He shared his ordeal, saying, 'They tried to kidnap me.' Continuing our advance toward the western part of the kibbutz, near the Gaza border, we encountered terrorists freely roaming the paths between houses, ruthlessly attacking and abducting residents. Suddenly, two individuals dressed as IDF soldiers emerged in our path, holding Kalashnikovs. We quickly understood that they were disguised terrorists and neutralized them.
"Engaged in intense gunfire exchanges with dozens of terrorists, we soon realized our ammunition was depleting rapidly. Desperate for assistance, I called the military operations room, pleading for a rescue: 'We're running out of ammunition. Why aren't you coming to help?' To my disappointment, the soldier on the other end replied, 'I don't have anyone. I'm so sorry, there's no way for us to assist you'".
What are your thoughts during those moments?
"I reminded myself that there was no other option; we had to fight with all our might. I had just 29 bullets remaining, with half a weapon cartridge left and another half in the gun. It felt like we were reaching the end. At one point, I even took out my cell phone and began recording a farewell message for my fiancée. But then I stopped, telling myself, 'I'm not going to die today', and put the phone back in my pocket".
Did you feel abandoned?
"I don't believe they abandoned us. We were in a complicated situation, but we weren't the only ones. Everyone there found themselves in a challenging predicament".
Amidst the desperation, a police car arrived unexpectedly. "I shouted at the driver, 'bring ammunition!' He responded, 'My daughter is here; I came to rescue her.' In hindsight, I realized it was Police Chief Superintendent Shimon Portal, the intelligence officer of the southern district. We left a portion of our team there and accompanied him to his daughter Neta's house. She had been struck by five bullets in her legs, but her partner was unharmed. We safely evacuated both of them. We yelled at Portal, 'Bring us ammunition', but he replied, 'I have nothing to give you', before driving away. His vehicle bore the marks of numerous gunshots.
"After three hours of intense combat and running low on ammunition, two vehicles from the commander of Yamas (Israel Border Police unit) in Jerusalem suddenly arrived, sent to rescue one of their soldiers residing there. We joined them, followed by an armored personnel carrier and a Golani unit entering the kibbutz. Later, a close friend, a military company commander in the reserves, informed me that after our departure, they discovered the bodies of 13 terrorists we had eliminated, in addition to the five found earlier on the grass".
"While engaged in the battle, I communicated with a company commander from our unit who was also in Kibbutz Kfar Aza. When he shared his location with me on WhatsApp, I realized he was nearby. I directed him, 'The house you're targeting? There's a solar-heated water tank there. Aim for the tank'. I assigned numbers to the houses and coordinated, 'I'll cover from this position, and you cover from there', ensuring there wouldn't be crossfire, God forbid.
"After we evacuated the kibbutz, he later returned with a unit from Duvdevan, attempting to rescue one of our soldiers. They came under fire, and as they disembarked from the vehicle, he was injured by an explosion. He underwent surgery and is recovering but faces a lengthy rehabilitation process".
Magen Intersection: Bullets flying above, a shrill whistle in the air
When First Sergeant Y.'s force was deeply engaged in the battle in Kibbutz Kfar Aza, Warrant Officer B., struggling with his transport, was dispatched by the operations wing officer to rescue a team from the unit that had encountered terrorists at the Magen intersection and required assistance. "To avoid any confusion, we rolled down the windows of the vehicle and donned helmets, which the terrorists lacked, and vests. We also activated the car's siren. I instructed the soldiers that the terrorists should have targeted us rather than our forces because the terrorists were also dressed in IDF uniforms. The situation was so dangerous that if I had held a weapon while hiding, they would have shot me from both directions".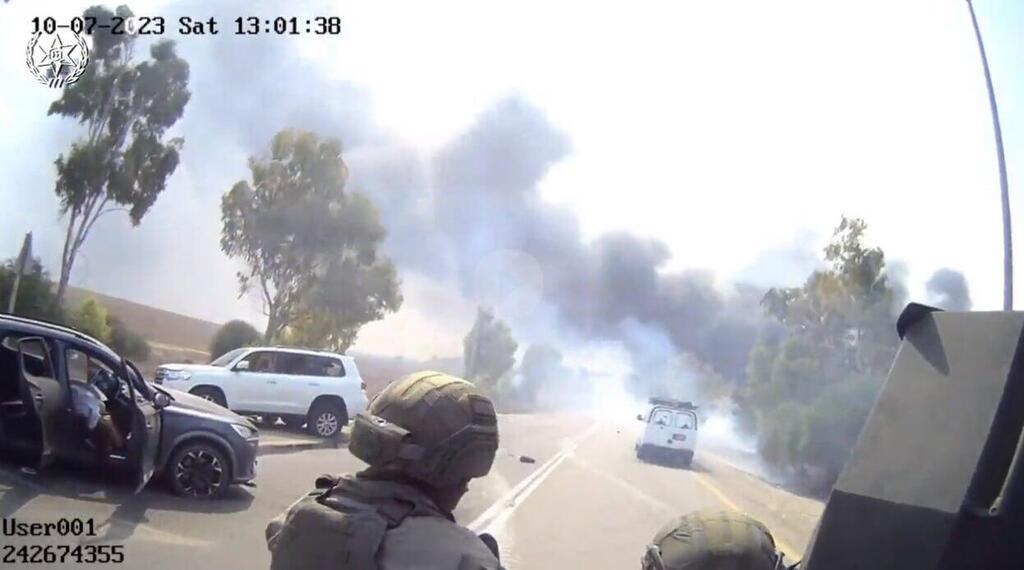 "Of course. We are trained to distinguish between terrorists and civilians. Our expertise lies in this area. While the military may engage anyone in the vicinity, we can discern terrorists based on their weapons, movements, clothing, and other distinguishing features. For instance, a green stripe on the forehead indicates someone from Hamas, while black or yellow stripes signify individuals from Jihad. Additionally, the absence of a helmet is another indicator that someone is a terrorist".
How do you distinguish Gazan citizens who infiltrated the settlements around the Gaza Strip with Hamas?
"It's challenging; they manage to blend in, making it hard for us to identify them".
Meanwhile, at Magen Junction, the gunfire persisted. "We reached the Paz gas station, located 200 meters before the Magen intersection, and what I saw there was chaos—thick smoke filled the air. The station had been hit; the factory was ablaze, and we were under fire too. We helped five individuals out of the car and took cover in a ditch. When the smoke cleared, I noticed a van with two dead terrorists and a car filled with supplies: food, explosives, RPGs, and weapons. It became clear to us that we had found their logistics vehicle.
"We pressed on, but we were suddenly targeted in a wide barrage; bullets whizzed just above our heads. We dropped to the ground, seeking refuge in the bushes. Then, I found myself holding the body of a major who had been shot. I pulled him into the roadside ditch, hoping he would be retrieved, and we continued moving forward. The IDF unit was engaged in combat at the intersection. We were informed that three terrorist snipers were present, ready to shoot anyone within their sight. We engaged in a close combat, managing to eliminate two of them. The General Staff's soldiers recovered a drone, and their sniper took out the third sniper".
And what about the team you were sent to rescue?
"I attempted to contact my soldiers and noticed their vehicles parked on the side, peppered with bullets. They had managed to take cover in a ditch and engage in a battle from there. We successfully rescued them, although sadly, one person had lost their life. We loaded the deceased onto our vehicle and transferred them to the ambulance. Initially, I thought there were no more casualties, but then I spotted a heap of lifeless bodies at the intersection. That's when the magnitude of the situation sank in. Nevertheless, my primary goal remained to reach my soldier in kibbutz Kfar Gaza. We proceeded toward the Sa'ad intersection, but the IDF halted us, warning, 'There are terrorists; anyone entering will be shot'. I faced a tough dilemma. While I wanted to rescue my soldier, I didn't want to jeopardize the lives of the five soldiers with me, given our vehicle lacked proper protection".
"At around 2:00 in the afternoon, our armored vehicle arrived at the intersection from Nahal Oz. That's when I noticed it was riddled with bullet holes; it had been hit by an RPG. Inside was the body of our soldier and team commander, Yaakov. He was a dedicated professional who initially served with us in the intelligence unit, working hard to transition into a combat role. Although he wasn't in my company, we'd engage in trivial arguments from time to time, like disputes about base cleaning. Sergeant Warrant Officer B.'s smile fades as he continues, "A true hero. They fought there like lions for eight hours, successfully eliminating 100 terrorists and saving kibbutz Nahal Oz.
"Meanwhile, I received word that our unit within the force had encountered terrorists near the Shukda forest, south of Sa'ad. I informed my soldiers that we needed to reach there swiftly, but once again, the IDF prevented us from entering due to our vehicle's lack of protection. It's incredibly frustrating because we are experts in handling these situations; we are specifically trained for scenarios like this."
What sticks in your memory from that day?
"Witnessing our soldier Yaakov thrown amidst the armored vehicle has stayed with me. Additionally, there was an 11-year-old girl I saw at the entrance to kibbutz Kisofim. She was lying in the car, shot in the head, alongside another family member. As a father of a girl around her age, these images of lifeless bodies are haunting and difficult to put into words".
Ofakim: Yelling at the terrorists: Get out! (in Arabic)
Police Superintendent A., the deputy commander of the Yamas unit responsible for the Southern District, found himself leading a battle against the terrorists who had infiltrated kibbutz Ofakim. "After receiving messages and photos of the terrorists within the city from one of my soldiers who lived in kibbutz Ofakim, I quickly got dressed. It later became clear that two vans carrying 15-16 terrorists had entered and were indiscriminately shooting anyone in their path or forcing their way into buildings. I didn't have my full equipment with me since I was scheduled for special training on Sunday, and the long weapon was stored at the unit. So, I had no option but to head out with just my sidearm."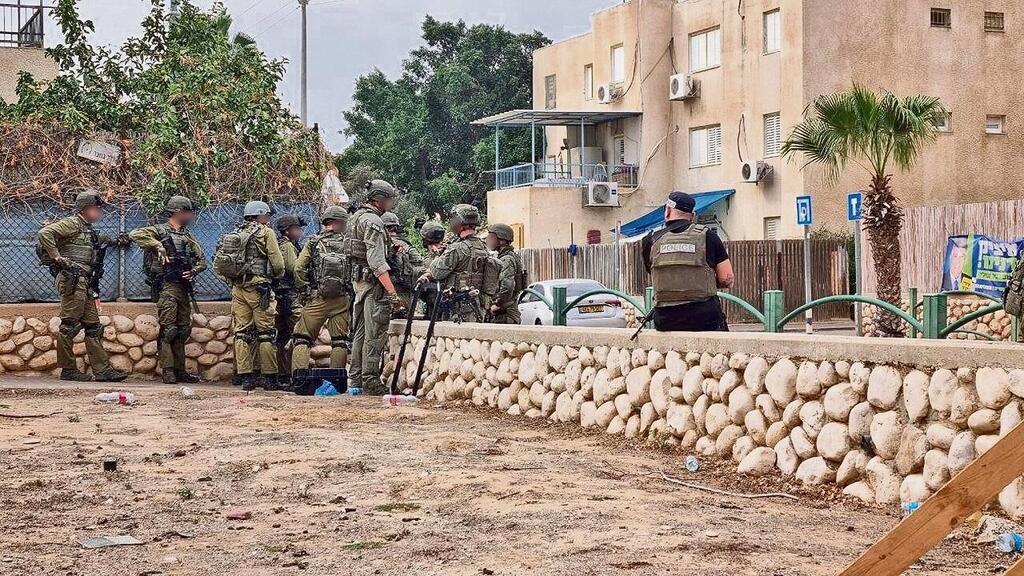 "Outside, I met the soldier who had provided the initial report, and together we advanced toward the town square near Rachel Adri's residence. Fortunately, a team from the Ofakim police station arrived with long guns after the terrorists had already killed some of their men, so I secured one of their weapons. My superior officer joined me, and we were later joined by three more soldiers from our unit, who had come from the Kiryat Gat area and the nearby moshavim."
"We formed a defensive perimeter around Rachel's house, suspecting that the terrorists were holding hostages inside. We didn't know their exact numbers, but we were aware they were heavily armed. Initially, they had shot at the police officers and civilians and then holed up inside the house. I began to approach the entrance. There were three policemen stationed there, one of whom was Rachel's son, a fellow officer. He had a clear view through the staircase and could see that the terrorists were near Rachel, holding her hostage. I promptly withdrew my team and cautioned them, 'We are grouped here, and if they toss a grenade, we will suffer casualties.'"
"At the same time, my commanding officer shared a video sent by his wife, a police officer who had been shot at while securing the area of the party in Re'im. He turned to me for advice, asking, 'What should we do?' I responded, 'Everyone is at the arenas. Take the soldiers here and go to her. He took three soldiers and left me with two. As my officer started searching the area around Rachel's house, they suddenly heard gunfire erupting from a nearby street".
"We swiftly intervene to understand the situation. Engaging in a flanking maneuver, we join the ongoing battle against two terrorists who have barricaded themselves in the rear warehouse of a house on the street. Fortunately, the house was empty. I coordinate with the "blue forces", including Magav (military border guards) and Yasam, but they are unable to advance. The terrorists keep shooting and throwing grenades at them.
"One of my soldiers, also without a rifle since he left it at the unit, retrieves a grenade from a terrorist body lying on the street. That's how we fight back – using their grenades against them. At one point, one of the terrorists glances nervously in our direction. He's wearing an IDF uniform. We shout at him in Arabic: 'Come on get out, and take off your pants', ensuring he wasn't concealing any hidden explosives".
And how did he respond?
"He removed his shirt, seemingly preparing to throw a charge at us or something of the sort. Another terrorist was standing behind him. They were armed with powerful explosives, an RPG rifle, and clutch rifles slung around their necks. We managed to eliminate both of them. My officer and a fellow soldier grabbed their clutch rifles and swiftly put on identification badges and the unit's hats to prevent any confusion, as there was a significant concern about mistaken identity and potential friendly fire incidents".
After neutralizing the two terrorists, Police Superintendent A. returned to Rachel's house and had made a decision. "We realized that we had done all we could", he said. "I withdrew my team. By that point, eight people had gathered in two vehicles. Soon after, I received a report that the unit commander and another group stationed in Re'im were requesting rescue".
Urim Junction: Survivors kissing the ground
Later in the afternoon, the senior command realized that many Yamas fighters had taken the initiative and arrived in the area independently. They started gathering at the Urim intersection, which was nine kilometers west of Kibbutz Ofakim. Police Superintendent A. also joined them. He recounted an incident involving an officer who had gone to rescue his wife, a police officer, from the party. "On the way, they encountered terrorists, their vehicle overturned, and both the officer and their accompanying soldier sustained injuries – the officer had a grazing head wound, and the soldier was wounded in the arm and leg. After we rescued him, along with several other injured civilians from the party, he took his wife to the hospital. From there, we proceeded to the meeting point at the Urim intersection.
"I arrived at the gas station near the intersection around 2:00 p.m., and there was utter chaos. Injured people from the party were being transported there because it was discovered that ambulances were not armored and couldn't enter the area. Civilians and police forces were all around, assisting the wounded, who were expressing immense relief, kissing the ground, unable to believe they had been saved. We stopped and tried to comprehend the situation. My team began providing first aid to the injured until the rescue forces arrived. From there, we proceeded to kibbutz Kfar Gaza to rescue our soldier who had been injured by the explosion".
What happened to the other two soldiers you were sent to rescue from the kibbutz?
First Sergeant Y. confirms, "Both of them were successfully rescued".
Momentary halt: We strategize first, then engage in action
In the meeting, they acknowledged their lack of preparedness for the events that transpired that Saturday. "We were taken aback, just like the entire army and Israeli police", confesses Police Superintendent A. "Even if all the fighters from my unit were present, I doubt we could have managed such a large group of terrorists."
Warrant Officer B.: "There were nearly 4,000 people there."
Were you shocked by the brutality of Hamas?
"Yes, it was beyond comprehension – utterly inhumane".
First Sergeant Y. expressed, "I witnessed scenes I had never encountered before in my life. The level of cruelty surpassed even what ISIS themselves are capable of. I told my girlfriend that if I had faced humans, I could handle it. Instead, I confronted drug-fueled individuals behaving like animals, displaying a cruelty I had never witnessed before."
What is the moment that haunts you from that day of fighting?
"When we left kibbutz Kfar Gaza, I had a flat tire on the way, so I stopped a civilian with a car filled with corpses. He told me: 'Open the trunk, but don't panic'. I opened the back, and a wave of blood spilled out. He had loaded five bodies there, each bearing signs of brutal abuse that are beyond comprehension and impossible to forget."
Police Superintendent A. added, "I've been in the system for 27 years. I've witnessed horrifying events throughout my career, but I was shocked to see innocent civilians run over, burned, mutilated by grenades, or subjected to the unimaginable horror of having their limbs severed".
Having undergone the chaos in the past, did you find yourselves better equipped for the combat situation you faced there?
Warrant Officer B.: "In that environment, everyone was on an equal footing. It wasn't a situation requiring undercover agents in a terrorist territory. It was straight-on combat."
Police Superintendent A.: "Nevertheless, we possess unique qualities that set us apart. Our urban warfare expertise shines through, demonstrating superior skill. We have extensive experience and a wide array of tools, unlike the infantry division in Golani. They excel as a maneuvering force with tanks, armor, and combat helicopters."
Toward the end of the meeting, the three of them received a phone call and stepped aside. "We're still engaged in combat," Warrant Officer B explained upon their return. "Our primary collaboration is with the intelligence unit and the Shin Bet, who assign us tasks. We serve as their operational force, including locating individuals who are still in Israel".
One month following the heinous attack, what is the plan going forward? How will your operations be conducted now?
Warrant Officer B: "Our duties encompass maintaining internal security, safeguarding settlements near the Gaza Strip, and collaborating with the Shin Bet."
Police Superintendent A: "Unlike the army, we aren't geared for ground incursions; that's not within our jurisdiction. However, we will react to any potential situation near the border."
Warrant Officer B: "Our guiding principle is: 'We strategize first, then engage in action'".