In the weeks since the beginning of the war on October 7, Israel's resort city of Eilat has doubled its population. First came those who fled from their homes, and then residents from comminutes in southern and northern Israel who were evacuated from their homes by government order.
Not all of them have the same conditions. Those evacuated by the state are entitled to a hotel provided by government funds, while those who left on their own and don't meet the criteria are mainly trying to survive in the city.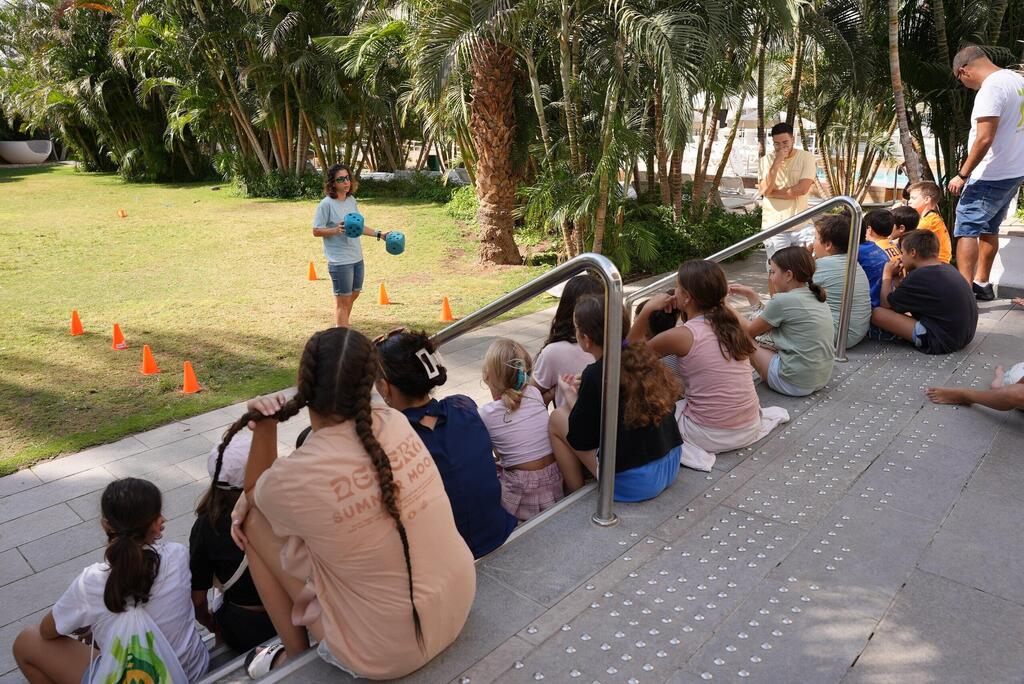 "I'm looking for a small apartment, anything at a reasonable price," Shira from Kibbutz Sde Nehemia, says as she wanders the beach with a baby carriage and a phone against her ear. "I've been calling real estate agents in Eilat for two days. We're part of the Upper Galilee Regional Council, and were requested to leave as soon as the war began," she says.
"We stayed in Ein Gev for a week, but it was very expensive, so we decided to come to Eilat. But even here, we're having a tough time economically. We weren't close enough to the border to be officially evacuated, and money is starting to run out," she adds.
Oshrit Amar from Sderot is in the city with four children. Her husband, a reserve soldier in Hebron, came arrived in Eilat for a day before returning to his unit. "They killed people beneath our home, a miracle happened to us," she says.
At first, they fled from Sderot to live with family in Jerusalem, and for two weeks now, they've been in Eilat. "It's not easy to live in a hotel room with three little children and a baby, but we're managing. There are good people here. I'll manage here for another month or two, just promise me that when I return, Hamas won't be there."
What's the most challenging part in this?
"The children. They don't have any routine. The hotel is trying to help, and the municipality has started operating schools, but I don't have a car, and my kids won't get on a bus by themselves."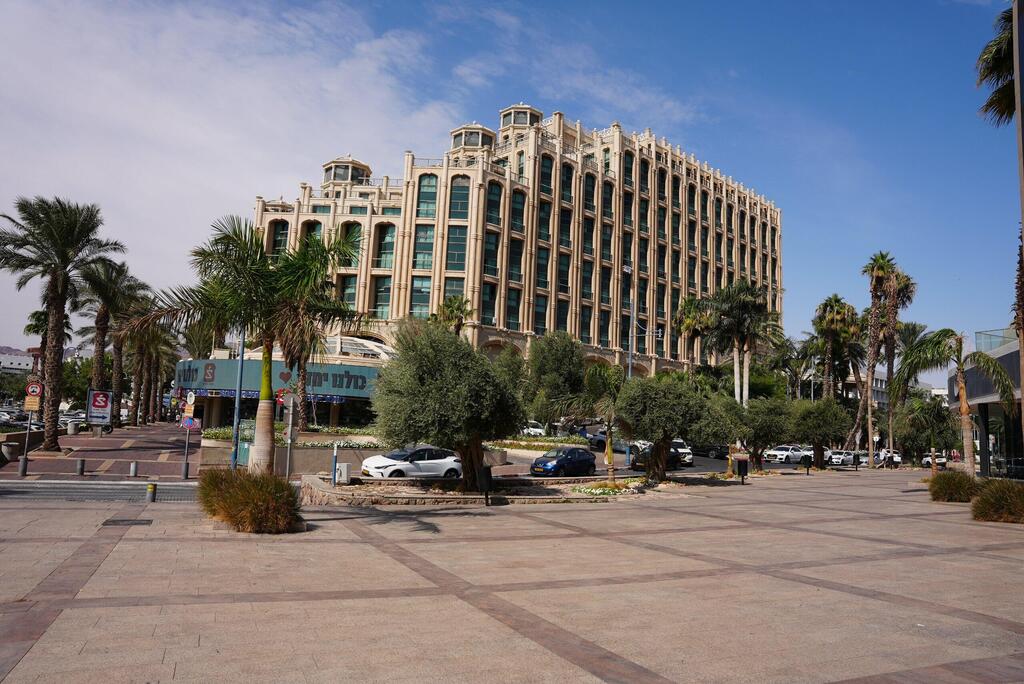 'We didn't come for a vacation'
Eilat's promenade is quiet in the morning. Only Arik, a resident and who operates a sea sports attraction stand, is opening his shop. "I don't anything like this," he says. "The city is packed with people, but these aren't tourists here on vacation. Everyone here in uncertain about their future. There's some work because the kids need to clear their heads, so parents bring them to here from time to time. People don't understand that Eilat has turned into a refugee city."
Sharon from Moshav Nitzan in southern Israel also walked along the promenade with her daughter. They fled their home two weeks ago. "We're truly refugees here," Sharon says, "it's not easy. The kids don't have a routine and there's a lot of anxiety, but we're not complaining. We didn't come for a vacation. We just ask that someone takes care of the children."
Eilat indeed crowded with people, and the hotels are fully booked, but no one here is coming for a vacation. Eitan, an optics shop owner in the city, has donated 3,000 pairs to hotel guests. Like many business owners in Eilat, he's contributed what he could.
"This is a refugee camp. There were children here who arrived in the first days of the war with burned pajamas. You hear horrible stories, and the flow of people doesn't stop. Now they're saying they'll be here at least until December, maybe longer," he says.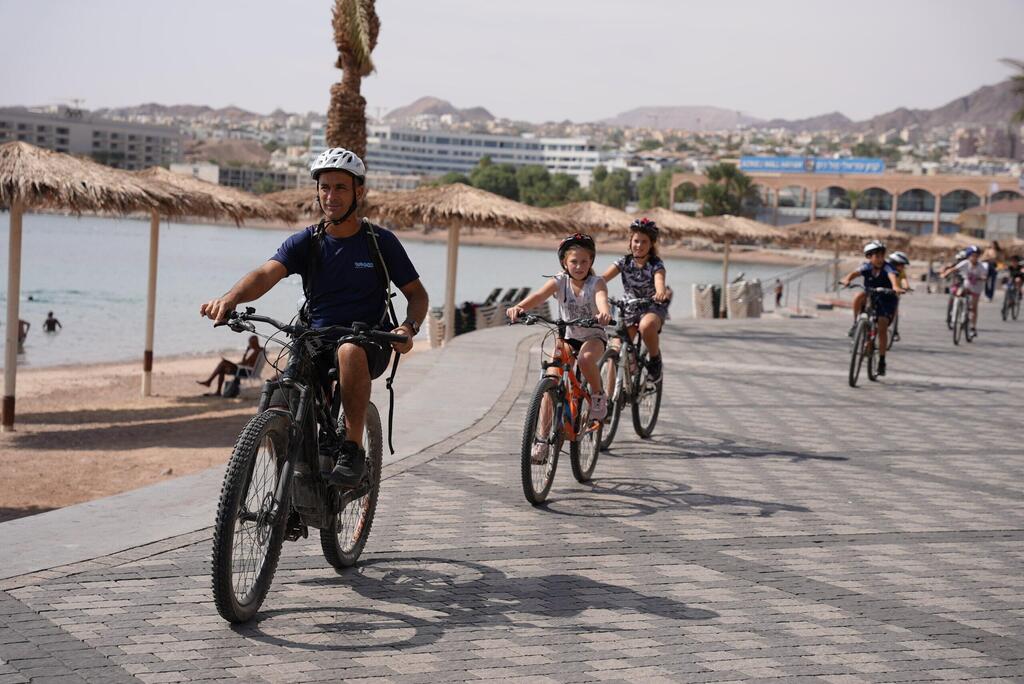 "People think businesses in Eilat are making a fortune now because the city is full. It's far from the truth. The shops and restaurants are empty. These who don't know what tomorrow will bring and save up where they can. They didn't come to shop, and most of the time, the stores are empty."
At a nearby hotel, Dani, a teacher from the Eshkol Regional Council, is preparing a morning activity for children from Kibbutz Re'im. Most of them experienced trauma on October 7, and adults are trying to create a new routine for them.
Tzachi, who lives in Re'im, watches over the children. "There are a lot of sad children here," he says. "Something has happened to them. I believe that every moment spend in Eilat's calm helps them, but how much longer will we stay here?"
Eilat's residents rush to help
Eilat municipality and residents were largely on their own during the first few weeks of fighting. Citizen initiatives and city activities there have strengthened the tens of thousands of refugees who came to the city, but the city's resources are still limited. The government began to act a week ago with stream of officials arriving in the city, armed with promises and kind words.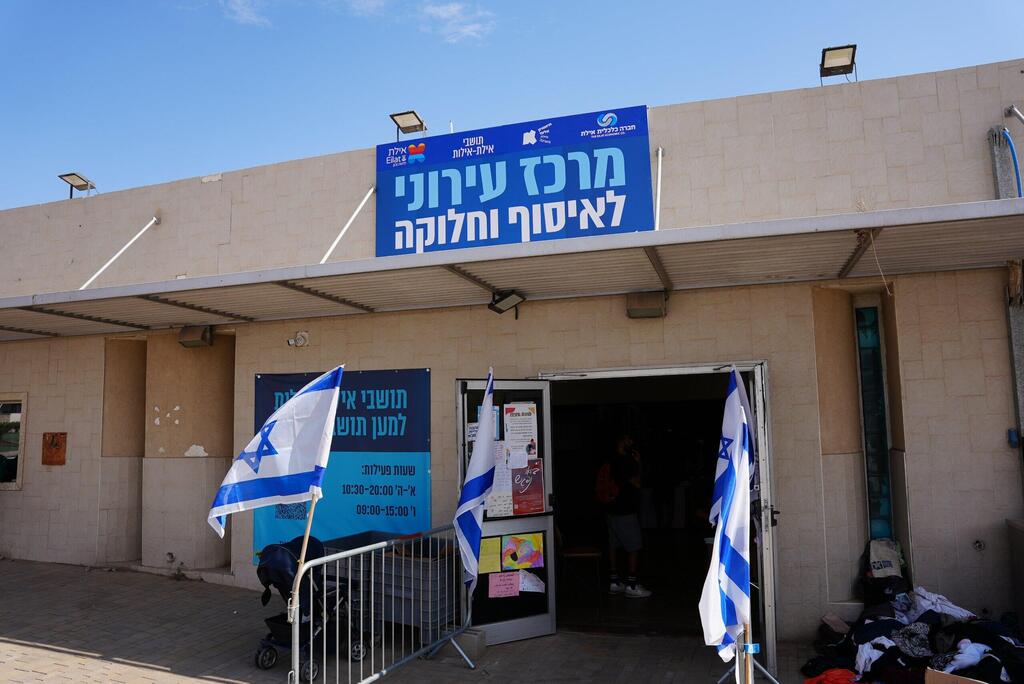 "This war will takes months, and we're preparing to provide more services," says Eilat mayor, Eli Lankri, "We're responsible for people who came here, but it's essential to remember that even Eilat, which relies on tourism, is suffering economically. I called on the government to help struggling businesses, so that we can continue to provide education, welfare, healthcare, accommodation, and every other need. There is an amazing display of solidarity in the city. Eilat has enlisted to help."
Hafetziba, from Kiryat Shemona, is walking through the city's donation centers and collecting toys for the children. She's a 37-year-old woman working in academia who has just started her doctorate. Her husband has been drafted for reserve duty, and they've been wandering across Israel for three weeks.
"We already have experience from previous wars, but this was unexpected. Even during the Second Lebanon War, we were away from home for two months, but this time it's different," she says.
"As a child, I knew I was safe, but what happened is unimaginable. I've always worked hard, and never wanted for anything in my life, especially not donations. They say we'll spend another month here. We are in financial uncertainty, and it's a little embarrassing, but we're adapting. The residents' solidarity warms our hearts."
Evening falls on Israel's southernmost city. At the beachfront water sport attractions shop near the hotels, a group of children had just finished playing in the water. "Look at them," Arik points, "These are children from Sderot. I want to cry when I look at them. They're sad children who have nowhere else to go."