Every morning, 29-year-old Sajdaa Isma'il wakes up, and adorns her head with a hijab, as she gets her four children ready for school. She leaves her home in the Sur Baher neighborhood in East Jerusalem, making her way to the bus station near the Gilo neighborhood. There, she boards a bus and begins her day as a driver on route 49 for the Superbus company.
In a city like Jerusalem, encounters with individuals like her are rare: a devout Muslim woman, wearing a hijab, who drives a bus. However, there is at least one more woman like her in the city: 30-year-old Hanin Marshad, also a mother of four from Sur Baher. She is, in fact, Sajdaa's older sister, who followed in her younger sister's footsteps into this profession.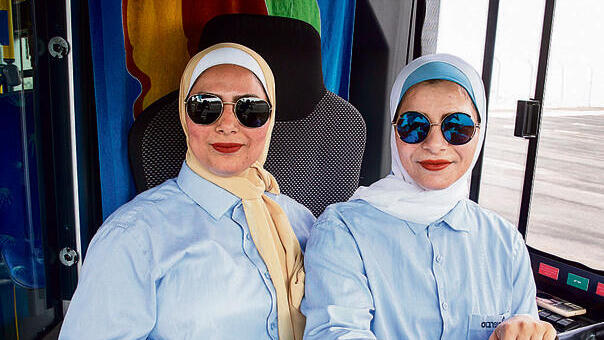 It all began when Sajdaa and Hanin were assisting with transportation for children with special needs. "I looked at the driver and thought to myself: I can do this too," Sajdaa recounts. She obtained a bus driving license and about a year ago and began working as a bus driver.
It's not common for two sisters from East Jerusalem to enter the workforce, especially in such an occupation. According to data from the Jerusalem Institute for Policy Research, only 60% of women in Jerusalem were part of the labor market in 2022, and the rate was significantly lower among women in East Jerusalem, standing at just 27%. This is despite many women from East Jerusalem holding academic degrees.
According to the Jerusalem Institute, this happens due to several factors, including a lack of recognition of academic degrees from Palestinian institutions, the absence of supportive infrastructure for working mothers (such as daycare centers and kindergartens), lack of work experience, absence of networking opportunities (business licenses), low proficiency in Hebrew and English and cultural barriers.
Indeed, Sajdaa shares that unlike what often happens in many families in her community, her husband was supportive right from the beginning of her decision to become a bus driver, and so was her extended family.
"I thought they might have an issue with it," she admits, "but they were thrilled to hear that I was learning to drive a bus. Many people in Sur Baher encourage me, but there are those who view it negatively and say, 'You're a woman, your place is at home with the children.' But I don't pay attention to them. I'm very happy with this job. I come home every day with a big smile on my face."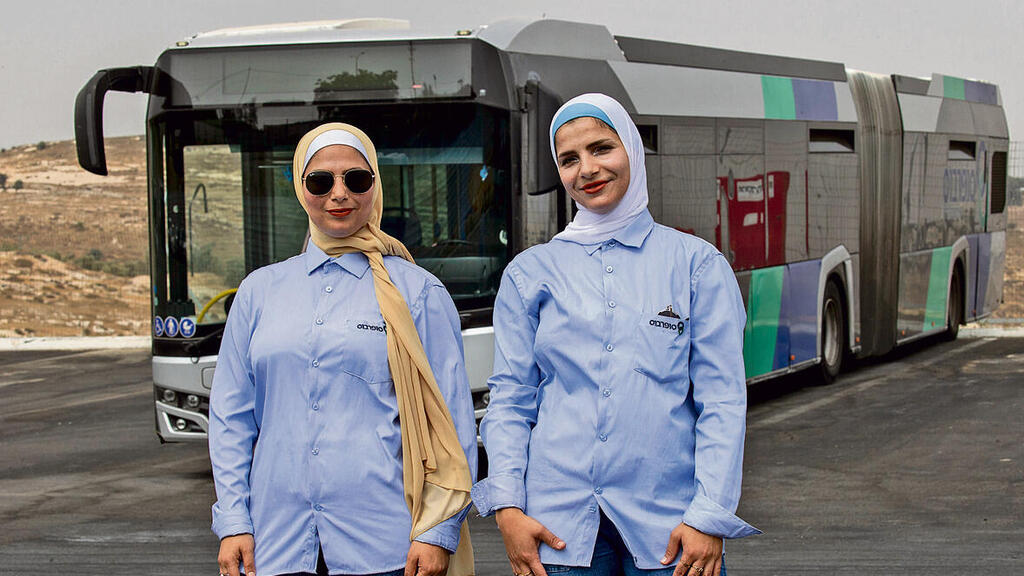 For many women in East Jerusalem, the sisters symbolize female empowerment. "When women talk to me about this," Sajdaa shares, "I always tell them: we are strong. We can do anything, not just men."
Sajdaa and Hanin often encounter surprised faces among passengers boarding their buses. "Many people take pictures with me," Sajdaa recounts, "they tell me I drive better than men. I drive with patience, show respect to passengers and they respect me. I smile, and they smile back."
Hanin reveals that she joined this profession following her sister's footsteps. "I saw how happy she was with it, and I wanted that too," she says. "Sajdaa taught me how to interact with passengers, and I've made great progress thanks to her."
Sajdaa adds that in their transportation company, they take into consideration their holidays and the fact that they are mothers in their work schedule. "If I can't make it or if I'm running late, they say, 'It's okay, just be comfortable at work'."
The sisters' employer, Superbus, said "Superbus provides a supportive, equitable, and diverse work environment. We take pride in our excellent male and female drivers who perform their duties with dedication and responsibility. We will continue to grow together as a society where all its members fully contribute to its values."