On May 21, 1963, Abram (Abe) Chayes, the legal advisor of the American Department of State, reached out to his colleague Teddy Kollek in Israel. At that time, Kollek was serving as the Director-General of the Prime Minister's Office under the leadership of David Ben-Gurion. Chayes asked Kollek to facilitate a visit by Jewish physicist Isidor Rabi to the Dimona nuclear reactor. "I have no doubt that Rabi will come under your wing," he wrote. "And no doubt either that you will turn out all the necessary brass bands."
Isidor Rabi, was a 1944 Nobel Laureate in Physics. His groundbreaking contributions led to the creation of the atomic clock, the MASER system (A device that produces coherent electromagnetic waves through amplification by stimulated emission), and laser technology. Despite being invited to assist in developing the atomic bomb during World War II, he declined and later advocated for civilian supervision of nuclear capabilities. Chayes' plea to permit Rabi's visit to the reactor occurred against the backdrop of a disagreement between Ben-Gurion and then-US President John F. Kennedy, who opposed Israel's nuclear ambitions.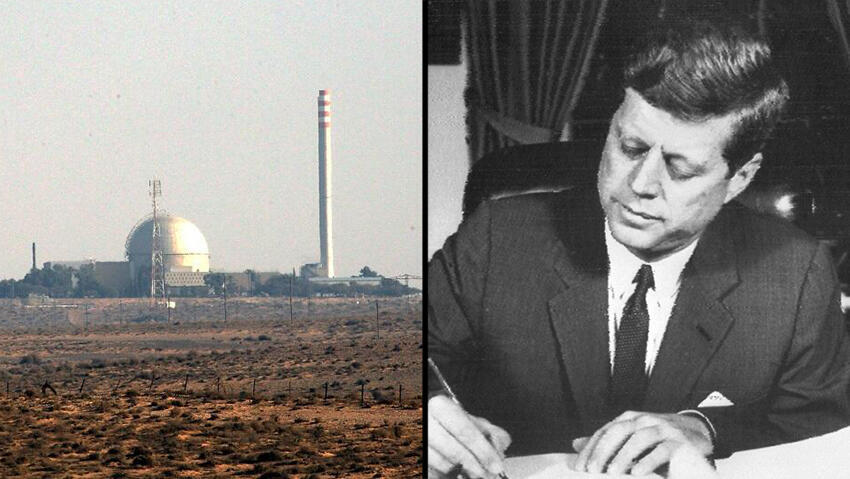 The letter referenced Chayes' personal connection with Rabi. "(Rabi) is an old friend of ours... The President personally is very interested in having some qualified American scientists visit the Dimona reactor... I understand that you have a number of problems in this respect and that you are unwilling to create precedents.
"On the other hand, one way to satisfy the President's interest without causing any very serious difficulties on your side would be to arrange for Rabi to visit the reactor during the course of his trip. I make this suggestion on the assumption that you have no substantive objection to U.S. scientists visiting the reactor. That was the impression I got from Ernst Bergman. If I am wrong, of course, the suggestion can, and I am sure will be disregarded," he wrote.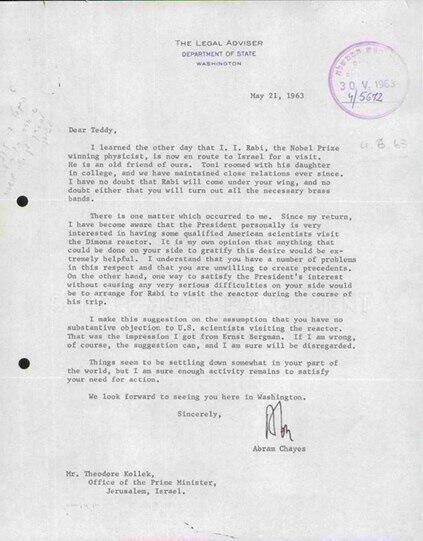 On June 17, almost a month later, Kollek replied: "I am sorry I missed you in Washington. Every time I am around, you suddenly have to go off somewhere - Either from Athens to Washington or from Washington to the Fareast. Had I seen you, I could have possibly explained to you the reasons why a joint declaration concerning security in the Middle East was made. Meanwhile, the question of the visit to the reactor is being dealt with as you know on the highest level. Certainly, nobody has any objection in principle to an American visitor but again, for a variety of reasons that I would prefer to explain orally, we did not intend to involve Professor Rabi in this just because by chance, he happened to visit here."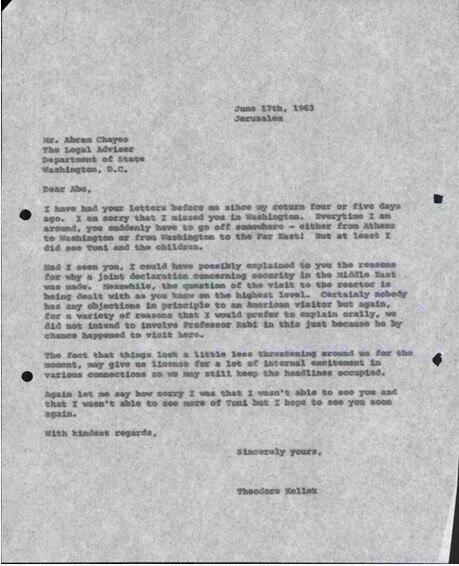 Professor Avner Cohen, who is a researcher of the Israeli nuclear project, said that the document is highly intriguing. "Chayes was Jewish and a friend of Israel; his wife, Toni, taught at Harvard for many years. What is significant in the document is the element of timing - Chayes' request at the peak of American pressure on Dimona," he said. "Just the day before, on June 16th, Ben-Gurion resigned, and Kennedy's most critical letter to him was meant to arrive. The message was not delivered due to the resignation and was later received by Levi Eshkol who became prime minister."