Israeli flag carrier El Al on Monday took delivery of its 16th Boeing 787 (Dreamliner), named "Nof HaGalil" ("View of the Galil") which uses sustainable fuel to fly.
Originally ready for delivery in March 2020, the plane was stored in the United States due to the outbreak of the COVID-19 pandemic. Extensive tests and flights involving El Al and Boeing pilots were conducted before the delivery. Notably, the flight to Israel from Boeing's plant in Seattle was the first time El Al used sustainable fuel.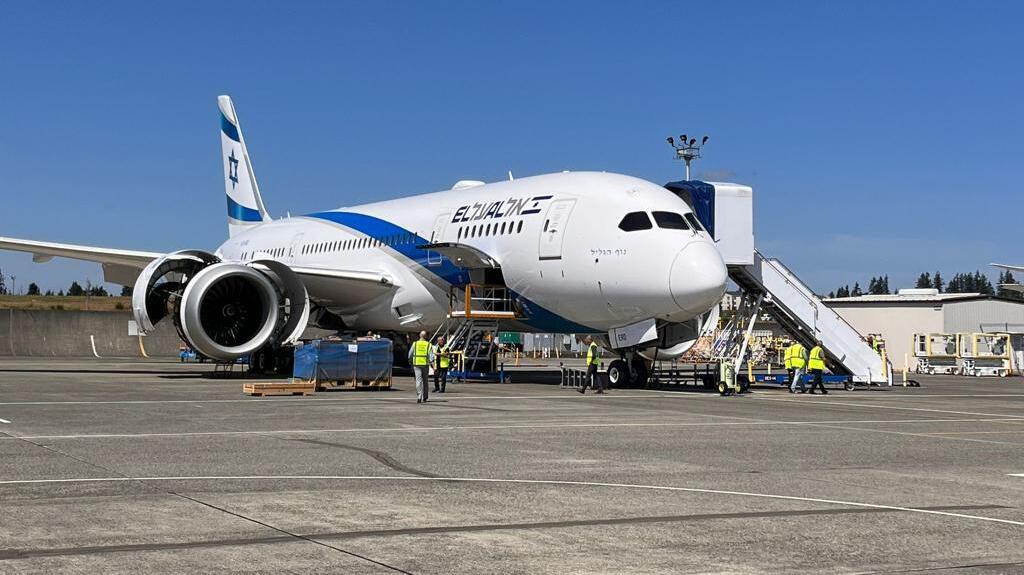 The Dreamliner was welcomed at the Ben-Gurion International Airport with much fanfare and the traditional water jets. It was scheduled to embark on its first commercial flight to Dubai Monday night.
El Al's flight from Seattle marked the airline's first use of sustainable aviation fuel (SAF), which constituted approximately 30% of the total fuel consumption during the flight, which is considered relatively high compared to global standards.
Sustainable aviation fuel shares a similar chemical composition with conventional jet fuel, but its production process emits fewer carbon emissions into the atmosphere as it captures carbon from the air. It can be produced from a variety of sustainable resources, also known as feedstocks. This includes forestry and agricultural waste, used cooking oil, carbon captured from the air and green hydrogen.
In June of last year, El Al signed up for the IATA Environmental Assessment program, a prominent initiative by the global aviation organization that focuses on implementing environmental and sustainability standards. By doing so, El Al joins the ranks of the world's top airlines committed to combating climate change and reducing carbon emissions, the most significant contributor to the greenhouse gases responsible for the ongoing climate crisis.
El Al CEO Dina Ben Tal Ganancia said, "With the arrival of each new Dreamliner, palpable excitement and celebratory atmosphere fills the air. Today's excitement is even greater as this marks El Al's inaugural flight to Israel using sustainable SAF fuel. This achievement is the perfect fusion of two key pillars of our strategic plan - the expansion and rejuvenation of El Al's aircraft fleet, alongside our commitment to advancing environmental quality initiatives."
The latest addition to El Al's fleet is the fourth 787-8 model, among the four aircraft they purchased. This Dreamliner boasts a seating configuration with 238 seats across three service classes - business, premium, and tourist. It joins El Al's existing fleet of Dreamliner aircraft, which comprises a dozen 787-9s and three 787-8s utilized for long-haul flights to North America, Europe, and the Far East.