When Deena Wasserman, Abigail (Abby) Bienenfeld, Rachel Gemara and Noa Choritz dreamed of making aliyah, they did not imagine that one day they would be in Israel, fighting against a global pandemic that would change the world.
Today, after an intensive year, they share with us the stories of their aliyah journeys and acclimation to a new country, interwoven with Zionism, a sense of mission and a lot of "girl-power."
Deena Wasserman, 29, is the newest among the immigrants. She made aliyah from Pennsylvania with the help of Nefesh B'Nefesh, in collaboration with the Ministry of Aliyah and Integration, the Jewish Agency, Keren Kayemeth LeIsrael and JNF-USA, and landed directly into the emergency room at Assuta Hospital in Ashdod, where she cares for coronavirus patients.
"I am a senior emergency physician," says Wasserman. "We have one of the most unique emergency departments in the country - our emergency room includes all the specialties - orthopedics, surgery and internal medicine."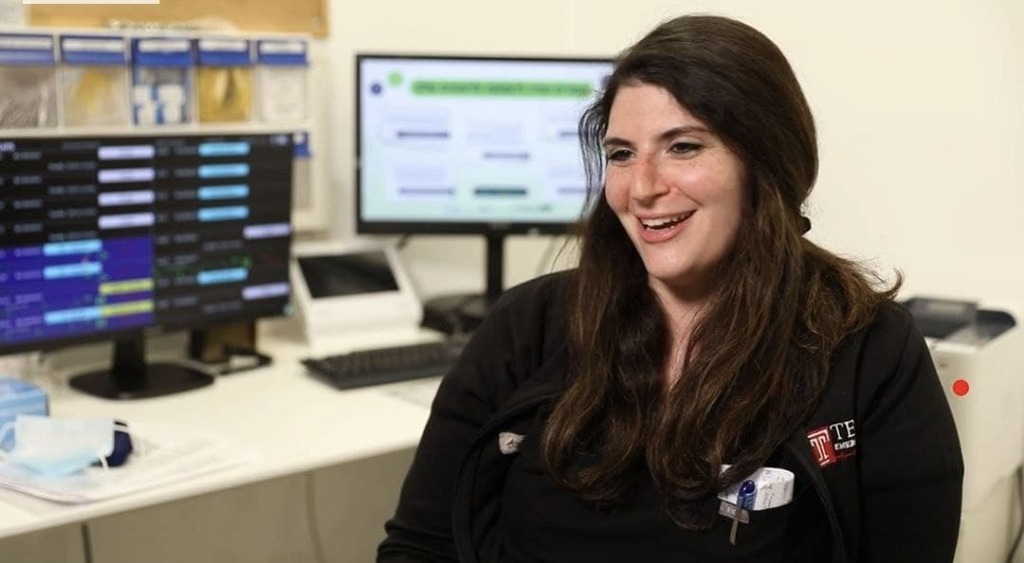 "For me, being a doctor is not just a job - it's a calling," she says. "People do not study medicine for so many years, if they do not feel it is what they must do, and treating coronavirus is part of that. I feel privileged to have come and work here. I am part of a team that does sacred work."
Abigail Bienenfeld, 36, immigrated to Israel four years ago from New York. Thanks to Nefesh B'Nefesh, who gave her tons of help before she even arrived in Israel, she was able to start practicing medicine within a short time and with a minimum amount of bureaucracy.
In the summer of 2017, she boarded a Nefesh B'Nefesh aliyah charter flight with her husband and their five children.
"It was scary for me to get here, even though we had been planning aliyah for 10 years beforehand," Bienenfeld admits. "When I arrived, my Hebrew was very basic - not at a level that can be used in medical treatment, under moments of stress. Medicine is a different language."
Despite the difficulties, Bienenfeld adapted quickly, and is currently a senior physician in the emergency room of the Shaare Zedek Medical Center in Jerusalem.
For the past year she has been treating patients who come to the hospital with the possibility that they had coronavirus.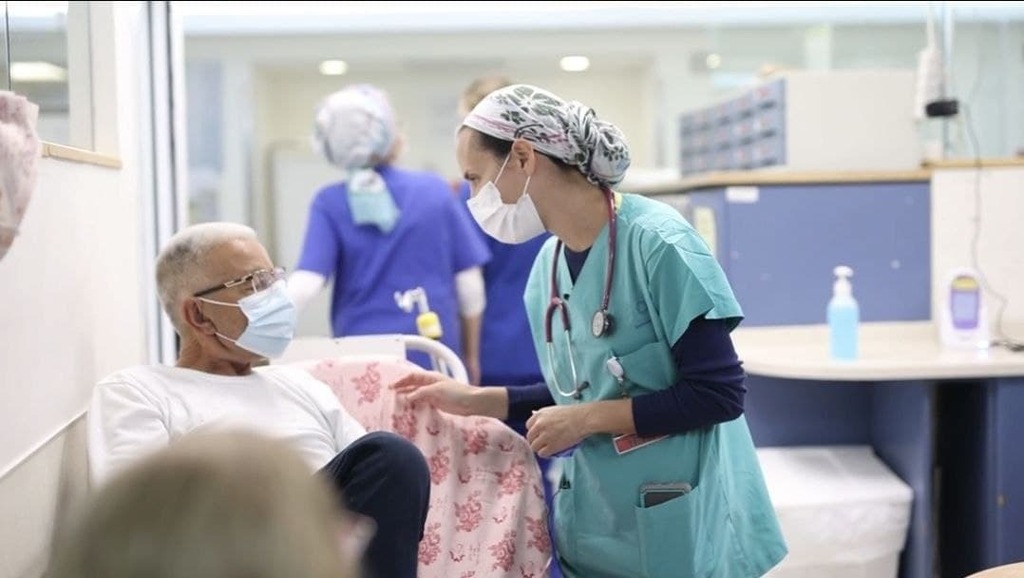 "The first wave was very scary because we did not know what we were facing," she says.
"Every day there were changes. We did not even know if our protection was enough. I did not know if I was bringing the virus home with me after a shift. The third wave in recent months was even more difficult because there were many more patients and we had no place for them. I had to treat patients and deal with logistics all at once, but overall, I feel that I am blessed to be a doctor."
Veteran immigrants, such as Noa Choritz, 41, have also been at the forefront of the struggle against coronavirus for the past year.
Choritz is one of the first immigrants who made aliyah with Nefesh B'Nefesh - she arrived on the organization's first charter aliyah flight in the summer of 2002 from Philadelphia.
"I immigrated alone at the age of 23, without family. You can count on one hand the friends and people I knew in Israel at the time," she recalls.
Six years ago, Choritz set up the women's health department at Terem – inpatient clinics for emergency medicine - and today she manages the network's Jerusalem district.
"Because we are an emergency medical clinic, right from the very beginning, even before people understood what coronavirus was, we saw it transpire. We worked closely with the Ministry of Health and warned them that we were starting to see symptoms that had not been seen before," says Choritz about her coronavirus experience.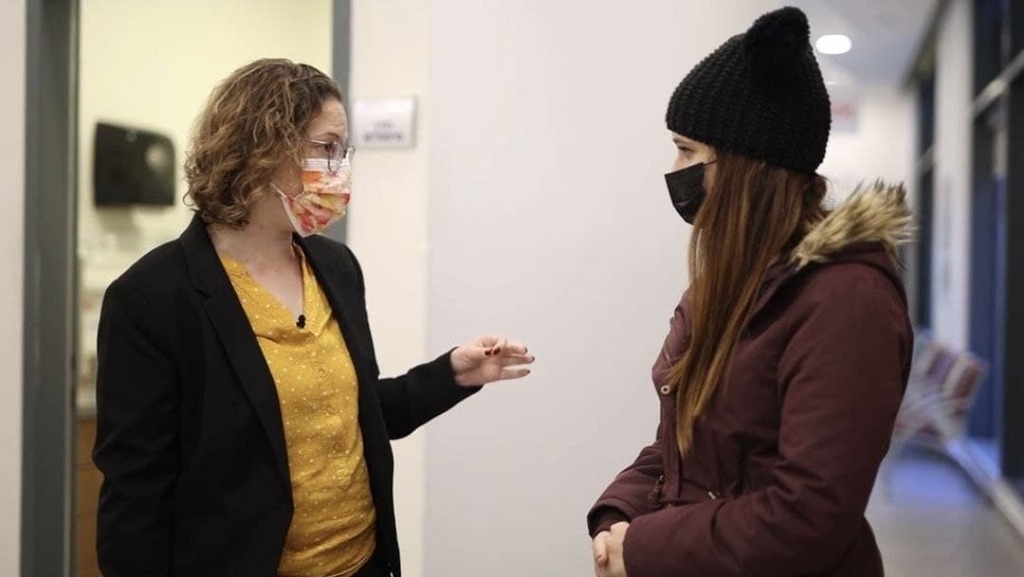 In regard to women in the medical field in today's day and age she says: "For me, it is to do everything equally. I do not feel that because I am a woman, I am different. Sometimes it takes more courage to open my mouth, but most women who hold such positions, have what it takes."
The moving story of 33-year-old Rachel Gemara, an Israeli who originally returned to Israel 14 years ago at the age of 19, also combines her love for Israel and the sense of mission, that characterizes these women in medicine.
She works as a nurse in the oncology ward at Shaare Zedek, but with the outbreak of the pandemic last March, she moved to the coronavirus ward at the hospital.
"When coronavirus was first discovered in Israel, they sent us messages and asked for volunteers for the coronavirus ward. I immediately said I was interested," says Gemara. "My parents were very apprehensive when I told them about it, but I saw it as a national mission. To me it seemed like the right thing to do."
The coronavirus department in which Gemara volunteered recorded the first Israeli death from the pandemic. This case made it clear to Gemara that aliyah was the right choice.
"It was an elderly patient whose family could not be with him, so all the other patients held his hand and said together '
Shma Yisrael
.' Everything happened in front of my eyes. These are things that can only happen in Israel, and it strengthened my ideas about why we are here."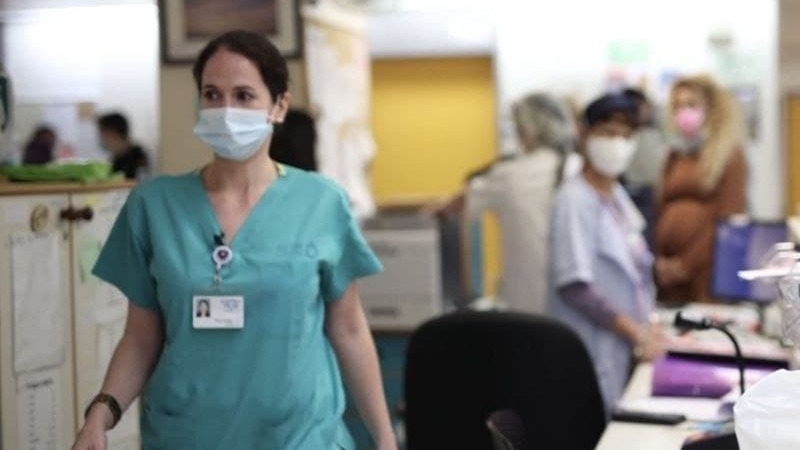 "The world of medicine has completely shifted over the last year and the hardships and need for suitable professionals has been acutely felt in Israel," says Ronen Fuxman, head of Government Advocacy and Employment Division, and an expert in licensing health professions at Nefesh B'Nefesh.
"As an aliyah organization, we work in full cooperation with all the government and health authorities to assist as many medical professionals as possible, to immigrate to Israel," he says.
"Assisting with minimizing of the bureaucracy and maximizing the employment opportunities, including rapid integration into the Israeli health system is key to the successful aliyah of our medical professionals. The determination of these incredible
olot
[female immigrants to Israel] is an example that will hopefully serve to inspire many more women, not only in the field of medicine, but in all areas of life."