The Metropolitan Police in London on Sunday arrested four people after drivers in a convoy of cars carrying Palestinian flags made calls to rape Jewish women.
The convoy was driving down a road in North London, which has a sizeable Jewish community, when the calls were made.
The four men were arrested on suspicion of racially aggravated public order offences and were taken into custody at a west London police station, according to the police statement.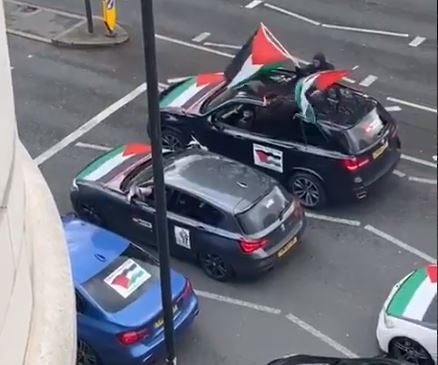 The Community Security Trust, a charity that monitors the security of the Jewish community, said the convoy had travelled from Bradford in northern England.
"We are aware of a video appearing to show anti-Semitic language being shouted from a convoy of cars in the St John's Wood area this afternoon," the Metropolitan Police wrote on Twitter before the arrests.
"Officers are carrying out urgent enquiries to identify those responsible. This sort of behaviour will not be tolerated."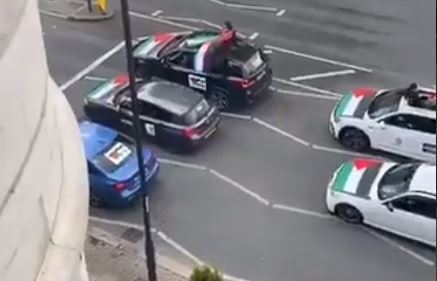 Prime Minister Boris Johnson, London Mayor Sadiq Khan and Labour Party leader Keir Starmer all condemned the incident, which came just before the Jewish festival of Shavuot.
"There is no place for antisemitism in our society," Johnson wrote on Twitter.
"Ahead of Shavuot, I stand with Britain's Jews who should not have to endure the type of shameful racism we have seen today," the prime minister said.
The incident sparked fear among members of the British Jewish community, some of whom said they were now afraid to walk through the city.
"I guess after today I have to add to this thread "don't shout 'F*ck the Jews' while driving through north London," British Jewish writer Dave Rich, who has written extensively about anti-Semitism in the UK, said on Twitter on Sunday.
Also Sunday, a London rabbi was attacked close to his synagogue in Chigwell, Essex.
The British media reported that Rabbi Rafi Goodwin was hospitalized with head and eye injuries after he was attacked by two men.
The Labour Party leader of the local council, Jas Athwal, said that Essex police were treating the attack as an anti-Semitic hate crime, but said it did not appear to be related to what he called "heightened tensions in the Middle East."
"Antisemitism has no place in our society," Athwal said.
There has been rise in anti-Jewish sentiment in the British capital since the start of the fighting in Gaza last week.
On Saturday, thousands of demonstrators gathered outside the Israeli Embassy in London to protest Israel's operation in Gaza. Some protesters set fire to and tore up Israeli flags.
First published: 21:05, 05.16.21