Benjamin Netanyahu was indeed right - it really was a historic evening. U.S. President Donald Trump's
peace plan
is both prologue and epilogue in the never-ending Israeli-Palestinian conflict.
The two-state solution that has been ever present during international peace efforts since 1993 lost all remaining relevancy with the presentation of Trump's plan, which states that only one country will rule the territories between the Jordan River and the Mediterranean Sea, at the beneficence of the U.S.
All in all, it's not so much of a peace plan as it is a plan of annexation; whether that's good or bad for Israel depends on who you ask.
American proposals and drafts we have had aplenty over the years, starting with Ronald Reagan's 1982 peace plan. All these initiatives caused a lot of noise in their time, then slowly but surely disappeared. Still, they left quite a few expectations in their wake that have made it nigh on impossible to achieve a treaty.
Trump's plan does more than that. It gives Netanyahu's government the legitimacy it needs for a string of one-sided moves, such as the annexation of clusters of settlements in the West Bank, in addition to the Jordan Valley.
Further down the line, the government is intent on annexing every isolated settlement, including any and all roads leading to them.
On the ground, nothing will actually happen, not right away at least, as even today Israeli law applies to all these settlements and their inhabitants.
Facts will be determined further down the line when they create a reality of two people living under two different legal systems in the same territory - one people living as the ruling class, the other as the conquered.
This is also known as an apartheid state.
Trump's plan needs to be discussed without taking Netanyahu's legal troubles into account, and Netanyahu's legal troubles need to be discussed without taking Trump's plan into account. There's an obvious connection between the two, time wise and content wise, but they need to be addressed separately.
It might be better for us to focus on the glass half full, Trump's speech on Tuesday was the most supportive of Israel given by any an American President ever. His plan goes above and beyond to guarantee both Israel's future safety and that of the settlers in the West Bank.
Netanyahu managed to achieve together with his American partners what his predecessors never could, American recognition of Israel's sovereignty in East Jerusalem, recognition of Israel's control of security in the entirety of the West Bank, exchange of land on an unequal basis, and finally and most importantly, a series of prerequisite terms that no Palestinian leadership will ever agree too that makes the theoretical Palestinian state weak and divided.
Netanyahu's ultimate achievement, with the help of Jared Kushner and David Friedman, is two-fold - the end of a Jewish democratic state and the end of Zionism.
I can understand the joy of those who see it differently though, those who see a massive achievement by their messiah Netanyahu and Trump, Israel's greatest ever ally in the White House.
Since its foundation, Israel has been the cause of an internal political debate within America, rather than a foreign policy issue. And as the influence of American Jews grew, so did the American administration's commitment to Israel.
In the last few years though, there has been a change. The emphasis has gone from America's Jews to America's Evangelical Christians.
Trump needs them, their money, their presence at his rallies, and their continued support in the elections.
The Jews are complicated: the majority of them despise Trump and currently stay away from any issues pertaining to Israel.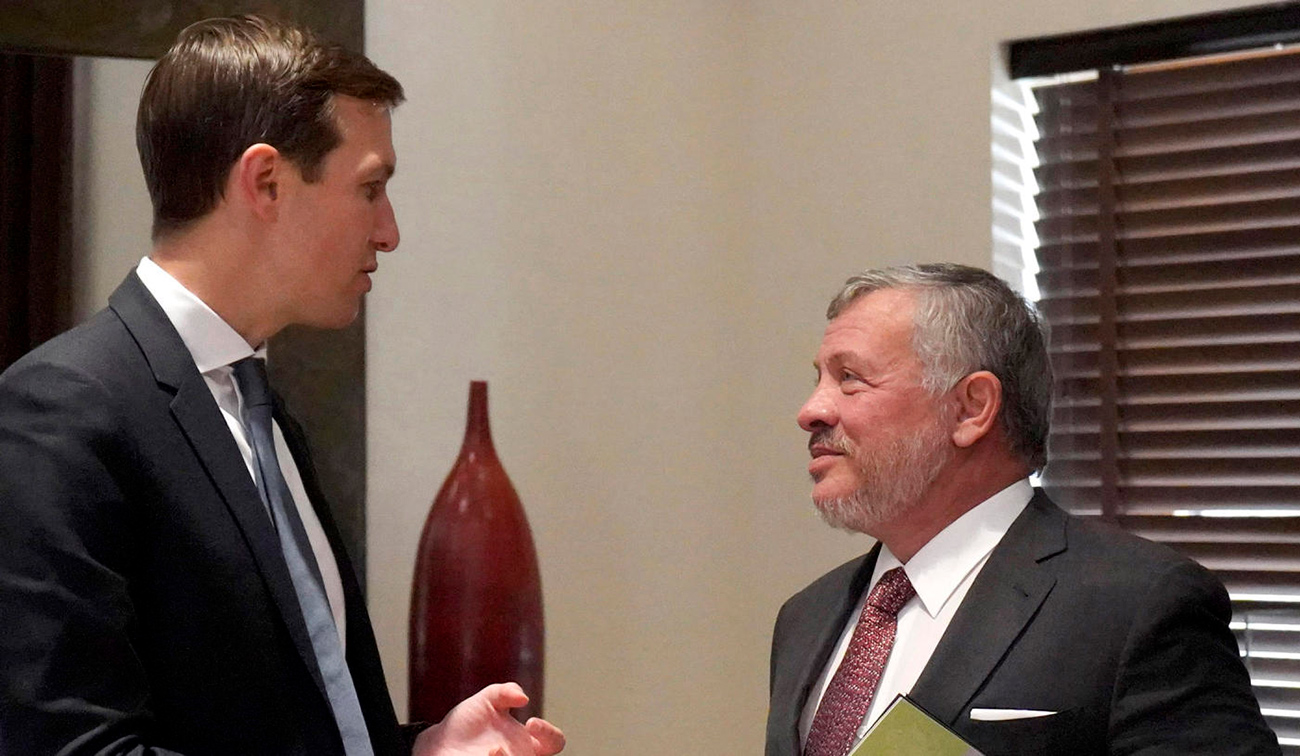 Trump and Netanyahu's speeches were clearly aimed at the Evangelicals, surely Netanyahu's small contribution to Trump's reelection campaign.
In the case of Trump, his impeccable timing in announcing his peace plan is his modest contribution to Netanyahu's reelection campaign.
I don't know how many voters Netanyahu managed to scoop up for himself, if any, with the Tuesday announcement.
Trump's intent to meddle in Israel's elections is clear. The fact that his impeachment trial is ongoing in the Senate, and that he's accused of trying to recruit a foreign country against a political adversary isn't stopping him from trying to do the same in Israel.
Netanyahu accuses Attorney General Avichai Mandelblit of being obsessive in his legal pursuit of the prime minister, whereas in fact he is the obsessive one.
Even so you have to admire the man's persistence. If need be, Netanyahu will take his publicly funded private jet, fly all the way from Washington to Moscow and pick up jailed Israeli Naama Issachar himself.
World leaders do a lot of weird things ahead of elections, but it this could be the first time a convicted felon (no matter how small the felony) has scored a free ride home in a prime minister's private jet.