Meet the North American Olim who fulfilled their dream of moving to Israel and realized the vision of making the desert bloom.
At the end of 1953, David Ben-Gurion left the Prime Minister's Residence in Jerusalem and his private home in Tel Aviv and moved to Kibbutz Sde Boker in the Negev. About a year later, he summed up his vision in his infamous speech, declaring that: "The people of Israel will be tested in the Negev...only with a united effort will we be able to carry out the task of making the desert bloom and settling it."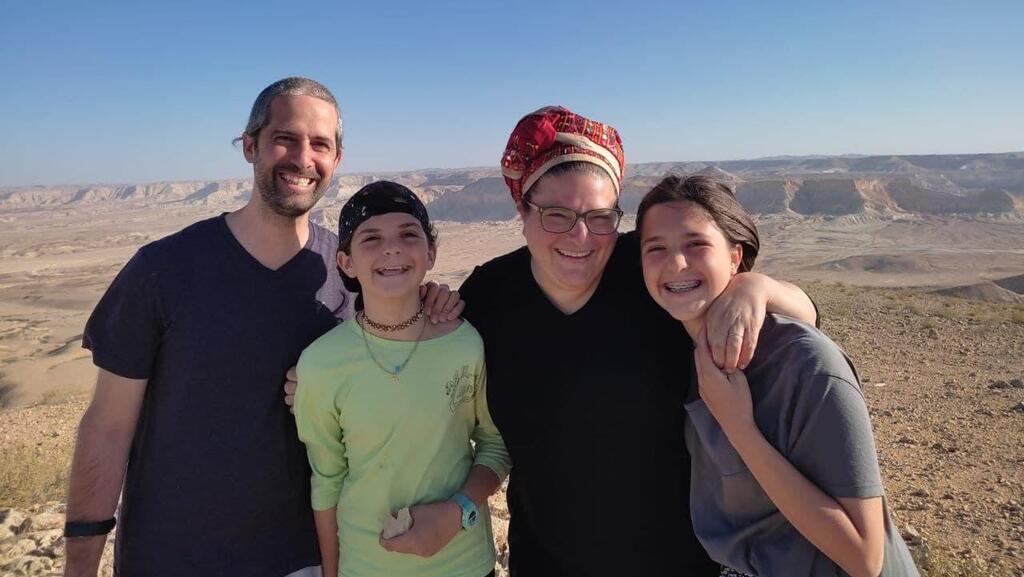 Almost 70 years later, Ben Gurion's vision is being fulfilled as countless individuals who hold a deep love for the land have since moved to live and work in the Negev. Many of these residents recently are new Olim from North America, who have arrived as part of "Go Beyond," a joint initiative of Nefesh B'Nefesh and Keren Kayemeth LeIsrael.
We went out to meet some of these new immigrants, who both fulfilled the dream of immigrating to Israel and realized the vision of making the desert bloom. What brought them to the Negev, are they there to stay, and what opportunities have they found in Israel's south?
Teaching English and Selling Ice Cream in Yerucham
Naomi Lev, 44, made Aliyah with her family from New York just three years ago, but she has no doubt that her Aliyah and acclimatization in Israel can be labeled as a success story. "When you see your girls flourishing, you know it's a success," she explained.
The dream of making Aliyah had been ingrained in Naomi from an early age. "I always knew that Israel was my home. Every time I came to visit, I knew I had to live here. After every time I returned to the States, I felt I had left a part of my soul here.
At the age of 18, I spent a year and a half in a gap year program in Israel and had wanted to make Aliyah since then. But, I was given the advice that it was better to make Aliyah after marriage, I waited until I was 41," she laughed.
When they decided to make Aliyah with the help of Nefesh B'Nefesh and in cooperation with the Ministry of Aliyah and Integration, the Jewish Agency, KKL and JNF-USA, Naomi, her husband David, and their two daughters, Ayelet and Daniella, chose to settle in Yerucham. They were the first family of Olim from North America to arrive directly there.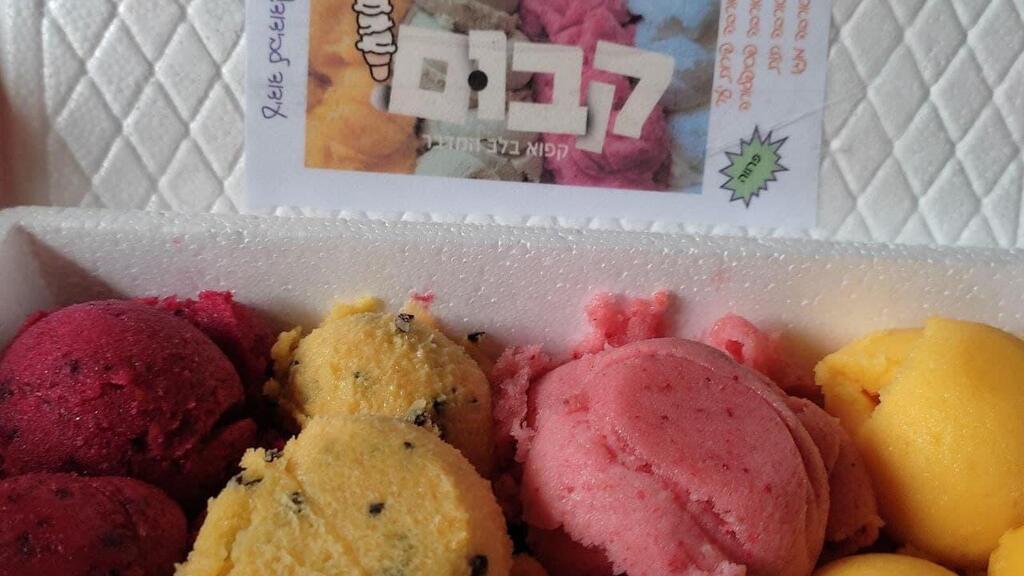 "I have always loved the Negev," said Naomi of their choice to move to Yerucham. "Before we arrived, I received a job offer in Jerusalem, but I didn't take it. I felt that my soul should be in the Negev. I asked my husband what he thought, and he agreed. We wanted to live in a small place with a warm community, and we found Yerucham."
It was not easy to start life anew at the age of 41. Naomi holds a doctorate in education and, among many other professional experiences, established a high school back in Denver, said that she decided to slow things down in Israel and to be more present in her daughter's lives, now 11 and 14 years old.
Nevertheless, she has demonstrated impressive capabilities and extensive educational work in Israel, as well. Naomi is currently working on various educational projects, including teaching as a professor at a college of education, teaching and mentoring, as well as co-establishing a bilingual kindergarten in Yerucham.
"It is a kindergarten for learning English from the age of two. Studies show that the more children are exposed to the language at a younger age, the more it builds their self-confidence and helps them acquire the language at a mother-tongue level."
Naomi also made an old dream come true and opened an ice cream business called Kaboom, which is gaining much momentum. "I always wanted to do something related to hospitality, tourism and food, but I did not have the time or the opportunity. This is the only place I could imagine doing it. Yerucham is a place of possibility; there are opportunities to grow here, and we invite everyone to come for a taste of ice cream and sorbet that is sweet, delicious and fresh."
How do you sum up your Aliyah journey and your three years in Yerucham?
"Life is quieter here; there is time and air to breathe. The people in Yerucham are warm; there is no place as warm as Yerucham, and I do not mean the weather. Everyone takes care of each other. When a new Oleh comes to a big city, he may be treated differently, because the number of people who move there is greater. But when we came here, we became the 'news'. The council even published an announcement that Olim had come to Yerucham, and the response and care from people just gave us the feeling that we had truly arrived home."
Reinventing Oneself in the Negev
When Rachel and Adam Hopkins, 38, decided to make Aliyah from Massachusetts seven years ago, the goal was clear: to assimilate into Israeli society. "We didn't care about taking our lives in the United States and moving them to Israel. We wanted to be Israeli. We wanted our children to be Israeli, to speak Hebrew, to have Israeli friends. We knew as adults it would be harder, but for our children it would be easier in the end," they explained.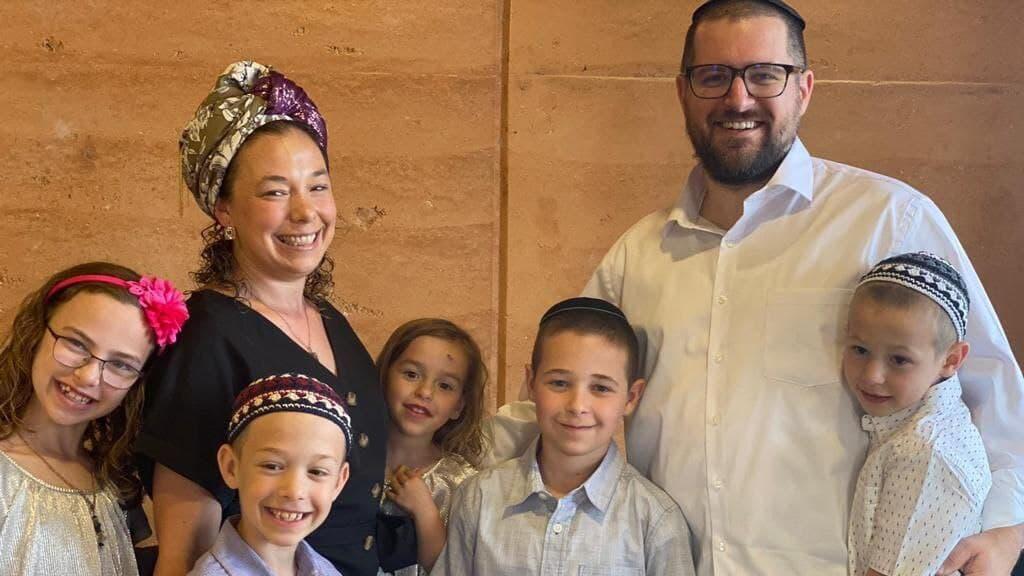 Both Rachel and Adam were born into traditional Jewish families, and when they met in their 20s, the two became more religious. "In the eastern United States, it is very expensive to live in the Jewish community. Sending children to a Jewish school is also expensive. But, we strongly believed in our country. We wanted to teach the children that if they believe in something, it is important to act on it and not just talk about it. This is one of the reasons we came straight to the Negev."
When the couple was offered on behalf of Nefesh B'Nefesh, which also helped them make Aliyah, to start their journey in the religious community of Retamim south of Be'er Sheva, they accepted the offer wholeheartedly. They packed their belongings and their three young children and made Aliyah in the fall of 2014.
Adam and Rachel say they will not forget their first night in the community: "We arrived a few hours late, it was already 11 p.m. The community members met us outside our trailer to help us with the kids and the luggage. We entered the apartment, and everything was already furnished and equipped. We did not have to open the suitcases at all. There were even linens on the beds."
What was supposed to be a temporary housing space for an easy and quick acclimatization has become their permanent home. "We do not know anyone outside of Retamim," they explained regarding their decision to stay in the community. "The people here welcomed us like family. We also had an adoptive family who helped us with everything, whether it was opening a bank account or going with us to the supermarket."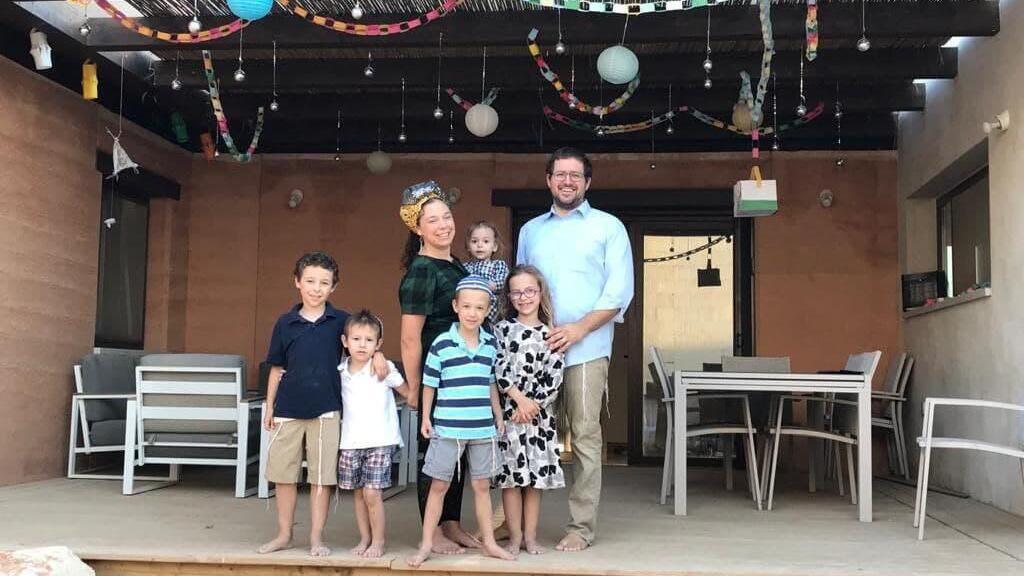 The Hopkins not only found a home in the Negev, but also reinvented themselves and changed direction in their careers. Adam, a lawyer by profession, converted to high-tech in Israel and works as a software engineer. Rachel, who was a behavioral therapist in the United States, currently works as an educator and English high-school teacher.
Five years after their Aliyah, the family, which has grown and expanded in the meantime, moved from their modest trailer to a house they built in the community. Following the family's success story, additional new Olim from the United States have come to find a home in Retamim.
Who do you think suits deciding to move to the Negev?
"Before we came here, we knew about Ben Gurion's vision to make the desert bloom. That was one of the reasons we came here. We always said that if we want our Aliyah to be successful, we must be flexible. If that means cleaning houses even though we have master's degrees, we will clean houses. In the end, we found jobs, but we were ready for any scenario."
"We Discovered Ourselves in Mitzpe Ramon"
Dana Erblich Leeds, 31, is the daughter of a Jewish father and an Israeli mother who instilled in her a great love for the Jewish homeland. At the age of 18, she fulfilled her dream of making Aliyah, with the help of Nefesh B'Nefesh and in collaboration with the Ministry of Aliyah and Integration, the Jewish Agency for Israel, the KKL and JNF-USA.
While she was thrilled to finally be living in Israel, she admitted that the acclimatization to Israel was quite challenging. "I was unable to find my place; I didn't feel the need to be closer to other Olim. It was also difficult to adapt to a new culture and learn the language. But, I never felt like I belonged in Los Angeles either, that's why I came here."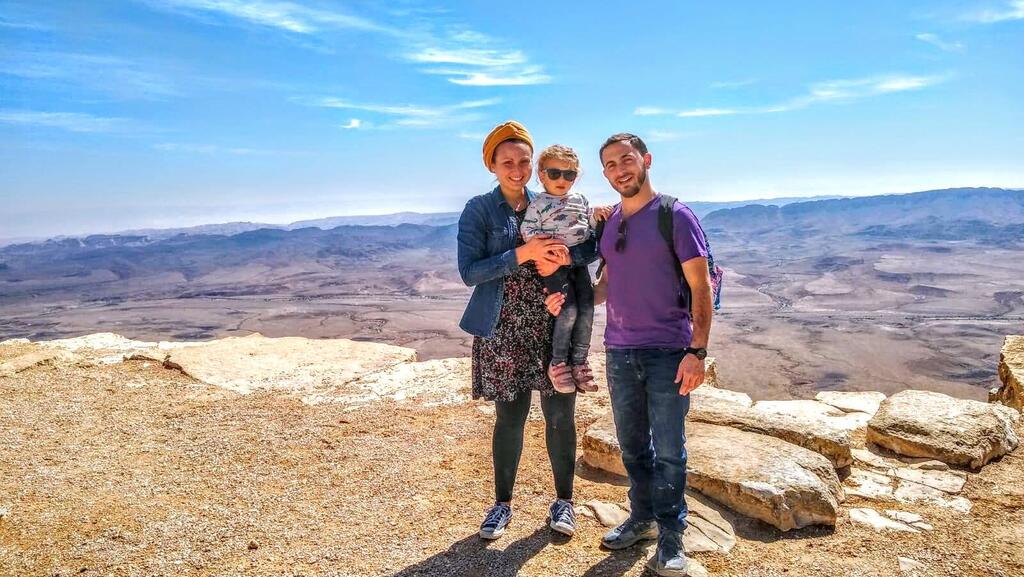 Her first stop when she arrived in Israel was the dormitory of Bar Ilan University, where she studied to receive a bachelor's degree in special education and English literature. After graduating, she moved to Jerusalem, where she worked in fundraising and met her husband Haim, who had come to Israel from New York at the age of 12. After the couple got married, they moved to Be'er Sheva and had their first child.
Dana and her family moved to Mitzpe Ramon 18 months ago. "I wanted a different education for our child. When I heard that Mitzpe Ramon has a forest kindergarten, I was so excited." A forest kindergarten, Dana explained, is an educational setting where children spend most of their time exploring and learning in nature.
"Mitzpe Ramon is a place of many possibilities. There is such a wide variety of people here, including educators, musicians, artists as well as secular and religious people. Everything can be found here. We've been here for around 18 months and, for now, are planning to stay. We've gotten used to the peacefulness and the wide-open space."
Since moving to Mitzpe Ramon, Dana has become very involved in the community. Most notably, she has been working hard to open a local religious forest kindergarten. "Recently, many people have come here, new Olim and native Israelis, who are looking for something different. Some are religious or mixed couples who are looking for an alternative form of education. Whoever wants to be involved in their children's lives, this is the place to be."
What would you recommend to new Olim who are debating where to live in Israel?
"First of all, I would like to reassure them that the process is not so daunting. One of the important things I would recommend is to learn the language. I can understand why some Olim choose to stay in an English-speaking community when they make Aliyah, as it is much easier. But I think it blocks growth and stops the adaptation into Israeli culture. I think every new Oleh should ask themself why they came to Israel and what they would like to achieve by their Aliyah to Israel."
Modern Pioneering - Planting Roots in the Land of Israel
"Ben-Gurion's vision is being realized through the commitment and dedication of Olim who are fulfilling their dreams of establishing roots all over Israel," said Rabbi Yehoshua Fass, Co-Founder and Executive Director of Nefesh B'Nefesh. "Together with our partners at Keren Kayemeth LeIsrael, we are proud to assist these modern-day pioneers who have chosen to leave their comfort zones and move to the Negev and the Galilee. This is a modern-day Zionistic initiative that is both strengthening the local communities in these regions and planting seeds for future Olim to grow."
Ronnie Vinnikov, Head of Resource Development and External Affairs Division of Keren Kayemeth LeIsrael, added: "KKL has been working for many years, together with Nefesh B'Nefesh, on a national project to encourage the settlement of new Olim in the Galilee, the Golan Heights, the Negev, and Jerusalem. These Olim empower the State of Israel and contribute greatly to its success. We are excited to see that today, as we recently celebrated Israel's Independence, Aliyah and the rapid integration of Olim into Israeli society is continuing and improving. A hearty welcome home to all."