A video surfaced online late last week depicting soccer fans singing anti-Semitic chants at a Jewish man on a Ryanair flight.
The footage, which began circulating on social media last week, showed fans of the London-based club West Ham United on a plane to Belgium consuming alcohol and chanting anti-Semitic slurs to an ultra-Orthodox Jewish passenger as he was making his way to his seat. The man did not respond to his detractors.
The plane departed from London Stansted to Brussels on Thursday and was full of West Ham fans as the English Premier League side was playing Genk in a Europa League match outside of the Belgium capital.
The chants are typically sung at fans of London rivals Tottenham Hotspur as an insult and reference to the club's affiliation with the city's Jewish community.
The incident was met with apathy from flight attendants but spurred police to arrest a 55-year-old suspect, who now faces hate crime charges.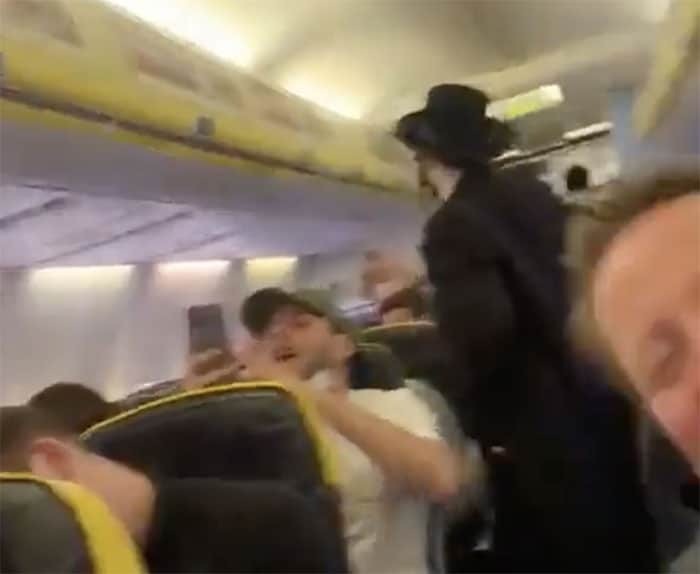 West Ham blisteringly condemned the chants and vowed to issue the offenders with indefinite bans from the club.
"West Ham United is appalled by the contents of the video circulating on social media and condemn the behaviour of the individuals involved. The club is liaising with the airline and relevant authorities to identify the individuals," a statement read.
"We continue to be unequivocal in our stance – we have a zero-tolerance approach to any form of discrimination. Any individuals identified will be issued with an indefinite ban from the club. Equality, diversity and inclusion are at the heart of the football club and we do not welcome any individuals who do not share those values."