Argentine economist Javier Milei, a right-wing populist whose idiosyncratic personality has attracted much global attention, was elected as the South American country's new president Sunday night on the back of promises of sweeping economic reform and an unorthodox approach to foreign relations.
With nearly all votes counted, Milei decisively defeated Economy Minister Sergio Massa, securing over 55% of the vote. The incumbent government's treasurer, overseeing an economy struggling with triple-digit inflation, conceded defeat even before the electoral authority announced preliminary results.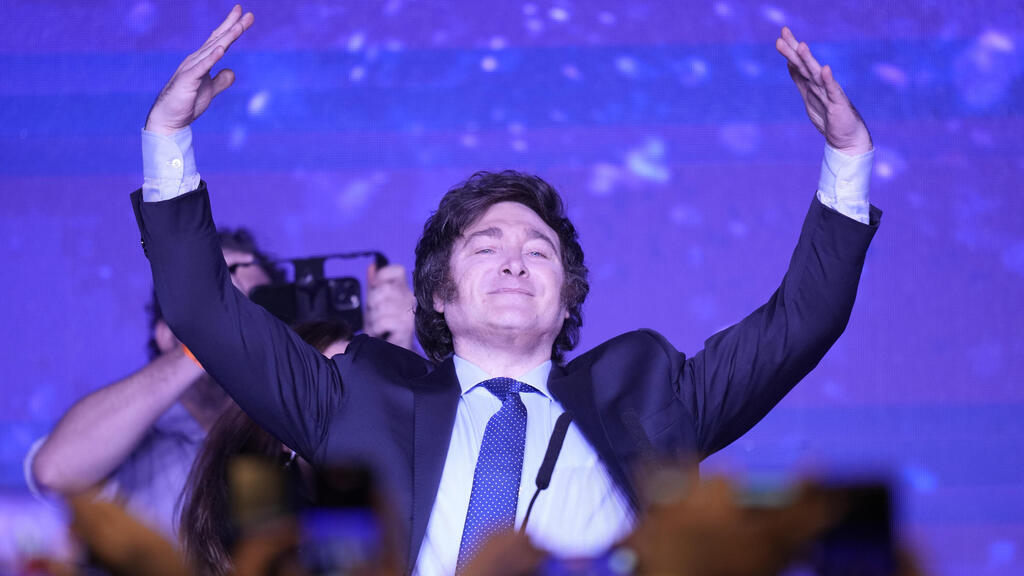 Milei's passionate love of Judaism and Israel has been one of the several unexpected qualities that Argentines and political analysts have become accustomed to during his rapid rise over the past year.
Milei, 53, throughout his campaign, blamed the outgoing government for soaring inflation and poverty rates. That government included Cristina Fernández de Kirchner — who has been accused of obstructing the investigation into the 1994 AMIA Jewish center bombing — as vice president.
"Today we will start the rebuilding of Argentina," Milei said in his acceptance speech Sunday night.
Milei, an economist and former TV and radio pundit, calls himself an anarcho-capitalist. He has promised to close several government ministries, including Argentina's national bank, a move that would make the country's currency the American dollar. He calls climate change a hoax and has earned comparisons to Donald Trump. During the campaign, to illustrate the dramatic cuts he is planning, Milei came to election rallies with a chainsaw. In recent weeks, he abandoned this custom, in order to cultivate a more moderate image.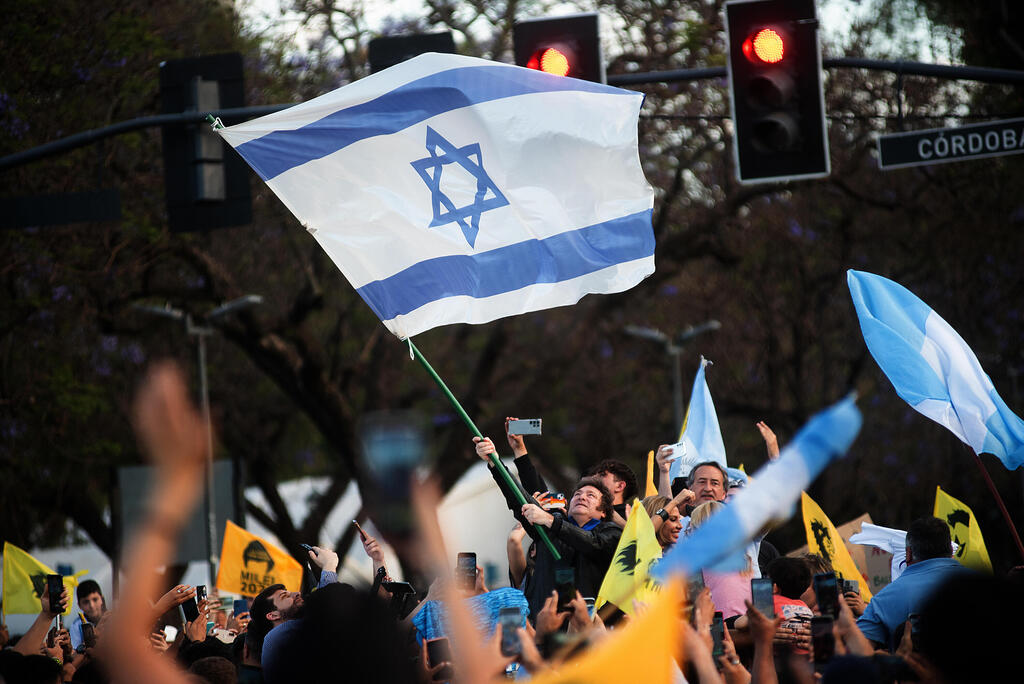 He also studies Torah regularly. In an interview with Spain's El Pais newspaper over the summer, Milei talked about his study with Rabbi Shimon Axel Wahnish, who heads ACILBA, an Argentine-Moroccan Jewish community based in Buenos Aires. Milei said he has considered converting to Judaism but worries about how Shabbat observance would clash with the duties of the presidency.
He demonstrates his passion for Judaism at rallies and public events, often walking out on stage to the sound of a shofar, the ram's horn blown on Rosh Hashanah. At one rally in August, the shofar sound was accompanied on a screen by a photo of a man wearing a Jewish prayer shawl.
He is also an outspoken supporter of Israel, having stated before the start of Israel's war on Oct. 7 that he would like to make an early diplomatic trip to Jerusalem and to move Argentina's embassy to that city. In one of his final public appearances before the election, Milei was seen waving an Israeli flag among a large crowd in Rosario.
Meanwhile, his legions of fans call him "the crazy" and "the wig" due to his ferocity and unruly mop of hair, while he refers to himself as "the lion." He thinks sex education is a Marxist plot to destroy the family, views his cloned mastiffs as his "children with four paws" and has raised the possibility people should be allowed to sell their own vital organs.
A few years ago, Milei was a television talking head that bookers loved because his screeds against government spending and the ruling political class boosted ratings. At the time, and up until mere months ago, hardly any political expert believed he had a real shot at becoming president of South America's second-largest economy.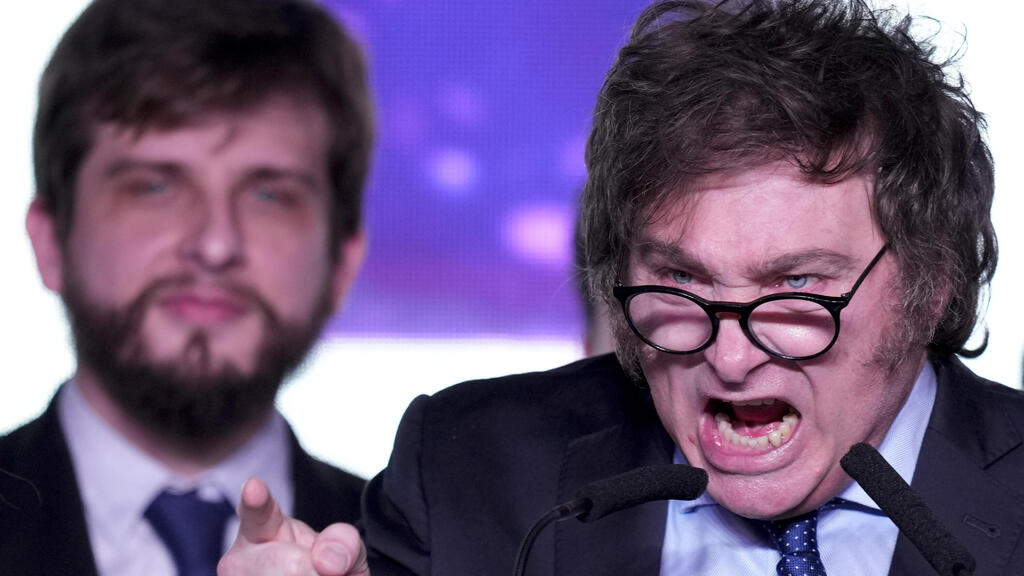 Once in office, he has said he will slash government spending, dollarize the economy and eliminate the Central Bank as well as key ministries, including those of health and education. An admirer of former U.S. President Donald Trump, he has likewise presented himself as a crusader against the sinister creep of global socialism with plans to purge the government of corrupt establishment politicians. In the weeks before the runoff, though, he walked back some of his more unpopular proposals, such as loosening gun controls and sweeping, indiscriminate privatization.
Milei opposes feminist policies and abortion, which Argentina legalized in recent years, and has proposed a plebiscite to repeal the law. He also rejects the notion humans have a role in causing climate change. In a television appearance, he denounced Pope Francis, who is Argentine, as an "imbecile" for defending social justice and called the head of the Roman Catholic Church "the representative of malignance on Earth."
In the same vein as Trump's slogan, "Make America Great Again," Milei has said he will return the country to an unspecified period of greatness.
"Argentina is going to reclaim the place in the world that it should never have lost," Milei said at his victory rally Sunday. His followers have embraced the comparison, and often wear hats bearing the words "Make Argentina Great Again."
The son of a passenger transport businessman and a homemaker, the economist doesn't like to talk much about his childhood and has said his young years were marked by a tense relationship with his father.
And, despite the "wig" nickname, his hair is real.
First published: 12:08, 11.20.23