Ana Miranda, a member of the European Parliament (MEP) from Spain, was turned back upon attempting to enter Israel on Tuesday, in what she said was an official visit to occupied Palestinian territories.
The reason behind her deportation was her participation in the 2015 protest flotilla to Gaza, after which she was expelled from Israel and told that she would not be able to enter again.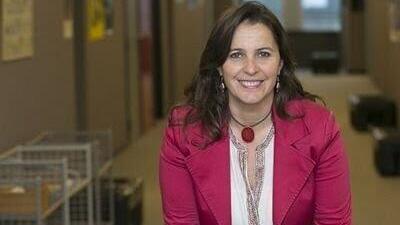 Miranda arrived at the Ben Gurion International Airport with a delegation of MEPs, whose visit was coordinated and approved in advance. Upon landing late Monday, all the MEPs were permitted entry beside her.
She was held at the airport for some six hours until Foreign Minister Eli Cohen instructed the authorities to refuse her entry. Miranda was then put on the first flight back to Spain on Tuesday.
The European Union expressed disappointment following this incident, and stated that treating each MEP with respect is necessary for maintaining good relations between the EU and Israel. President of the European Parliament Roberta Micella said she would contact the Israeli authorities and look further into the matter.
In a video she posted before getting deported, Miranda called the incident a "diplomatic insult," and an act of "disrespect towards the European Parliament."
When she returned to Spain, Miranda said that "expulsion from Israel is the price to be paid for the protection of human rights and protection against the occupation and apartheid that Israel is inflicting on the Palestinian nation."
Spanish Foreign Minister José Manuel Albares Bueno expressed dissatisfaction with the deportation and said that Spain demands explanations from the Israeli authorities.
In response, Eli Cohen released a message: "Israel is thankful for the close and important relations with European nations and with the EU. The dialogue with the European countries, which constitute the main trading partner of the State of Israel, is broad, and still, we do not see eye to eye on every topic.
"Nonetheless, the State of Israel will not allow parties who try to harm it to cooperate with terror organizations or try to illegally enter the country. I instructed not to permit entry to MEPs who have expressed support for terrorist organizations or MEPs that have tried in the past to illegally enter Israel."