On January 26, the eve of International Holocaust Memorial Day, a one-of-a-kind memorial event was held in Abu Dhabi by a perhaps unlikely delegation from Israel. Dozens of Arab Israelis from the organization Together Vouch for Each Other gathered to commemorate and educate about the Holocaust, alongside Emiratis and Bahrainis, in order to ensure "never again" is a reality.
The event featured speeches from both Jewish and Arab Israelis including Together Vouch for Each Other CEO Yoseph Haddad, as well as people from the GCC, such as political analyst Amjad Taha.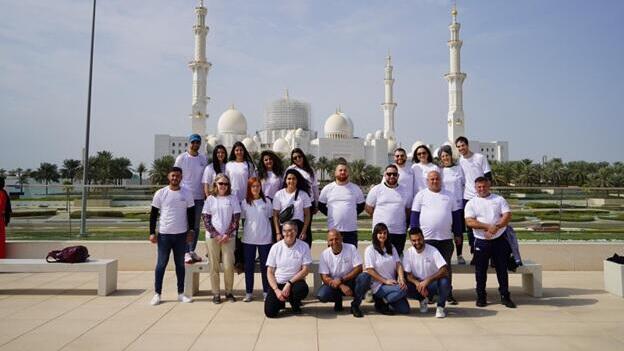 At the event, Taha, who has long been an advocate for Holocaust education in the Arab world, emphasized the need to continue to educate and build bridges between Arabs and Jews, as well as to combat antisemitism. "If you want to fight antisemitism the only way to fight it is by educating people…We need to educate people to make sure they never get radicalized. We need to educate people in society to make sure that we don't have Holocaust deniers like we do with the Iranian [regime], Hamas, and others who use the fact that people lack knowledge about the Holocaust, to promote Holocaust denial."
Yoseph Haddad echoed the same sentiment, telling Ynet, "Last year we were honored to bring the first delegation of Arab Israelis to Auschwitz to learn about the Holocaust and participate in the March of the Living. As proud Arabs and proud Israelis, we want to build more ties with the rest of the Arab world to continue on the path of promoting tolerance and Holocaust education."
Haddad continued, "What better place to hold such an event than in Abu Dhabi, where we have newly established ties between Israel and the UAE as a result of the changing Middle East? Together we are stronger and fight both racism and antisemitism."
The highlight of the night however, was the participation of Emirati singer Ahmad Al Hosani, and Israeli Jewish singer Nicole Raviv, who came to the UAE as part of the delegation of Together Vouch for Each Other.
For almost two months, the two singers have coordinated over Zoom and WhatsApp to learn each other's national anthems, which were performed at the opening of the Holocaust memorial event, to the surprise of all attendees.
Al Hosani told Ynet that his desire to perform with an Israeli artist for the Holocaust memorial event came from a genuine desire to "partake in a globally worthy cause promoting peace for everyone."
Raviv added, "I cried when I heard him [Ahmad] sing the second line of Hatikvah, "nefesh yehudi" – Jewish soul. It's unimaginable that not so long ago this would not be so acceptable for him to sing about the 2000-year-old hope to be a free nation in a Zionist country, and in Jerusalem. I still can't believe this is happening."
The feeling seemed to be shared by all attendees – Muslim, Jewish, Christian or Druze. "It's hard to express how powerful it is to hear the Israeli national anthem being sung by an Emirati and the Emirati national anthem being sung by an Israeli. It was a beautiful display of the tolerance that this organization is seeking to promote, as well as the UAE itself," said Haddad.
Despite Ahmad not speaking Hebrew, and Nicole not speaking Arabic, the two performers spent hours rehearsing without ever having met each other – and only rehearsed in person for the first time the day before the performance when they met in person at a lunch for the delegation.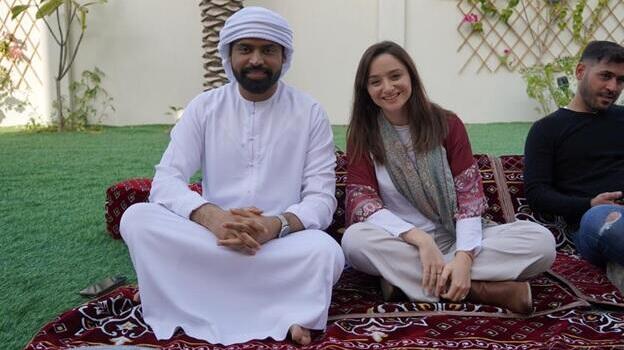 "Ahmed and I developed a friendship over zoom calls and social media for months before my flight to Abu Dhabi. His support and encouragement welcoming me into his culture was heartwarming. We practiced online before we met in person for the first time," said Nicole.
(Ahmad Al Hosani and Nicole Raviv meeting for the first time in Abu Dhabi. Credit: Courtesy)
On learning and performing the Emirati national anthem in Arabic, Nicole told Ynet, "Being an anthem singer for major sports teams in New York, I understand the power and importance of a national anthem and how it brings people together… got shivers when I heard this idea, and for me this became a mission. You can't understand someone until you've walked a mile in their shoes." She added, "I also love the Arabic language – it has so much depth and soul, and has similarities to Hebrew."
Al Hosani told Ynet that he hopes through this performance, "people who watch us sing together become aware of our collaboration and join in our quest for peace and togetherness."
The event closed with the lighting of six memorial candles for the memory of the six million Jews murdered in the Holocaust, each lit by a participant in the delegation or attendee from the UAE, and a final duet performance by Raviv and Al Hosani, who sang a stunning rendition of "Somewhere" by Barbara Streisand and Josh Groban.
On the historic performance, Raviv told Ynet, "Music has the power to bridge cultural divides. The Abraham Accords have opened a new chapter in the relationship between Israel and Arab countries, and I'm waiting for other countries to follow in this initiative. The opportunity for a Jew, Israeli, and a woman - to sing with a Muslim singer is a victory."
Disclosure: Emily Schrader is also a volunteer with Together Vouch for Each Other