The Syrian army reported late on Wednesday night that Israel's military attacked the Al-Shayrat military airport in the west of the country, the second attack within hours. The networks reported "intense air activity over Lebanon," north of Beirut, and the Al-Mayadeen network claimed that Israelis military jets launched missiles toward the Homs area, while flying over the Lebanese coastal plain.
A Syrian opposition official told Ynet that "it is an Israeli airstrike from Lebanese territory. The target was warehouses containing Iranian equipment." The Syrian Observatory for Human Rights (SOHR), a UK-based war monitor, reported that this is the 28th Israeli attack in Syria since the beginning of the year.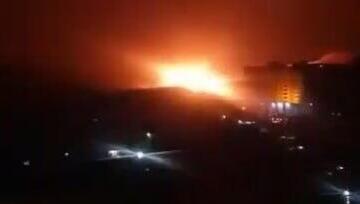 Earlier, Syria accused Israel of an attack in the western Tartus area, which occurred at around 5:20 p.m. The attack, according to the Syrian military, was aimed at air defense positions, killing two Syrian soldiers and injuring six others. SOHR reported that three Hezbollah operatives were killed in the attack, but there has been no verification of this claim.