A Russian tourist was killed by a shark on Thursday in the Red Sea resort town of Hurghada, Egypt.
His partner, who was with him in the water, managed to escape and survive. Locals on the beach later caught the shark. The victim, a 23-year-old young man who had been staying in Egypt in recent months, was heard screaming for help during the attack.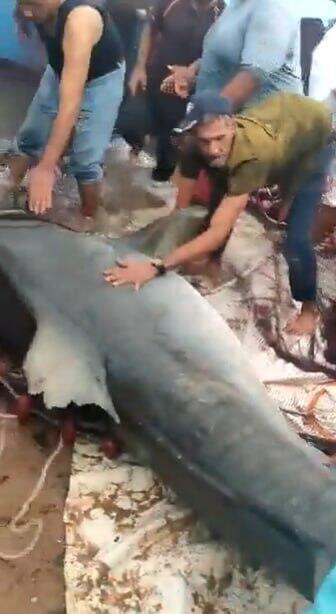 In harrowing footage that surfaced online, he is seen trying to swim to the shore and escape from the shark in front of terrified bathers. Following the incident, authorities closed a 74-kilometer beach strip, which will remain closed for swimming until Sunday.
After the tragedy, the Russian general consul in Hurghada issued a statement in which he asked Russian tourists to be vigilant while swimming and to obey the instructions of rescue services and local authorities.
The Egyptian Ministry of Environment stated that the attacking shark is a tiger shark, which is considered a deadly species. The ministry noted that after the shark was captured, it was taken to a laboratory where the reasons for the rare attack will be examined.
Last summer, two tourists, a 68-year-old Austrian woman and a Romanian woman in her late 40s, were killed in shark attacks on the beaches of Hurghada on one weekend.
Shark attacks in Egypt are relatively rare, but the Red Sea is home to 44 species of sharks, some of which are deadly. The most common of these is the grey reef shark. It measures 5 feet in length, has 14 particularly sharp teeth, and swims in shallow waters.