At least 44 people were killed and as many as 150 injured, 23 of them critically overnight in a crush at the Lag BaOmer festivities on Mount Meron in northern Israel.
A stampede broke out after Midnight on Thursday at the Jewish religious gathering in the compound occupied by an ultra-Orthodox insular Hasidic movement Toldos Aharon.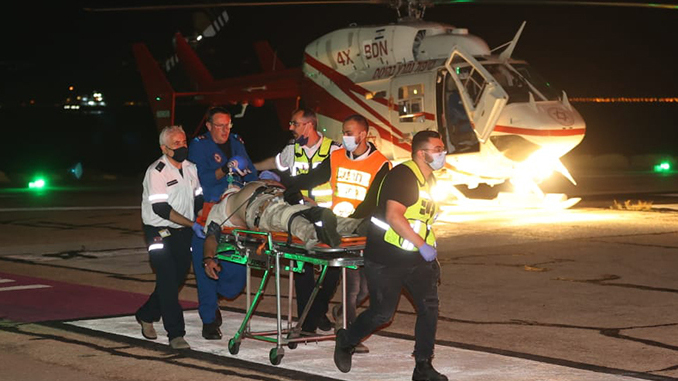 The injured were transported to hospitals in the north and the center of the country.
Eli Beer, director of Hatzalah, said he was shocked by the size of the crowd at the Lag BaOmer celebrations at Mount Meron. Police were quoted as saying some 100,000 people were there.
He told Army Radio that there were four to five times the number of people that should have entered a location like this. "More than 40 people died as a result of this tragedy," he said.
A 24-year-old witness, identified only by his first name Dvir, told the Army Radio station that "masses of people were pushed into the same corner and a vortex was created." He said a first row of people fell down, and then a second row, where he was standing, also began to fall down from the pressure of the stampede.
"I felt like I was about to die," he said.
Firefighters worked to free the trapped, supported by Israeli Air Force helicopters and rescue services.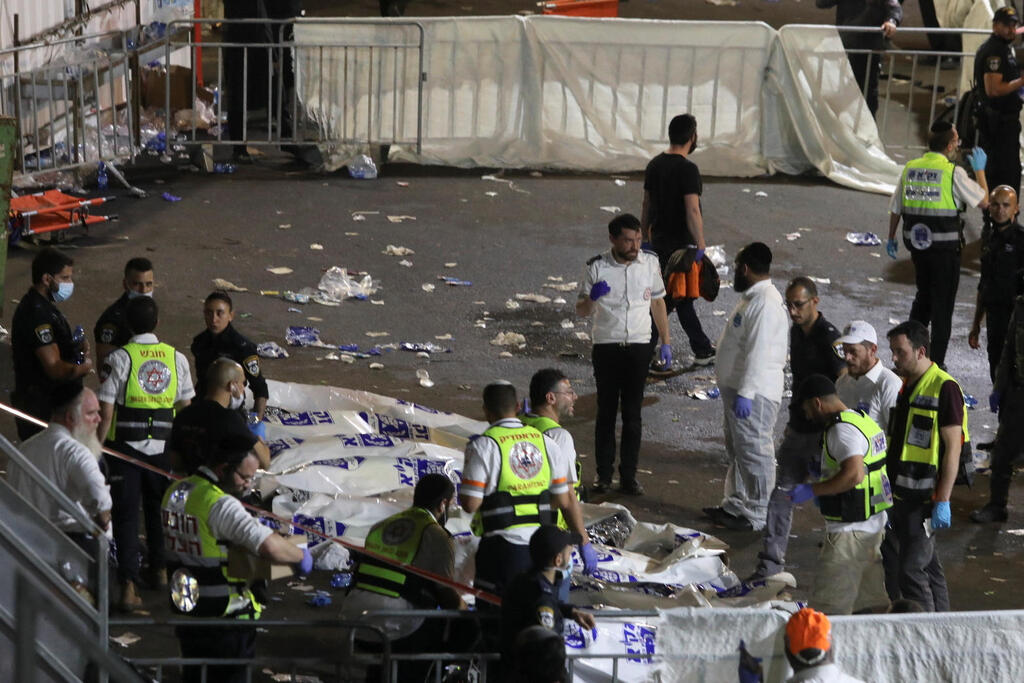 Police were trying to clear the tens of thousands who attended the event from the area.
A preliminary police investigation revealed that some of the attendees slipped on the stairs, creating a "human avalanche" that crushed members of the crowd.
Prime Minister Benjamin Netanyahu called it a "heavy disaster."
Cellphone reception crashed as families attempted to contact relatives on the scene and Israel police asked that calls be made to their emergency hotline for information. hospitals also set up hotlines for enquiries:
The Ziv Medical Center in Safed - 1255161, The Galilee Medical Center in Nahariya - 1255141, The Baruch Padeh Medical Center in Tiberias - 1255162 and the Rambam Health Care Campus in Haifa - 1255144. For enquiries about missing relatives the public can call - *1201.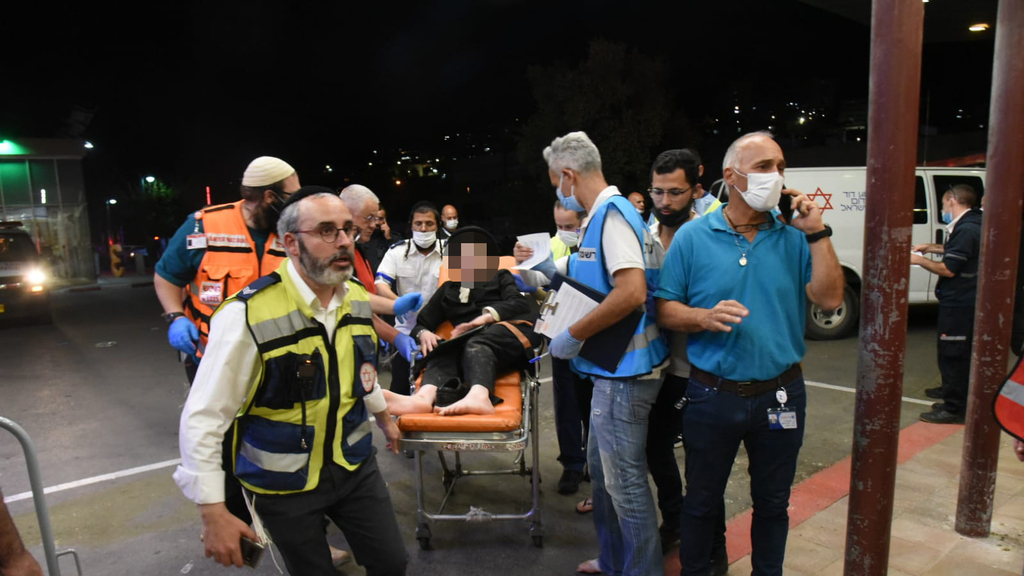 The Jerusalem Municipality opened a crisis center to assist families in locating relatives that can be reached by dialing 106 from Jerusalem. The municipality said they will offer assistance to the families of the dead and injured.
Tens of thousands of ultra-Orthodox Jews had gathered at the Mount Meron tomb of the 2nd-century sage Rabbi Shimon Bar Yochai for annual Lag BaOmer commemorations that include all-night prayer and dance.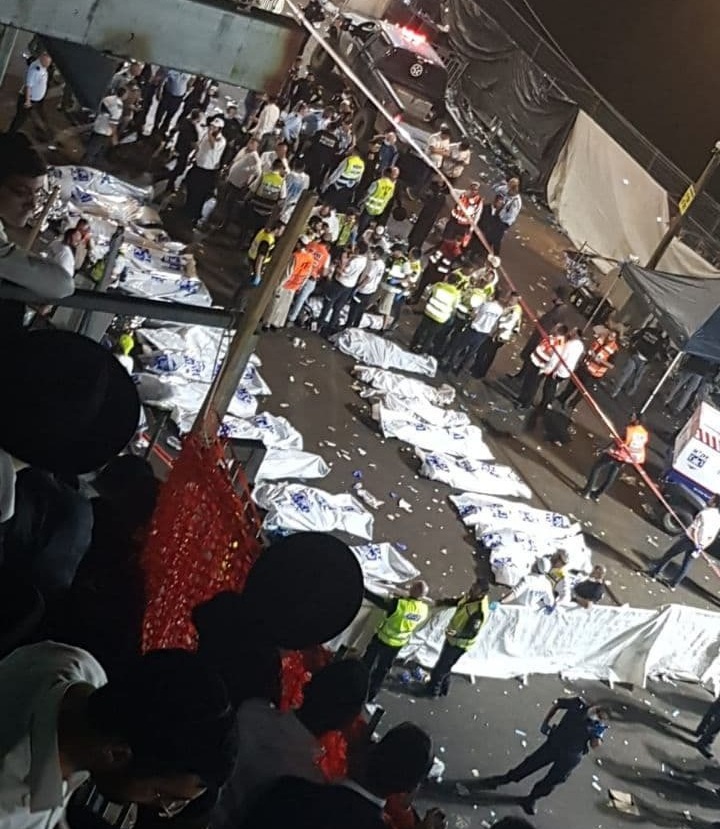 The ecstatic crowds congregated despite warnings by health officials to avoid presenting COVID-19 risks.
Witnesses said they realized people had been asphyxiated or trampled when an organizer appealed over a loudhailer for the throng to disperse.
"We thought maybe there was a [bomb] alert over a suspicious package. No one imagined that this could happen here. Rejoicing became mourning, a great light became a deep darkness," a pilgrim who gave his name as Yitzhak told Channel 12 TV.
"Rabbi Shimon used to say that he could absolve the world ... If he didn't manage to cancel this edict on the very day of his exaltation, then we need to do real soul-searching."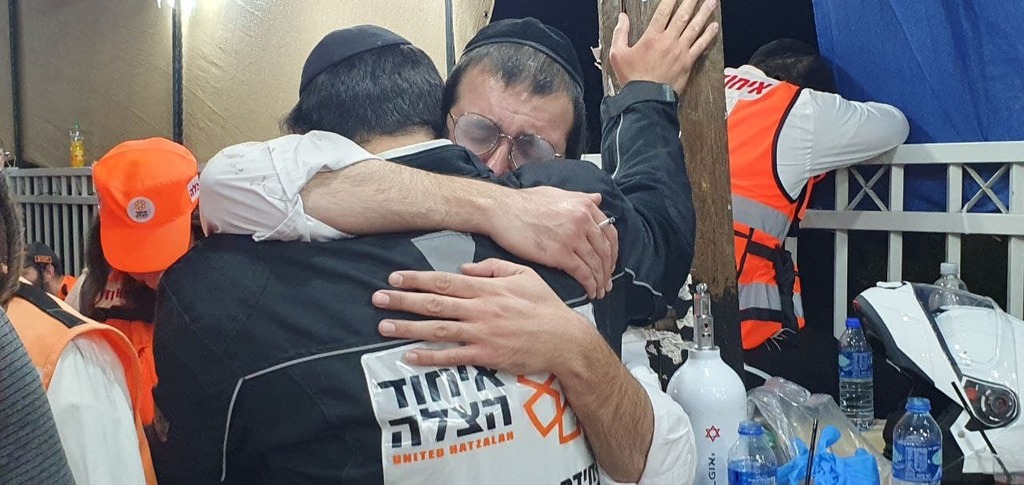 Police shut down the site and ordered revelers out.
The tomb is considered to be one of the holiest sites in the Jewish world and it is an annual pilgrimage site.
Videos posted on social media showed chaotic scenes as Ultra-Orthodox men clambered through gaps in sheets of torn corrugated iron to escape the crush, as police and paramedics tried to reach the wounded.
Bodies lay on stretchers in a corridor, covered in foil blankets.
On Twitter, Netanyahu called it a "heavy disaster" and added: "We are all praying for the wellbeing of the casualties."
Private bonfires at Mount Meron were banned last year due to coronavirus restrictions, but lockdown measures were eased this year amid Israel's rapid COVID-19 vaccination program.
Police said on Thursday that they had arrested two people for disrupting officers' efforts to keep order at the site.
First published: 04:31, 04.30.21