Residents of Madison, Wisconsin watched in amazement on Saturday afternoon as dozens of masked neo-Nazis marching unimpeded through the streets of the city, carrying swastika flags and shouting "Heil Hitler" in broad daylight.
"To see neo-Nazis marching in our streets and neighborhoods and in the shadow of our State Capitol building spreading their disturbing, hateful messages is truly revolting," Wisconsin Gov. Tony Evers said in a statement Saturday. "Let us be clear: neo-Nazis, antisemitism, and white supremacy have no home in Wisconsin. We will not accept or normalize this rhetoric and hate. It's repulsive and disgusting, and I join Wisconsinites in condemning and denouncing their presence in our state in the strongest terms possible."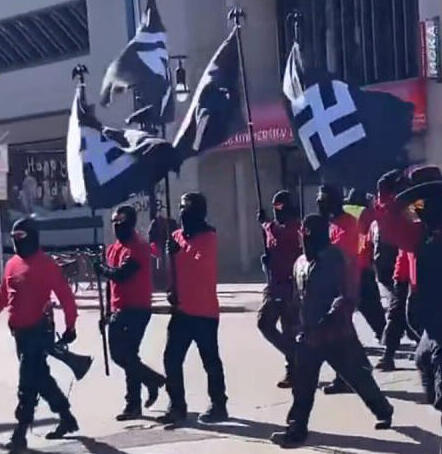 The march also reached the campus of the University of Wisconsin-Madison, which prompted Jennifer Mnookin, the university's chancellor, to condemn the group in a statement.
"The presence of this hateful group in Madison is utterly repugnant," Mnookin said. "Hatred and antisemitism are completely counter to the university's values, and the safety and well-being of our community must be our highest priorities."
The statement noted that the march was not announced to campus officials ahead of time but was being monitored by law enforcement. The university, she added, " is providing support resources to students and employees affected by the march."
Videos posted to Twitter also show the neo-Nazi group stopping in front of a local synagogue, Gates of Heaven, the fourth-oldest surviving synagogue building in the United States. The building is currently owned by the city of Madison and has fallen out of active use as a synagogue, the Milwaukee Journal Sentinel reported, citing the city's website and a Jewish Federation of Madison webpage.
Antisemitism in the US is soaring to new highs since the beginning of the war in Gaza, when according to the Anti-Defamation League there has been a 316% increase in the number of antisemitic incidents in the country compared to the corresponding period last year.