The Shifa Hospital in the Gaza Strip has become one of the targets marked by the military, after IDF spokesperson Rear Adm. Daniel Hagari presented evidence indicating that the central command of Hamas' terror activities is located beneath the hospital. Several underground facilities, serving as headquarters for top Hamas leaders, along with a tunnel facilitating access to them, are reportedly situated there.
Palestinians reported airstrikes in the vicinity of the hospital overnight Sunday, accompanied by "prolonged clashes" in the area. The IDF revealed an audio recording in which an Israeli representative discusses with hospital officials how to deliver urgently needed fuel for medical purposes to Shifa. However, Hamas prevented the hospital from receiving the delivery. The terror organization denied the Israeli accusation, as heard in the recording, claiming that its terrorists prevented fuel delivery and argued that the quantity mentioned by the IDF, 300 liters, would not have been sufficient for an extended period.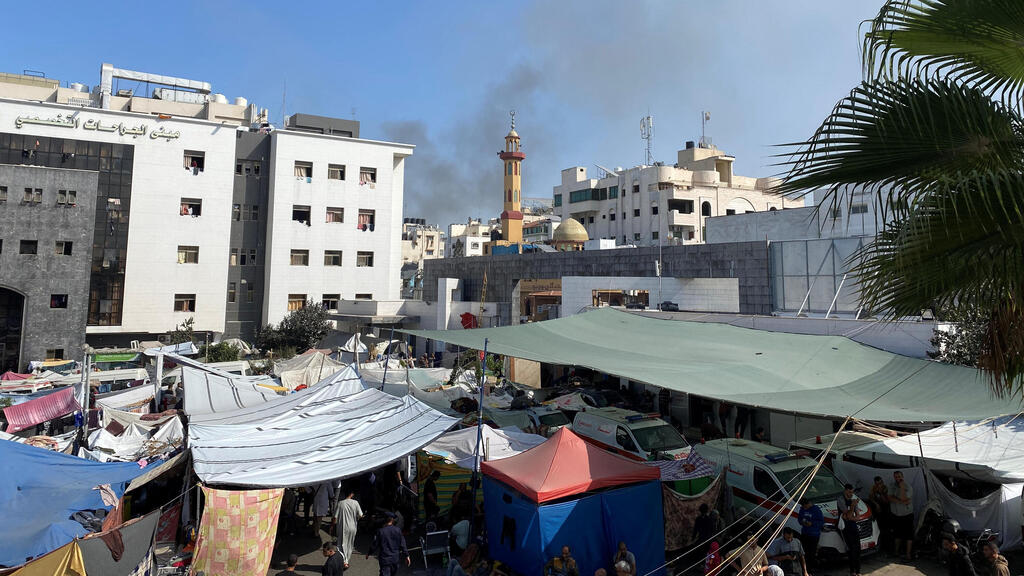 Meanwhile, eight present and past IDF intelligence and military sources told The New York Times what the IDF believes is located beneath the hospital serving as Hamas' command center. According to these sources, Hamas terrorists began constructing the command center underground in 2007 when it seized control of the Gaza Strip. Initially, Hamas dug beneath the foundations of the Shifa buildings and added below-ground floors. Subsequently, they were connected to the intricate network of tunnels under the Gaza Strip.
A former senior Shin Bet official told the Times that the Hamas headquarters is made up of several floors housing meeting rooms, living accommodations and storage spaces. Several hundred people, at least, can gather in these spaces built beneath Shifa, according to the sources who spoke with the American newspaper. A statement provided by the IDF to The New York Times said that Hamas terrorists divert electricity from the hospital to the command center, which can be accessed through multiple entrances both within and around the hospital.
Senior officials in Israeli intelligence reportedly presented images to The New York Times showing secret entrances to the facility from within the hospital. The images suggest that it is Shifa, but according to the newspaper, "the authenticity of these images cannot be verified at the moment."
American sources who spoke with The New York Times expressed confidence that Hamas uses its network of tunnels beneath hospitals, especially Shifa, for storing weapons and managing the organization's command and control. According to them, the U.S. has gathered independent intelligence regarding Hamas's use of Shifa.