An anti-Semitic graffiti labeling Israel's police commissioner as "Hitler" was spotted Wednesday in the predominantly-Haredi neighborhood of Jerusalem.
The graffiti was spray painted on a wall in the Zikhron Moshe neighborhood, with the words "Kobi Shabtai Hitler. 2021," referring to new Police Commissioner Yaakov Shabtai.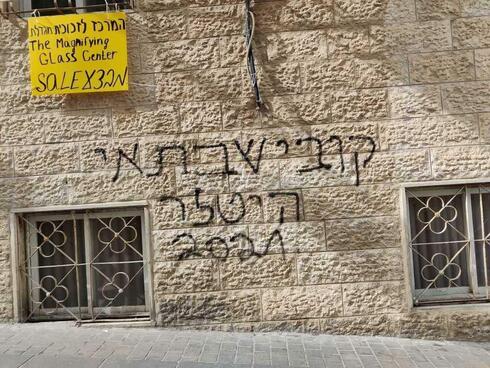 The incident comes amid the growing unrest in the ultra-Orthodox sector over implementation of lockdown restrictions, which resulted in protests and riots in predominantly-Haredi cities and neighborhoods across the country.
On Monday, a protest in the Haredi Jerusalem neighborhood of Mea She'arim saw dozens of male protestors throwing stones at passing vehicles and blocking roads to traffic with trash cans.
One of the officers was hit in the head with a glass bottle thrown at him when police forces arrived at the scene to disperse the protest. Eight suspects were detained during the unrest.
A similar violent incident occurred Tuesday in Beit Shemesh, when a group of officers arrived to shut down a Haredi educational institution, illegally reopened despite the lockdown.
Upon arrival, the cops were met with slurs such as "Nazis," "Hitler," "son of a dog," and so on.
When officers entered the building, clashes broke out between the police and the students, with one of those refusing to evacuate and yelling: "I will leave her with your blood, we will kill and slaughter every single one of you criminals."
During the unrest, a 17-year-old was arrested after throwing a stone at a policewoman's back and trying to escape.