Han Smith and Jennifer Andreacchi recently made international news for becoming the first queer couple to have a Jewish wedding in Scotland. But at the time they met, they had never been to Scotland, and they didn't yet identify as queer — or Jewish.
Smith, 26, grew up in Cherry Hill, New Jersey, and has a Jewish father but wasn't raised Jewish.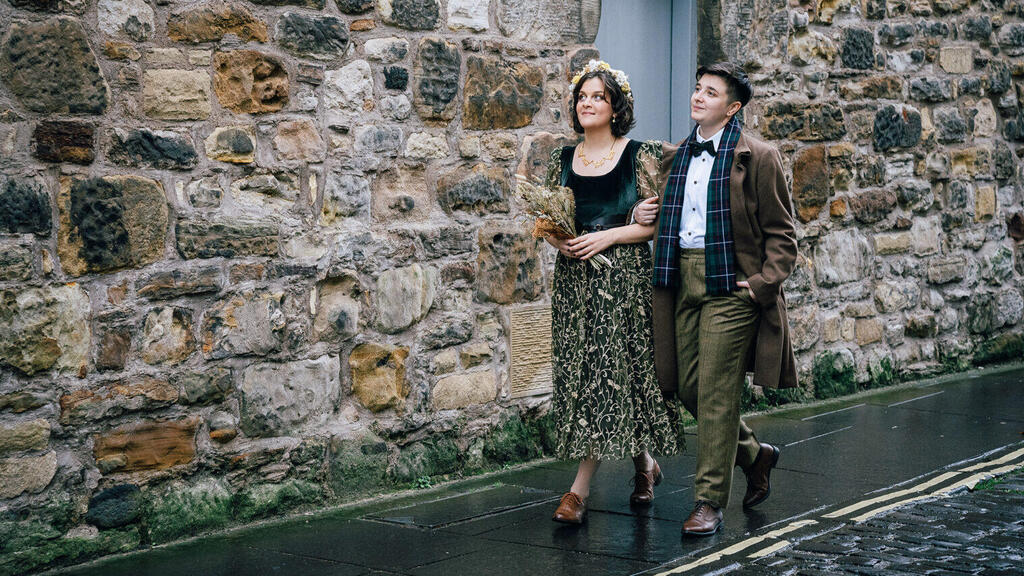 "I was content with that until a few years ago, when I began feeling like I wanted to reclaim something that had been lost," said Smith, who uses they/them pronouns.
Andreacchi, 25, who is from Randolph, New Jersey, only discovered in 2018 that her father had one Jewish grandparent, when she did a DNA test.
The couple first met in the spring of 2015, when they both attended a New Jersey reception for admitted students of the College of William & Mary in Williamsburg, Virginia.
After noticing each other — mostly because they both asked the most questions out of everyone there — they exchanged numbers and began a friendly text connection over the summer.
When Andreacchi realized she might be queer, she chose Smith to come out to first, "as it can often be easier to tell a stranger than someone close to you," she said. Smith confided they were feeling the same way.
Since Andreacchi was only 17 then and Smith 18, "we encouraged each other," Andreacchi said. "It was nice to have someone going through coming out at the same time."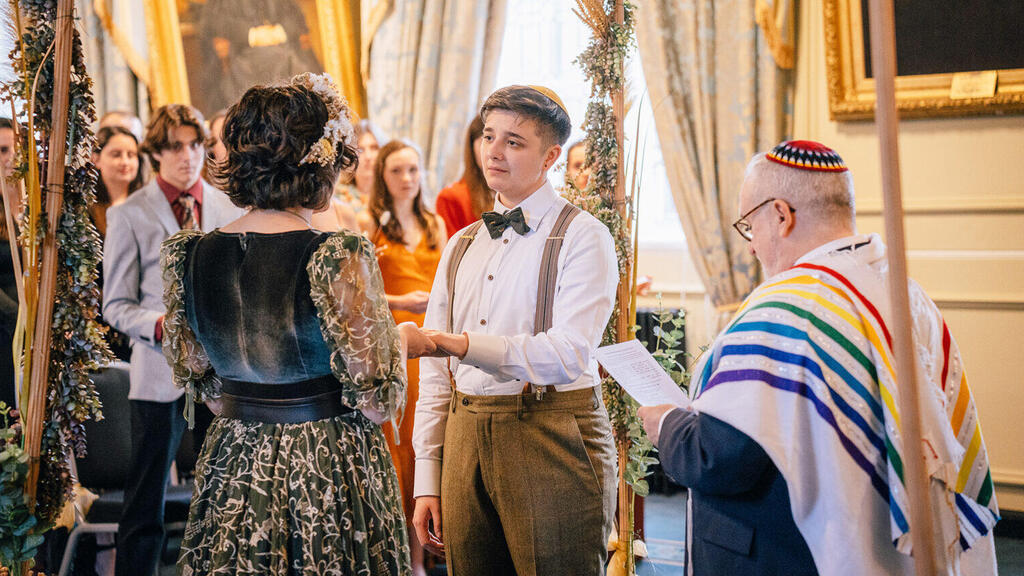 They became part of the same friend group once they arrived at school, and it wasn't long before they were dating.
"We started off a tad codependent, but we've managed to grow together, and have pushed each other and challenged each other to be our best selves," said Andreacchi.
That included spending their junior year abroad at the University of St. Andrews in Scotland, "which was a really transformative experience for both of us," Smith said. It also made them want to pursue moving abroad after graduation.
Smith took a class in modern Jewish history their senior year, which raised all kinds of questions about their ancestors (they knew their family surname had changed, but not from what). "It really started my journey and my approaching Judaism from a different angle," they said.
The couple moved to Dublin after graduating in 2019. The next spring, they celebrated their first Passover together, while in lockdown.
The pandemic gave them a lot of time to talk and think, and during this time, "we began talking about Jewish identity, what it meant to us and what it could mean," Smith said. They became more sure of their Judaism; at the same time, the couple determined that they wanted to keep living abroad.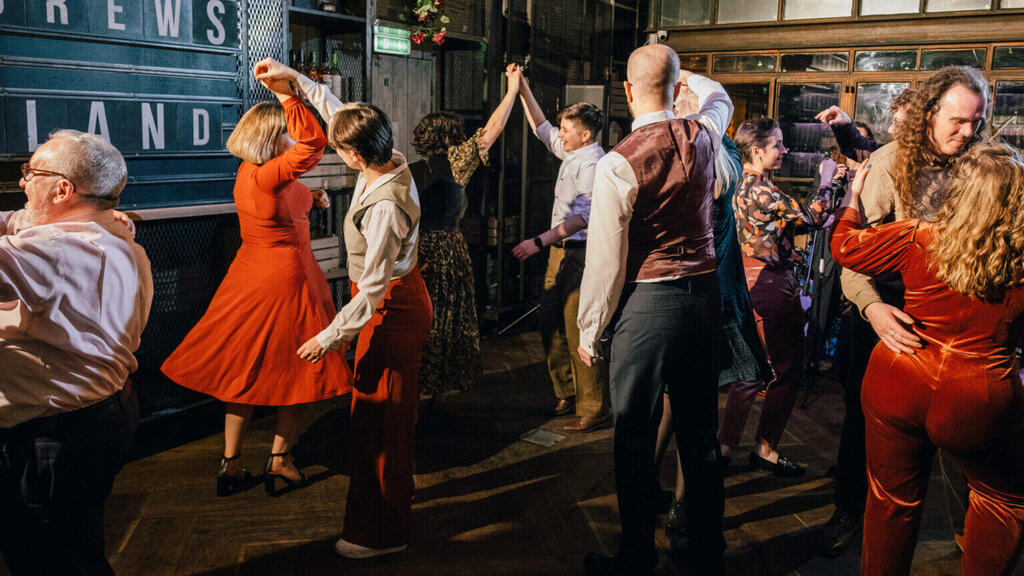 Andreacchi decided to pursue a master's degree at St. Andrews, while Smith started a doctoral program in counseling and psychology at the University of Edinburgh, which brought them back to Scotland. Andreacchi now works in publicity for a publishing house.
While Andreacchi was supportive of Smith's investigation of Judaism, when it came to herself, "I was intimidated by it for a while," she said. "I wasn't 100% sure what right I had to claim it."
But in Edinburgh, they found a welcoming Jewish community, where, they said, many of the younger community members are queer. (In addition to Sukkat Shalom, the liberal community in Edinburgh, there is an Orthodox synagogue as well as Chabad.
Edinburgh, Scotland's capital city of about 500,000, is about 50 miles away from the much larger Glasgow, home to the fourth-biggest Jewish community in the United Kingdom and a queer-friendly, Yiddish-speaking, anarchist-run cafe.)
"We've found an amazing Jewish community here," Andreacchi said. "The Edinburgh liberal community has really embraced us."
When they began wedding planning, a Jewish wedding wasn't on the table, as neither even knew yet that they would convert. But because they planned their wedding so far in advance, when they realized they could complete conversion beforehand, they set their sights on a Jewish ceremony.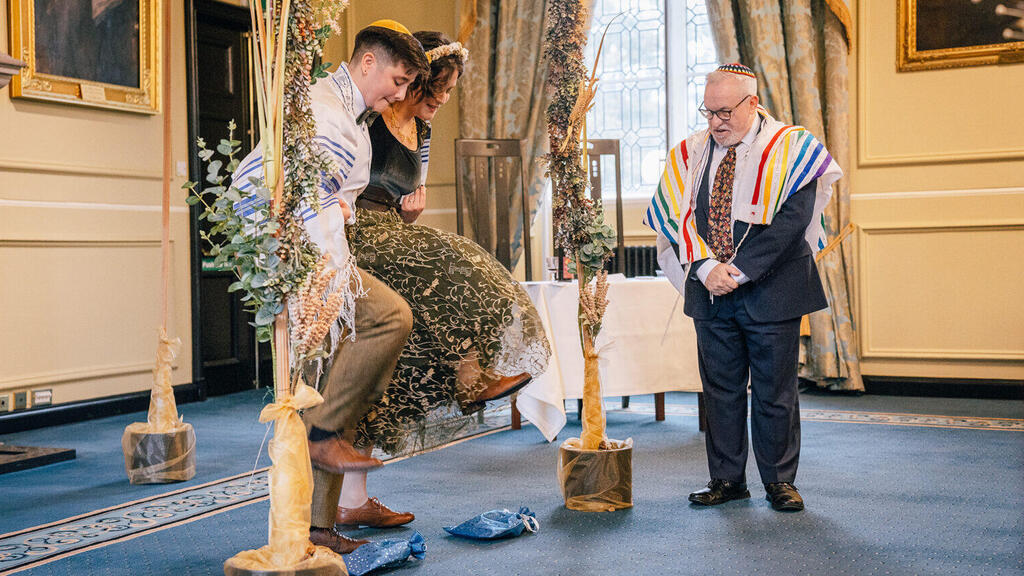 Both studied for their conversion under the supervision of Rabbi Mark Solomon, a London-based rabbi who serves Edinburgh's Sukkat Shalom.
"He's created a very safe and inclusive community," Smith said.
"He has a very open-minded approach to what God is and the role of tradition, and he's changed the gendered pronouns," Andreacchi added.
They proposed to each other at Edinburgh Castle by reading letters to each other and exchanging rings in May 2021. Their conversions took place in September 2022.
When they began wedding planning, they had no idea they would be the first Jewish LGBT couple to marry in Scotland. But as word got out, community leaders wondered and then confirmed that, indeed, they would be the first.
The news of their wedding — which took place on October 30, 2022 at St. Andrews, officiated by Solomon — was widely covered in the U.K. press. (Marriage for LGBT couples has been legal in Scotland since 2014.)
"There was a lot of excitement about us and our wedding that we didn't anticipate," Andreacchi said.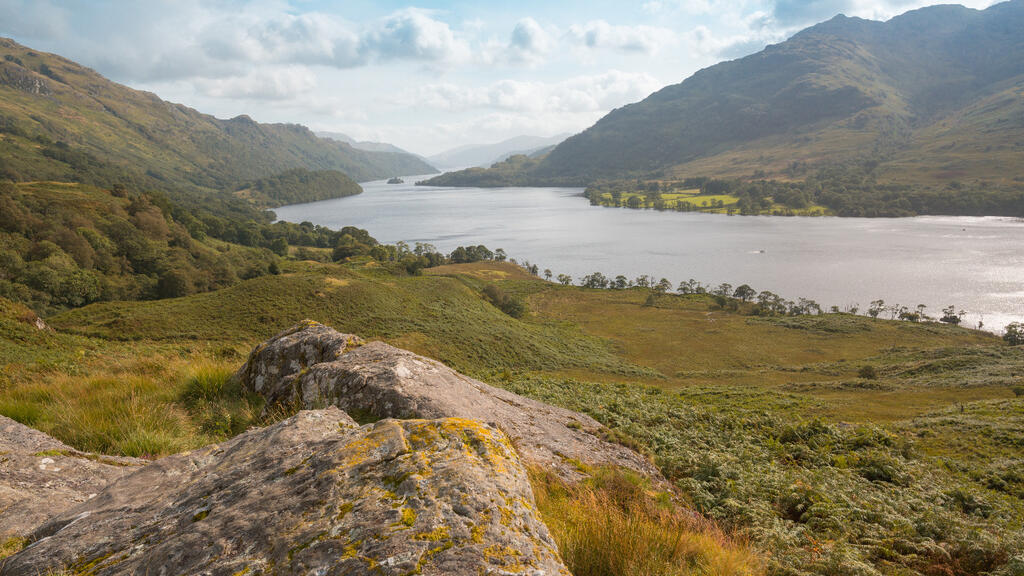 Andreacchi wore a forest green and gold velvet fantasy literature-inspired dress she found on TikTok, while Smith wore pants, a bowtie and suspenders, along with a scarf with the Mitchell tartan on it, because "while we were making history as Americans and not Scottish citizens, it was nice to feel like I was tying a piece of my ancestry together," they said, referring to their mother's roots in Scotland and Ireland.
The morning of their wedding, together with their wedding party, the couple decorated their chuppah together.
For the seven blessings, they assigned seven siblings, friends and cousins to expound upon themes that are important to the couple. Smashing the glass on the carpet took three attempts.
In addition to the hora, their reception included Scottish dances called ceilidh (pronounced "keely").
"For a lot of my life, I wasn't visible to other people, I felt a little small," Andreacchi said. "Han was one of the first people who not only really saw me but radically accepted me and loved me and encouraged me to follow dreams I didn't know were possible."
Smith added, "With Jen, I'm brave in a way that helps me know more about myself in the world."