A mere few months after the artwork's debut, and in the wake of the national Holocaust Remembrance Day, a mural at an Italian train station depicting characters from the popular cartoon "The Simpsons" as Auschwitz prisoners was vandalized in an apparent antisemitic crime.
The series of striking murals first appeared on the walls of the Holocaust Memorial in Milan, Italy, portraying the world's most famous cartoon family deported to Nazi concentration camps.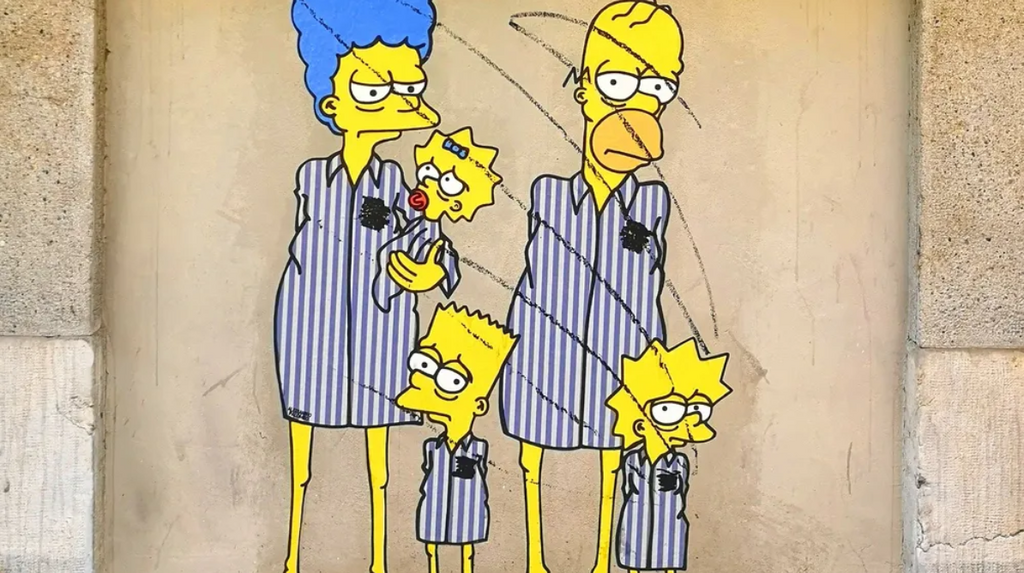 Pop artist aleXsandro Palombo created "Track 21 The Simpsons deported to Auschwitz," on a site—now converted to a commemorative museum—where hundreds of Jews were loaded onto livestock wagons headed for the concentration camps of Auschwitz-Birkenau, Mauthausen, Bergen-Belsen, Flossenbürg, Ravensbrück, Fossoli and Bolzano.
"These works are a visual stumble that allows us to see what we no longer see. The most terrible things can become reality and art has the duty to remember them because it is a powerful antidote against oblivion. The horror of the Jewish genocide must be transmitted without filters to the new generations to protect humanity from other horrors such as the Shoah," declared Palombo.
The first artwork is a portrait of the family before the deportation, in the second one the Simpsons, now prisoners, appear emaciated, skeletal, and wearing the striped concentration camp uniforms, deprived of their dignity, and now of their Jewish identity.
A day after the Holocaust Remembrance Day, the second harrowing depiction of the family had their yellow badges, or Judenstern, marked over in black and the entire mural scribbled over. This coincides with a recent study that visibly identifiable Jews are the main victims of antisemitic assaults in the West.
Reprinted with permission from
i24NEWS
.