Israel knew about Iranian arms shipments to Syria and Lebanon in the aftermath of February's deadly earthquake but chose not to attack the convoys for fear of compromising humanitarian aid efforts, according to a previously unreported leaked American intelligence document seen by Ynet.
According to the document, the Iranians smuggled weapons, ammunition, and drones to Syria and Lebanon in humanitarian aid convoys after the devastating tremor that struck the region in February, claiming the lives of over 6,000 people and affecting almost nine million.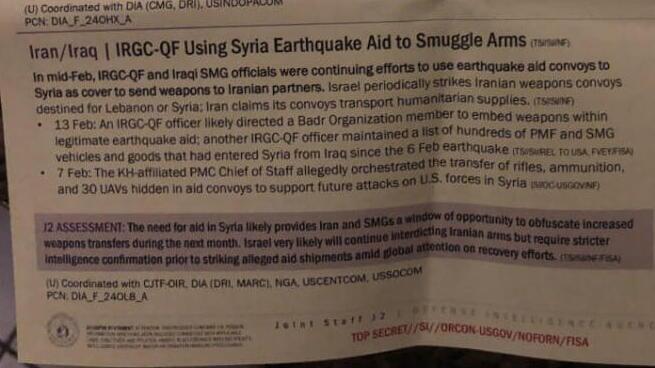 The leak, which was reported on by Ynet last month, reveals Iran's long tentacles and Jerusalem and Washington's limited ability to respond.
"Israel very likely will continue interdicting Iranian arms but require stricter intelligence confirmation prior to striking alleged aid shipments amid global attention on recovery efforts," the document read. A senior Israeli military official confirmed the details to the Washington Post.
According to the leaked document, the weapon shipments were carried out by convoys from Iraq, coordinated by local military groups and the Quds Force of the Revolutionary Guards (IRGC-QF) - the elite military unit of the Iranian army.
The document alleges that Iran took advantage of the chaos of the earthquake almost immediately: on February 7, while the area was engaged in desperate rescue efforts and evacuating dozens of homes, a militia group based in Iraq "orchestrated the transfer of rifles, ammunition, and 30 UAVs hidden in aid convoys to support future attacks on U.S. forces in Syria."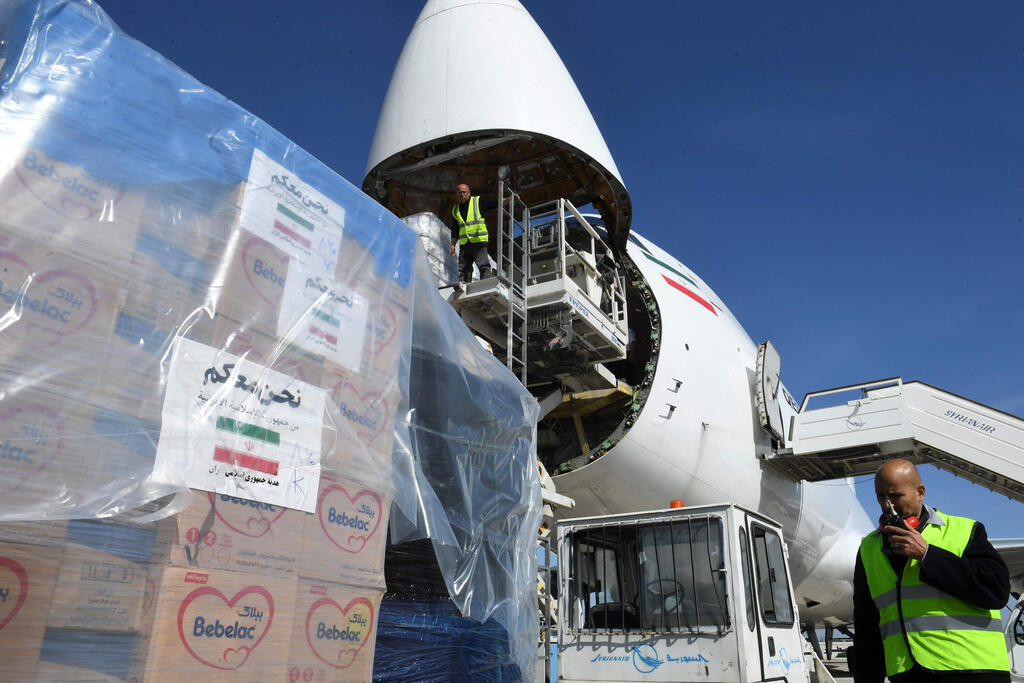 On February 13, an IRGC-QF officer likely directed the militia to "embed weapons within legitimate earthquake aid" while another officer "maintained a list of hundreds of [Iraqi militia] vehicles and goods that had entered Syria from Iraq since the 6 Feb earthquake" to direct them to their destinations.
The Iraqi militia group denied the allegations that their people used humanitarian aid shipments as a conduit for arms smuggling. A spokesperson for the group said that the aid packages were approved by the Iraqi government and that these accusations "will not deter the Iraqi people from helping their Syrian brothers and standing by their side in this humanitarian disaster, far from any political considerations."