Purim is a joyous holiday that celebrates the triumph of the Jewish people over their enemies. It's a time to dress up in costumes, exchange gifts with friends and family, and enjoy festive meals together.
This guide will provide you with a range of exciting Purim events that are perfect for families and children. From fun parades and carnivals to educational workshops and craft activities, there is something for everyone to enjoy during this special time.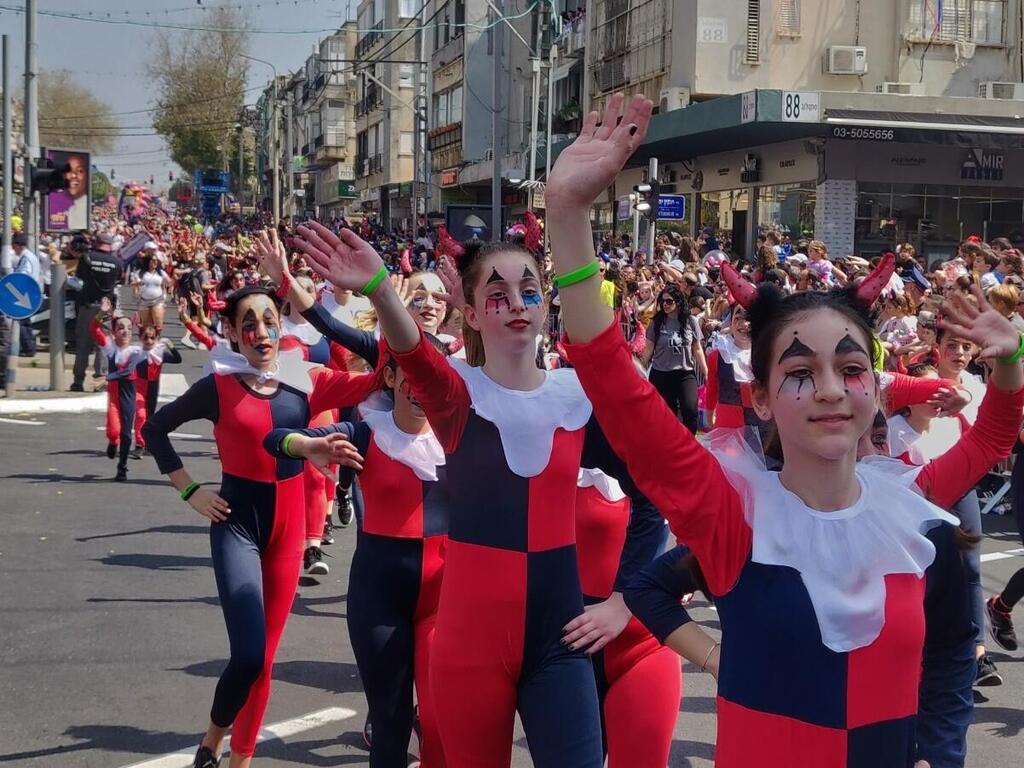 So, let's dive in and discover all the exciting Purim events happening in your area!
Purim events at the Council for Conservation of Heritage Sites in Israel
During the holiday, many heritage sites all over the country will hold a variety of activities for the whole family: at the Ben-Gurion Desert Home, visitors can dress up as the characters that inspired David Ben Gurion, Israel's first prime minister (AKA the "Old Man"). The costumes of the characters are scattered on site. The Haifa City Museum invites visitors to go on a family mission through the alleys of the German colony. At the Jezreel Valley Museum, children and parents will dress up as pioneers. At Beit Zinati Visitors' Center in Peki'in, visitors will read the Book of Esther with Margalit Zinati, the keeper of the Jewish embers in the village, and many more events
Where: The heritage sites throughout the country
When: Monday-Wednesday, March 6-8
How much: depends on activity
Purim at Performance Rock
An event that combines climbing, a costume party, snacks and a unique atmosphere. The children's events include activities and challenges for climbers and beginner children, along with a costume party and a festive banquet atmosphere.
Where: The chain's branches in Tel Aviv, Be'er Sheva, Haifa, Modi'in and Nahariya
How much: free entry for subscribers, NIS 15 for new entrants
Free Purim activities at Zim Urban complexes
Zim Urban complexes throughout the country are preparing for Purim celebrations with activities, circus shows and amusements for children and youth. The complexes in the south, in the center and in the north of the country invite visitors to a Purim carnival for the whole family.
Where: Arad, Netivot, Beit She'an, Ganei Tikva and Ma'alot
When: Sunday to Wednesday, March 5-8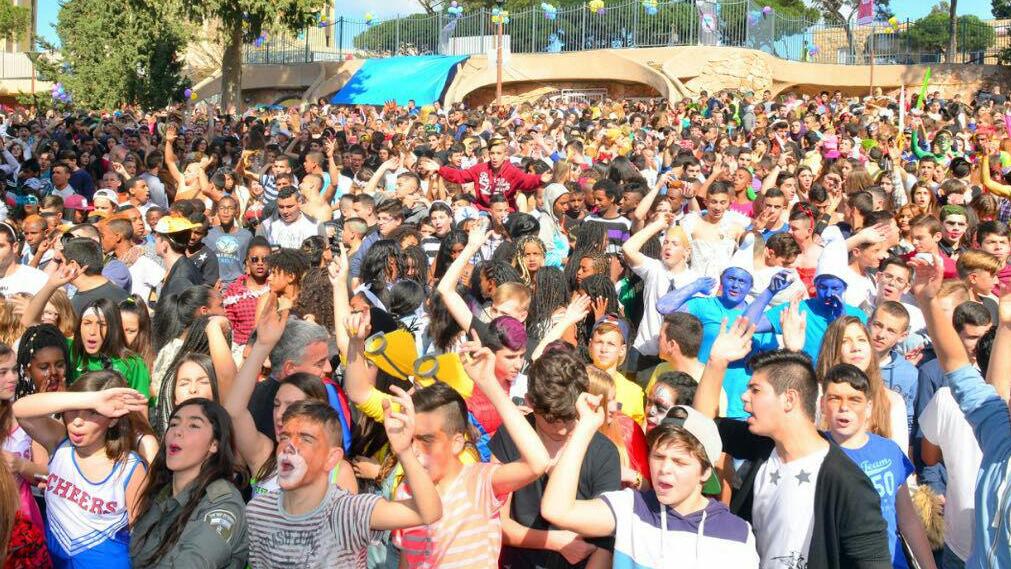 Lanterns and juggling among the grottos: Purim at Rosh Hanikra
Lantern tour by night, including a lighted cable car ride to the marine caves, a guided tour inside the dark caves by lantern light, a Saturday of juggling with shows and workshops of juggling and soap bubbles, and other family activities among the special grottos.
When: Monday and Tuesday, March 6-7
How much: adults NIS 53 (NIS 47 through the club), child NIS 43 (NIS 39 through the club). The price of the night tours - 65 NIS for an adult, 59 NIS for a child (3-18), the duration of the lantern tour is an hour and a quarter, you must arrive 10 minutes before the tour begins. The activity of the lanterns depends on the weather and advance registration.
Purim Carnival at the Janco Dada Museum
Tours, workshops and activities for the whole family, a tour following sculptures around
Ein Hod artist village
, a mask workshop following Marcel Janco, an activity in the spirit of Dada in the DadaLab and more.
Where: Janco Dada Museum, Ein Hod Artists' Village
When: Monday-Wednesday, March 6-8
How much: NIS 35-150 (single or family ticket)
Purim carnival in the Zoo, Kiryat Motzkin
A variety of workshops and activities, including a cupcake decorating workshop, a graffiti workshop and a drumming workshop. Also, jugglers throughout the park and a costume contest with prizes. On the stage in a central show will be "Mitel and the Wonder Shoes" and the "Idiot's Hat" - Motzkin's representative dancing ensemble.
Where: Hai Park Zoo promenade, Kiryat Motzkin
When: Tuesday, March 7, 10:00-14:00
How much: For Motzkin residents - Purim event + entrance to zoo - NIS 25
Purim celebration at Gan Garoo, the Australian zoo
Everyone is invited to a guided Purim-like tour, full of wonderful costumes of nature. On a tour around the zoo, we will meet different Australian animals and learn how for many of them every day is Purim by making sure to cover their bodies with different clothes, sometimes also removing and shedding. We will find out why covering and clothing have an important and central role in the life of the animals, how they use covering to exist and survive. On the tour, we will also meet up close the kangaroo troop, parrots, and a wide variety of interesting animals.
Where: Gan Garoo, Emek HaMaayanot
When: Tuesday and Wednesday, March 7-8. Show - March 4 at 12:00 and 14:00
How much: NIS 60 per person (2 years old and older)
Purim in Kiryat Ata with famous children's stars
Michal Haktana, Rinat, Kogomelo, the Three Noobs and Inda-game for the gaming fans and even the Sapir family in a show for the whole family. In addition to the performances, there are also inflatables, climbing walls and Ninja tracks, carnival stands and prizes and dozens of other surprises at the indoor carnival.
Where: Sha'ar Hazafon Mall, Kiryat Ata
When: Monday-Wednesday, March 6-8
Purim carnival at BIG FASHION malls
On the days of Purim, BIG FASHION malls will host a variety of attractions for children and the whole family. In the DANILOF BIG FASHION mall in Tiberias, there will be inflatable facilities for children, and a special performance of Yuval Hamevulbal. At the Beit Shemesh BIG FASHION mall, there will be a huge costume contest with prizes, a mesmerizing show by the illusionist Tomer Dodai and a show by the children's star Menny Mamtera. In the Bat Yam Mall, you can meet clowns, juggling artists, balloon artists, and jugglers on stilts, as well as a show for the whole family of Tal Mosseri and SpongeBob.
Where: in March at BIG FASHION malls in Tiberias, Beit Shemesh and Bat Yam
Baking workshop at Adush's
A special baking workshop for children that takes place at Adush-Adi Shmuel's house, next to the avocado plantation and close to a small playground. In the kitchen, there will be an experiential workshop in which we learn to prepare and work with a variety of doughs and together create a delicious Mishloach Manot. Each child will make sweet and salty hamantaschen (oznei Haman), colorful Purim butter cookies and buns. Everyone will get Mishloach Manot and a recipe booklet.
Where: Kibbutz Beit Ha'emek
When: Monday, March 6, 09:00-12:00
How much: NIS 150 per Mishloach Manot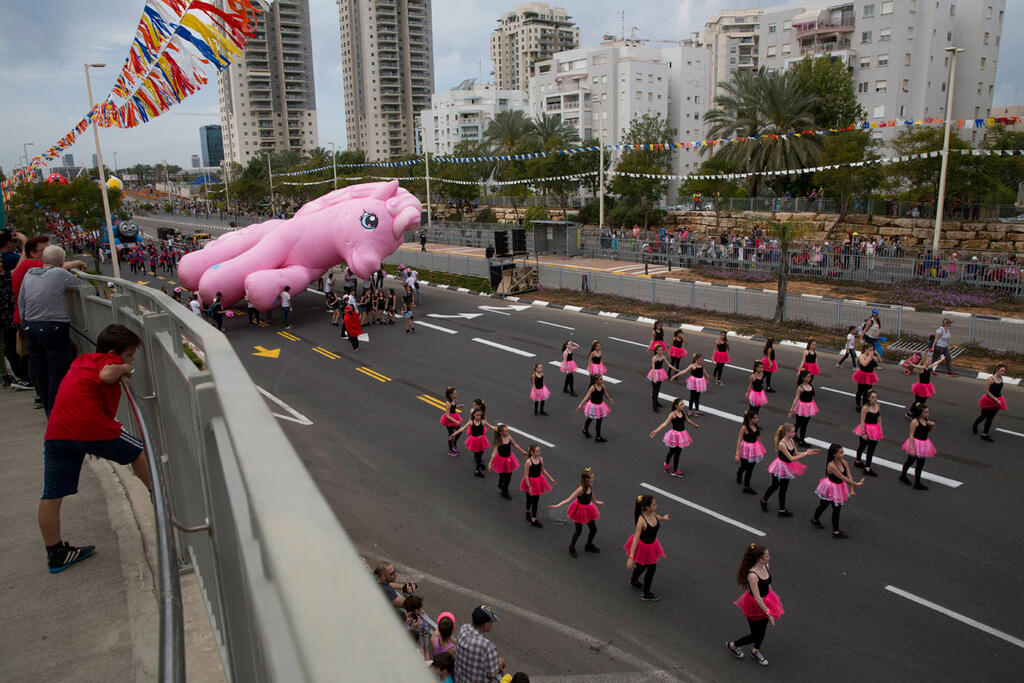 Circus of Adloyada (Purim parade) in Petah Tikva
The city center will turn into a happy circus with gigantic exhibits, street shows, acrobats, jugglers, and dancers, and along the streets, there will be stalls and activity areas - a juggling complex, stands where visitors will make magic hats, rattles, clowns, a mini circus tent and more. Also, Lego stations, a graffiti wall, a soap-bubble area, gymboree facilities for toddlers, an accessible complex for children with disabilities, an amusement park for the little ones in Kikar Hameyasdim, and information stands for children of security and rescue agencies. Towards 12:30, the children's star Menny Mamtera and the social media star Kevin Rubin will appear on the main stage
Where: Petah Tikva city center, along Haim Ozer Street, in the square of the municipal parking lot and in Kikar Hameyasdim
When: Tuesday, March 7, 09:00-14:00
Alice in Wonderland at the MEEX Sharonim complex
Purim Festival in Wonderland with characters from fairy tales, Alice in Wonderland and all her friends. The complex will change its face and already at the entrance, the children will fit into an imaginary world full of adventures and will have to look for Alice, the white rabbit, the caterpillar, the Mad Hatter, and other characters. Also, activities for the whole family such as building a giant tower of cards, folding decorative balloons, mentalists, a show by the Queen of Hearts and a huge card maze, giant inflatables, street circus shows, acrobats, jugglers, professional Purim make-up and central shows for the whole family.
Where: MEEX Sharonim complex, Harkon 2, Hod Hasharon
When: Tuesday and Wednesday, March 7-8, 16:00-20:30
Sweets Festival by FOODY and Karin Goren
A festival of sweets and a festive food truck of the food site FOODY and pastry chef Karin Goren and a lot of sweets. A limited-edition box designed for Purim in Mul Ha'hof Village, craft stalls for children, artists dressed as sweets and a children's performance by Liron Ha'Aviron.
Where: Complex Mul Ha'hof Village, Hadera
When: Tuesday and Wednesday, March 7-8, 16:00-120:00
Independence Square will be festive and complexes with fairy tales will be set up: Hansel and Gretel, Aladdin, Ice Age, Princesses complex, Peter Pan complex, Knights complex and more. Also, a huge happening with multimedia game areas, a gymboree, giant puppets, a variety of exhibitions and creative corners, and performances of children's performers - Agam Buhbut, Roy Boy, Livluvit and Aviados.
Where: Independence Square, Netanya
When: Tuesday, March 7, 10:30-14:30
Alice in Wonderland at Ir-Yamim Mall
A tea party with cupcakes prepared by the children, a complex in which children drink a potion that makes them shrink, a selfie complex, make-up artists and more. The magical wonderland that has ignited the imagination of children and adults for more than 150 years will become alive with designed exhibits, characters from the children's story that will walk around among the guests.
Where: Ir-Yamim Mall, Netanya
When: Tuesday and Wednesday, March 7-8, 12:00-18:00
Herzliya Adloyada Purim Parade - in all colors
A colorful festival that will paint the city in all the colors of the rainbow, with hundreds of participants, gigantic exhibits, trucks, sculptures, shows and more. At the end of the festival: a huge happening with a performance of Agam Buhbut.
Where: The starting point at Ben Schefer Garden 100 Sokolov St., up to Shaar Ha'ir Square, 22 Ben Gurion St.
When: Tuesday, March 7, from 10:00
Purim at Shivat Hakohavim (Seven Star) Mall
The happiest holiday of the year will be celebrated with a colorful and sweet Purim carnival with activity areas for children. Among the activities: workshops for baking Oznei Haman (Hamantaschen), preparing Mishloach Manot (Purim basket), booths with tattoos, colorful braids, make-up and more.
Where: The Shivat Hakohavim Mall, Herzliya
When: Tuesday and Wednesday, March 7-8, 11:00-14:00 and 16:00-19:00
Celebrating Purim at Technoda – Science and Technology center
Purim happening that includes juggling workshops, science workshops and fire shows (depending on the weather).
Where: Technoda, Rabbi Nissim 2, Hadera
When: Tuesday and Wednesday, March 7-8, 10:00-16:00
How much: 48 NIS for a child over the age of 3; or a combined ticket that includes a tour of the medical museum at a cost of 90 NIS
Tel Aviv and central Israel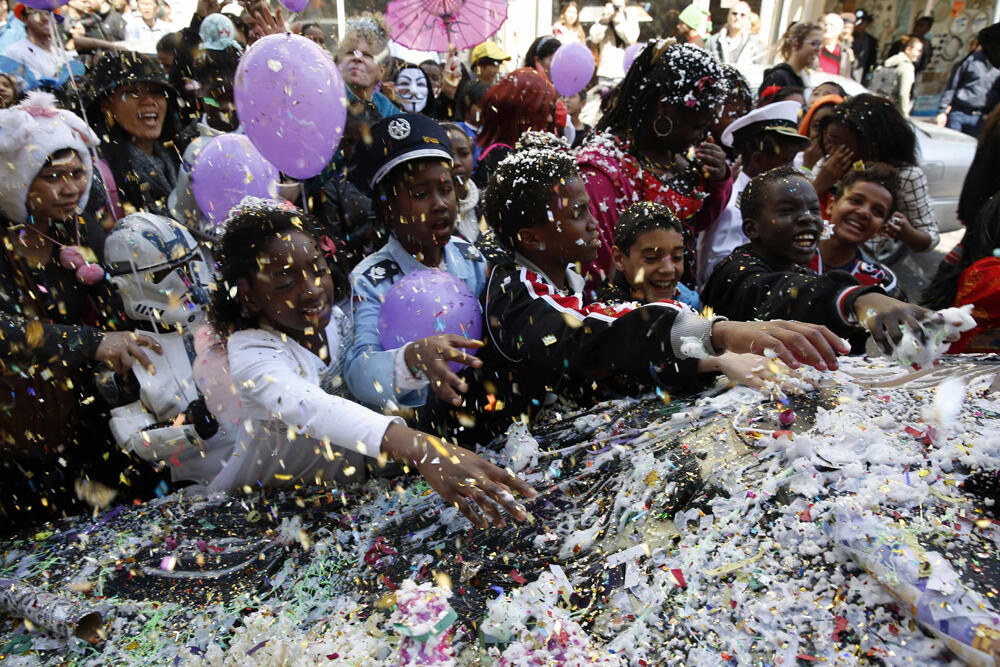 Movie themed party at Sarona Park; the Clock tower in Jaffa dressed up as Japan; a Purim event in a disco atmosphere at Beit Ariela; Purim happening in Rabin Square, and dozens of neighborhood events and carnivals in community centers throughout the city.
Where: throughout the city of Tel Aviv
When: March 4-8, keep up to date with the activities planned each day
How much: some of the activities are free of charge, details are updated on TLV municipality website
Purim circus carnival in the port of Tel Aviv
Festive Purim happening with a variety of acrobatic circus shows, jugglers, colorful street artists and giant clowns who will bring the holiday spirit, amuse and entertain the whole family. Also, experiential sessions and workshops on rhythm and drumming, learning the hula hoop dance technique and more.
When: Monday, March 6, 11:00-16:00
Buildings dress up in Ramat Gan
The building of the Ramat Gan Museum of Israeli Art on Abba Hillel Street will be illuminated with a video art performance based on AI, on top of the mythological building on Jabotinsky Street in the city, a unique video art comics performance will be projected and will tell the story of the Etzel, Zionist underground paramilitary organization, and the famous Rambam Square will become an interactive exhibit on which pictures that the audience will draw on the spot will be projected.
Where: iconic buildings in Ramat Gan
Yaron Festival by Orna Porat Theater
The traditional festival of the Orna Porat Theater for children and youth will be held on the Purim holiday at the Tel Aviv Museum of Art, at MUZA Eretz Israel Museum Tel Aviv, at the Cemeri Theater and at the ZOA House Tel Aviv. Three new plays will be performed: "A Feather in the Wind" - a play full of humor about the power of words, "What Happened to the Song" - a shocking monodrama about sexual harassment and "The Plots of the King Like This" - a funny and original fairy tale about a king who learns about consideration, giving and friendship. The festival will also feature the successful play "Cramel", based on the best-selling and Deborah Omer award-winning book by Meira Barnea Goldberg.
Where: Tel Aviv Museum, MUZA Museum, Cameri Theater and ZOA House
When: Monday to Wednesday, March 6-8
Mask Happening at MAHUTI center
Dress up and come to celebrate at the Mask Happening in Mahuti Center, which includes many Purim activities with creative corners - coloring of masks, an introspection activity about who I am behind the mask, when we wear different masks, how they serve us in our day-to-day life, and more. The costumed training team will accompany the children and parents between the activity and inspiring stations. Visitors can wear costume accessories available on site and take photos in photo booths that will remain as souvenirs.
Where: Shaul Hamelech 21 (HaCamari Square) Tel Aviv-Yafo
When: Tuesday and Wednesday, March 7-8, 10:00-16:00
How much: NIS 35 per child, NIS 15 per adult
Purim for children at the Israeli Opera
On Purim, the Israeli Opera will perform Il Barbiere di Siviglia (The Barber of Seville) by Rossini, and "Alice in Wonderland" by David Zeba in Hebrew opera versions for children and the whole family - two colorful and entertaining operas in a special version for children.
Where: The Israeli Children's Opera, Tel Aviv-Yafo, entrance from 28 Leonardo da Vinci St.
When: Monday and Tuesday, March 6-7
Purim for children at the Tel Aviv Cinematheque
An adventure for children with a variety of events and meetings on the theme of heroes and superpowers: the magic of the world of acting and dubbing - an intriguing meeting where the children will be exposed to the world of dubbing. There will be a screening of the movies "Combat Wombat" and "Addams Family Values". Presents will be given to everyone who will wear a costume of the character of Wednesday from the gothic family. Marvel vs DC comics - lecture, the science of superpowers - meeting and discussion: Can you climb walls like Spider-Man? Why is the green giant, green? And do we already have superpowers? The screening of the movies "Spider-Man – into the Spider-Verse", the final episodes of Cramel 2 and the launch of season 3 of the children's series "Shakshuka".
Where: Tel Aviv Cinematheque, 5 Ha'arbaa Street Tel Aviv-Yafo
When: Monday-Wednesday, March 6-8
Purim in Tel Aviv libraries
The Beit Ariela Library and the Beit Yad Labanim Library offer a variety of activities for children and parents during and before the Purim holiday: a variety of colorful and high-quality events for children aged 2-6. Costumes, story-time books read aloud, musical performances, mask workshop and more. From the age of two and up.
Where: Beit Ariela Library and Beit Yad Labanim Library
When: February 27 to March 8
Purim at the Nahum Gutman Museum
Synesthesia - music and interactive art, a story workshop with Jenny Mailichov, and a model drawing dressed up in the spirit of Purim in the museum space.
Where: Nahum Gutman Museum of Art, 21 Shimon Rokach st. Neve Tzedek Tel Aviv-Yafo
When: Monday-Wednesday, March 6-8
Special tours around the city of Tel Aviv
Tours and activities throughout Tel Aviv-Yafo: a tour following the Adloyda (Purim Parade) that took place in the city in the 1920s on Bialik Street; Disco Purim festival; a tour through the alleys of Jaffa; costumed houses; a tour of the first streets of the city that have a special story behind their design; a food tour at Levinsky Market and a costume celebration in Old Jaffa.
Where: around the city of Tel Aviv, depending on the tour
How much: will be updated soon
Network stars festival at Expo Tel Aviv
The festival will be held in several areas - the Tiktok stage with live musical performances by leading Tiktokers, a gaming complex with games and live gaming competitions, spectacular photography complexes, sports games, and competitions with the biggest skillers in Israel and meetings with the most popular YouTubers.
Where: Expo Tel Aviv, Pavilion 11
When: Tuesday and Wednesday, March 7-8
Holon's Adloyada Purim Parade
Festive carnival with circus facilities, costumes, a parade with circus elements, guest performers from abroad and also gigantic exhibits created especially for the largest Purim celebration in Israel - Cinderella and the flying horses, giant inflatables with beloved characters, "Wonderland" - the world of Alice in Wonderland, The Dream Mushroom inspired by Disney legends, the dragon and knights parade, acrobats, a costume parade of thousands of dancers from around the country, the flying house from the beloved movie UP, the giant King Kong and more. At the end of the parade - a show by Noa Kirel in the square in front of the Mediateque in a huge party.
Where: The Adloyada route - Sderot Moshe Sharet (by the Steinberg Center) will continue along Alufey Tzahal St. and Golda Meir St. and will end at Pinchas AyaIon St. in front of the Design Museum
When: Tuesday, March 7 from 12:00
The Mediatech and the Israel Cartoon and Comics Museum
A visit to the three new exhibitions: "The Year That Was 2022", "He and Who", Yuval Robichek, "All the Good of the Land: Yaakov "Zeev" Farkash and Jonathan Waxman Meet Through Cartoons", and other diverse activities for the whole family including: a comics workshop in costume, a 3D comics workshop, a comics workshop for beginners, a "do it yourself" activity with grandparents and parents, a treasure hunt, 'Zbang in Pesach' a workshop led by creator Uri Fink, a Pesach comics camp and guided tours for the general public at the museum's exhibitions.
Where: The Israeli Museum of Caricature and Comics: 61 Weizman St., Holon
When: during Purim and throughout the month of March
A show by the children's star Michal Haktana and a huge complex of acrobats and aerialists alongside inflatables, Tiktok, amusement park pavilions, ninja tracks, and performances by local talents with the city dance and singing groups. Also, a multimedia complex with computer games, an ATV complex, a galloping horse complex, trampolines and more. In the evening a huge Purim party for the youth and the public with the participation of the songstress Agam Buhbut and DJ Gal Malka.
Where: Hameyasdim Park, Rehovot
When: Tuesday, March 7, 10:00-14:00, party - 20:00-23:00
Purim celebrations in Ness Ziona
An event for the whole family with activity facilities, inflatables, make-up and photo booths, shows by local dance and singing groups, morning shows by Michal Haktana and Kevin Rubin, and two shows in one evening. As part of the city's 140th anniversary celebrations, a new concert venue will be launched in the city for the first time. The first event, which will inaugurate the new complex, is a performance by Raviv Kaner, a resident of the city, and Avi Aburomi (paid performances).
Where: Givat Hator and around the city of Ness Ziona
How much: Free entry to the morning events.
Performances: city residents 60 shekels, non-residents 179 shekels
Purim at Ice Peaks, the Ice Halls
Family fun at the ice-skating rinks, snow room, games and more, in an entertaining atmosphere.
Where: 1 Mifratz Shlomo, Holon and 1 Hita St., Be'er Sheva (Cinema City Mall)
How much: Holon NIS 75, Be'er Sheva NIS 65, the snow room NIS 45
Purim event for the whole family at the Agam Museum
The Agam Museum in Rishon Lezion invites children and adults to an artistic, exciting, and happy Purim event in the spirit of the holiday. Art tours for children and adults, kinetic art workshops for children, a new exhibition under the title "Disruption of Order", a concert from the films with the screening of the cinematic classics for the whole family to the sounds of the symphony, a Purim celebration with Shlomo Bar and his band in a show unique to the museum and more surprises.
Where: Agam Museum, 1 Mayshar Street, Rishon Lezion
When: Monday to Wednesday, March 6-8, 10:00-16:00
How much: will be updated soon
Rishon Lezion celebrates Purim marking its 140 anniversary
A huge happening with the best stars and children's stars, performances, dances and songs: carnival in four locations: the Gan Ha'Moshava stage, the Rakafot stage, the Neot Ha'Shikma Park stage and the Shikun HaMizrah stage. The carnival will start at 10:00 and will include performances by the children's stars, dance and singing performances of local stars, inflatable figures, creative workshops, photo magnets and more.
Where: throughout Rishon Lezion
Comedy and humor festival in Rishon Lezion
The Sefi Rivlin Comedy and Humor Festival, as part of the city's 140th anniversary - an original production dedicated to three legends: Sefi Rivlin, Mordechai Pupik Arnon, and Yigal Bashan, who grew up in the same neighborhood in the city and became the soundtrack of Israeli culture. Participants: Avi Dor, Aharon Perera, Oshik Levy, Hana Leslau, Tuvia Tzafir, Niki Goldstein, Einat Saruf, Rivka Michaeli, Shimon Buskila, Tzipi Shavit, Odiya Koren, Hagit Ginzburg, Shlomo Bar'aba, Eli Yatzpan, Boaz Sharabi, Dvir Bendak, Miki Geva, Yair Nitsani and also Nero Levy is returning to the stage and will star in the comedy "A Lesson in Love" from the Hebrew Theater in the premiere for the festival.
Where: Meir Nitzan Culture Center in Rishon LeZion
Jerusalem and the surrounding area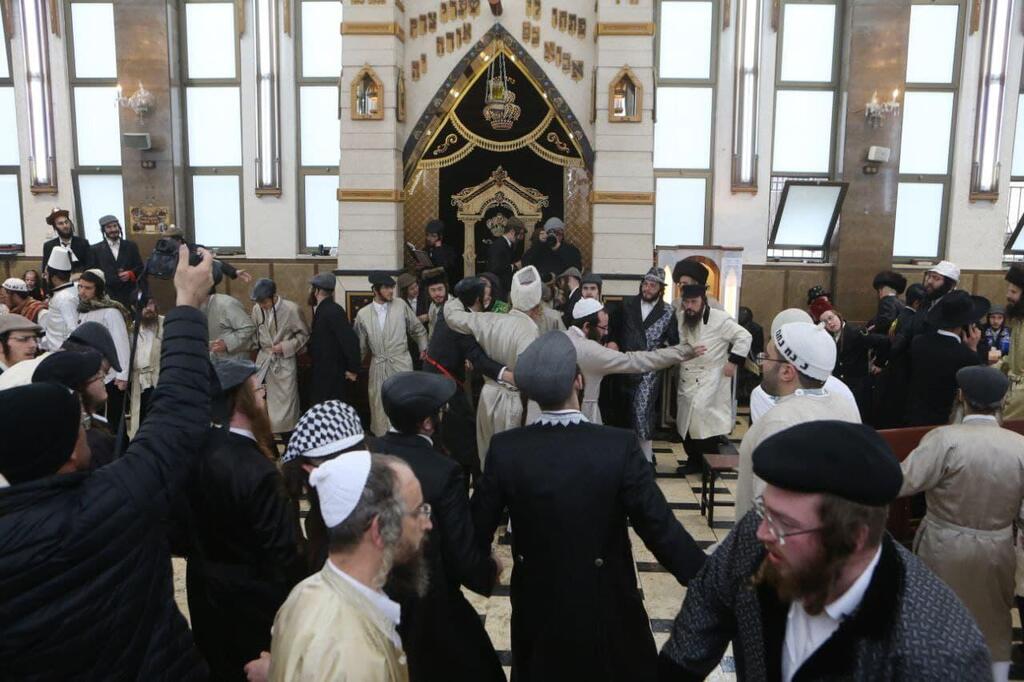 Biblical experience at Neot Kedumim Park
Neot Kedumim parade - following the heroines of the Book of Esther
Neot Kedumim Park in the Modi'in region invites visitors to a Purim parade to mark International Women's Day - following the heroines of the Megillah (the Book of Esther). The visitors will go on one of two routes of different levels of difficulty - one 3 km long, suitable for families with strollers and the other 7 km suitable for families with older children and hiking enthusiasts. Along the route, the marchers will meet Vashti and Esther who will tell the story of the Megillah, King Ahasuerus who will tell a personal revelation about his weaknesses to wine and to Queen Esther, a make-up and costumes station of ancient times, a craft station for families and more.
Where: Neot Kedumim Park, Route 443
When: March 8, 08:30-13:00
How much: NIS 25 for early registration, until March 4
Purim at the biblical zoo
Jugglers will greet the visitors at the entrance and will make sure to entertain, amuse, and make merriment. The zoo vehicles will be dressed up and embarking on a special Purim parade throughout the zoo. The Living House will also be celebrating and ready to host you for up close encounters with enchanting animals every hour on the hour. There will be guided animal feedings and enrichment activities among the various exhibits.
Every Purim day there will be a costume contest on Facebook: anyone who comes to the zoo dressed as an animal and tags the zoo will participate in a contest where the winner will enjoy a behind-the-scenes tour of one of the zoo's exhibits. Also, visitors will be invited to take a photo as a souvenir with a special guest - the trophy of Ha'poel Jerusalem.
Where: The Biblical Zoo, Aharon Shulov 1, Jerusalem
When: Tuesday, March 8, 11:30-14:30
How much: adult 68 shekels, child (3-18) 52 shekels
Purim at the Israel Aquarium
At the entrance to the aquarium, visitors will find a make-up station of marine animals, in the craft corner visitors will be able to create Purim masks in an underwater atmosphere. In the classroom, there will be an activity to identify marine animals using the sense of touch, and instructors dressed as sharks will walk around the aquarium. There will also be a costume contest on the Israel Aquarium's Facebook page, where we will invite the costumed visitors to take a picture against the background of the displays in the aquarium and tag the aquarium. The winner will enjoy a behind-the-scenes tour of the Israel Aquarium.
Where: Derech Aharon Shulov 1, Jerusalem
When: Monday-Wednesday, March 6-8, 09:00-17:00 (last entry at 15:00)
How much: adult 62 shekels, child 51 shekels
Purim at the Israel Museum
A Purim celebration for the whole family - costumed actors, cheerful gifts, creating personal greeting cards, story time in a Purim atmosphere and a host of other activities. For ages six and up.
Where: The Israel Museum, Derech Rupin 11, Jerusalem
When: Tuesday and Wednesday, March 7-8
How much: On Tuesday, children's admission is free. On Wednesday - 27 shekels
Purim for the whole family at Beit Avi Chai
The translation's chamber of secrets: a meeting with the translator of Harry Potter, illustrating Purim with Nadav Nachmani, legends of the moon: two hats - a play for the month of Adar with Galit Tzbari, Ofer Yerushalmi and Nadav Bosem, and other happy surprises.
Where: Beit Avi Chai, 44 King George Street, Jerusalem
How much: Some of the activities are free, others - NIS 10-30
Festive Purim at Shoham commercial center
A Purim happening in a rhythmic musical and interactive session. The main event: a special performance by the children's star Uncle Haim for the whole family. Throughout the day, a variety of activities will take place in the commercial center - inflatable gymboree, fair booths, craft workshops, Purim make-up booths and other surprises.
Where: Emek Ayalon 30, Shoham
Purim events in Jerusalem
From the beginning of the month of Adar, the various events in the city will begin, and will include hundreds of activities throughout the neighborhoods, in the community centers, in the clubs for the elderly and in the municipal libraries. During the days of Purim, there will be dozens of parties, events, and various celebrations throughout the city, including Purim balls, concerts, Purim parties, dances and activities for children. Also, Miki the children's star and the singer Nunu at a Purim celebration in Safra Square, and the entire downtown area will be filled with circus artists, marching bands, huge exhibits, street artists, a pirate parade and other performances - from Safra Square to the Ben Yehuda pedestrian street. The traditional street party will be held along Agrippas and Nissim Bachar streets, with DJ stands along the way.
Where: around the city of Jerusalem
When: during the month of Adar and during Purim
Purim at the Friends of Zion Museum
Creative stations for designing and painting masks - the children will design colorful masks in a unique design, create a costume for balloons, and the museum will also hold a face painting station in a Purim spirit, which will be done by a professional makeup artist. Visitors are invited to come with a unique costume and participate in a costume contest.
Where: Friends of Zion Museum, Rivlin 20, Nachalat Shiv'ah, Jerusalem
When: March 7-8, 11:00-14:00
How much: NIS 10 for a Purim activity, paid entrance + tour - adult NIS 44, children from 3 to 18 - NIS 33, family card - NIS 100
Purim at the Hebrew Music Museum Jerusalem
The Book of Esther describes the lavish feasts that Ahasuerus held for his ministers and his people, and music was a central part of them. So what instruments were played at the king's feast? What sounds did Vashti and her friends dance to? You are invited to see, listen and also try playing traditional Persian instruments, and a host of other activities. In the music square a reading of the Megillah will take place with the participation of the audience and free musical performances will take place. From the age of four and up.
Where: The Hebrew Music Museum - Yoel Moshe Solomon 10, Nachalat Shiv'ah, Jerusalem
Purim at the Train Theater
Purim celebration which includes performances at discounted prices, free activities on the theater floor and a costume party with prizes for parents and children free of charge.
Where: The Train Theater, Mishkan Davidson, Jerusalem
When: during the Purim holiday and throughout the month of March
How much: NIS 30-40 per ticket
Purim space celebration at the Bloomfield Science Museum
The Bloomfield Science Museum invites you to dress up and join a Purim space celebration with a variety of activities and a prize-bearing competition. As part of the Purim celebrations at the museum, the play "Journey between egg yolks" will take place - a miniature puppet theater, filmed and projected on a screen that deals with the conflict between natural materials and electronic components, and other activities and workshops.
Where: The Bloomfield Science Museum in Jerusalem - Sderot HaMuze'onim 3, Givat Ram
When: March 6-8, 10:00-18:00
How much: child up to the age of five - free, child/adult NIS 50, family ticket - NIS 180, more discounts and promotions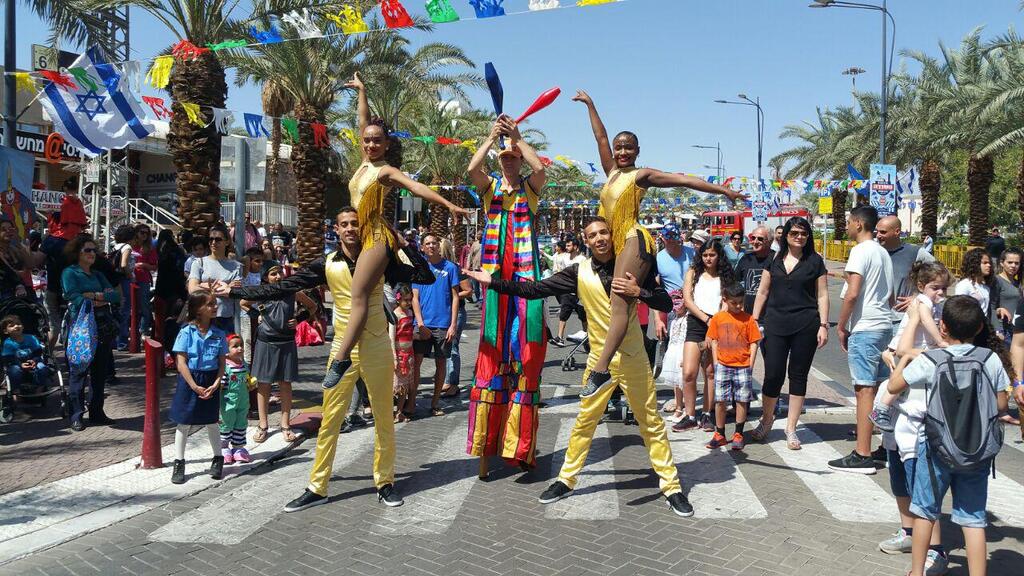 For the first time in a decade, Adloyada (Purim Parade) returns to Kiryat Malachi. The Purim events will open with a huge parade that will leave the city hall square, continue on Ben Gurion Street through Sderot Weizman/Rivka Gover and end in the city park with a prize distribution ceremony for the winning schools. Fourth to twelfth-grade students from the city's schools will attend the Adloyada. This year's exhibits were prepared from recycled materials by children of the elementary and high schools. A huge cheer for the students who dreamed, aspired, and fulfilled their dreams - and a host of other activities and sessions.
Purim celebrations in Ashkelon
The most popular stars at Ashkelon sea park, a street party in the old city and a happening for the whole family in the pedestrian mall: Anna Zak, Moshiko Mor, Orel Tzbari and also the children's stars, Michal Haktana, the Bay of Adventures and Tomer Dudai in the main event in Ashkelon Sea Park, and also: a street party in the heart of the old city and on Wednesday happening in the urban pedestrian street - the entrance is free for all events.
Where: around the city of Ashkelon
Magic Kass, the largest indoor amusement park in Israel, will hold festive events for the public on the two days of the Purim holiday. Visitors will enjoy a costume festival and face makeup booths. Also - a show by Anna Zak on March 8, a costume festival and unlimited entertainment at the extreme facilities.
Where: Magic Kass - Ma'ale Adumim
When: Tuesday and Wednesday, March 7-8
How much: NIS 99, including Anna Zak's performance
Purim in the Carasso Science Park in Beer Sheva
A variety of activities and workshops about animals that disguise every day: animals in camouflage, types of camouflage, chemical experiments to change colors, quizzes, illuminating animals, imitating animals (how animals disguise themselves as other animals), creating animal masks with 3D technology, Purim activity at FabLab, printing rattles in a 3D printer and more.
Where: Carasso Science Park, Be'er Sheba
When: Monday to Wednesday, March 6-8, 10:00-17:00, Tuesday 10:00-19:00
How much: a child up to the age of five - free of charge. Adult/child non-resident 59 NIS, adult/child resident of the city 45 NIS
A tour with the animals that dress up all year round
A special tour for Purim at "There is such a farm" - a rehabilitation farm for animals. Going on a colorful journey following colors and costumes in nature. What do animals tell us with the help of colors? What are the warning colors in nature? Show colors? Camouflage? During the visit you can meet happy animals, in their natural space, including those who dress up all year round. It is recommended to arrive dressed up.
Where: There is such a farm, Kfar Silver
When: March 6-8, 10:00, on Monday another tour at 15:00. Duration of the tour - two hours
Purim celebrations at the Ben-Gurion Desert Home
On this holiday, we can all be historical figures: the children will receive a costume of one of the historical figures found on the site and in the Ben-Gurion desert home, and an information card about the figure, and they will have to look for the figure on the site and find out where the figure is hiding.
Where: Ben-Gurion Desert Home, Sde Boker
When: March 7-8, 08:30-16:00
How much: NIS 20 for an adult, NIS 15 for a child
Purim activities for the whole family at Arad Mall
On Tuesday, the mall square will turn into a dance club for children and teenagers, led by DJ Shafik. At the party, which will start in the afternoon and continue throughout the evening, drinks and light refreshments will be distributed. On Wednesday: a Purim event throughout the day where the children will be able to have their makeup done by a professional makeup artist, take a picture at a photo booth and receive a personal magnet photo, as well as a professional family photo booth on the event floor to the sounds of Purim music. Throughout the day, free popcorn and snow-cone will be distributed to the guests.
Purim at the Coral World Underwater Observatory in Eilat
On the weekends of March and the days of the Purim holiday, plays, activities, and workshops for Purim will be held at the underwater observatory park in Eilat at no extra cost, including a performance of The Little Mermaid - The War against Plastic, face makeup inspired by sea animals, creative workshops, and a headphone party by the Elad Theater.
Where: The Coral World Underwater Observatory Park in Eilat
When: March 7-8, and on the weekends of March
How much: the activities are at no additional cost to the park entrance ticket