Roughly six weeks Hamas' onslaught on October 7, and a
heartfelt and sorrowful "farewell ceremony"
, the remains of 12-year-old Liel Hezroni were formally identified through DNA testing, the family was informed on Saturday night. The remains were discovered by archaeologists from the Antiquities Authority.
Last Wednesday, crowds gathered to bid farewell to Liel and her aunt Illa at a ceremony conducted at the temporary cemetery of Kibbutz Be'eri in the Negev's Kibbutz Revivim. The family has no plans to conduct another burial ceremony, instead, they are awaiting interment in Be'eri.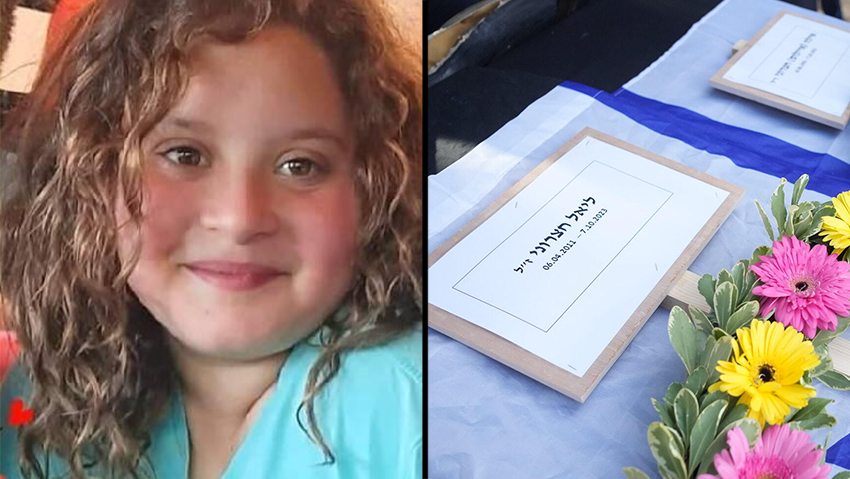 Liel and Illa lost their lives alongside Liel's twin brother, Yanai, and the twins' grandfather, Avia. As Liel's body was not available at that time, the family decided to inter Liel's personal effects during the ceremony.
Liel and Yanai were twin siblings born to Shira Hezroni. Post childbirth, Shira underwent a brain injury that resulted in her physical disability. Her father, grandfather, and aunt Illa stepped in to care for the children and nurtured them along with the entire Be'eri community.
On the horrifying day of October 7, terrorists invaded the family's residence, abducting everyone except for the late grandfather Avia, and then relocated them to the household of a Be'eri inhabitant, the late Pasi Cohen. They rounded up numerous residents there, and eventually killed them all. Subsequently, they set the house ablaze.
"Liel was born alongside her brothers, and their mother cherished the few hours with them before her health worsened," the mourners in Be'eri recollected last week. "Illa served as a motherly figure while being an aunt. Their father stepped into the roles of both a grandfather and a father. Liel was showered with love throughout her upbringing. She possessed a certain maturity yet retained a childlike innocence. She demonstrated resilience and toughness, yet she also had fears which she confronted with bravery and sincerity. Illa and Liel kept each other safe."