When Andrew Mandel dreamt up a new Jewish ritual object known as a "tzedek box," he was admittedly most interested in the "tzedek" — the social justice — aspect, and less so the "box" part.
Mandel, a fifth-year rabbinical student at Hebrew Union College in New York, envisioned a new Jewish holiday, Yom HaTzedek (Day of Justice) back in 2018 as a way to make acts of social justice an integral part of religious life.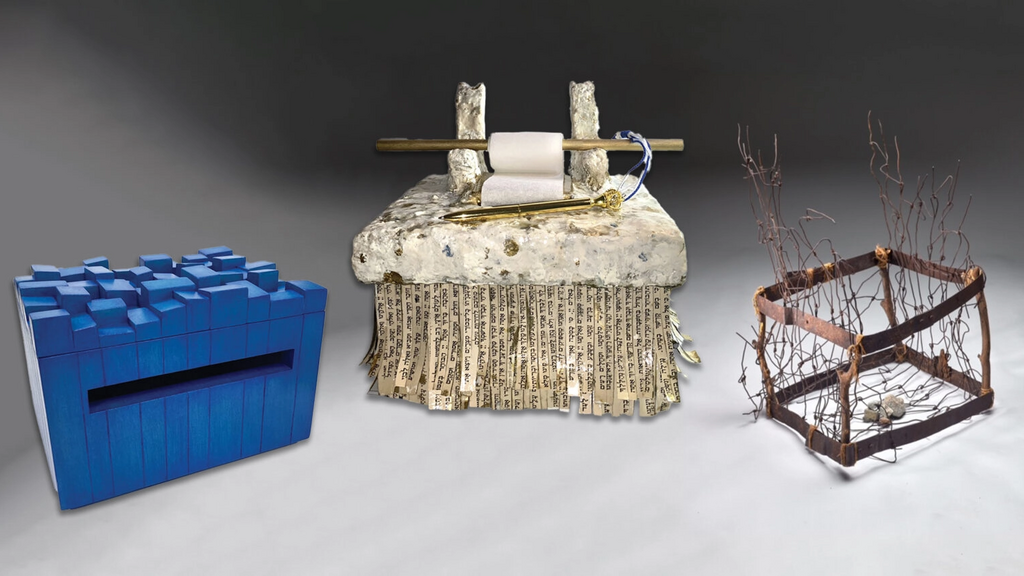 To reinforce the themes of the holiday, Jews would write reflections on each effort made to help the world throughout the year, and save them in a box. "This action is not meant to self-congratulate or to rack up a record of good deeds," Kveller, the New York Jewish Week's partner site, wrote in 2021. "Rather, it provides a moment to reflect on the work and develop accountability around consistently being 'shomer tzedek,' a guardian of justice."
When he first conceived of the holiday, the box itself was an afterthought. "I have to confess, at first, the actual box wasn't particularly relevant to me," Mandel, 44, told the New York Jewish Week. "It's like — find a shoe box, find a jar. It was shortsighted, but that's where I was."
But as Yom HaTzedek shifted from concept to reality — the day is now officially commemorated on Pesach Sheni, or the Second Passover, observed on the 14th day of Iyar (this year May 5) — so too did Mandel's thinking on the box itself. Conversations with renowned Jewish artist Tobi Kahn and Jean Bloch Rosensaft, director of the Dr. Bernard Heller Museum at HUC, led Mandel to believe the aesthetics of the box could help enhance the users' spiritual exploration of justice.
And now, these conversations have inspired a new exhibit, "Tzedek Boxes: Justice Shall You Pursue," which will open at the Heller Museum on Thursday. The exhibit features 29 tzedek boxes created by contemporary Jewish artists. They include one of Kahn's series of seven wooden tzedek boxes, "Zahryz III," and Eli Kaplan-Wildmann's customizable cardboard "Pop-up Tzedek Box," which has been massed-produced for 8,300 participants and two dozen synagogues that have all participated in the new holiday.
The exhibit's aim, said Rosensaft, echoes the museum's mission "to encourage the interpretation and renewal of Jewish values, tradition, and practice through the creativity of contemporary artists in works that will advance justice in our world."
If the tzedek box sounds familiar, it's probably because you've heard of its cousin — or version 1.0, if you will: the tzedakah box, a receptacle for collecting coins to be donated to charity. The words "tzedek" and "tzedakah" have the same Hebrew root: justice.
"It's not just that we don't really use coins anymore," Mandel said. "There's more ways of making change than [just] philanthropy — whether it's advocacy, whether that's direct service and volunteer work, whether that's just listening and learning. A tzedek box creates an umbrella for all those different actions so we can all live out our values together to improve the world."
In the exhibit, the artists' tzedek boxes capture different facets of social justice: in Jewish tradition (images of doves, or flowing rivers); motivation for social action (references to heroes and past injustices such as the Holocaust); the causes people care about (the environment, food insecurity) and symbols of generous behavior (an open heart, an open mind).
"I'm not an artist myself," Mandel said. "But now I have seen these contributions of wildly diverse, often quite moving representations of justice and righteousness, it really opens things up to how multifaceted this process [of tzedek] is. Your box really matters."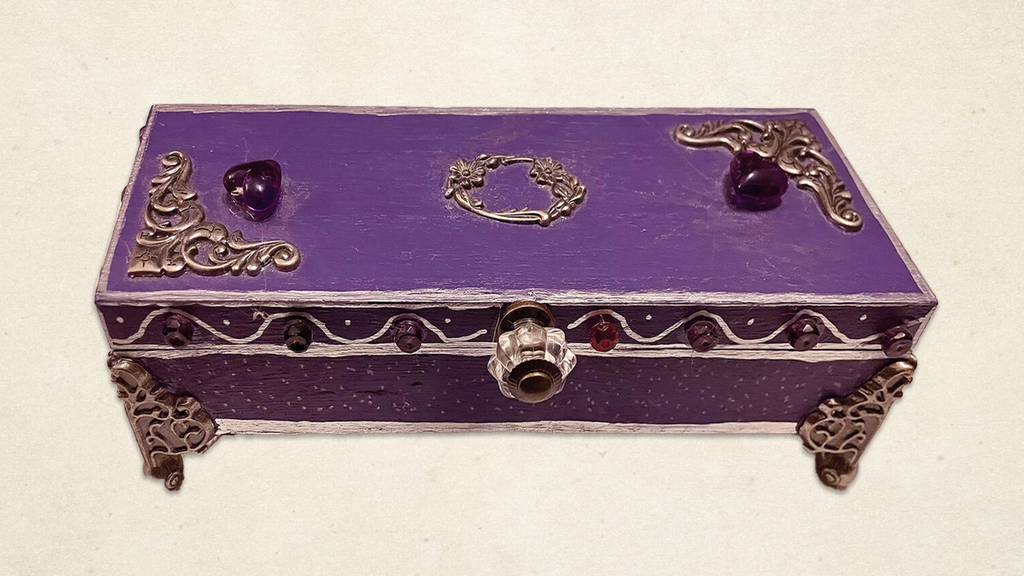 In Reva Jane Solomon's "Mommy's Justice," the tzedek box takes the form of a purple jewelry box, an homage to her mother's love meant to encourage small acts of compassion and justice. Holly Berger Markhoff's "Justice Knows No Other" is a wooden box featuring an interactive scroll on which to record one's deeds, creating a continuous chronicle of righteousness.
Kahn, whose cityscape-inspired tzedek box evokes the Jewish obligation to care for humankind, said he hoped the exhibit would inspire all Jews to adopt the ritual. "If you believe in something you should actually do it," he said. "I'm thrilled that many people are making their own because that's how ritual starts."
This isn't the first new Jewish ritual object that the Heller Museum launched into the mainstream. In 1997, it featured an exhibit of Miriam's cups — a goblet filled with water that's placed alongside Elijah's cup at Passover as a call to include women and their stories in the seder. The exhibit helped introduce the now widespread practice to Jews around the world.
Rosensaft sees the tzedek box exhibition as a similar call to action. "One of the pillars of Judaism is the notion that we, as a people, have been afflicted by horrific episodes of injustice, intolerance and genocide," she said. "We cry 'never again,' but we know we cannot say that if we are not prepared to work towards the causes of human rights and freedom in our own time.
To this end, Rosensaft paired the tzedek boxes with a concurrent exhibit, "One Nation," in which artists of all backgrounds were invited to create works that comment on the state of America past, present and future.
"A lot of that hope for the future hinges on individuals taking action to solve the problems afflicting American society," Rosensaft said.